FX Scalper X is a Forex robot that promises to help traders who are losing money while trading and thus blowing up their accounts. As per the vendor, this Forex EA is based on a decade's worth of backtesting data, and it can double, triple, and even quadruple your trading account. In this FX Scalper X review, you will get more info about this FX service and get a clear idea of its trading performance, efficacy, and reliability.
Is This The Forex EA You Need?
On the official website of FX Scalper X, the vendor has highlighted the live trading results. A brief overview of the features is provided, and there's also a video that shows the system's performance. The devs show us that from January 2021 till March 2022, the system's gain percentage has grown to 300%. In this period, the robot placed 11687 trades, out of which 9074 were closed in profit. It represents a win rate of 78%.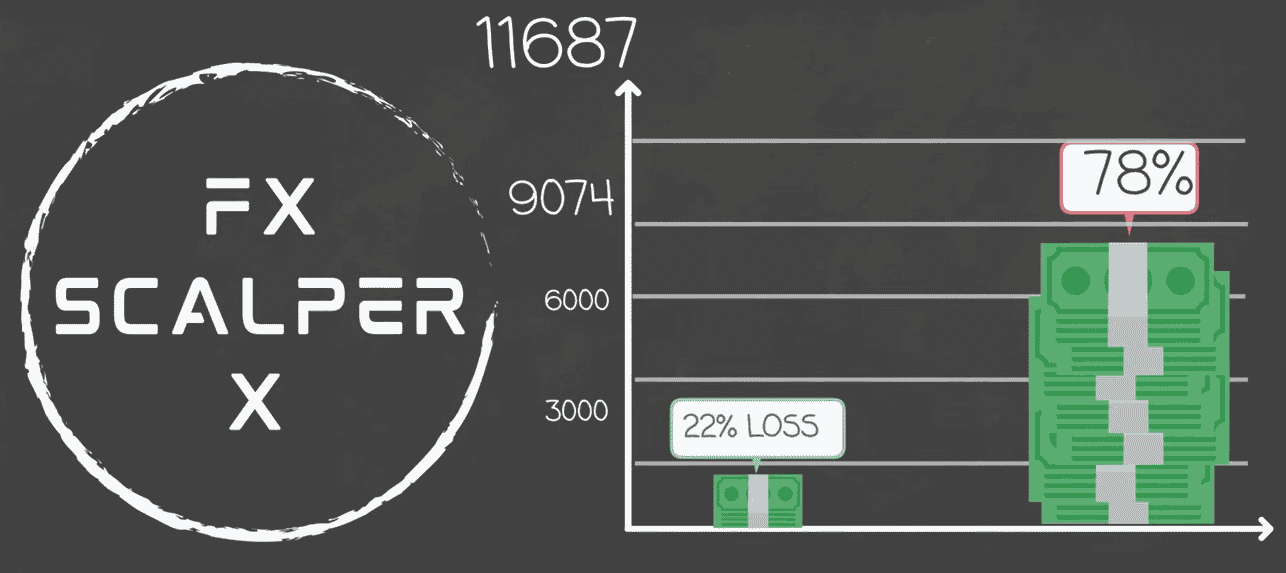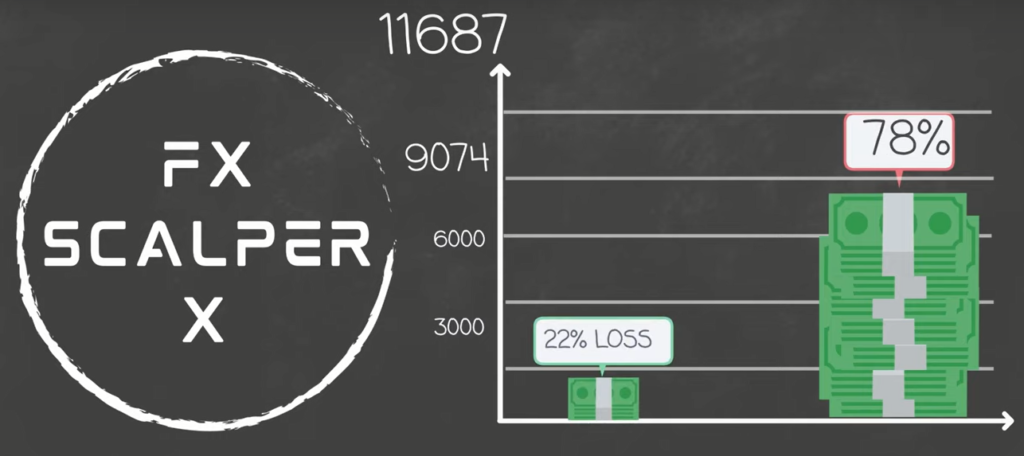 There is absolutely no information available on the official website about the vendor. We don't know anything about the company behind this Forex EA, and no physical address has been provided for the same. Thus, there is no way to determine whether the vendor has sold such systems in the past or whether the developers and traders have enough experience to be working with a Forex robot like this.
Using this Forex EA, you can trade in pairs like EUR/USD, EUR/JPY, GBP/USD, GBP/JPY, USD/CAD, EUR/GBP, and AUD/USD. Although the trading strategy is not mentioned anywhere on the website, we can assume that the robot uses a scalping strategy.
This scheme involves extracting small profits from each trade by taking advantage of price differences. It requires one to hold their position for a short period of time; otherwise, the price may leave the profitable zone.
How to Start Trading With FX Scalper X
TThe license for the FX Scalper X Bundle can be purchased for $115/3 months, $189/year, and $339/lifetime membership. When you purchase the license for the robot, you get 3 EAs for the price of one: Fx Scalper X, Fx Scalper XX, and Fx Scalper XXX.


Compared to the market average, the pricing packages are not too expensive. In the Terms of Service section, the vendor has stated that there are refunds for any of the services offered by FX Scalper X. Most reputable companies offer money-back guarantees, and this will no doubt deter some individuals from investing. It's a red sign for this EA. If you are not satisfied with how the robot works after the purchase, you won't be able to ask for refundment.
FX Scalper X is easy to install and makes profits on autopilot without the need for manual intervention. The minimum starting balance is $100, while the recommended deposit is $500. As per vendor claims, you don't need any prior trading experience to work with this system, and after you complete your purchase, you will receive the download link along with a user manual within 24 hours.
FX Scalper X Backtests
Unfortunately, backtest report is not provided on the dev's website. It looks odd for a system that boasts about 300% of yearly income. It's clear that if the system worked well, there would nothing to hide from the public.
Trading Results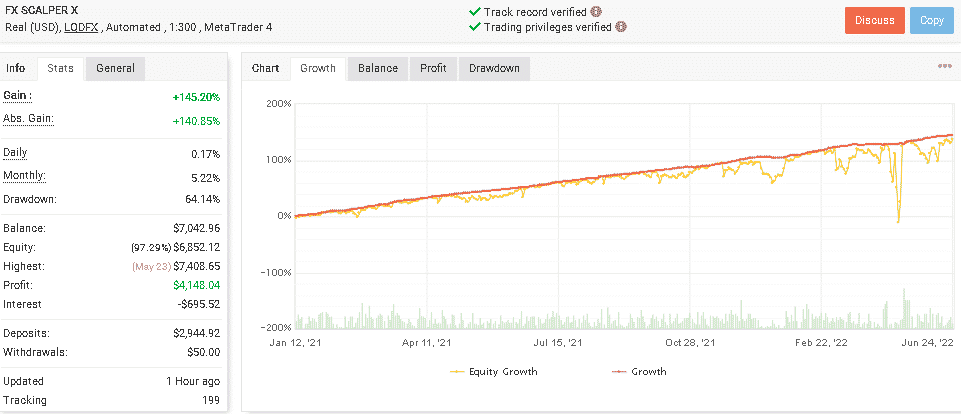 This is a live trading account for FX Scalper X that was launched on 12th January 2021. With a deposit of over $2.9K, its gain profit grew to 145.20%. It resulted in $4,148 of the total net profit. Myfxbook account shows daily and monthly profits of 0.17% and 5.22%, respectively, with a very high drawdown of 64,14%. This is unacceptable. Out of 9,844 trades performed, 7,145 were profitable, which represents a win rate of 73%.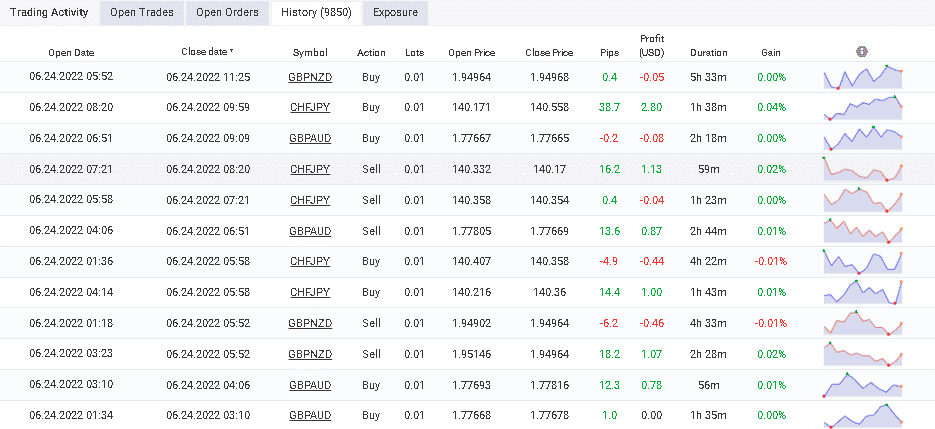 Looking at the trading history, we can see that the losses have been few and far between.
People Feedback
The devs shared a few screenshots on their web for FX Scalper X. Undoubtedly, all these reviews are positive. Frankly, we do not see any adequate reason to trust them. Historically, trader reviews written on the websites of developers are purposely manipulated.
The Review
We are disappointed to see so many drawbacks of FX Scalper X. Unfortunately, there is no verified customer feedback provided to judge how their service performs. Extremely high drawdown, lack of vendor transparency, no backtest report, and absence of refund policy are the other red flags of this ATS.
PROS
Verified live trading results
Affordable pricing plans
CONS
Lack of vendor transparency
Extremely hig hdrawdown
No verified customer reviews
No backtest report
No refund