by Tim Baudin (Trading Expert)Last Updated : Tuesday 9th August 2022
Unlock the new world of bitcoin investment & trading. If you want to invest in bitcoin you don't need to be a computer geek. You can start in 3 simple steps within minutes!
CFDs are a simple way for people to get involved with Bitcoin. You don't need any wallet to store your Bitcoins or learn about other technical aspects. You can invest & trade in Bitcoin like any other stocks or commodities.
What Are The Benefits Of Investing Or Trading In Bitcoin?
Bitcoin is an

alternative asset

, comparable to gold. It's independent of public authorities and its value is determined by nothing more than supply and demand.
Furthermore, its finite supply coupled with increasing acceptability as a means of payment suggests

its value will rise over time

.
For traders, the volatility of Bitcoin against the dollar opens up opportunities for

profitable trading

– for those with strong nerves.
How Can I Invest Or Trade in Bitcoin?
You can buy Bitcoin online, or in some jurisdictions from special kiosks resembling auto-teller machines.
You can

trade Bitcoin using contracts for difference (CFDs)

in which you and a broker agree to pay the difference between the price of an asset on the day the contract is signed and the price on the day you have agreed to terminate the contract. Whichever of you has forecast correctly the direction the price will take is paid by the other. eToro offers trading in CFDs.
Why Would Anyone Invest In Bitcoins?
As a

diversification tool

. Bitcoin's universal nature means it's not exposed to specific market or economic events.
As a

bet on the future

. Bitcoin's most fervent supporters see it as a liberating force that will break the power of central banks and empower the individual.
As a

hedge against inflation

. If someone's domestic currency is losing its value, Bitcoin may seem an appealing shelter against the inflationary storm.
As a

straight forward investment

. Just as not everyone who invests in gold wants to see currencies once again backed by bullion, so some see Bitcoin as an asset, like any other, with the potential to appreciate in value.
How to start investing in Bitcoin with eToro
This is "probably the simplest way" to invest in bitcoin at the moment.
Step 1 : Go to Bitcoin page and click on "Trade"
Step 2 : Create your account with your details or through your Facebook or Google account.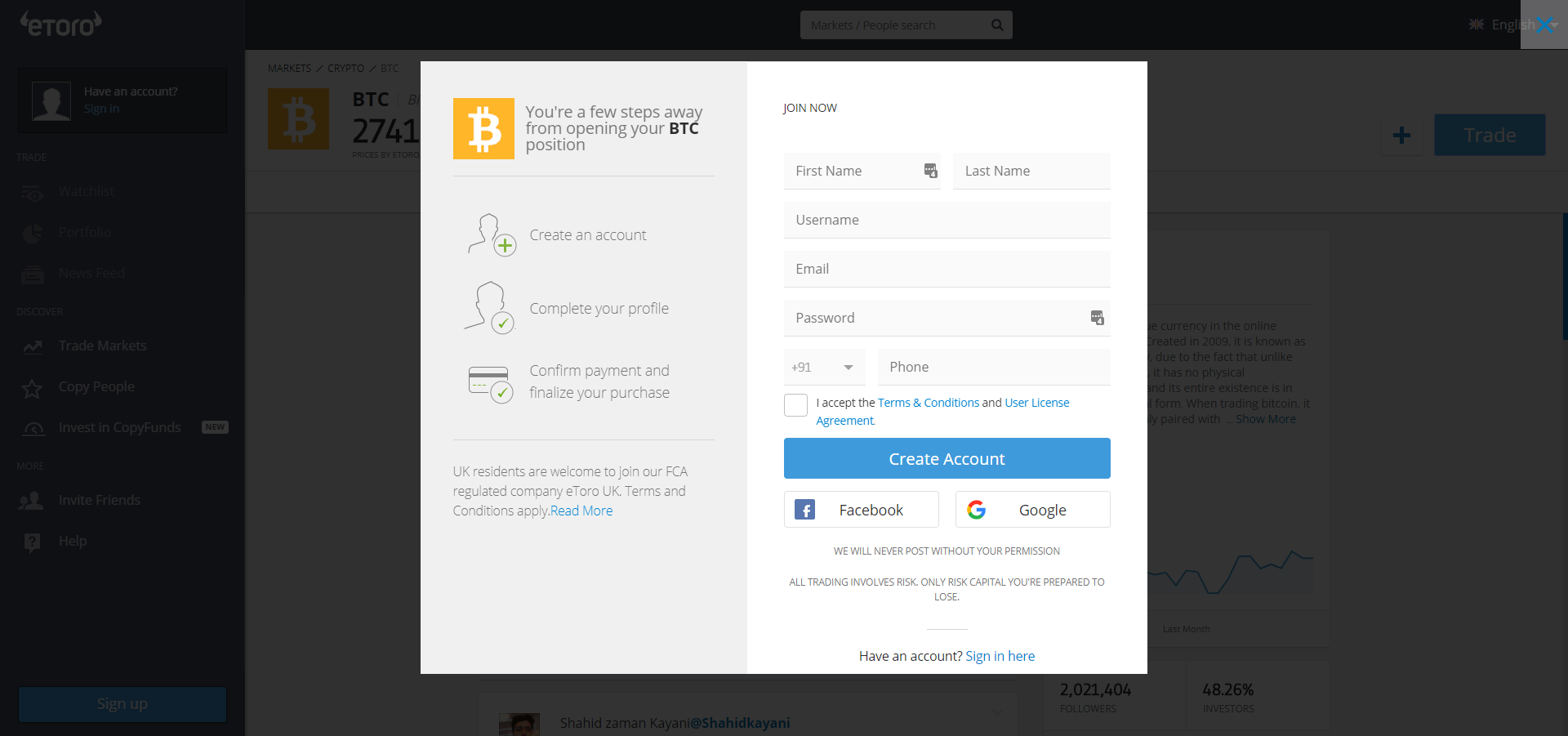 Step 3: After that you will be able to choose either BUY or SELL Bitcoin (BTC) for the amount of USD you wish. Minimum amount is US$25. You can BUY or SELL either at market price or book your order at your desired price. Set your stop loss and take profit levels.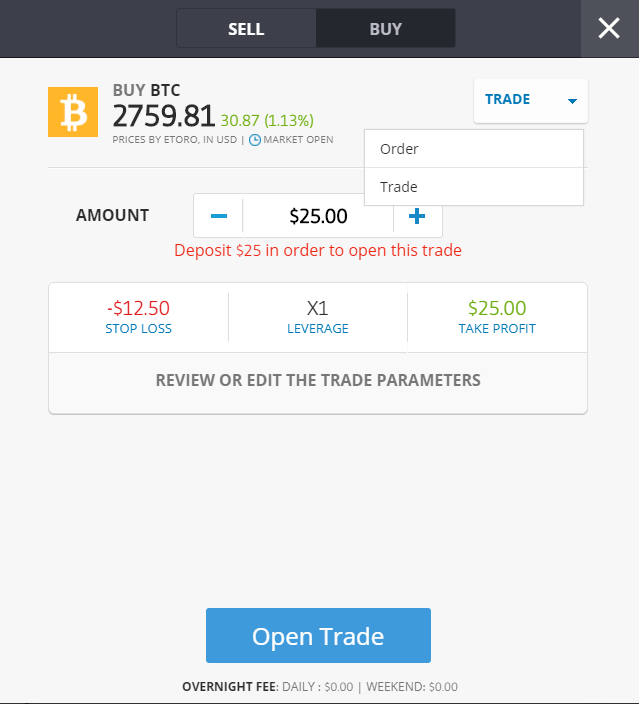 Step 4: Next you will need to enter your payment method and fill in a short survey which is required by regulations for eToro as it is a trading platform. Once you finish the survey you will be required to upload an identification document for your account to be verified. After you upload this document it can take up to 5 days to get reviewed although from my experience it takes much less.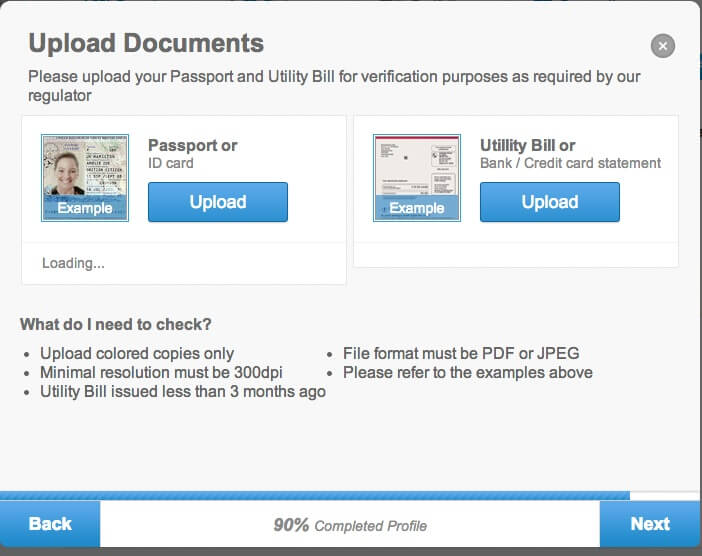 Once your account is verified your order will be executed in the next execution time which are at 06:00, 12:00, 18:00 and 00:00 Monday to Friday. So keep in mind that if you want to place a trade at 16:00 you need to place it at least 5 minutes before, meaning 15:55. eToro take a fee of a fixed 1% of the execution price or a minimum of 1 cent per transaction.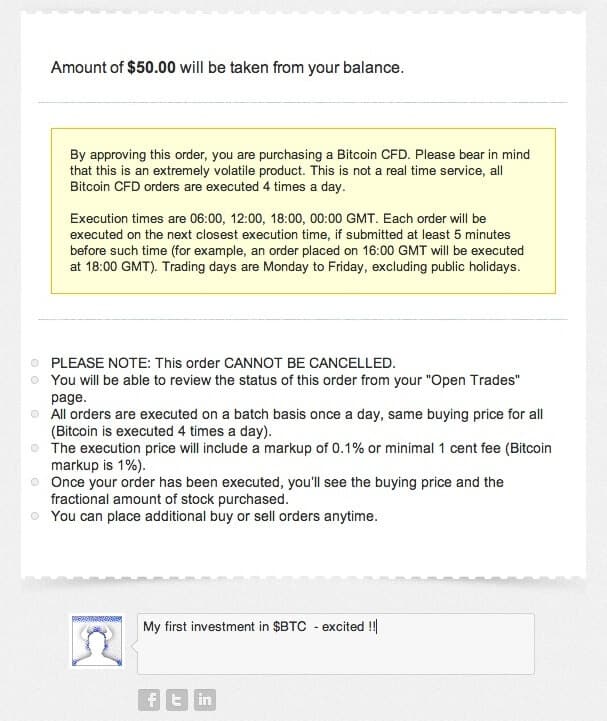 Start Trading
3 Reasons to Trade on eToro
1
Cryptocurrency CopyFunds
CopyFunds bundles together various traders, or assets following a predetermined strategy, into a single tradable asset. Each CopyFund is composed by the eToro Investment Committee and is rebalanced periodically. Here are two options for cryptocurrency-based CopyFunds:
Crypto-currency: This CopyFund gives traders combined exposure to Bitcoin and Ethereum. This fund has generated profits of more than 125% in its first three months, including an impressive 66% increase during May of 2017's cryptocurrency bull run.
Crypto CopyFund: Recently launched on eToro, this CopyFund is composed of a balanced cryptocurrency portfolio, including Litecoin, Ripple, Dash, Ethereum Classic, Bitcoin and Ethereum.
2
Social trading: Copy a Popular Investor
One of eToro's most popular features is CopyTrading, which enables almost any client to copy other traders or be copied by them. Successful traders who show consistent returns while maintaining a low-risk score can become Popular Investors, and get rewarded for sharing their wisdom. If you want exposure to the cryptocurrency market with less of a "hands on" approach, consider taking a look at one of these Popular Investors:
@JayNemesis: Jay is perhaps the most popular cryptocurrency trader on eToro, amassing thousands of copiers in the short time since the cryptocurrency craze began.
@AlexPlesk: This Popular Investor uses cryptocurrencies as part of a well-balanced stock-based portfolio.
@Wesl3y: While focusing mainly on stocks, Wes from the UK diversifies his portfolio with cryptocurrencies.
3
Advantages Over Traditional Exchanges
Entry barriers:

Cryptocurrency exchanges usually demand a rigorous verification process and require the installation of additional software alongside an understanding of blockchain technology. eToro's process is comparatively simpler, enabling you to sign up and start trading quickly on a single platform.

Regulated platform:

The cryptocurrency market is very new, and its legal status is still being debated in many countries. As such, it puts traders in danger of being scammed. The eToro platform adheres to the strictest of regulations, so you know you can trade with confidence.

Quick and intuitive trading:

Since eToro deals with CFDs, you don't need to buy the underlying asset. Therefore, transactions can be completed within seconds, and you can trade cryptocurrencies 24/7 even on weekends and holidays.
FAQs
What is the best way to trade Bitcoin?
Trading in Bitcoin, or any other financial asset like crude oil, offers many opportunities. However, it can be difficult to navigate between brokers, spreads and sky-high management fees. That's why managing your own investments based on price variances makes sense for many trading beginners.
Using the increasingly popular financial instrument called a CFD, or contract for difference, you can open a buy or sell position based on the current price of Bitcoin in a matter of seconds.
How do Bitcoin CFDs work?
Bitcoin CFDs are based on the price of Bitcoin at the time of purchase. When the Bitcoin price rises, so does the value of your buy position on Bitcoin. You can decide to stop your position and take the profit, or wait to see if the price will rise further. If the price dips, you can decide to stick out your buy position until the price recovers, or stop your position and take a loss to the capital you invested. Alternatively, if you believe the price will drop, you can open a sell position.
How can I learn to trade Bitcoin?
With eToro, you have access to:
Multiple successful Bitcoin traders you can learn from

Live discussions on our Bitcoin trading page regarding market trends

A $100K practice trading account called the virtual portfolio

Email updates on the markets

Blog posts, live hangouts and video tutorials on how to trade
The eToro platform has over 5 million users, with varying levels of experience in the market. Investment discussions and portfolio allocations are open to other users, as is the ability to automatically copy successful traders. Because many first-time investors are not yet familiar with the markets, eToro also provides new users with $100K of virtual funds to practice with until they are ready to start investing.
What makes eToro different from forex companies?
Forex investments are particularly volatile, making this type of trading very popular for investors looking for quick results. However, most professional investors recommend diversifying between several types of instruments, in order to properly manage risk levels.
At eToro, you can invest in currency, commodity, index, stock and ETF CFDs on our easy-to-use platform. If you aren't sure of the best way to invest in a specific type of instrument, you can use our People Discovery tool to find traders who specialize in that instrument and learn from them or copy them directly.
Invest in Bitcoin on the World's Leading Social Trading Network
Join millions who have already discovered smarter strategies for investing in Bitcoin. Learn from experienced eToro traders or copy their positions automatically.
All trading involves risk. Only risk capital you are prepared to lose. This post is not investment advice. Past performance is not an indicator of future results.