For traders who want to extend their trading expertise to a wider and more lucrative arena, an MT5 compatible broker is an ideal choice. This is because with the best broker for MetaTrader 5, you can trade commodities, equities, and more besides Forex. Furthermore, the MT5 platform uses a greater number of technical indicators and charts that support over 21 timeframes. No wonder brokers offering the MT5 platform are becoming popular now.
The fact that FX traders can work easily using automated systems with this software is a definite deciding factor. Moreover, the platform is mobile-friendly which is another thing that tips the scales in favor of the MT5 application. The platform also ensures your orders are executed faster when compared to an MT4 broker. So, it is a no-brainer to go for an MT5 broker when you are looking to diversify your trading portfolio and want to trade multiple assets under a single window.
Top 6 MT5 Brokers
When you want to use simple but multifunctional software, where you can trade successfully in Forex, an MT5 broker is a perfect choice. With many of the automated systems in Forex using algorithmic principles that work best with the MT5 software, using a compatible broker is necessary. Here is a list of MetaTrader 5 brokers that helps you to find a suitable broker for your trades.
| | | | | | | | | |
| --- | --- | --- | --- | --- | --- | --- | --- | --- |
| Broker | Founded | HQ | Regulations | Platforms | Markets | Deposit from | Leverage up to | Website |
| | 2015 | DE, AU, UAE | Depends on the chosen broker | TechBerry, MT4, MT5 | All trading instruments available with MetaTrader | $5000 | Varies | visit |
| | 2001 | USA | NFA, CFTC, FCA, ASIC, CySEC | MT4, MT5, NinjaTrader | Forex, Indices, Commodities, Stocks, ETFs, Options, Bonds, Crypto | $100 | 1:500 | visit |
| | 2001 | Estonia | FCA, CySEC, AFSL | MT4, MT5, WebTrader | Forex, Indices, Commodities, Shares, ETFs, Bonds | $100 | 1:30 | visit |
| | 2009 | Australia | ASIC, VFSC, CIMA | MT4, MT5, Vantage FX Apps | Forex, Indices, Commodities, Metals, Stocks | $200 | 1:500 | visit |
| | 2017 | Cyprus | CySEC | MT4, MT5 | Forex, Stocks, Futures, Bonds, Options | $100 | 1:500 | visit |
| | 2008 | Cyprus | FCA, CySEC, FSA, FSCA | MT4, MT5, WebTrader | Forex, Indices, Stocks, Crypto, Metals, Energies | $10 | 1:2000 | visit |
6 Best Forex Brokers with MT5 platform
FX brokers offering the MT5 software are aplenty. But not all brokers offer the quality or benefits you need for successful trading. We have assembled a list of the 5 best MetaTrader 5 brokers. Read on to know about them and how they are superior to their competitors.
1. TechBerry: Social trading with the best MT5 brokers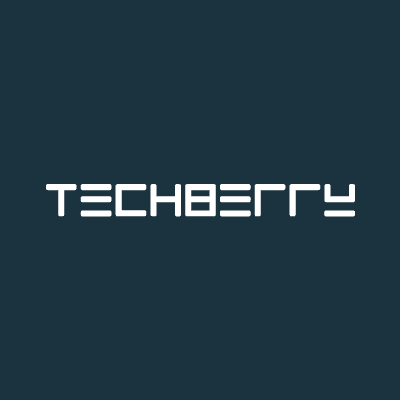 visit site
Regulated by
Depends on the chosen broker
Platforms
TechBerry platform
Founded
2015
Business Model
Memberships
Features
Social trading automated by AI algorithms
Min. Deposit
$5000
Leverage
–
Monthly Return
11.2%
TechBerry is ML-powered social trading platform that delivers impressive results in the financial markets for its subscribers. It supports more than 50 reliable forex brokers, regulated by FSA, FCA, CySec, CFTC, etc. Unlike other comparable services, this platform has many innovative features like 100% loss loss insurance fund secured by FIDC, real-time trade monitoring, access to a personal manager, high average monthly gains, etc. Big financial institutions can get a personalized quotation with special incentives by contacting the developers. Depending on your needs, you can choose from various packages, including green, silver, gold, platinum, diamond, and infinite.
2. Forex.com: Robust research and affordable fees
Regulated by
NFA, CFTC, FCA, ASIC
Platforms
MT4, MT5, NinjaTrader
Founded
2001
Business Model
ECN/STP
Headquarters
USA
Min. Deposit
$250
Leverage
1:500
Typical Spread
1.2 – 2.2 pips
Founded in 2001, this best broker for MetaTrader 5 belongs to StoneX Group Inc. Significant aspects this FX site offers include plenty of technical research systems, multiple currency pairs to trade on, and low fees. Regulated in Japan, UK, Cayman Islands, Canada, and the USA, this brokerage does not have fees for withdrawal.
The minimum sum is $100 for account setup, which takes about 1 to 3 days. Different payment selections are available including e-wallets. This service supports 6 base currencies and offers CFD and Crypto services besides Forex trading.The broker provides consistent and quick execution of trades and delivers diverse platforms. (Forex.com Review)
Advantages
The fees charged is low
Offers many currency pairs
The tools for analysis are abundant
Offers concessions for traders who deal with high-volume trades
Disadvantages
The charges for CFD and stocks are high
The desktop format is not user-friendly
Does not have a wide product range
3. Admiral Markets: Innovative features and best knowledge base
Regulated by
FCA, CySEC, AFSL
Platforms
MT4, MT5, WebTrader
Founded
2001
Business Model
ECN/STP
Headquarters
Estonia
Min. Deposit
$100
Leverage
1:30
Typical Spread
0.5 – 1.5 pips
Launched in 2001, this best broker for MetaTrader 5 focuses on FX and CFD trading. Unlike other comparable MT5 services, this site has many innovative features like Premium analytics where clients can use reputed news sources like Acuity Trading. The provider has valuable and educational content for newbie traders making it perfect for beginner traders. A commission of $0 to $3 is charged by this service which offers a varied range of instruments including cryptocurrency, shares, bonds, stocks, commodities, and more in addition to Forex. You can pick from the diverse account types presented that claim tight spreads and rapid execution.
Advantages
Well-regulated
The software is user-friendly
Tools present for trading are uniquely formatted
The minimum payment for starting an account is $1
Offers more than 4000 CFDs and over 4500 ETFs and shares
Disadvantages
Levies fees for inactive accounts
Does not allow US clients
Customer support is not receptive
4. Vantage FX: Versatile service
Regulated by
ASIC, VFSC, CIMA
Platforms
MT4, MT5, WebTrader, Vantage FX App
Founded
2009
Business Model
ECN/STP
Headquarters
Australia
Min. Deposit
$200
Leverage
1:500
Typical Spread
0 – 1 pips
As a service delivering CFD and Forex trading, Vantage FX was launched in 2009 in Australia. It has CIMA and ASIC regulations, which makes it a safe provider. The account opening process is quick and completed in a few minutes.
A minimum deposit amount of $200 is needed for registration. Many banking options are present for the transactions here that do not require any additional fee. This service supports 9 base currencies and provides a demo account. Cryptocurrencies, CFD, and Forex are the main assets this best broker for MetaTrader 5 offers. It offers educational resources and pro trader tools.
Advantages
Setting up takes very little time
Transactions are hassle-free
The fees charged is affordable
Disadvantages
Customer support is not good
The product range offered is very low
Does not offer accounts with a fixed spread
5. Just2Trade: Extensive product range and rapid execution
Regulated by
CySEC
Platforms
MT4, MT5
Founded
2017
Business Model
ECN/STP
Headquarters
Cyprus
Min. Deposit
$100
Leverage
1:500
Typical Spread
0.5 – 1.5 pips
Formed in 2006, this best broker for MetaTrader 5 offers a varied range including Forex, CFDs, Bonds, Commodities, Shares, and more. The company has over 155,000 clients across 130 countries. An order execution speed starting from 0.05 speed is possible with this service, due to the 100G network they use.
This best broker for MetaTrader 5 offers low spreads commencing from 0 pips, which is probable due to the liquidity collection from major banks. Regulation of this service is by CySEC, ICF, and MiFID. While the site offers services to many countries, it does not extend its services to the US. Besides the MT5 compatibility, it offers MT4, ROX, and CQG platforms.
Advantages
Varied range of products
Supports fiat and cryptocurrency payments
All major platforms are supported
Fees are affordable
User-friendly navigation
Disadvantages
Does not support many cryptocurrencies
The informative tools are limited
Account structure is confusing
6. Exness: Low spread and instant payment
Regulated by
FCA, CySEC, FSA, FSCA
Platforms
MT4, MT5, WebTrader
Founded
2008
Business Model
ECN/STP
Headquarters
Cyprus
Min. Deposit
$10
Leverage
1:2000
Typical Spread
1 – 2 pips
Structured by CySEC and FCA, Exness offers Forex and other allied services via MT5, MT4, mobile, and web platforms. Launched in 2008 by Petr Valov, this company is based in Cyprus. A minimum sum of $1 is sufficient to start an account here. The spreads begin from 0.0 pips and this best Forex broker MetaTrader 5 offers many transaction options like bank transfer and e-wallet methods.
Over 80 currency choices are present for deposits, but trading is only for gold, silver, and currencies. No stocks, shares, ETFs, futures, options, and commodity trading are allowed. This best broker for MetaTrader 5 allows 120 currency pairs and uses maximum leverage of 1:2 up to 1: unlimited leverage. (Exness Review)
Advantages
Ideal option for Forex traders
Offers free VPS service for clients with a lower limit of $500 in their account
No maximum and minimum limit on money withdrawal
Disadvantages
Not viable for trading CFD, stocks, and other instruments. Only gold, silver, and 120 currencies are allowed
Does not provide educational tools or guides
Does not allow traders from Australia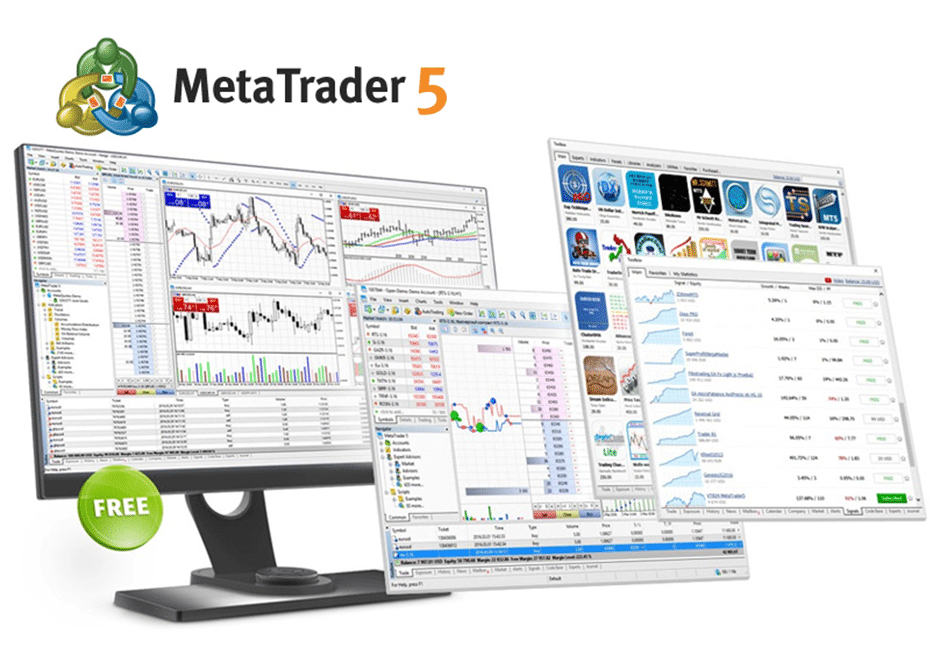 What is the MT5 or MetaTrader 5 platform?
The MetaTrader software is designed for electronic trading and has several potent features that aid in easy and effective execution and management of trades. It is developed by MetaQuotes Software, a Russian company. After the success of MetaTrader 4, the MT5 software, launched in 2010, with better capabilities and features has taken over the industry by storm. Although the two formats appear to be alike, they are not backward compatible. This is because the programming of MT5 is based on MQL5 code while it is MQL4 for MT4.
With this software, you get several benefits including
Advanced tools for market analysis (including fundamental and technical)
Copy trading
Automated trading
User-friendly design
Profitable feature setup
Although MT5 is mainly for Forex, you can use it for futures, CFDs, and stocks. The significant factors that make this format stand apart include its powerful and fast operation while being less demanding on the computer or server resources.
What is a MT5 broker?
MT5 brokers offer a trading platform that uses MT5 software. Through this latest trading software, they can offer a wider range of trading instruments like equities and commodities. With an MT5 broker, you can ensure a fast and completely safe server for your trading. Another advantage is the customizable interface. Compared to an MT4 broker, the MetaTrader 5 brokers offer several perks that enhance your trading experience. The advantages you get with such services include
Flexible Trading
You can find an advanced trading setup that allows you to test many strategies deftly. The system includes features like
A unique accounting process for ordering and trading
Hedge accounts are present
Order execution is possible in four different formats namely exchange, market, instant, and request
Orders are of different types including stop, market, pending, and trailing stop.
Real-Time analysis
Technical market assessment done using more than 100 quotes and charts at the same time is possible with these brokers. You also get 21 different timeframes so you do not miss even the slightest movement.
There are more than 80 indicators with graphs of paid and free types. You can also create your indicator, which enhances the way you trade.
Fundamental Analysis
Another important benefit is the capability to handle a large amount of data. The info from the latest news events is accessible quickly. An economic calendar reveals several macroeconomic indicators, which help to create a powerful trading approach.
Copy Trading
With the copy trading feature, you can replicate the approaches used by other expert and successful traders. Since the trades are already tested and ready, your winning prospects improve considerably. For a specific fee, you will get access to the signals of successful traders automatically. This will prevent you from the unnecessary hassle of conducting the analysis yourself.
Algorithmic trades
With algorithmic trades, you can increase your profits without having to oversee or manage the software or trade settings. Once you enter the required parameters in the software, it works automatically. The algorithm that the best broker for MetaTrader 5 provides is ideal for testing the strategies you have chosen or created.
Assets available on MT5
An important upside of using MT5 software is multiple assets you can access. With a wider range, you can expand your opportunities and improve the returns on your investment. Some of the significant tradable assets on MT5 include
Forex currency trading
CFDs (Contracts for Difference) for individual stocks
Stock indices
Precious metals
Commodities
Energies
Both experienced and newbie traders get to enjoy the advantage of accessing different asset classes. The software has allowed diverse trading prospects as well as better visibility in diverse asset classes and markets.
Due to the diversity in assets, it is possible to resort to the smart allocation of the assets. When it comes to asset management the main objective is to diversify the portfolio as much as you can and manage the risk based on the volatility prevailing in the market and the performance of the assets in the long and short term.
Advantages of using MT5 brokers
When you use the best broker for MetaTrader 5, you have access to advanced functions and tools that make your task quick, effective, and efficient. Automation is enabled by the software and it is mobile-friendly. There are several more perks you enjoy which are listed below:
MT5 allows hedging, which enables having multiple positions for a symbol including positions that are opposite to one another
Several features like individual accounts for ordering as well as trading, and diverse execution modes
Different analytic tools are provided including a charting system with 21 timeframes, 39 indicators, and four scaling modes.
Algorithmic method which is an effective trading approach is supported by the software which is based on MQL5 code. This ensures fast order execution and processing of huge amounts of data
Access to added services that boost your experience are obtainable including copy trading, virtual hosting, freelance strategy creators' database, and more
Fundamental analysis including economic calendar and financial news from reputed news agencies are easily accessible
Market depth feature helps traders to evaluate in-depth the volume and quotations of the securities at any given price
The strategy tester feature enables easy testing and better results presentation.
Disadvantages of trading with the MT5 platform
While the MT5 may appear to be advantageous all around, there are some drawbacks that can prevent you from using it effectively. Here are the important disadvantages:
Does not allow the import of external data
Since it is dissimilar to MT4, all the custom analytic tools and expert advisors that work on the MT4 platform need to be coded afresh.
The possibility of encountering bugs is high in MT5 as it is a fairly new platform so the resources and libraries available are very few when compared to the MT4 software
Opening several orders can be difficult in some cases as modification of the previous order occurs as soon as you open a new one.
Only Android and iOS forms are offered for this program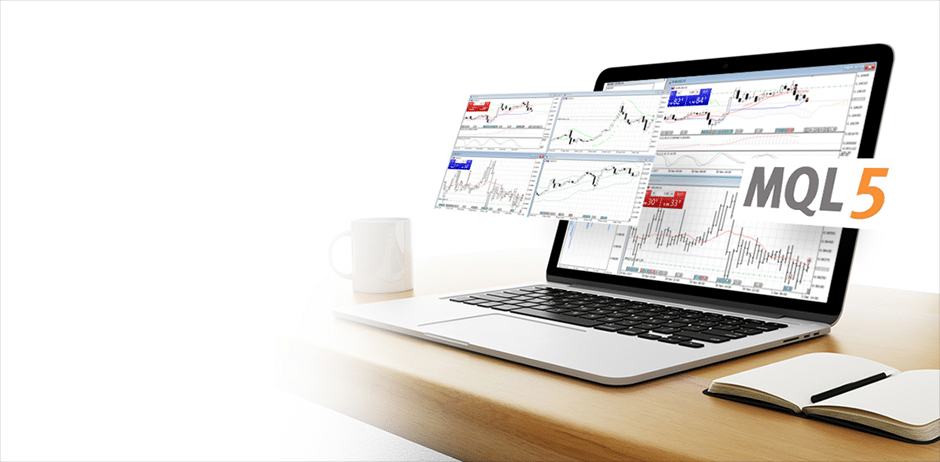 How to choose an MT5 broker?
MT5 brokers offer several advantages to traders of any level. Hence it is natural for traders looking to diversify their approach and increase their profits. To ensure you succeed in this endeavor, you have to choose the best MT5 broker. There are several aspects you have to consider such as the quality, price, and more. Here are five important things you need to look for before you open an account and start using the service.
Safety and regulation
A safe platform is paramount when it comes to choosing the best MetaTrader 5 broker. Ascertain the broker is well-regulated. Lack of regulation can put your money in jeopardy. This includes proper authorization and license from reputed organizations such as FSCA, CySEC, and more. Your investment will be safe and sound.
Variety of assets
Not all services provide the assets you want to use. With Forex itself, many brokers do not cover all the base currencies. Some offer only a limited number of features on the various assets. So, make sure you validate the asset programs existing with the service before you decide.
Low commissions
Look for the expenses you have to cover by using the broker. Most often the standard account is not charged. For a large volume of trades, an ECN account is preferable. Or choose a Raw account that allows trading major currency pairs with a flat rate as commission like $2 or $3 for a slide. Also look for the expenses related to withdrawal, inactive accounts, financing, and more.
Deposit and withdrawal methods
Make sure the broker has verified payment options linking Visa, Master Card, e-wallets, and more. This will make it easy for you to deposit money via any of the options that you can use. Remember that the MT5 software does not control your funds but the best Forex broker MetaTrader 5 you choose.
Leverage offering
The probable profit margin in trading is very low if you are a scalper or a day trader. So, finding the leverage offered is a smart way to ensure your margin is good. In general, the leverage offered depends on the country you reside in.
Conclusion: Which Is The Best MT5 Broker?
Your trading experience will be satisfying and profitable when you get to pick the best MT5 broker. Even though the trading style, frequency, and volume differ, the criteria for picking the broker remain mostly universal. With the above tips and guides on using the MT5 broker, you will be able to find the right service that meets your specific requirements. The list of the best MT5 brokers we have assembled will help narrow down your choices and pick one quickly.
MetaTrader 5 brokers FAQs
What broker should I use for MetaTrader 5?
You can find several brokers that offer MT5 compatibility. For finding the best Forex broker MT5, you need to consider factors like regulation, assets, fees, leverage, and more. Have a look at our list of best MT5 brokers to pick from.
Can I use MetaTrader 5 without a broker?
Although you can use MT5 without a broker, a broker guides you on the trades and your chances of success are more. A broker guarantees you safe and transparent operations. Make sure you choose the best Forex broker MetaTrader 5.
Do you need a broker for MT5?
A broker is essential for MT5 as it helps to ensure your investment is safe and gives you the profits you want. You get easy Forex market accessibility and use a demo account before you decide on using a real account.
Does MetaTrader 5 take commission?
The MT5 software does not take a commission. For retail traders, it is obtainable for free from your broker or you can download it from the MetaQuotes site. For brokers, three different licenses are obtainable namely the entry, standard, and enterprise license.
What is the minimum deposit for MetaTrader 5?
The minimum deposit is based on the account and the service provider. The initial deposit for MT5 ranges from $1 up to unlimited value.