What do we know about Forex Fury?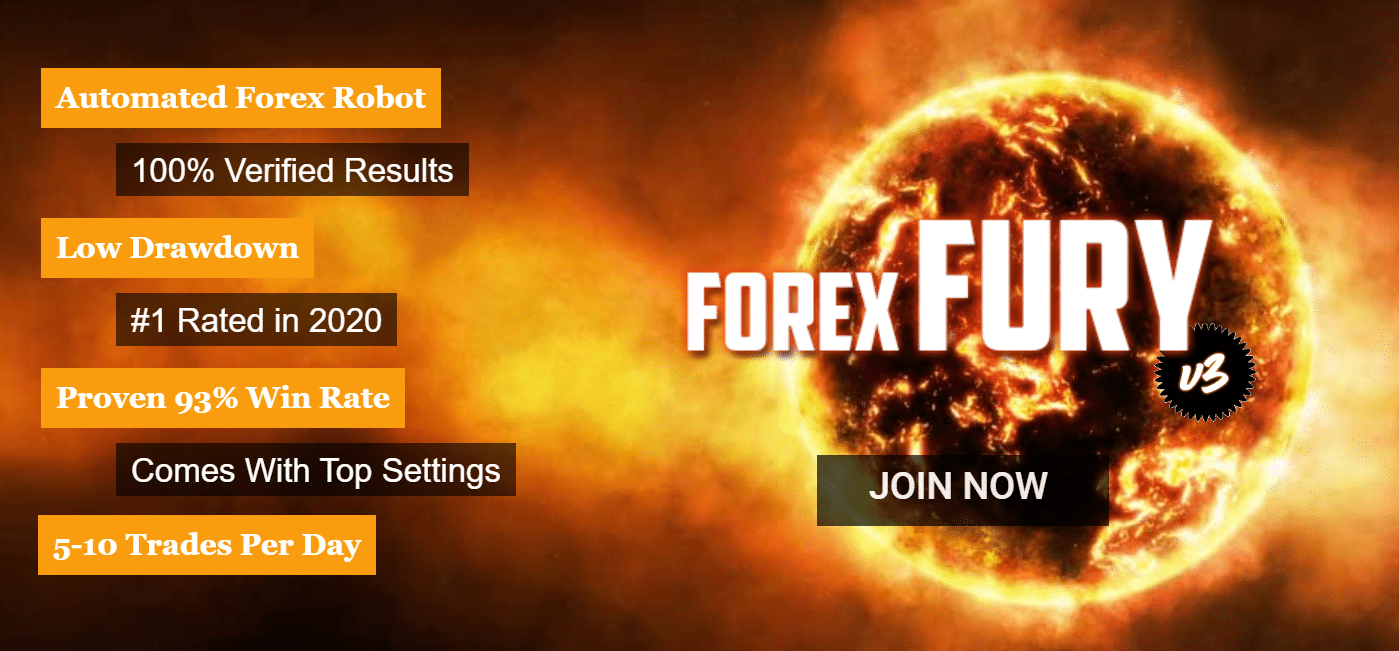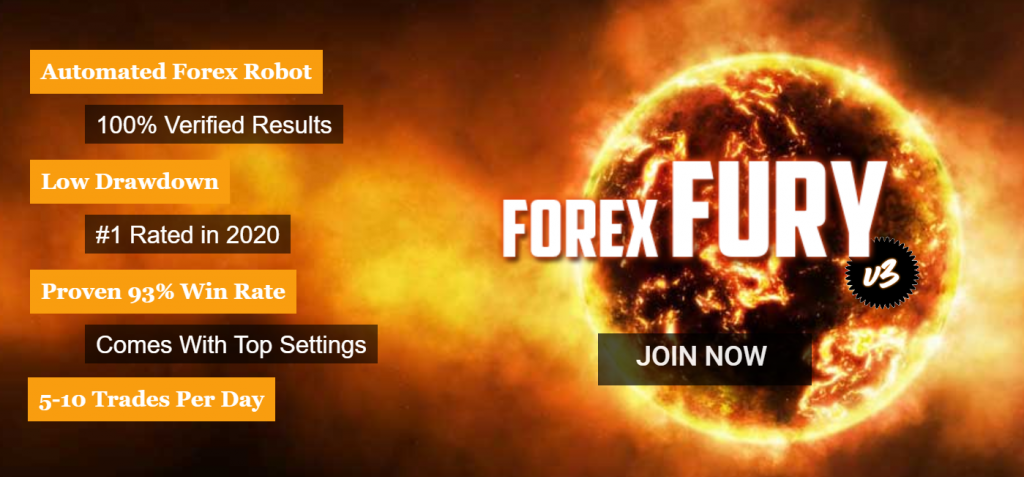 We're offered by the robot that has got a 93% win-rate. The devs team provides a well-explained installation guide, welcome and knowledgable support team, free installation, very profitable settings. All of this is suitable for traders with any level of experience.
The robot's features
The list of features looks like this: the robot is compatible with NFA, FIFO, MT4, and MT5 Build 600+, has proved and well-tested settings, the low drawdowns trading (20% or less), ECN Support, effective and well-shaped money management system, multi pairs trading, EA works with MT4 and MT5 brokerage companies, there are bunch of filters to avoid trading during bad market conditions, there is provided the easy-to-go installation as well.
Strategy backtesting

The devs provide 15-year backtest results where the robot could grow an account to +466725%.

At the same time, developers told us that they didn't rely so much on backtesting data when the robot trades on many accounts and allows us to see real trading data instead of backtesting positive numbers. The rest backtests results may be available in the Members Area of the site.
Real trading results are provided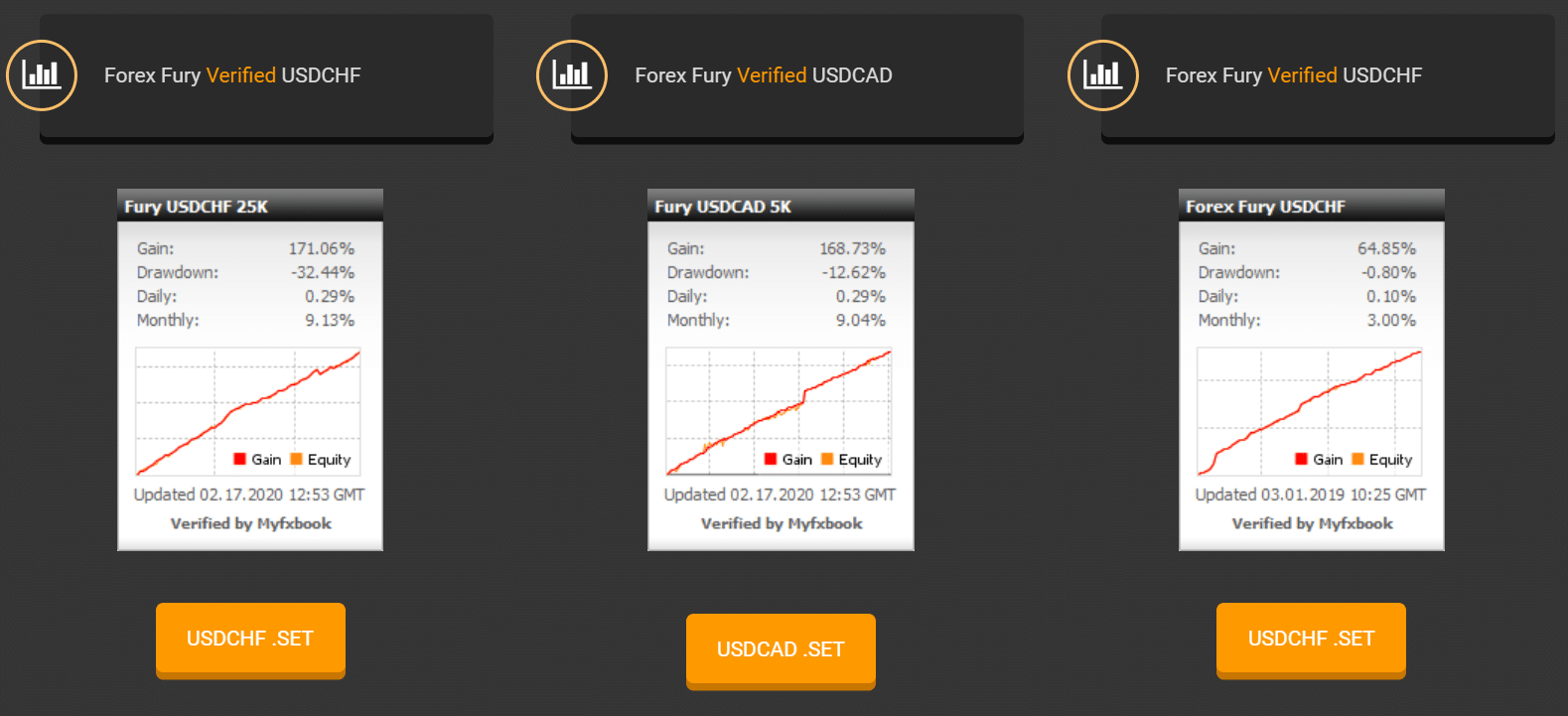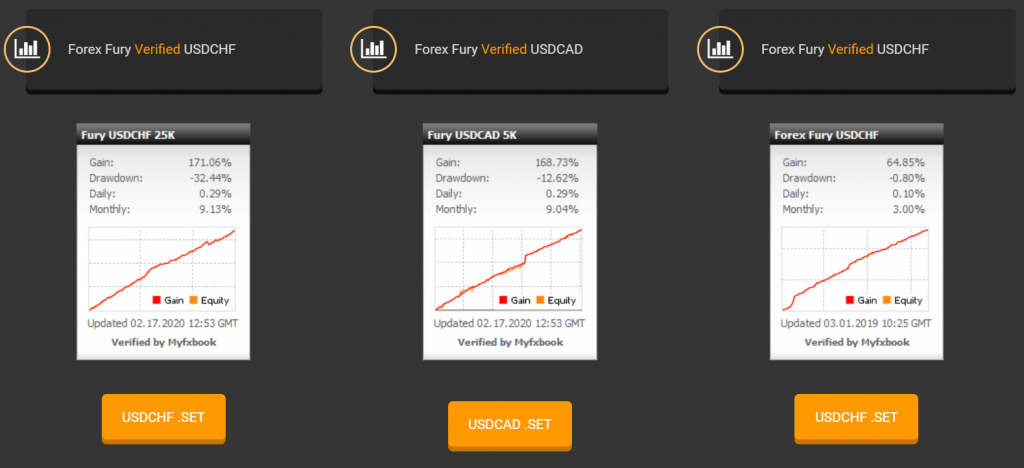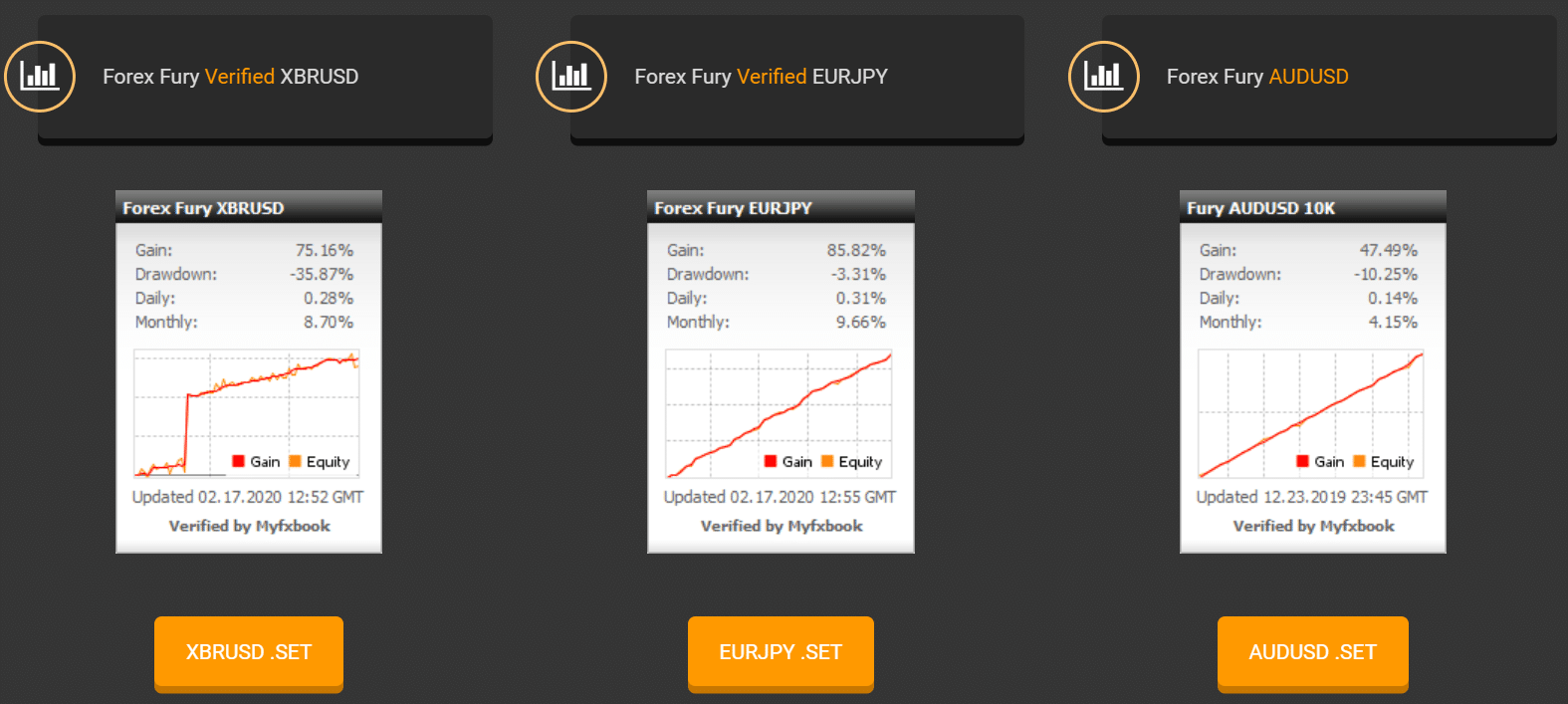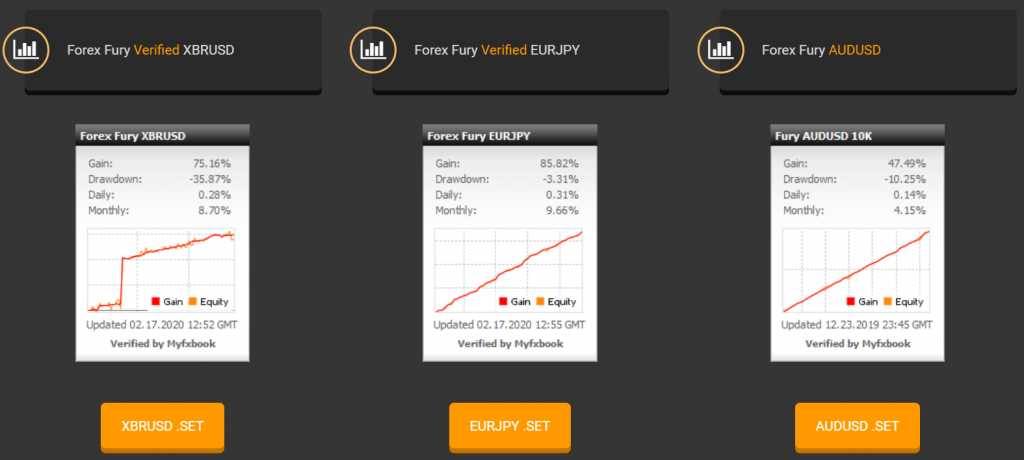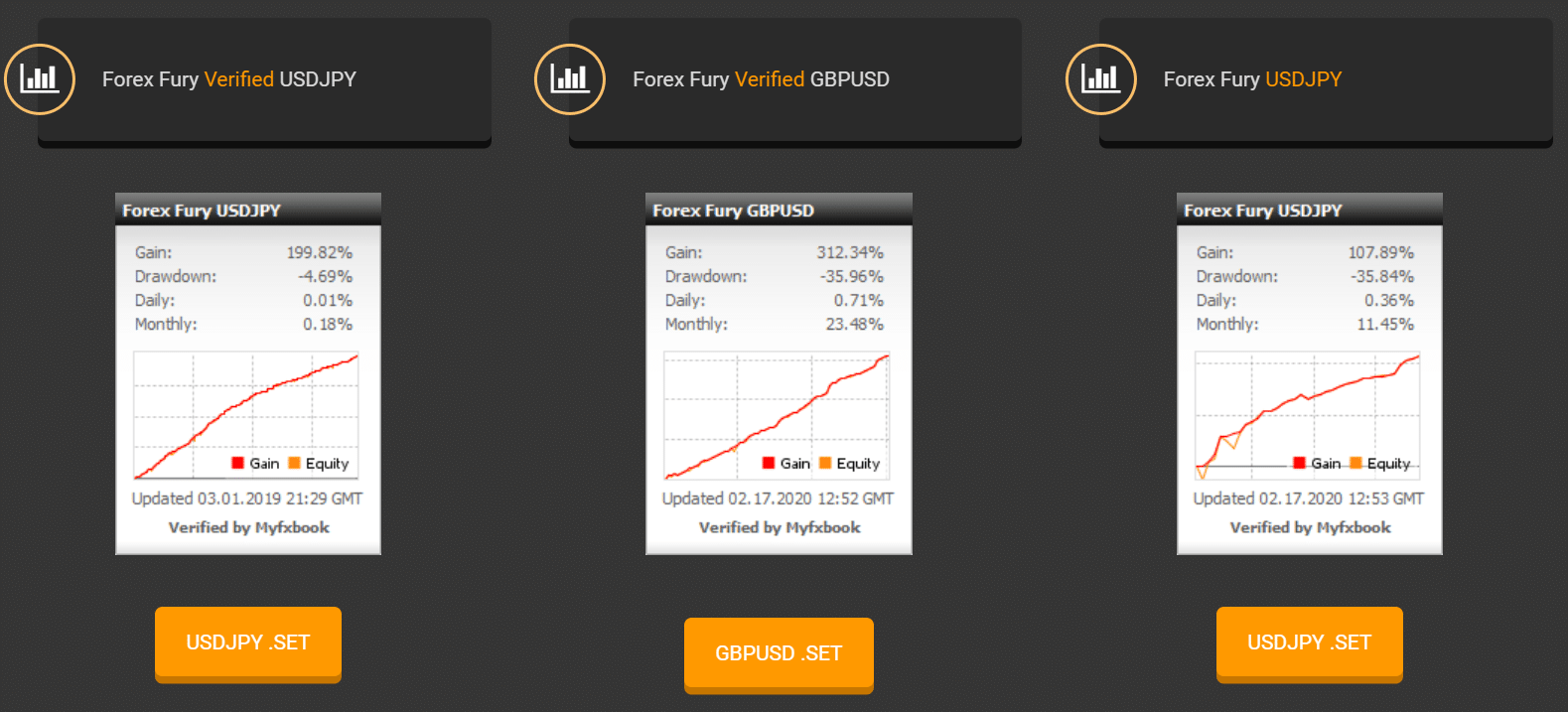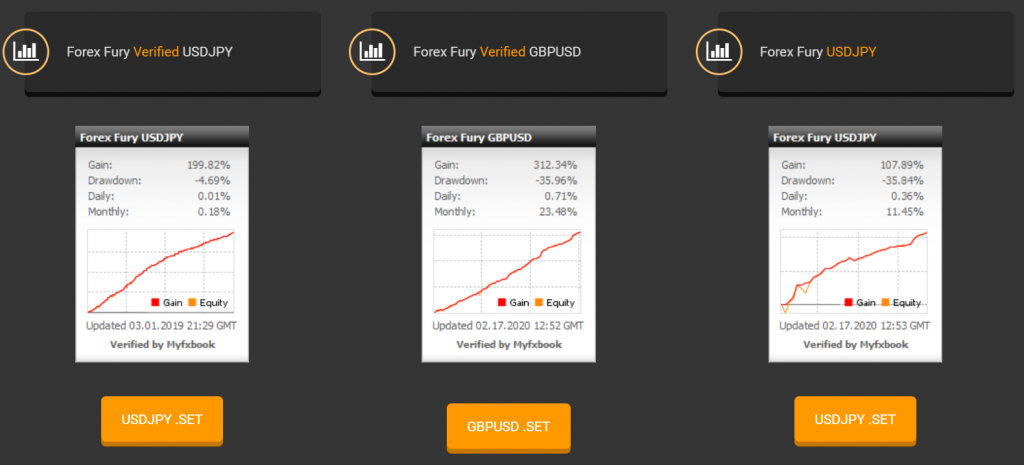 As we can see from 9 charts, there are more than even needed verified accounts. Let's check one of these.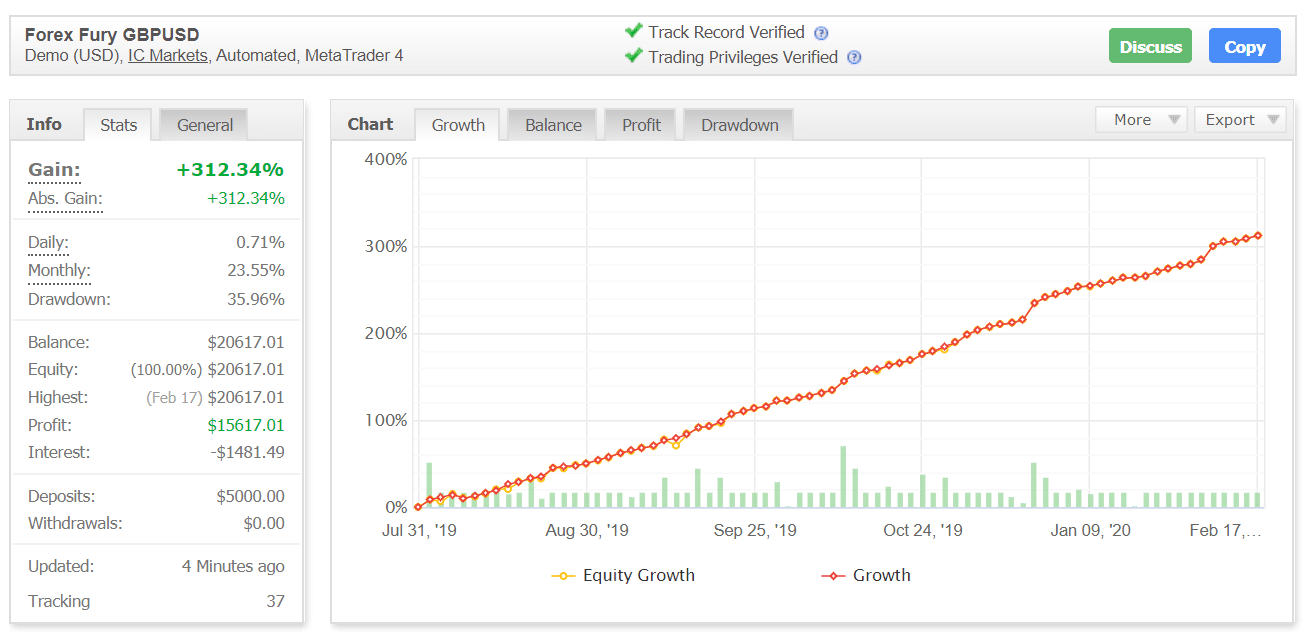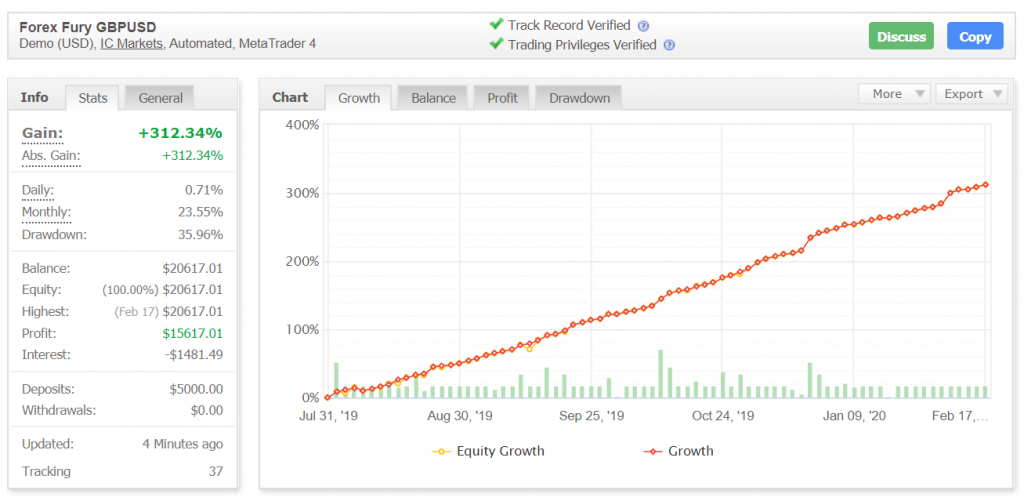 It's a GBP/USD demo account with IC Markets as a brokerage company. The robot runs without leverage on the MetaTrader 4 platform. The monthly gain is very high and equals 23.55%. This result is reached because of trading with high drawdowns (36%). The account has been created a half year ago and been funded on $5000. During the period the robot provided $15617 of the profit.

The robot runs with one of the best win-rate across all Forex robots. There's no loss in short trades at all (243/243 have been won), and 98% win-rate for longs. The profit factor is 67. The average trade length is 13 hours. There have been performed 623 trades and 3855 pips.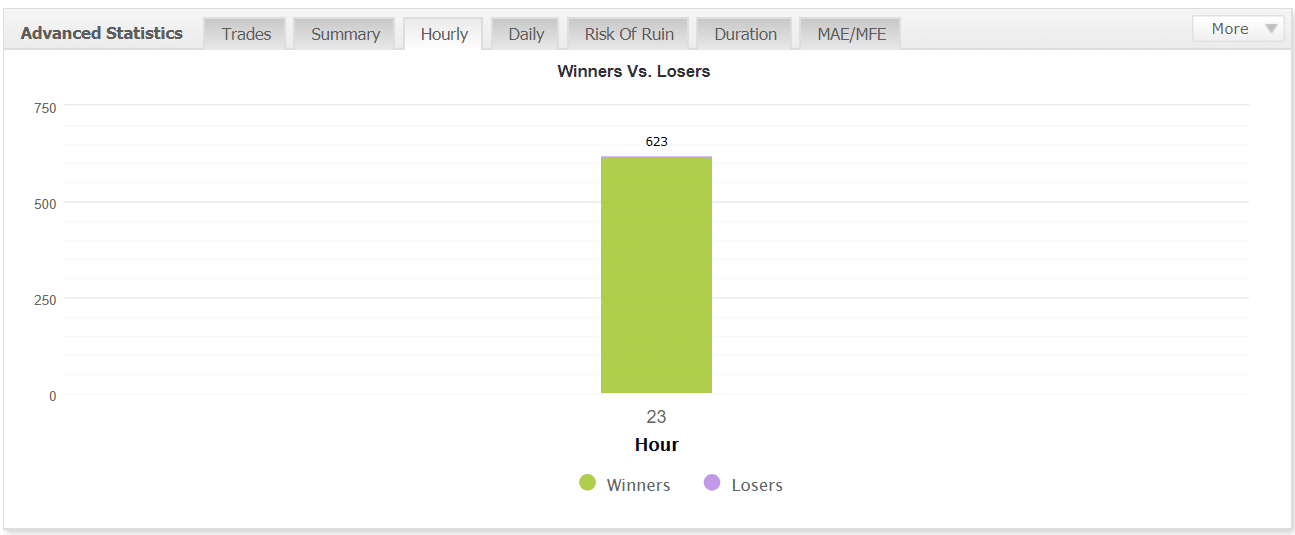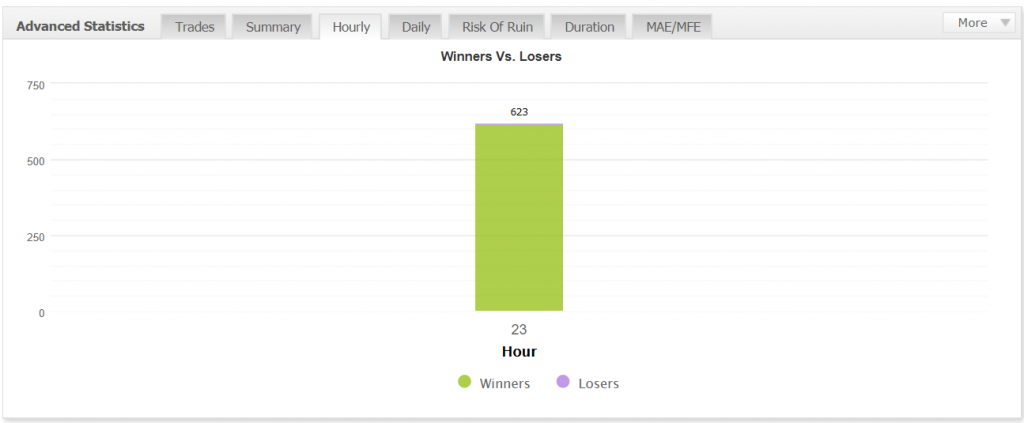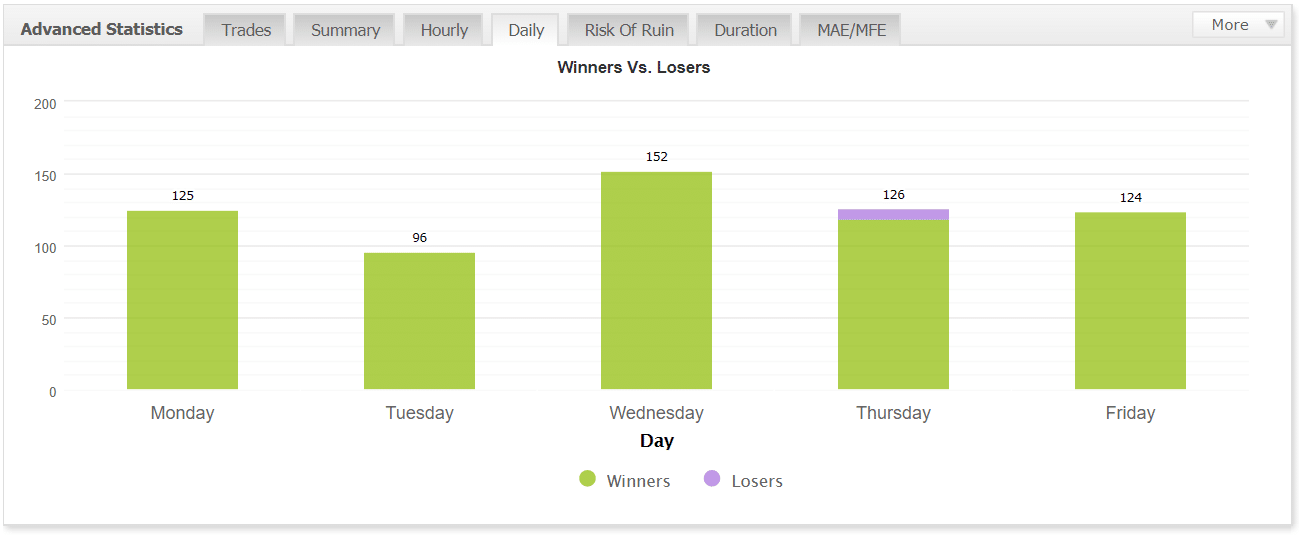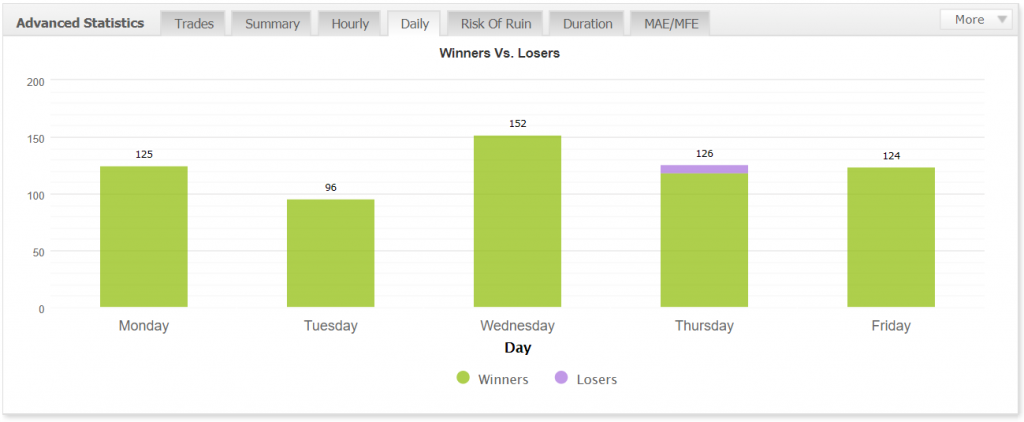 The robot opens trades before the market goes to the next day five days a week.


This account performs with low-risk settings.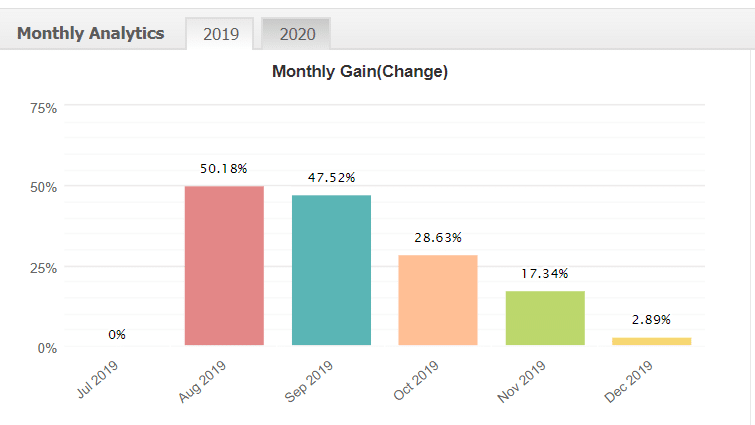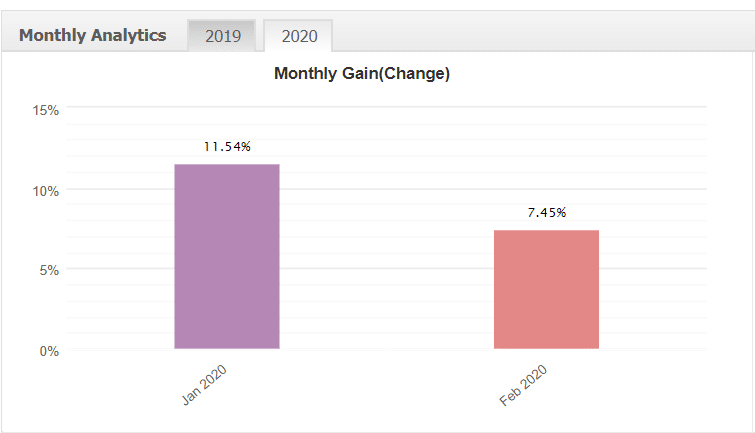 At the start, the robot traded with high risks, so, there have been about 50% of the month grow during the first two months.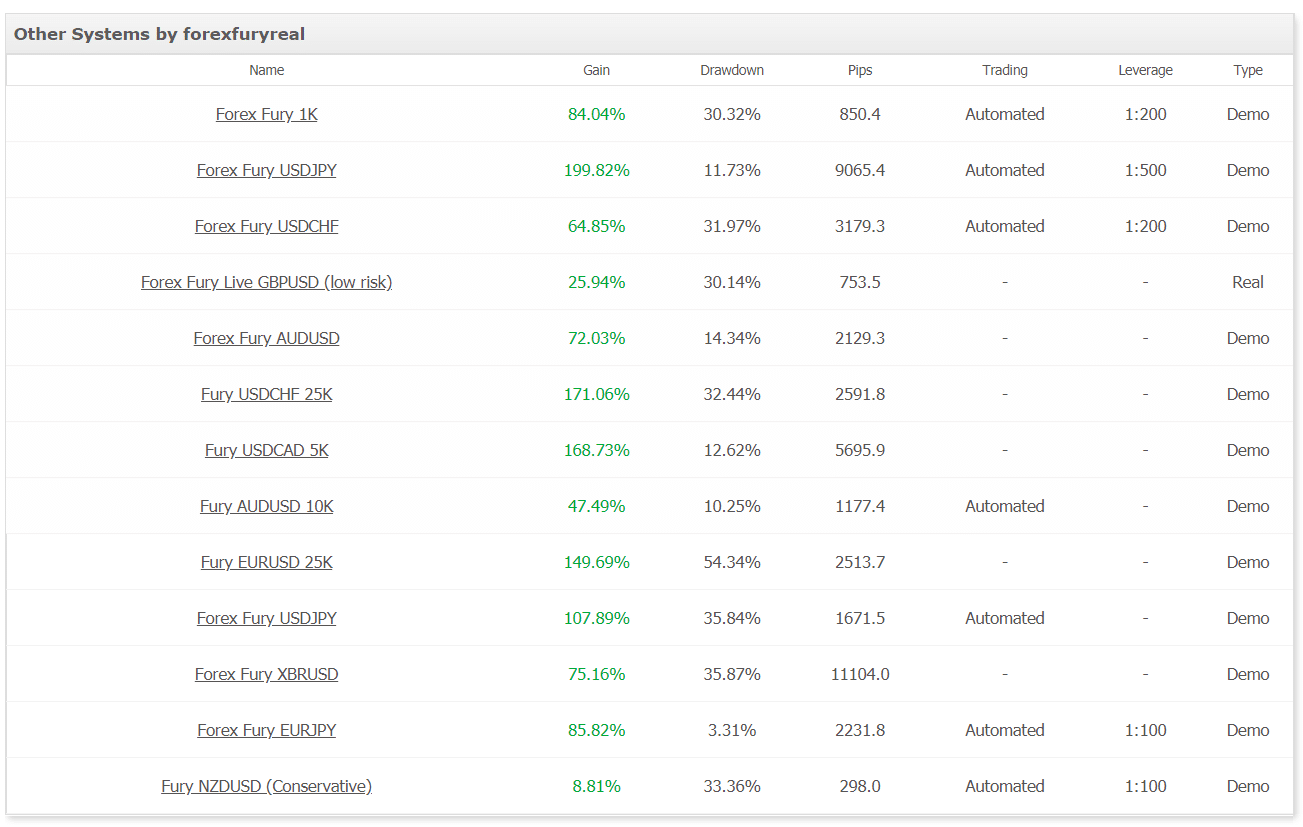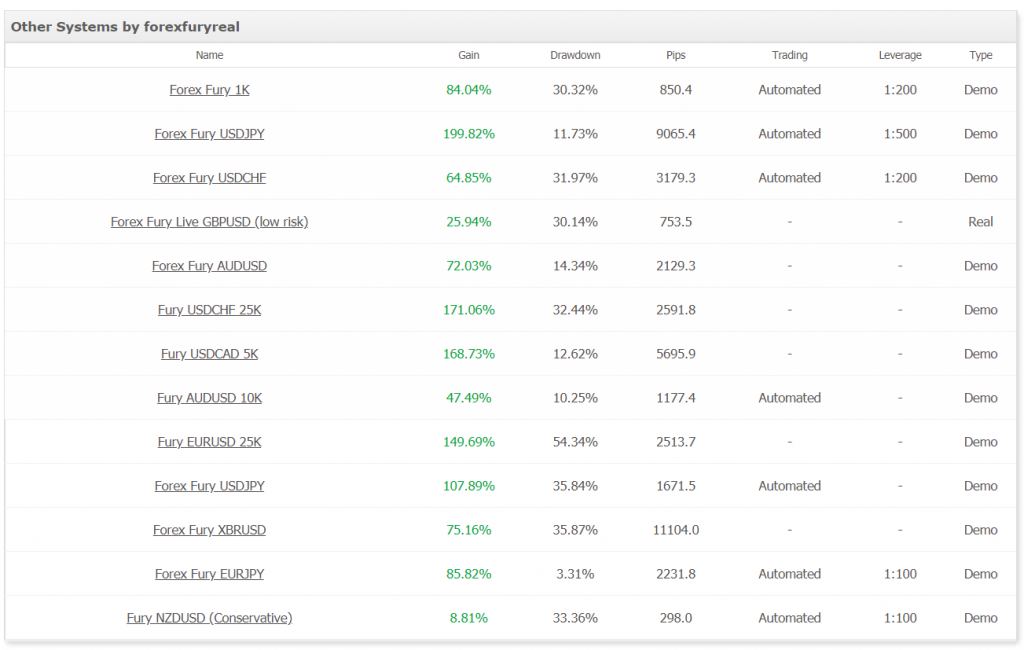 It's an extended list of all Forex Fury's accounts.
How much does Forex Fury cost?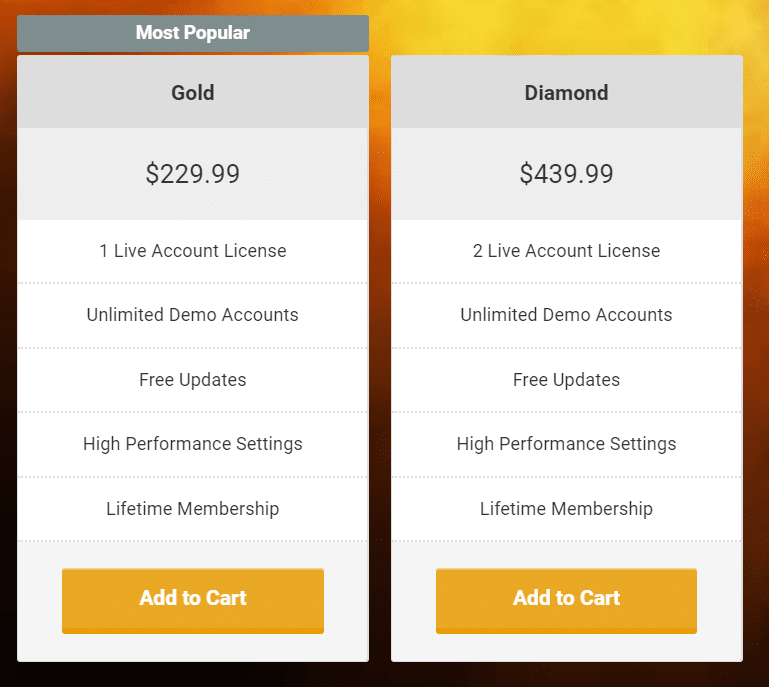 The seller introduces two packages. The Gold one costs $230 and gives to us a live account, unlimited demo accounts, free updates, high-performance settings, and lifetime membership. For $440 we'll the Diamond package with 2 live account licenses.
What do people mind about ForexFury?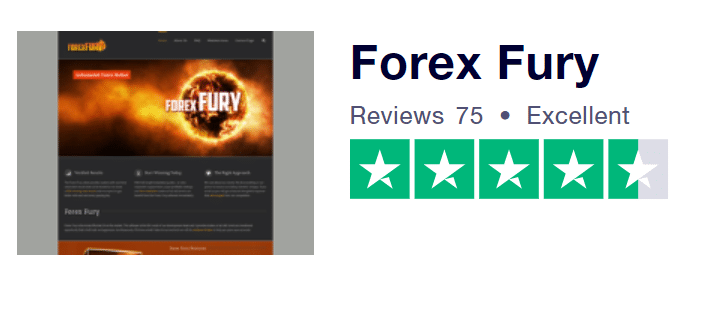 There's a 93% rate on Trustpilot according to 75 reviews.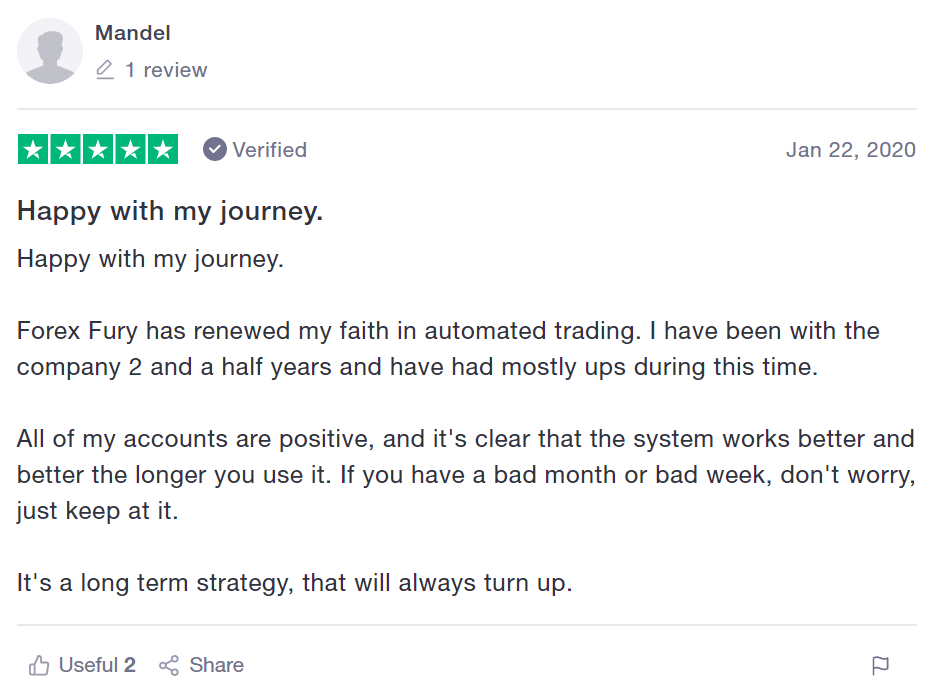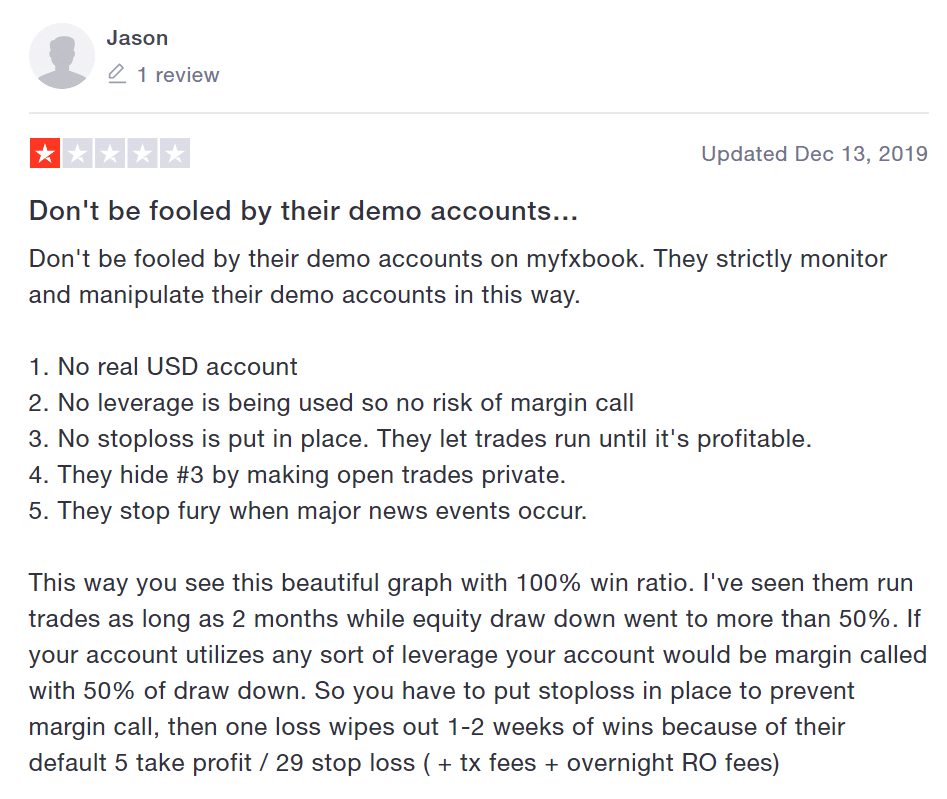 Comments vary but most of them still positive. But… the most (over 95%) of comments have been written by people who have just one (1) review posted. It means all of these comments can be paid. We can't believe all these people didn't review anything but just Forex Fury.
Conclusion
Pros
Impressive trading 3rd part verified results
Impressive backtest
The average feedback is positive
Cons
High price
Only one real USD account with mid-range results
A lot of accounts run with a high level of drawdowns.
Nothing has been told about patterns applied to the robot
There are some negative feedback on Trustpilot
Trades just an hour a day during the Asian session

As we can see there are some pros and cons. On the one side, there are many accounts with quite good results and a truly high win-rate. They have been run for many days provide us with statistics we need. The real accounts trade with low-risk and provide quite good results. We've visited Trustpilot where Forex Fure has got a very solid rating and a lot of people write mostly positive feedbacks. The final verdict is that Forex Fury is one of the most well-known and high win-rate robots. It provides a good profit and costs not so much, but there's no money-back guarantee. So, when you'll be ready to buy it, no refunds for you if you don't like results.