Forex Fury is an automated trading system designed for trading any pair, indices, or crypto. It is compatible with NFA, FIFO and MT4, and MT5. It achieved good trading results, trading with low DD. However, there are some risks our experts have found in this EA.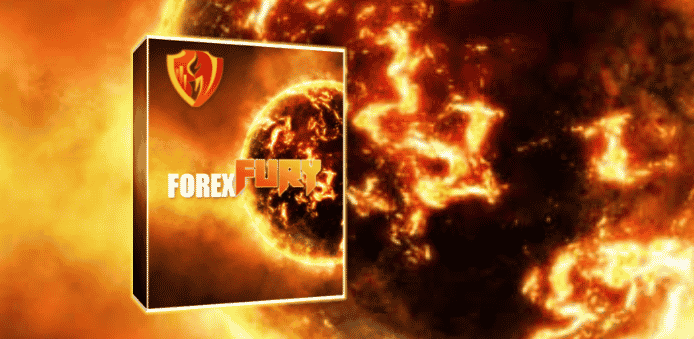 Is Forex Fury still good to go?
Although it shows good trading results, we cannot say that the system is a sure bet to invest in 2022.
How to start trading with Forex Fury
The list of features looks like this:
Is compatible with NFA, FIFO, MT4, and MT5 Build 600+
Has well-tested settings
Low drawdowns of 20% or less
ECN support
Effective and well-shaped money management system
Multi pairs trading
EA works with MT4 and MT5 brokerage companies
Easy-to-go installation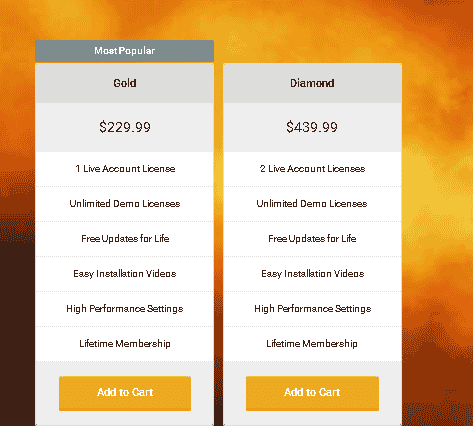 The seller introduces two packages. The Gold one costs $230 and includes one live account license. For $440 we'll get the Diamond package with 2 live account licenses. Both packages include unlimited demo accounts, free updates, high-performance settings, and lifetime membership.There is no word mentioned about a money-back guarantee.
Forex Fury backtests
The backtest report cannot be found on the dev's website. They do not want us to know something that would show the EA's inefficacy or unreliability.
Trading results
On the official website, the dev shares 6 links to Myfxbook accounts. The first strange is the suspiciously smooth and short equity curve. Those traders who are not on their first day in the industry will say that in real responsible trading it's impossible to have lines that are that smooth. To achieve such smooth curves it is necessary to use risky approaches or an unhealthy risk/reward ratio.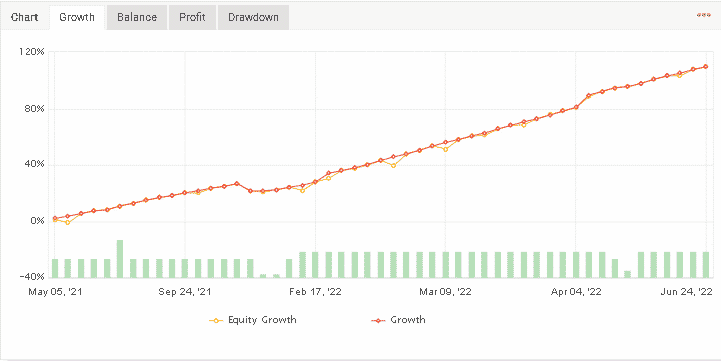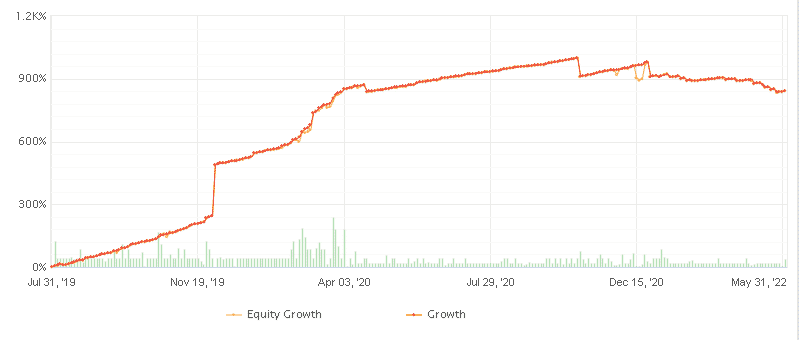 Let's have a closer look at one of its Myfxbook trading accounts. This is a Real USD account running under an unknown AndroFx broker. It was created in February 2021 and was deposited at $10K. For this span its total gain has grown to 109%, representing a profit of $10.9K. The daily and monthly gains are 0.18% and 5.50%, respectively. The peak DD was 15.23%.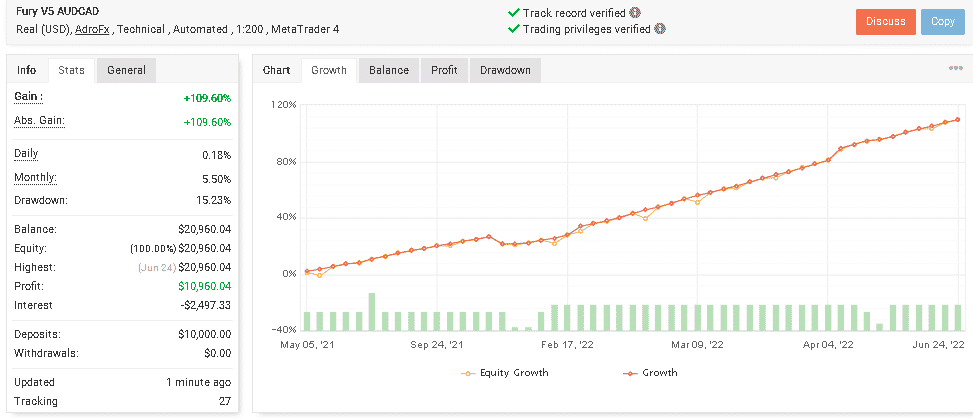 An average RRR in pips is 1:10. It represents a risky approach. That is the reason of high drawdowns and a good profit factor of 22.13.
It uses a grid plus scalping combo to generate more profits.
Previously it traded with a lot size of 5, but after the loss of 518 USD in August 2021, it decreased it to 1.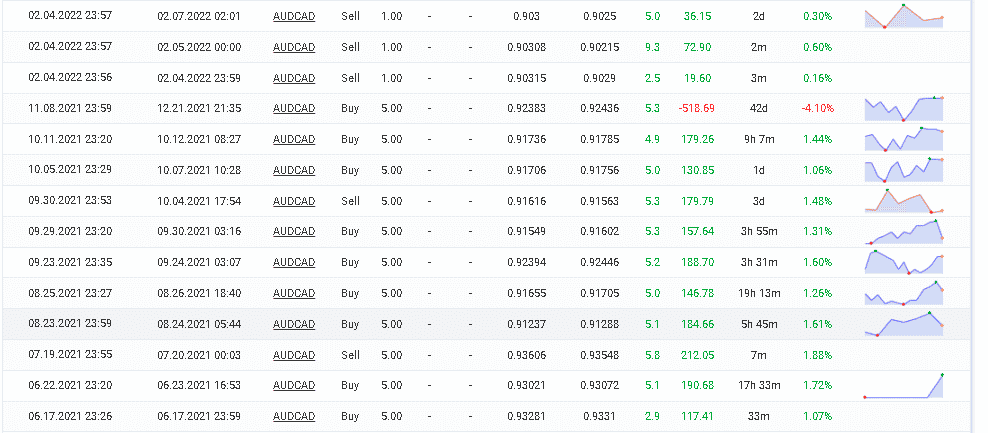 The risk of ruin is high. In case of 4 losing deals in a row, 10% of the account balance will be lost. This is another proof of the risky strategic approach.

People feedback
Forex Fury EA has a 2.3 out of 5 rating on FPA. Traders claim that the system is a complete scam and should be avoided: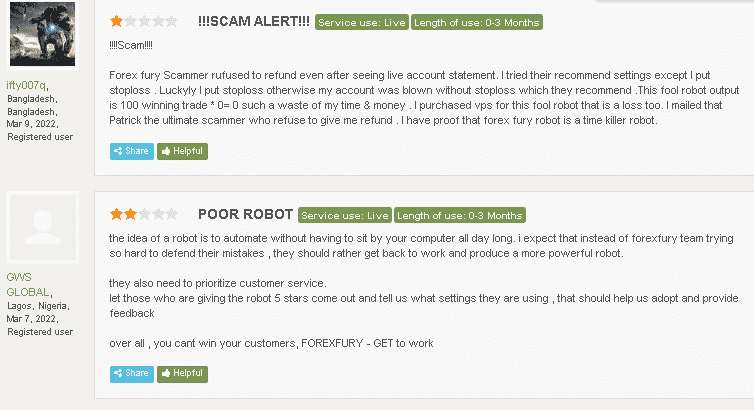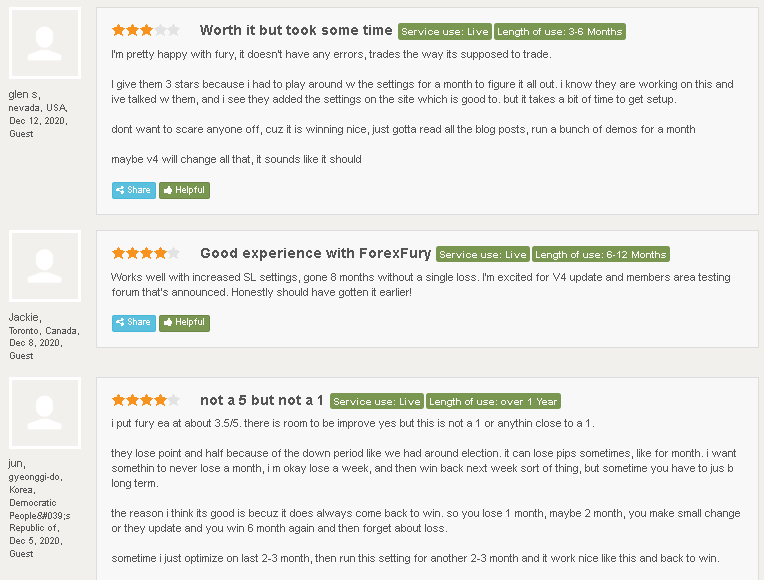 Positive comments have been written by guests, not registered users. It means all of these reviews might be concocted.
The Review
As we can see there are some pros and cons. On the one side, there are many accounts with quite good results and a truly high win-rate. They have been run for many days provide us with statistics we need. The real account trades with high-risk and unhealthy RRR. On Forex Peace Army, Forex Fury has a poor rating with negative reviews. Moreover, there's no money-back guarantee provided. So, no refunds for you if you don't like the results.
CONS
High price
Nothing has been told about patterns applied to the robot
Dangerous trading approach
High risk of ruin
Negative feedback on Forex Peace Army
No backtest report
No money refund