It may be surprising to learn the benefits of virtualization in forex as investors have become more modern and trading systems have become more sophisticated. If we speak purely of execution, automation and efficiency top the list for the most crucial factors.
Although the present methods used when placing trades produce lightning-quick speeds, traders have increased the demands even further. Well, is there a method of making this process even faster than ever before, and why would someone want to do this?
Well, this is where the VPS or virtual private server comes into play. While the current execution approach in all trading platforms is relatively sufficient, some traders benefit from more enhanced performance to ensure the most undisturbed connection and better entries with tiny delays.
This guide will cover the best VPS services for forex traders to choose from, along with how these facilities work and other observations to consider in the selection process.
Top 8 Best VPS for Forex Trading 
First, let's dive into understanding what a VPS is, the benefits of using one, and the key features to consider.
What is a VPS for Forex? 
A virtual private server (VPS) in the context of forex is simply a dedicated hosting service or networked machine remotely running a copy of a trader's platform. In simpler terms, a VPS is essentially a 'cloud-based trading computer' that traders can operate from any device globally with just an internet connection.
Once installed, the VPS remains connected around the clock even when the trader is disconnected from their own internet due to a power failure, physical difficulties, a system glitch, or an unexpected computer shutdown.
A VPS is primarily beneficial for those running expert advisors (EAs) or automated trading systems and, to some extent, news traders and scalpers where the fastest and most uninterrupted execution is compulsory.
Despite the advancement in execution with all trading platforms nowadays, optimal server access is not always consistent. Traders employing trading robots or EAs require perpetual internet connectivity to run their systems autonomously even when they aren't near their computers.
Aside from reducing latency, the best VPS for forex provides security, remote access, and other benefits, which we'll further explore in the next section.
What are the benefits of using VPS to trade Forex? 
It's best to detail the main benefits of using such technology in forex trading to make more sense of the usefulness of virtual private servers.
You can automatize your trading       
This point is crucial for those using strictly automated trading systems, most commonly robots. The core purpose of expert advisors is for autonomous trading without any manual intervention. For the system to function effectively, it needs constant internet access.
If the connectivity is compromised in any way, it may lead to the robot not executing any positions during certain occasions.
Better connectivity
Perhaps the biggest benefit of a virtual private server is connectivity, a crucial factor in forex when it comes to execution primarily for EA traders and, in some cases, scalpers and those who trade high-impact news events.
Essentially, a VPS dramatically reduces latency, which describes the delay experienced between the time someone executes a position and when the order is processed on any of the broker's multiple servers globally.
Presently, most brokers can process orders within 2000ms or less, but the best VPS for forex can reduce this figure to as low as 1ms depending on the provider and server proximity. This very difference can significantly impact the execution, resulting in the most optimal entry despite seeming like a minor variance.
This quality is especially critical when we consider how fast prices can fluctuate within seconds. A VPS uses the highest grade of internet connectivity with several back-ups, unlike the service one would typically use at home or elsewhere. Some also argue a VPS also reduces the chances of slippage.
More security 
The security element of virtual private servers boils down to the execution risks resulting in missed and bad entries. For instance, a slight delay in someone placing an order could mean their position executes 10 pips more than they would have with a VPS.
Such an occurrence doesn't happen only because of slippage but also from natural price fluctuations. Thus, the security aspect ensures the most optimal execution with no chances for unfavorable entries leading to less profit overall and missed entries due to power failures and other glitches.
Moreover, the best VPS for forex will include a firewall ensuring data and network security where the intended user prevents unauthorized access to their system.
Global servers 
Although brokers connect with a host of servers worldwide, the best VPS for forex connect to even more of these. When choosing a VPS from a provider, users should consider the server closest to the broker's pricing data centers to have the fastest connectivity.
How to choose the best VPS for forex trading?
Like any product, there are some crucial things to consider about the best VPS for forex. 
Check its technology
So, which are some of the main specifications to observe when choosing the best VPS for forex trading?
Minimum 99.9% uptime: The uptime refers to the time in which the VPS is operating. The industry standard is 99.9%. Having this feature assures traders their platform will be connected at all times instead of relying on a server that might go offline from time to time.
DDoS protection: DDoS (distributed denial of service) are malicious cyber attacks seeking to overload a computer's network, causing severely affected bandwidth. Such an effect on a VPS can bring its network down, which inevitably affects the connectivity.
It's worth bearing in mind some services supply this protection freely while others charge it as an add-on.
Support of multiple operating systems: Windows and Apple are the familiar brands traders use for trading.
Highest RAM depending on the number of platforms: The general rule of thumb is for traders to select at least 1GB of RAM for a VPS considering the computer specs of the average trader.
However, some may consider a minimum of 2GB if they run multiple platforms or expert advisors through the same private server.
Amount of platform instances 
As traders use a plethora of trading platforms like MetaTrader 4, MetaTrader 5, Interactive Brokers, cTrader, NinjaTrader, and TradeStation, it becomes necessary for the best VPS for forex to support all of these as some VPS brands restrict some charting packages. 
This section also refers to a VPS capable of supporting multiple copies of the same platform, e.g., a trader running three different robots on three different MT4 platforms. It's worth noting that the more terminals a VPS supports, the more expensive their plans become.
Latency           
Latency is perhaps the most crucial element to observe about the best VPS for forex and significantly impacts the execution speed. Before the purchasing stage, most VPS suppliers allow traders to select their preferred broker and choose the fastest VPS nearest to that broker's data centers. 
A brilliant VPS will have servers in most continents worldwide. Users should prioritize those within the same country or city as the broker or, if not possible, the same continent.
Customer support
Excellent customer support is necessary for resolving any problems quickly. Most online services nowadays must have a functioning live chat function on their website as it responds more speedily than other channels. Yet, this isn't to disregard other means of contact like phone and instant messaging that are also crucial for help purposes.
What are the best VPS for forex trading?
Let's now look at the best services for virtual private servers in forex trading.
AccuWeb Hosting: Brilliant VPS Built For Windows And MacOS Operating Systems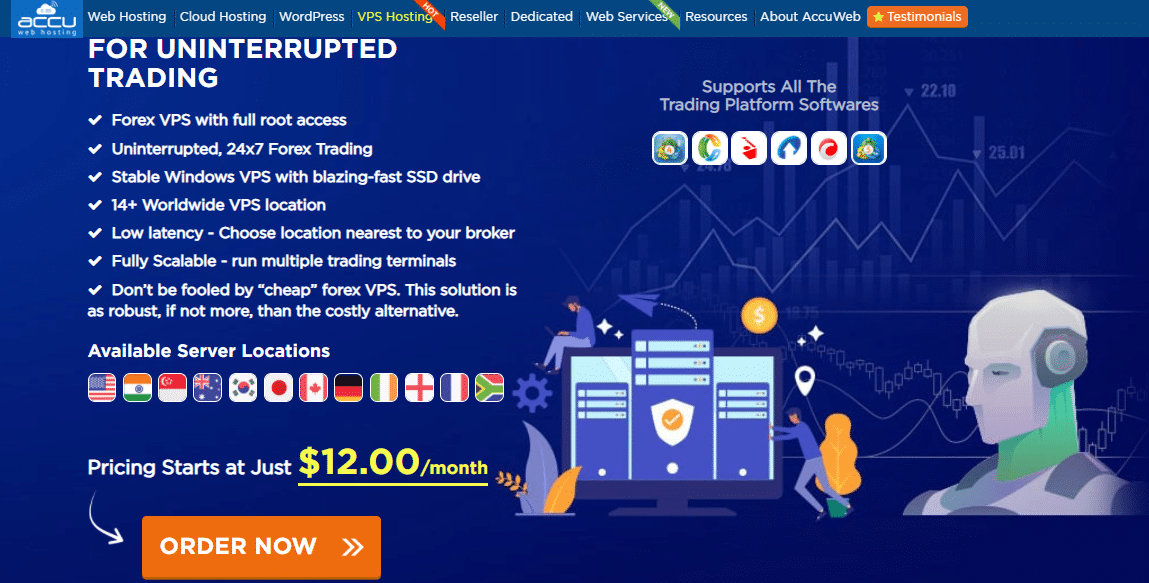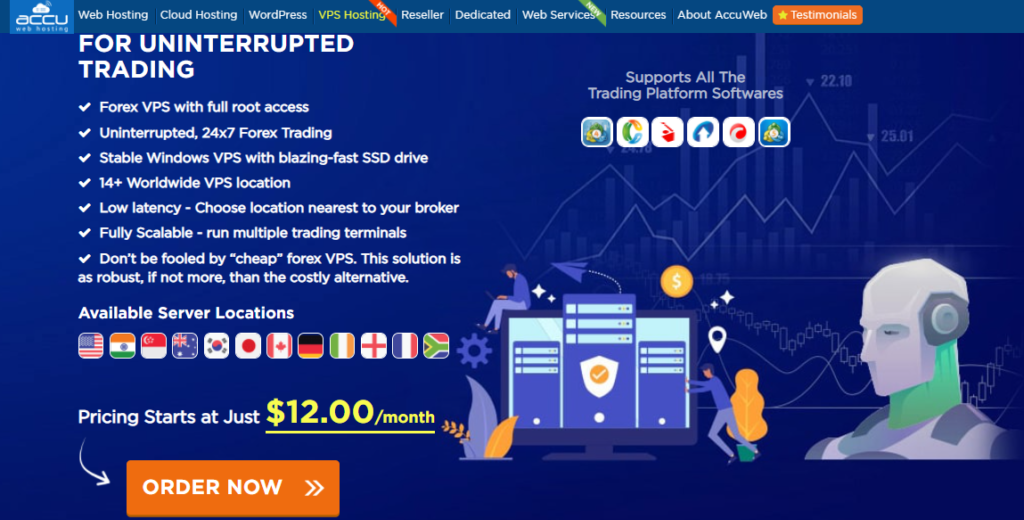 AccuWeb Hosting is one of the oldest hosting businesses on the market, specializing in a range of virtualization services such as shared hosting, cloud hosting, and, of course, private servers.
The provider boasts close to two decades of experience and supports both Windows and Apple operating systems.
AccuWeb's cheapest hosting plan starts from a reasonable $12 monthly, making them one of the lowest-priced providers on this list.
Their minimum offering comes with 1 GB of guaranteed RAM, 250GB of bandwidth, connection with up to 4 terminals, automatic weekly backups, 24/7 VPS monitoring, compatibility with multiple trading platforms, and a 7-day money-back guarantee.
As expected, AccuWeb supplier further deals with even more advanced features for the most demanding of users as they've been doing so since 2003, making them a well-recommended VPS operation.
FXVM: Offers 7-Day Full Access For $0.99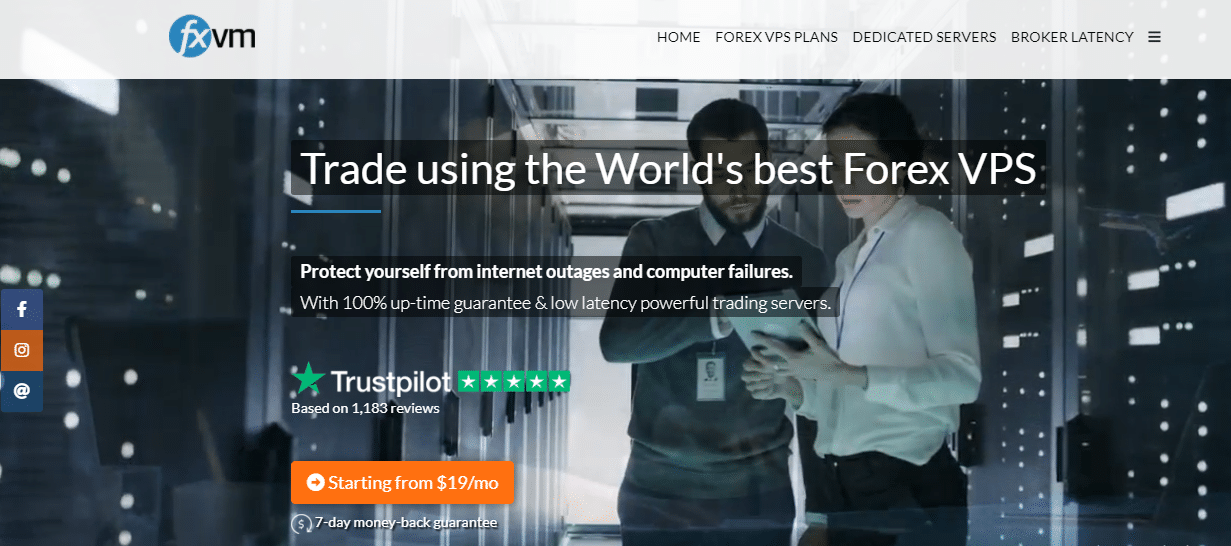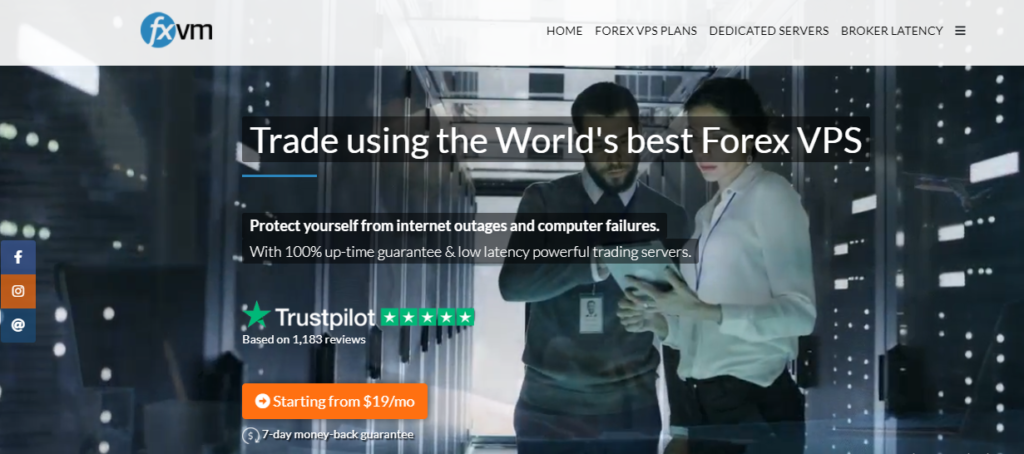 FXVM is a Hong Kong-based VPS provider which is a subsidiary ThinkHuge Ltd, a company with other services in the realm of signals, copy trading and private server facilities.
FXVM is quite popular in trading circles, priding itself on low-latency connectivity and access to renowned data centers such as Global Switch, Level3, Internap, and Equinix. It allows traders the most sophisticated robots without issues on a plethora of distinct trading platforms aside from MT4 and MT5.
FXVM's private servers are located in London, New York, Amsterdam, Zurich, Frankfurt, Singapore, Hong Kong, and Tokyo. Some of the provider's key features include a 5-minute setup, 100% uptime service level agreement, automatic weekly backups, and RAM starting from 1.5GB up to 32GB on a pricier plan.
The LiteVPS, their most inexpensive package, costs $19 every month, running up to two terminals at once. For any support queries, users can reach the company 24/7 via live chat or email support.
Forex VPS: Excellent Virtual Private Server For Windows Users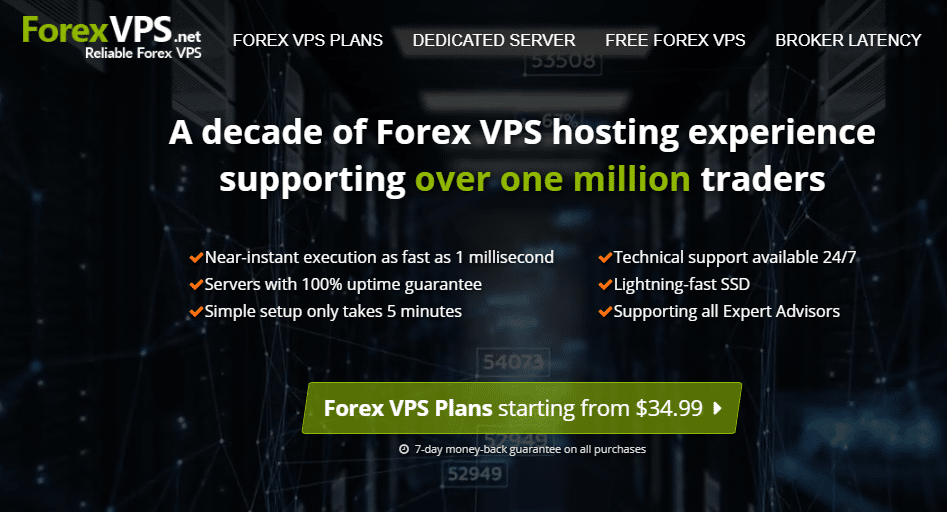 Forex VPS is another subsidiary of ThinkHuge Ltd, taking pride in near-instant execution where traders can experience as low as one millisecond to place their positions. Since 2013, the service provider has been solely committed to forex VPS hosting solutions to meet the ever-increasing demands of traders.
The service provides fully optimized servers across nine locations sprinkled across Asia, Europe, and North America.
Over a million traders now utilize the platform. Forex VPS' plans start from 2GB of RAM (at least $34.99 monthly) on a Windows 2012 operating system (or better) where servers have a 100% uptime service level agreement. Forex VPS supports all brokers and charting packages.
As anyone would expect from a hosting platform, the setup is simple and only takes a few minutes.
OneVPS: One Of The Cheapest Deals On The Market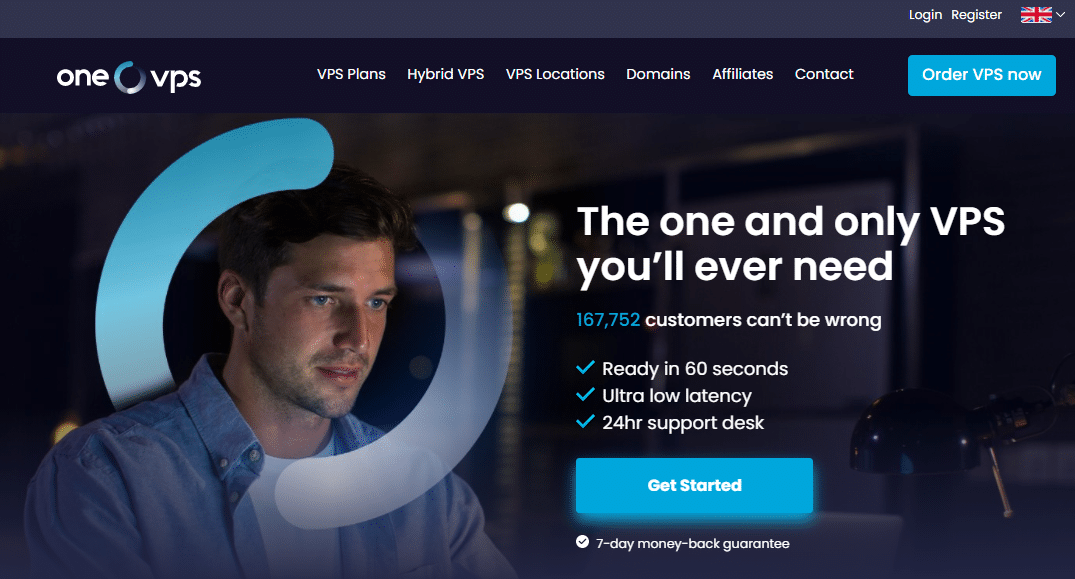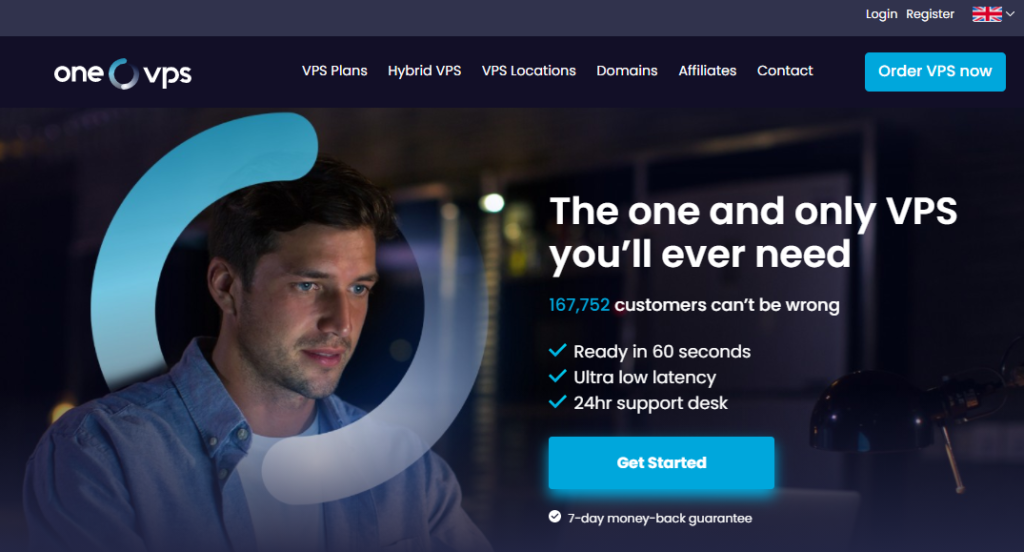 OneVPS is another subsidiary of the Hong Kong-based ThinkHuge Ltd. Since 2012. The service has made a name for itself regarding reliability and speed with the most advanced infrastructure in the industry.
OneVPS provides one of the most inexpensive plans for 1GB RAM and 80GB SSD, starting from $9 a month. This offering supplies unlimited bandwidth and a dedicated IP address. To achieve the most competitive latency reduction, OneVPS boasts just over 7300 servers spread across four mainlands.
While more expensive, users can choose the 'hybrid VPS' options where each server only has a maximum of eight clients instead of the traditional ones with more than 100. This package also provides more advanced features.
For extra peace of mind, users receive 24/7 live chat support and a 7-day money-back guarantee. With so much to offer at reasonable prices, OneVPS stays true to its slogan of 'the one and only VPS you'll ever need.'
ReliableVPS: Best VPS For American-Based MT4/5 Brokers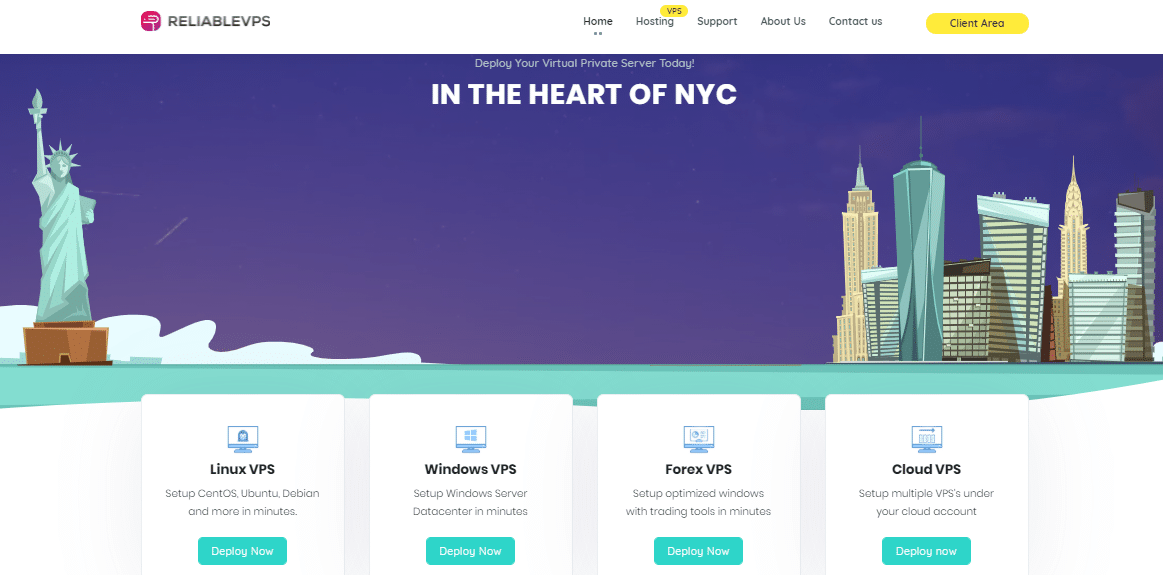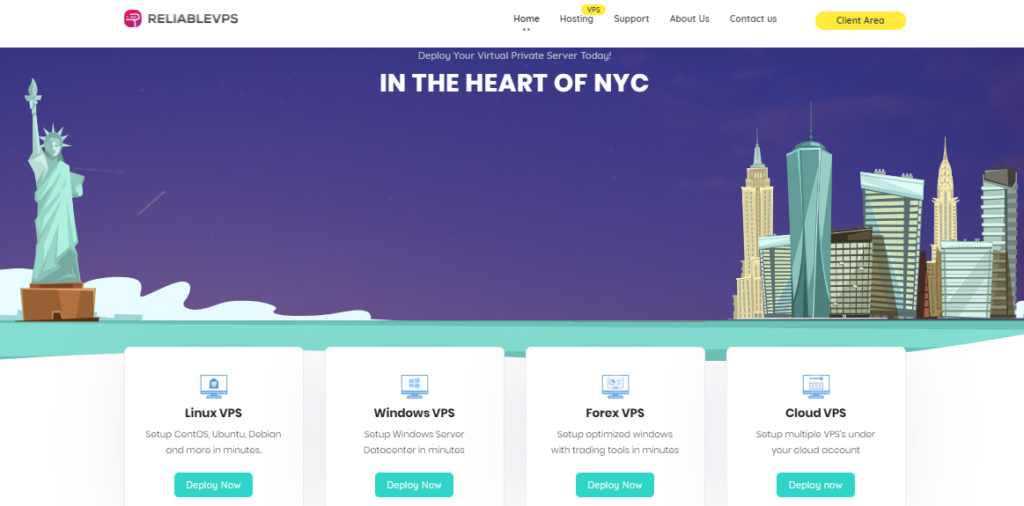 Despite only beginning operations in October of 2019, ReliableVPS has taken the web hosting market within the United States by storm with competitively-priced plans.
This hosting provider has all its servers in New York City and offers simply structured packages. ReliableVPS' cheapest plan allows up to 8 separate platforms, 8GB RAM, 160GB SSD disk space, and more, all for $24.99 monthly.
The company places no restrictions on the charting package and robots used by their clients. Overall, ReliableVPS is a suitable choice for traders using brokers with an office in the States such as OANDA, Forex.com, and other brokers getting their data from the same country.
InterServer: Excellent VPS With 24/7/365 Customer Support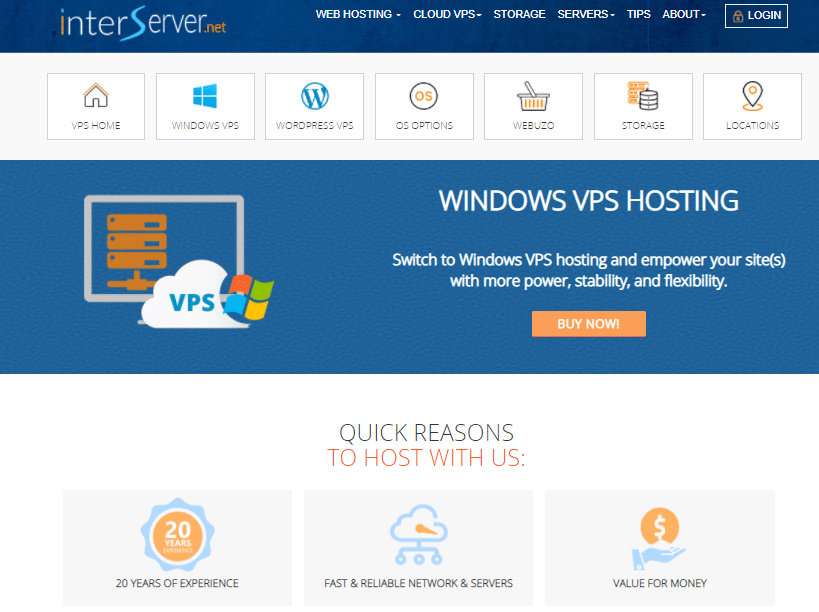 InterServer is an old payer within the web hosting realm, having been established in 1999. A range of customers, from individuals to large Fortune 500 companies, have benefitted from the company's increasing virtualization technologies, robust security, and around-the-clock support.
The service's main data centers are located in Secaucus and Los Angeles, United States. InterServer prioritizes offering the fastest and most reliable private servers with 100% uptime at reasonable prices.
Their lowest-priced deal comes in at $10 monthly and includes 30GB of storage, 2GB RAM. Their VPS is compatible with any Windows OS from Windows 10 and after.
InterServer shines through its around-the-clock customer support that includes a devoted team of in-house technicians at all their centers ready to resolve any issues promptly. Help is available either through a live chat, a ticket system, or a phone call.
Similar to ReliableVPS, InterServer is best for traders using brokers with their data centers based in the States.
TradingFXVPS: A MT4-Dedicated VPS With The Highest Money Back Guarantee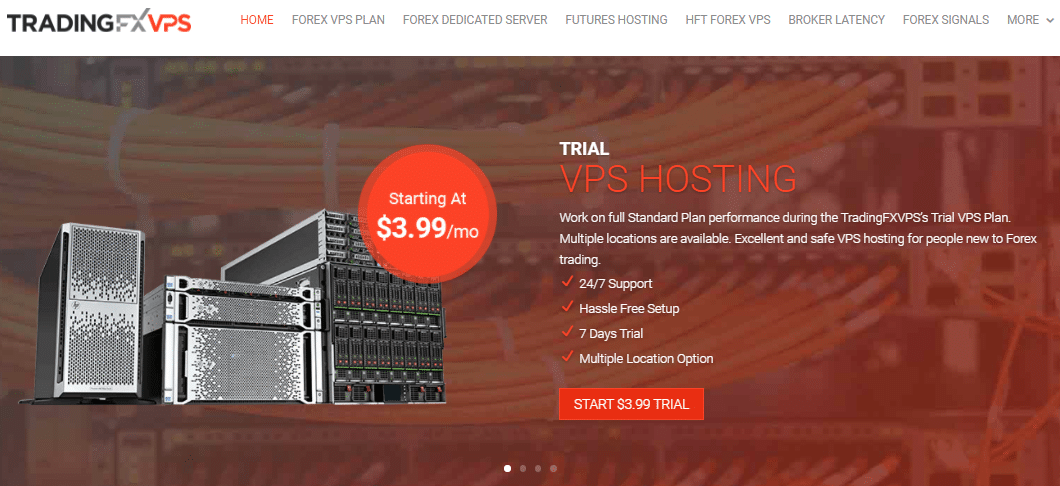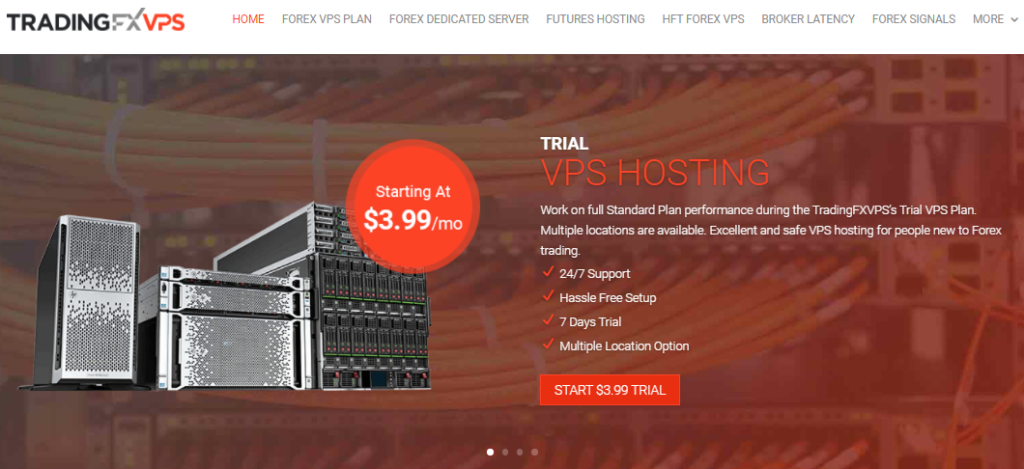 TradingFXVPS is a forex-focused VPS hosting service from Singapore offering unmetered bandwidth and guaranteed resources. As 'the best managed dedicated forex VPS hosting,' TradingFXVPS focuses on a super-high response rate for trading servers and cost-effective pricing for its packages.
The supplier's cheapest plan starts at $25 a month and comes with an Intel i9 CPU server, 2GB of RAM, antivirus malware protection, and more.
All of the provider's data centers are located in major financial hubs with ultra-low latency.
Though the service is popular with MetaTrader 4 and 5, it also supports other platforms like cTrader, NinjaTrader, TradeStation, etc.
Unlike most companies, TradingFXVPS plans come with a 30-day money-back guarantee instead of the typical 7. This feature is perhaps the most interesting as first-time clients have assurance in receiving their funds should they not be fully content with the service.
JavaPipe: The All-Embracing Best Forex VPS With Free DDoS Protection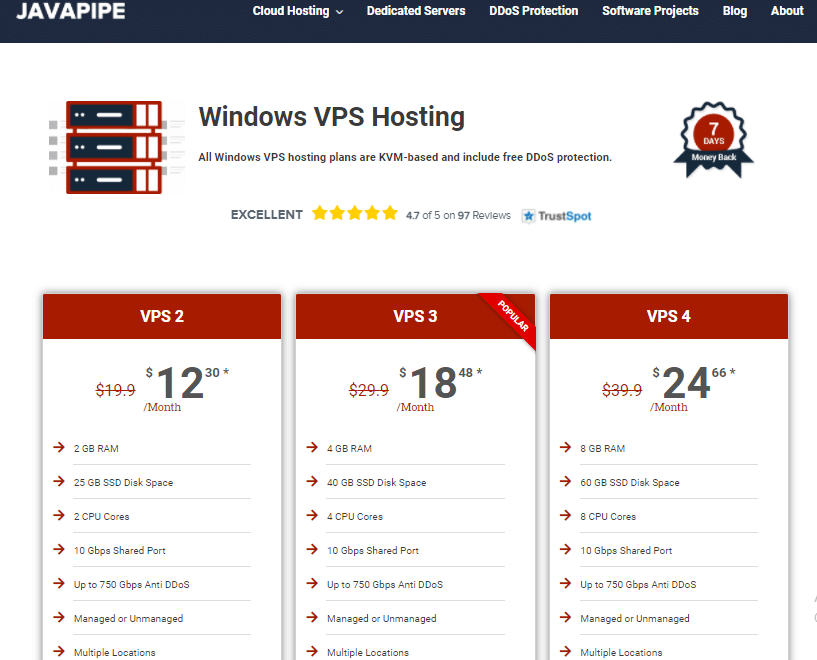 JavaPipe is a web hosting brand from Utah in the United States founded 20 years. The company is an all-encompassing 'internet solutions company backed by IT experts specializing in Java and security.'
For simplicity's sake, JavaPipe offers three stripped-down packages, the cheapest of which starts from $12.30 and includes 25 GB SSD disk storage.
Despite having far fewer server locations than its competitors, it makes up for this lack with an advanced yet easy-to-use control panel allowing for a smooth upgrade between different packages and knowledgeable customer support.
Perhaps JavaPipe's biggest selling point is offering free state-of-the-art DDoS protection, meaning users do not need to worry about cyberattacks. By having this peace of mind, it maximizes the performance of the VPS.
FAQs about the best VPS for forex trading
Below are some of the frequently asked questions about the best forex VPS.
How can you get a VPS for forex?
There are two ways of obtaining a VPS, one of which is the hardest and the other being the simplest. Most brokers will offer a private server free of charge provided clients deposit a specified minimum deposit, which tends to be quite high.
The second option, which this article has focused on, involves traders seeking an external VPS provider and paying a monthly or yearly subscription through them.
Why are forex VPS used for trading? 
The primary purpose for a forex VPS is ensuring the most uninterrupted connection allowing for the quickest execution.
When is a forex VPS useful in trading?
The traders who undoubtedly need a VPS are those who use expert advisors because such automated trading systems need to run efficiently 24/5 without disconnection.
Other scenarios include scalpers who would similarly benefit from the lightning-quick execution a private server provides. Comparably, news traders might consider using such a service as they also need uninterrupted performance.
What features should the best forex VPS for forex have?       
The features to look out for in this regard include:
Uptime of 99.9% or 100% to ensure no or seldom downtime
DDoS protection
Minimum 1GB RAM
Very low latency
Support on multiple trading platforms and operating systems
Compatibility with all expert advisors
As many global servers nearest to the chosen broker as possible
Fast and easy installation