Happy Galaxy works with the direction of the trend and has a built-in news filter to avoid trading in volatile market conditions. The algorithm has an auto detection of 4 or 5 digit quotes and is compatible with any broker. According to the developers, the system has the ability to reduce drawdown while maintaining profits providing a good risk-reward ratio.
Complete transparency is maintained by the developers, where we have access to backtesting and live records. We will review all the services offered on the website and neatly detail all the pros and cons so you can make a purchase decision.
Is Happy Galaxy still profitable?
Happy Galaxy trading robot has turned in a good amount of profits within a short span. It comes with detailed backtesting records and has a good profit factor combined with a reasonable winning rate that makes it profitable.
Vendor transparency
Happy Forex developed the algorithm for both MT4 and MT5 platforms. The company has multiple EAs in the marketplace and aims to satisfy customers with quality customer support. Investors can connect with them using email addresses, live chat, and Facebook.
Strategy
The developer states that the robot can work on the H1 time frame on EURUSD, GBPUSD, USDCHF, EURGBP, and EURCHF. It trades on the direction of the trend and has a news filter to avoid bad market conditions.
From the trading history at Myfxbook, we observe that the robot uses averaging techniques with a swing approach. There is a virtual stop loss and take profit with each trade to help avoid stop hunting from brokers. The algorithm trades using the hourly candles and only opens each trade when a bar finishes on the H1 chart.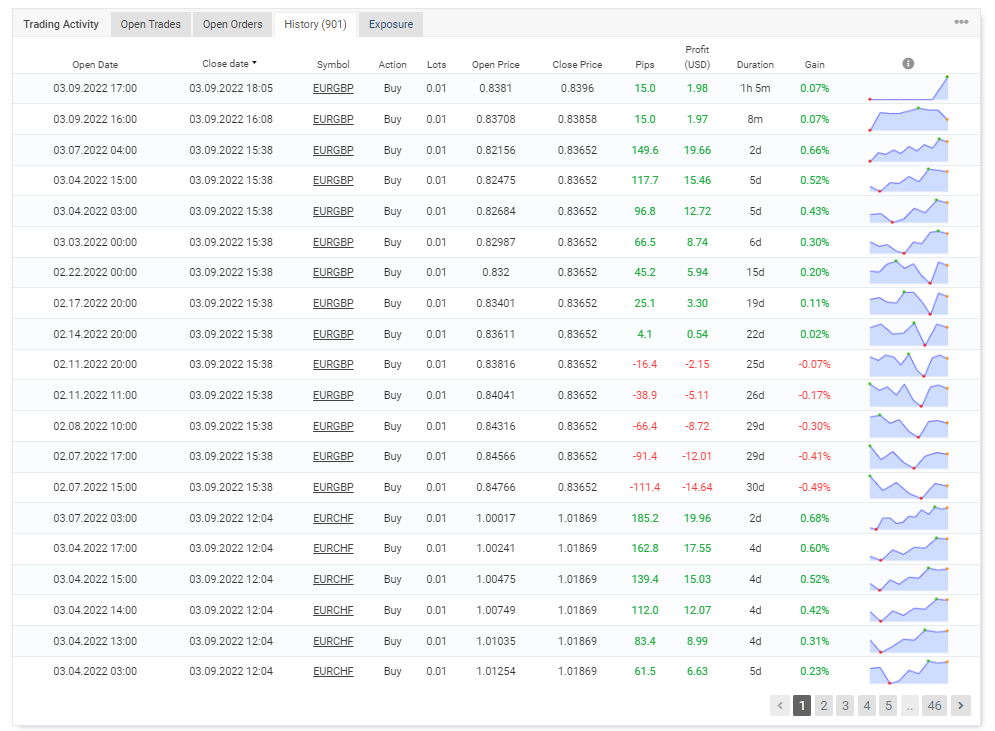 How to start trading with Happy Galaxy
To start trading, traders have to follow the following steps:
Purchase the system from the developer and download it on your PC
Place the EA within the experts' folder
Attach it to the charts
Enable live trading
Price
Traders can purchase the robot for an asking price of €299 for an unlimited number of demo and live accounts. The authors provide ten additional algorithms as a bonus with the purchase. It lets you test out their other products absolutely free of cost. A 30-day money-back guarantee is available for peace of mind.
Happy Galaxy backtests
Backtesting results are available for GBPUSD, where the equity drawdown was around 37.44%. The winning rate was 73.6%, with a profit factor of about 2.36. With a starting balance of $1000, the robot tanked a total net profit of $8 160.43. There were 2011 trades in total, with 4022 deals. The best trade was $709.07, while the worst one was -$120.77. This shows us that the robot trades with a positive risk-reward ratio of nearly 1:5 and it is possible to recover 3 or 4 losses with a single winning execution. The mean losses are lower than the wins.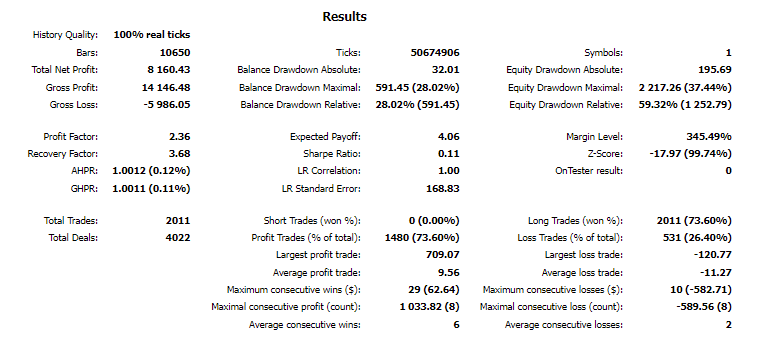 Trading results
The live records on Myfxbook are available from July 27, 2021, till the current date. The algorithm has a total gain of 49.73%. An initial deposit of $2500 has turned into $487 of profit. In a total of 897 trades, it had an excellent winning rate of 78% and a profit factor of 1.29.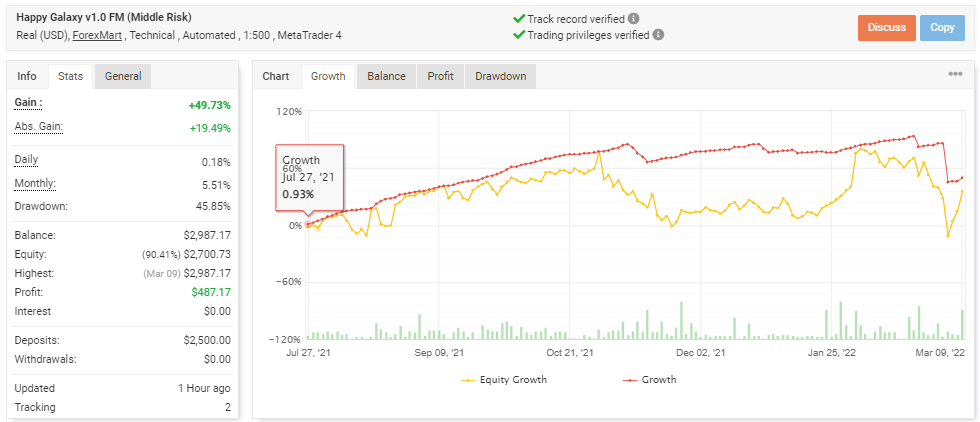 People feedback
For five reviews, the company has a total rating of 3.542 on Forex Peace Army. A trader states that they have used the Happy Algorithm for two weeks and are impressed that it turned out profits.

Summary
Advantages
Verified records on Myfxbook
Multiple backtesting records
Live chat support is available
Disadvantages
Uses averaging strategies
Happy Galaxy trading robot has maintained transparency on multiple factors and comes with reasonable pricing. The algorithm shows a 50% growth on the live account within one year and has an excellent winning rate on trades. The developers provide multiple channels to contact them for support.