Forex Cyborg is introduced as the system that makes even professional traders happy if using it. The main claim is "You Have Seen The Rest. Now See The Best."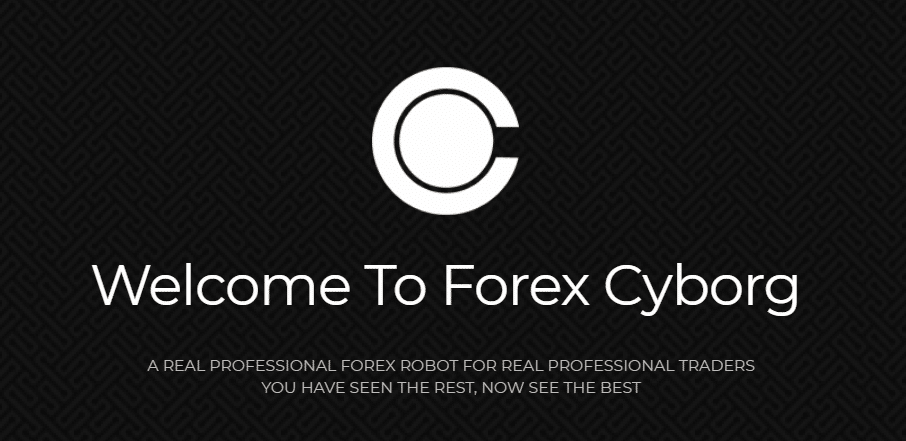 Forex Cyborg is a multi currency trading solution. We can run it on up to 15 charts.
Is this robot a viable option?
April 2021 results have shown us that this Forex trading system is not a good choice to invest in now.
How to start trading with Forex Cyborg


The system has many features introduced. Let's talk about them to make it clear:
The robot runs the charts fully automatically.
The presentation is featured by backtest reports.
The backtests were performed with 99.90% quality.
There were various spreads and slippage applied.
The developers set a trading commission on the backtest.
The robot can work on the MetaTrader 4 platform only.
There's knowledgeable, 24/7 welcome support.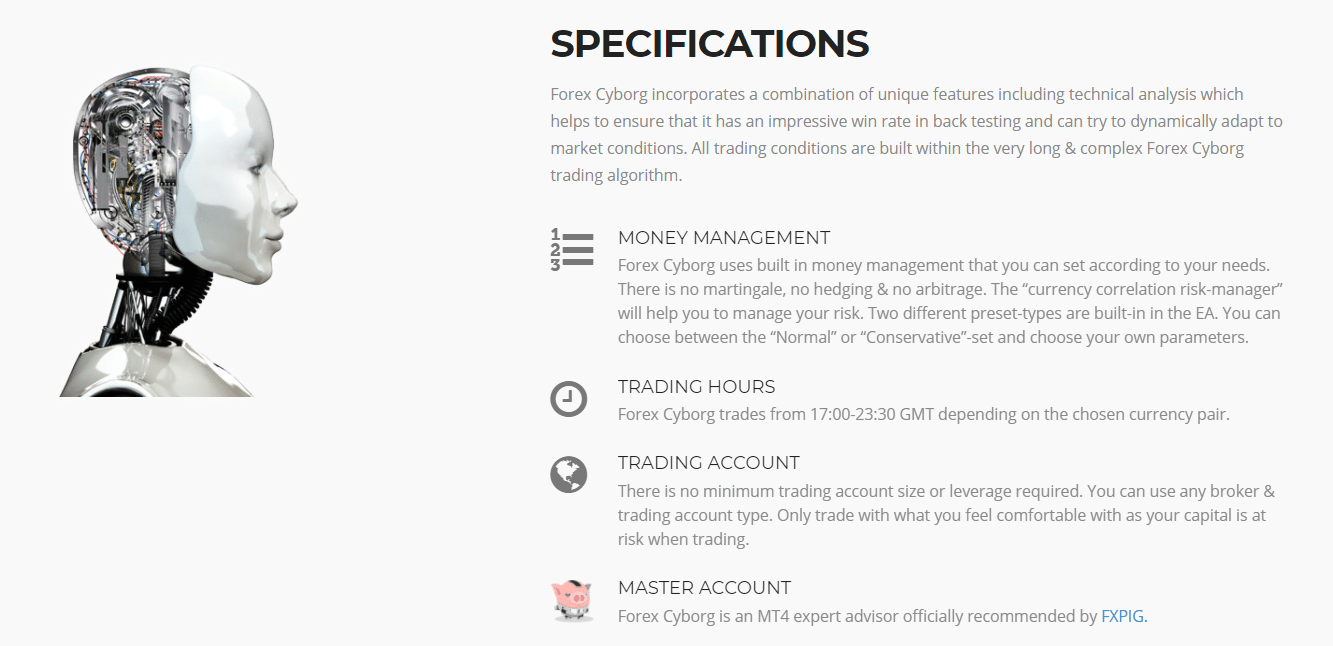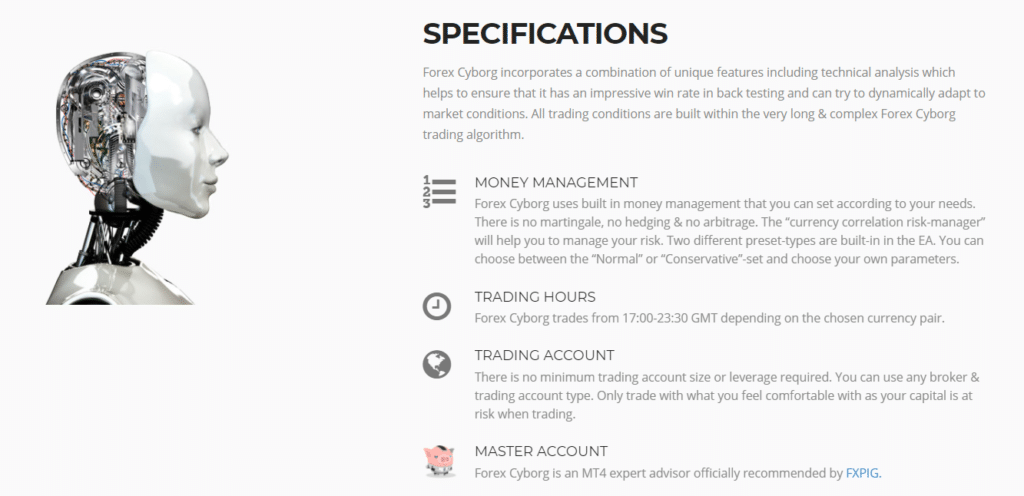 The EA trading hours are 17:00-23:30 GMT.
It doesn't use risky strategies like Grid, Martingale, Arbitrage, Averaging, and Hedging.
There are two modes: Conservative and Normal.
The robot works with the next currency pairs AUD/CAD, AUD/CHF, AUD/USD, CAD/CHF, CHF/JPY, EUR/AUD, EUR/CAD, EUR/CHF, EUR/GBP, EUR/JPY, EUR/USD, GBP/AUD, GBP/CAD, GBP/CHF, GBP/USD, USD/CAD, USD/CHF, USD/JPY, AUD/NZD, and EUR/NZD.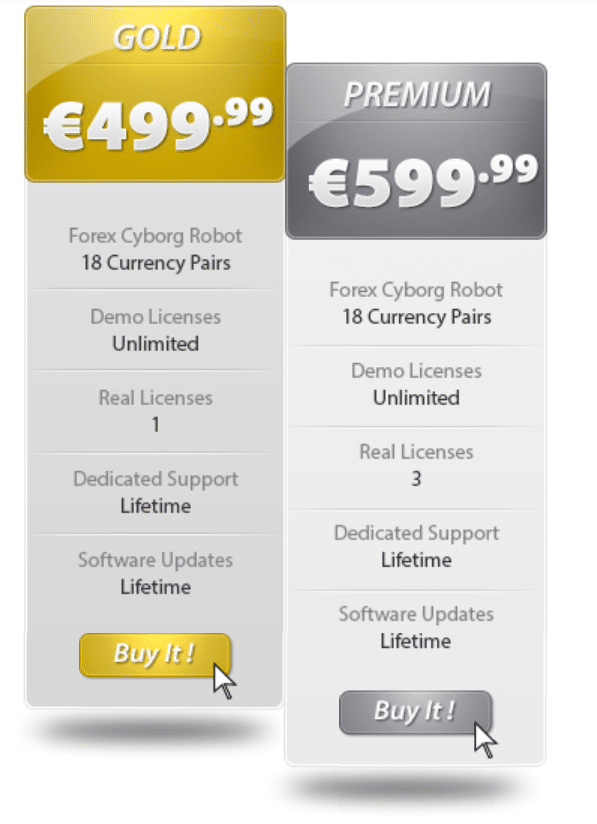 There are two packages provided. The Gold pack costs 499.99 EUR. It's featured by one real license and unlimited demo licenses, lifetime support, and updates. The Premium package costs 599.99 EUR and allows us to trade on three real accounts.


There's a user guide.
We can rely on a 30-day money-back guarantee.
Forex Cyborg backtests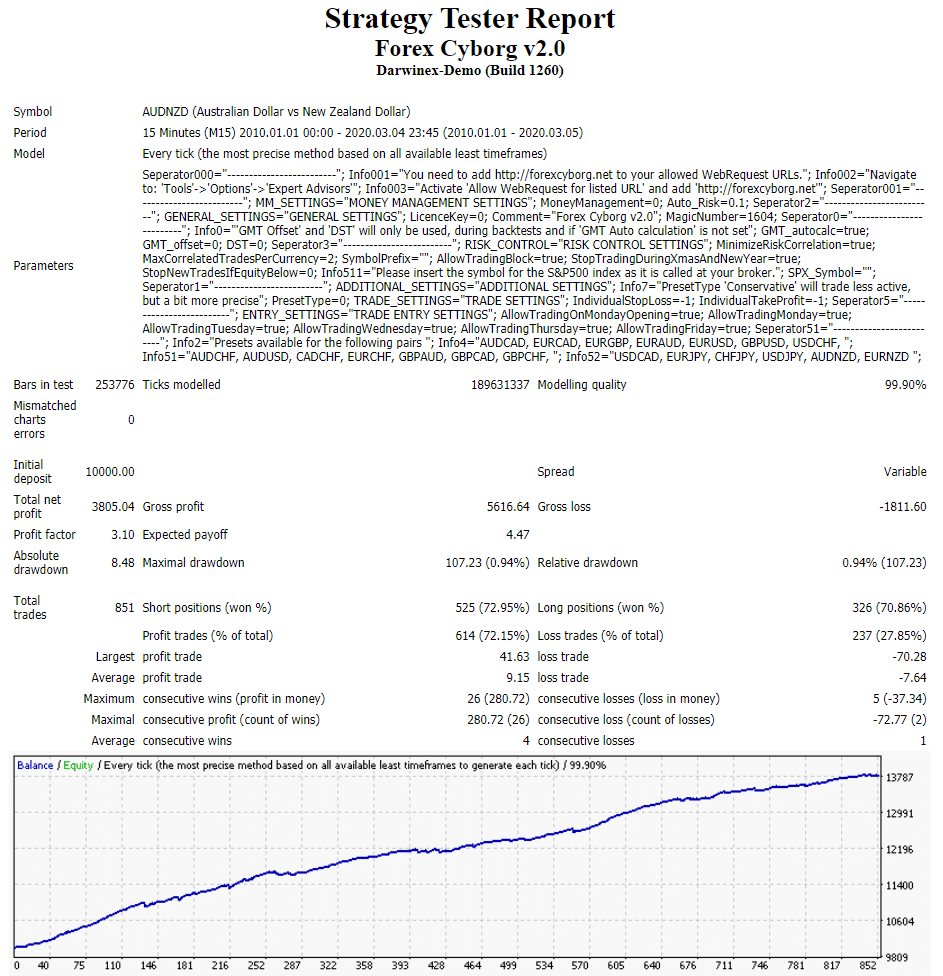 It's an AUD/NZD backtest report on the M15 timeframe. The test united ten years of the rock data. The modeling quality was 99.90%. An initial deposit was $10000. The total net profit was $3805. The Profit Factor was 3.10. A maximum drawdown was 0.94%. The EA closed 851 trades with 72% of the win-rate for Shorts and 70% for Longs. The win streak was four deals.
Trading results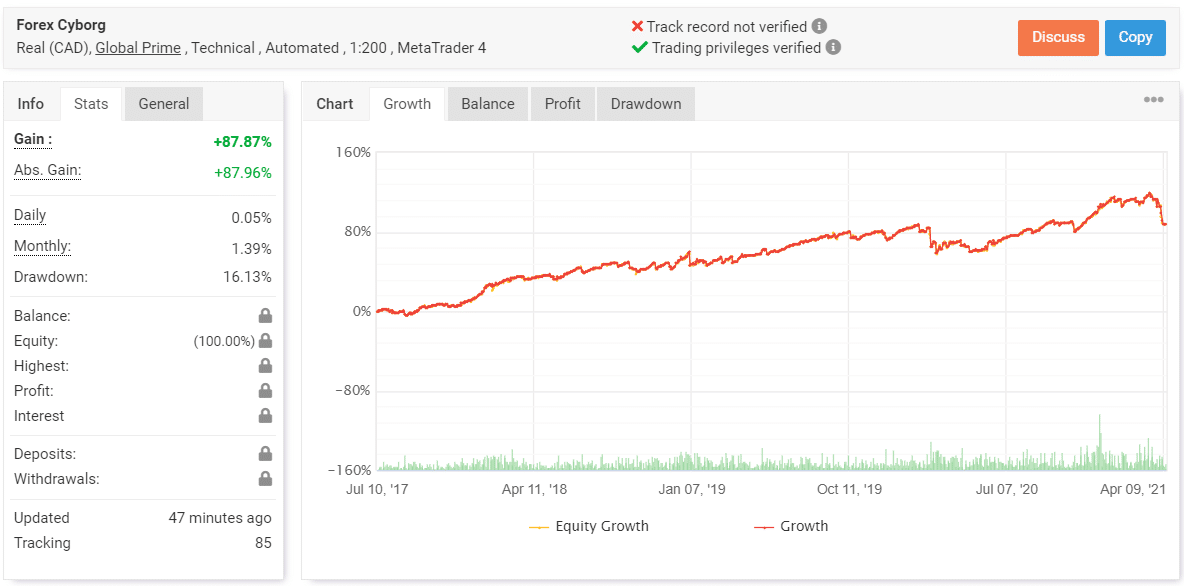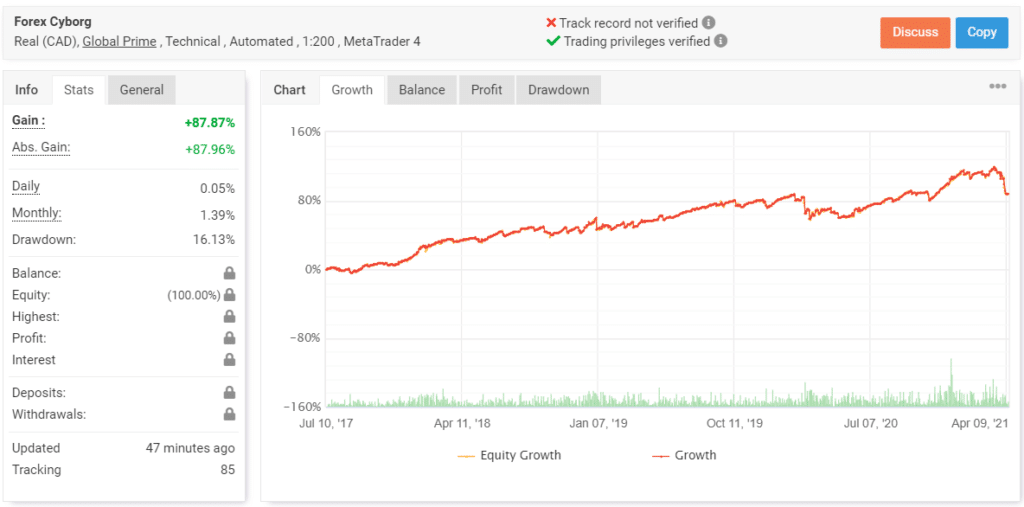 The robot runs a real CAD account on Global Prime. It works automatically using technical data from MT4. The leverage is 1:200. The account lost a verified track record. It was created on July 10, 2017. Since then, the absolute gain has become 87.87%. An average monthly gain is only 1.39%. The maximum drawdown is 16.13%.

This year has brought significant losses.

The system has closed 2924 deals with 6255.3 pips. An average win in pips is 8.65 pips when an average loss is -16.87 pips. The win rate is 74% for both Long and Short directions. An average trade length is nine hours with a half.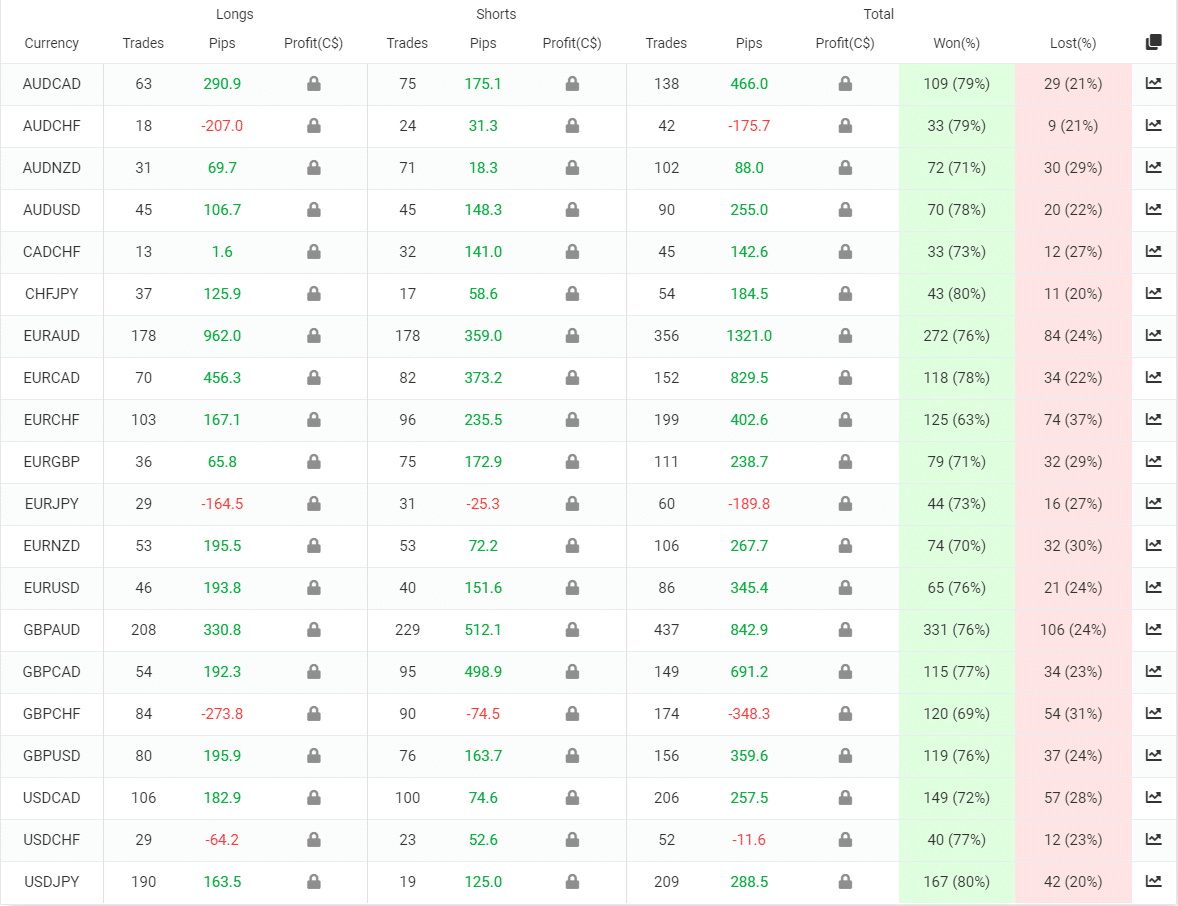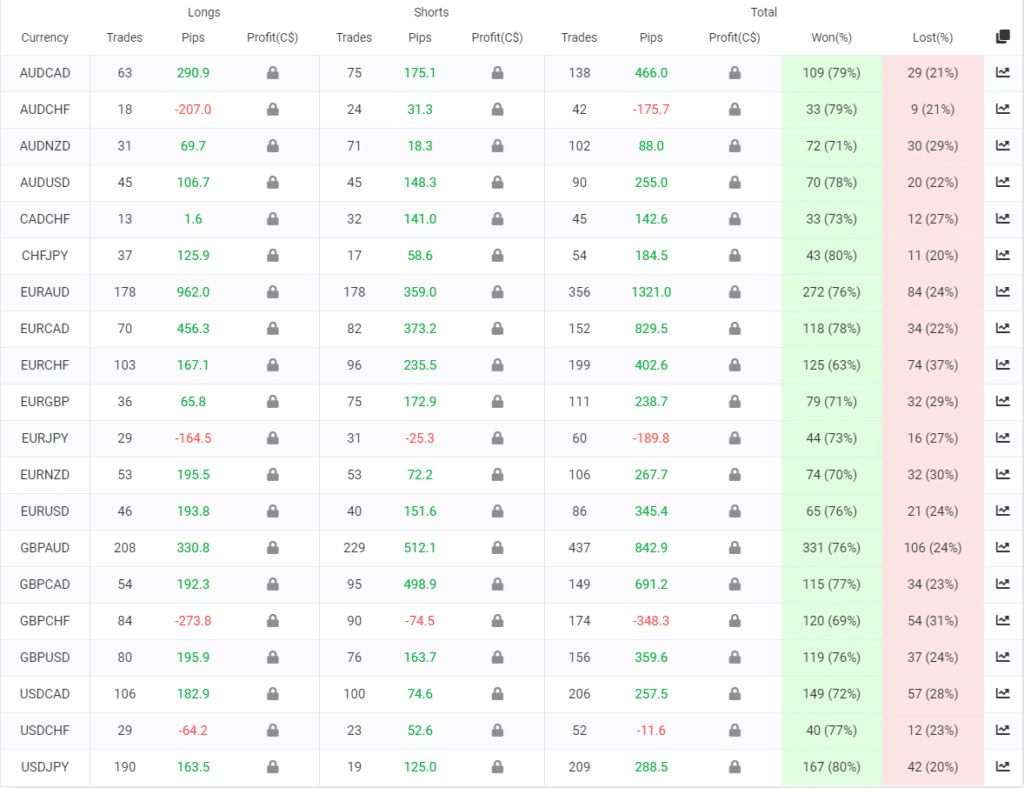 The most traded symbol is GBP/AUD (437 deals) when the most profitable one is EUR/AUD (1321 pips).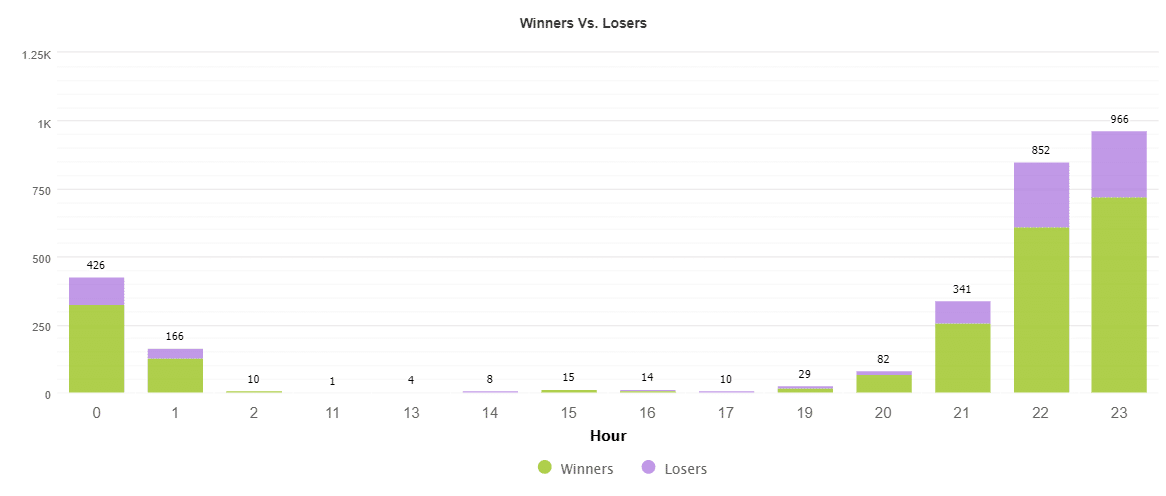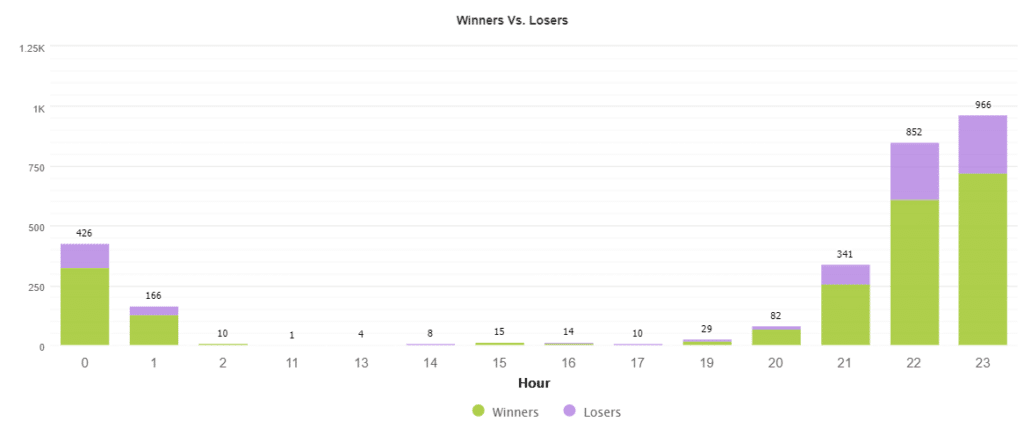 The robot scalps during the night trading session.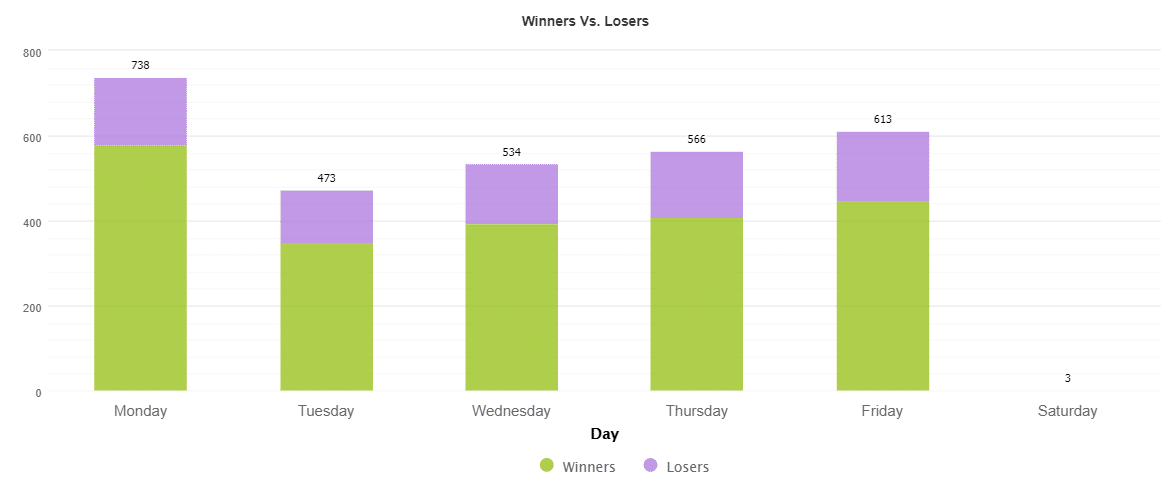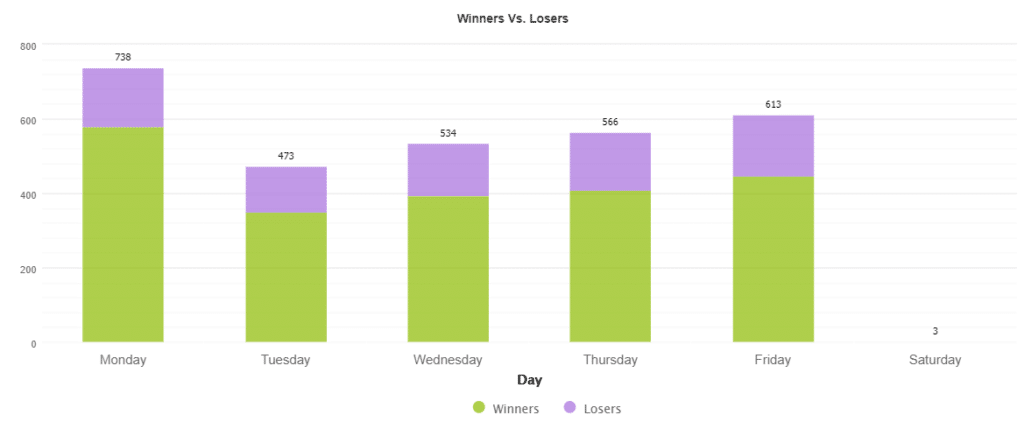 Monday with 738 deals is the most frequently traded day.

The robot runs the account with acceptable risks to the account balance.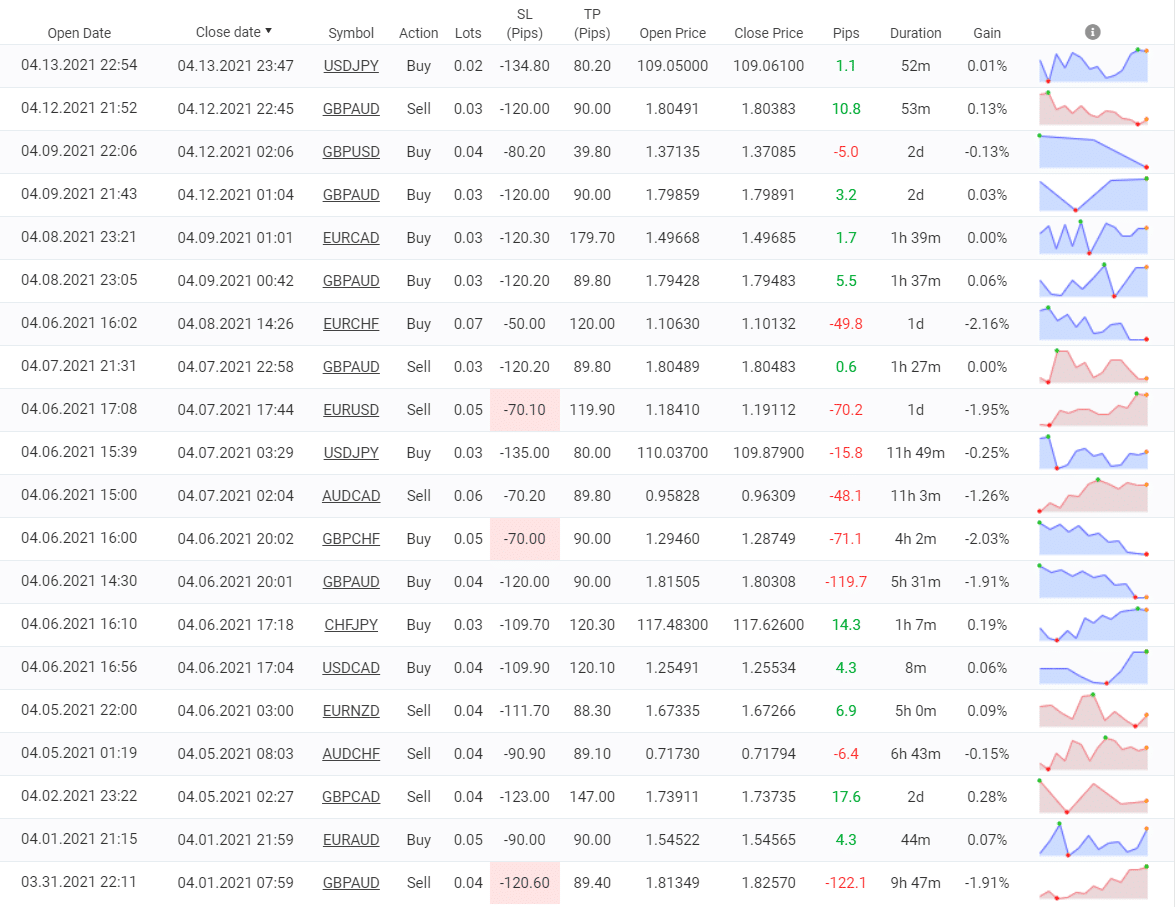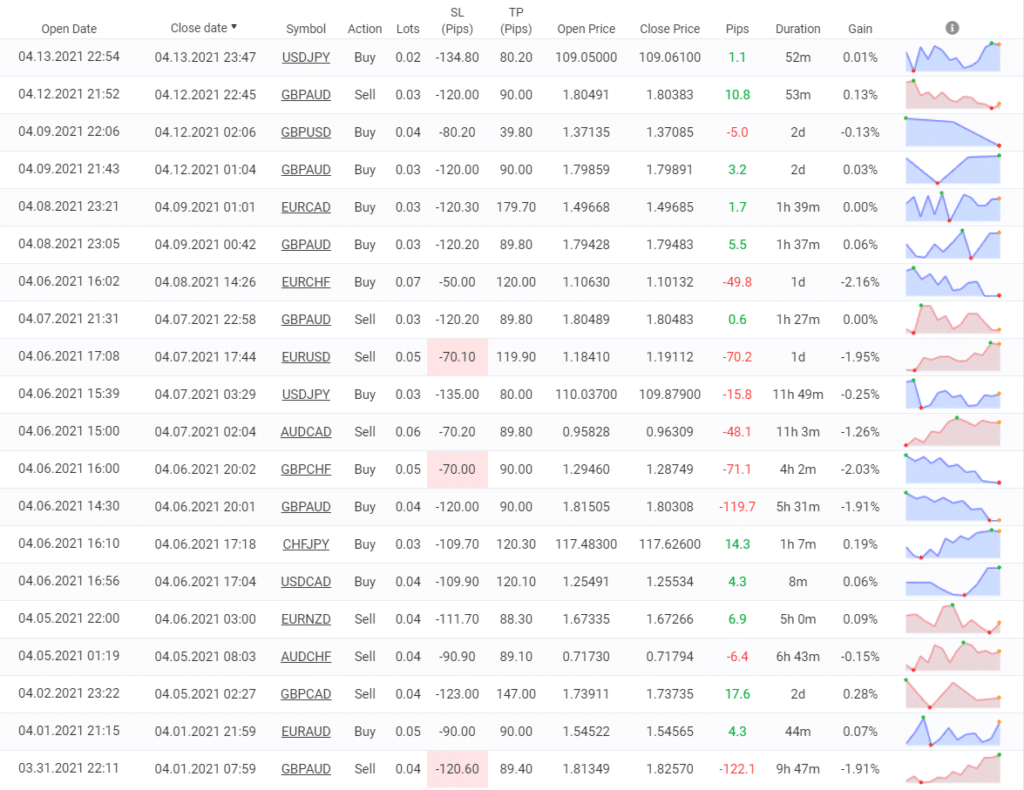 As we can see, SL levels are deep compared with TP levels.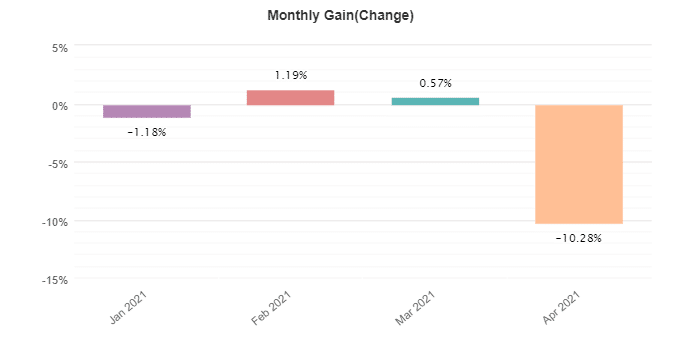 April 2021 is showing that there's something wrong with the advisor.
Other notes
The developers decided that a site created on their own can convince us that the robot is good to go. It sounds like a bad joke.
People feedback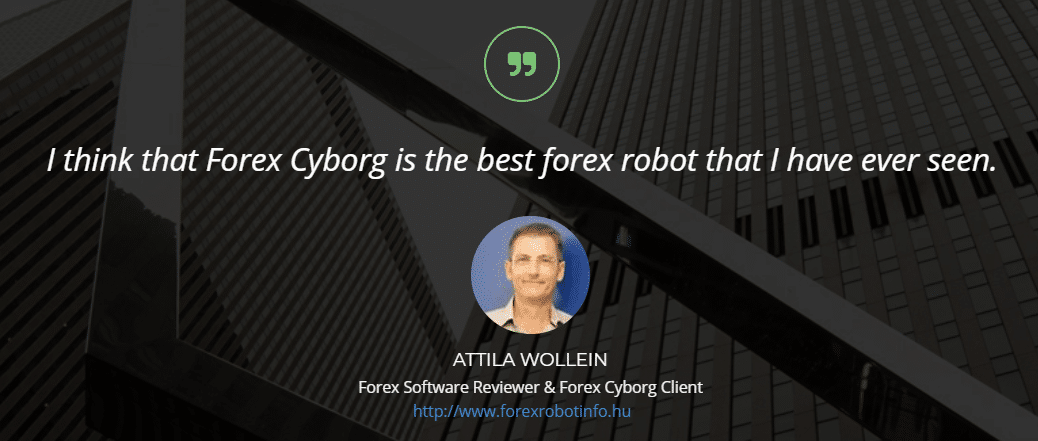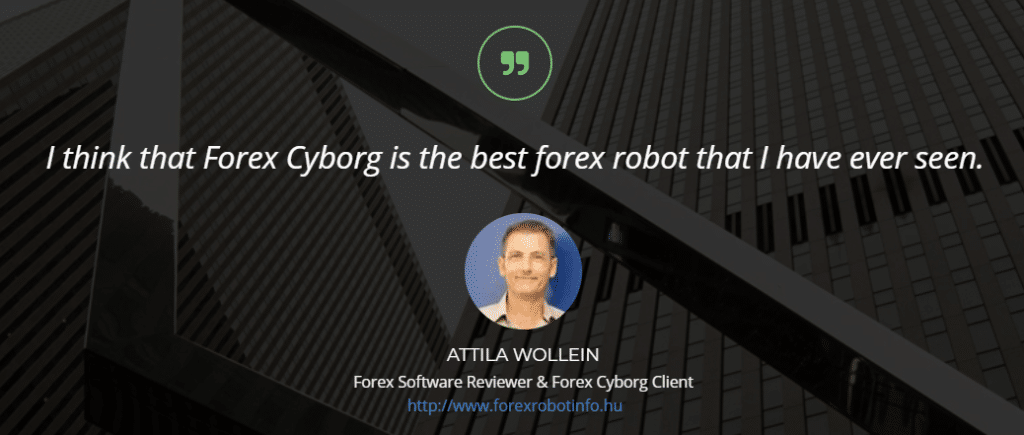 There are some testimonials published on the site. We have no idea whether they are real or fake.
Wrapping up
Advantages
Backtest reports provided
Real account trading results provided 
Money-back guarantee provided
Disadvantages
No team revealed
No strategy details explained
No setting explanations provided
No money-management advice given
Horrible April's trading results 
No people feedback published on the web
Summary
Forex Cyborg is a good robot to avoid. Last year's trading results were awkward. Everything is going worse in April 2021. Now, the system can't cost this money. We'd like you to overarch it for half a year or so to be sure that the system will receive the required updates.