WallStreet Forex Robot 2.0 is the latest version of the long-standing expert advisor released in March 2011. This EA is one of a few products that has been on the market for so long. Our mission is to analyze the trading performance, risk factors, and the other important data to decide whether this product is a good choice to invest money. So, in this WallStreet Forex review, we will provide a detailed analysis of this trading system so that you know if its 2020 updated edition is worth its $347 price.
Is a WallStreet Forex Robot Still Good to Go?
The information provided on the sales page of the WallStreet Forex looks quite detailed and professionally organized. FX Automater team claims that their product is one of the best ones available in the Forex market.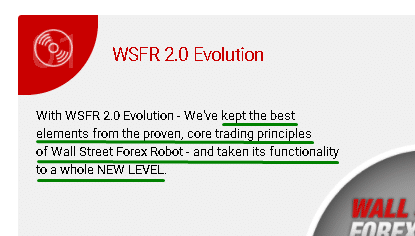 They boast about 10 years of trading experience and their ability to transform "ordinary traders into self-made forex winners".
The devs of this trading tool have implemented a real-time update system to exclude the need of traders to restart their robots to obtain new settings. Now, traders can decide how frequently their robot will check for new settings.

"BROKER SPY MODULE" was also designed to protect traders and their capital from "unethical brokers".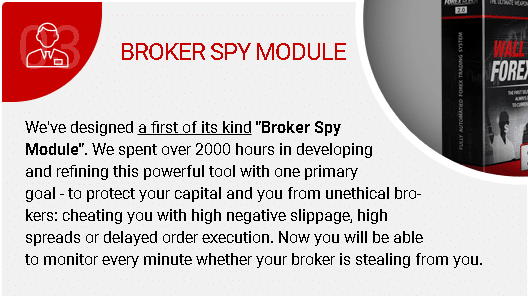 The devs tell us that the updated version of this EA is more profitable than the previous one.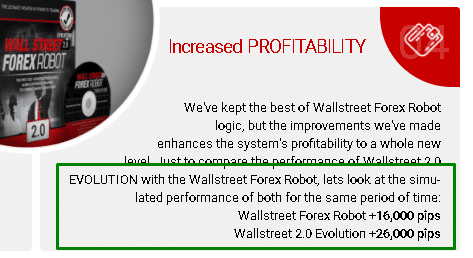 The other features of this expert advisor are: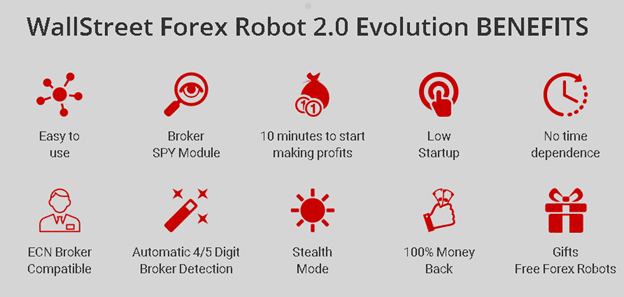 Currently, the vendors are offering a $110 discount, and traders interested in the product can buy it for $237 instead of its regular $347 price. This WallStreet Forex Robot 2.0 copy includes 1 real account and an unlimited number of demo accounts, full-time customer support, a 60-days money-back guarantee, and 3 WallStreet Forex EAs as an additional bonus:

WallStreet Forex Robot Backtests
We are provided with a few backtests on different currency pairs: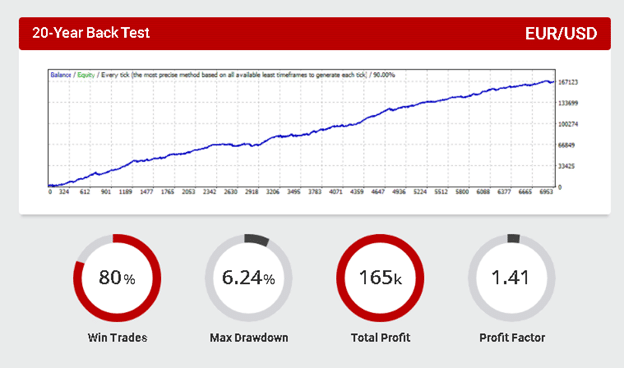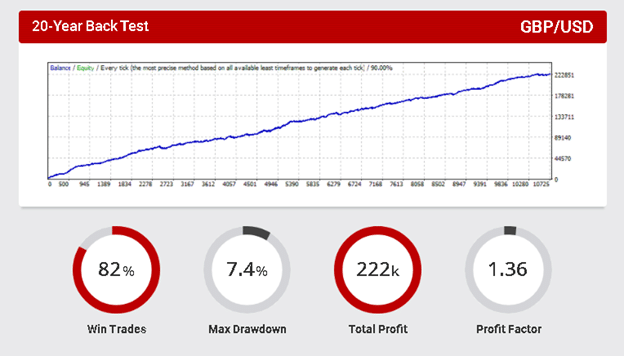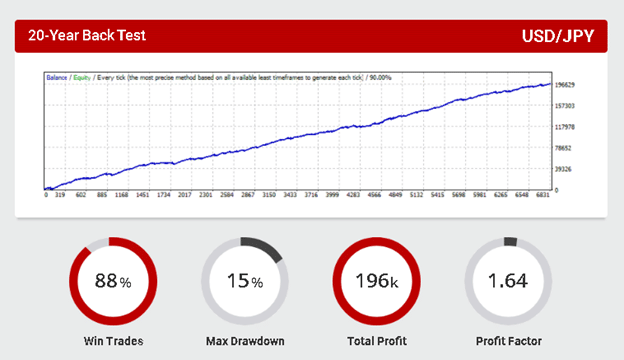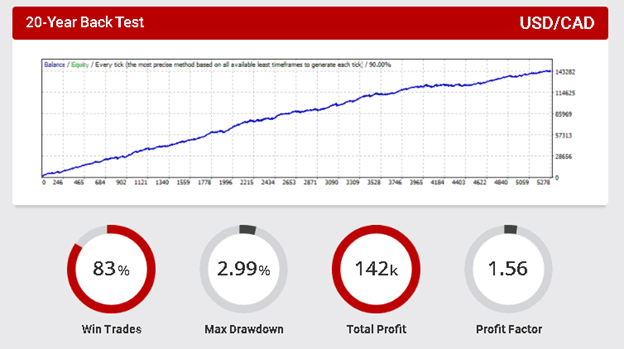 Each of them shows a win rate of over 80%, 142K-222K total profit, 6%-15% drawdown, and a 1,3-1,6 profit factor. It looks good but we would like to know how the system is performing now. That is where we are going to jump to – live trading results.
Trading Results
The devs provide us with multiple clickable screenshots of live trading results. It is a good sign, especially for devs who have been over 10 years in the market.
The account the devs share on their sales page was launched on December 22, 2017: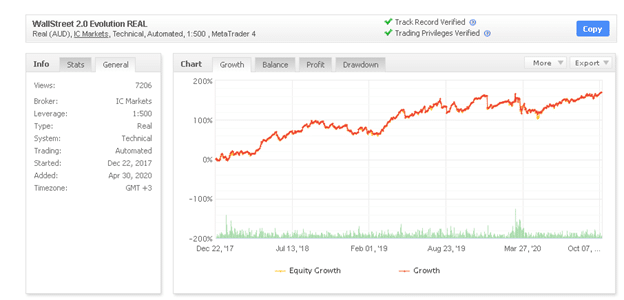 This is a live real AUD account that is working on the MT4 platform with IC Markets brokerage and a 1:500 leverage. For approximately 3 years of trading, it has shown a 169.98% gain with a monthly gain of 2.95% and a peak drawdown of 21.17%.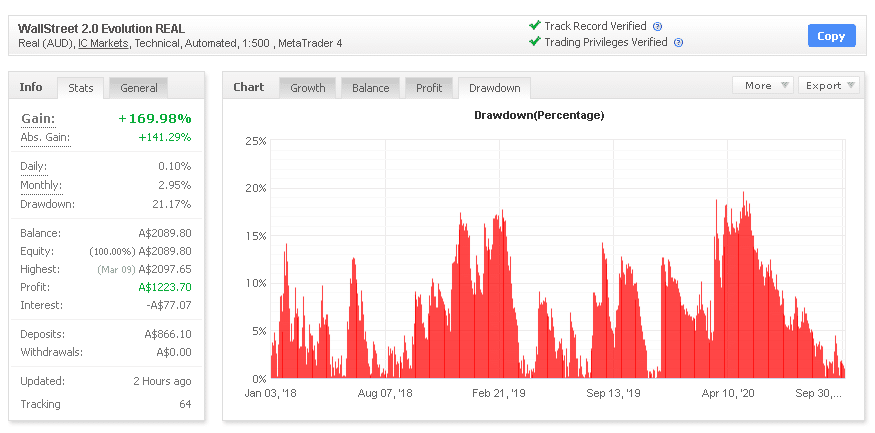 The robot has placed 2616 trades and 9011 pips. Its profit factor is small (only 1,14) and the average loss is three times higher than the average win: 42,18 pips vs 15,84.

The robot trades multiple currency pairs:

The best trading result it has achieved with GBPUSD currency pair – 757,61 A$, while the worst one with USDCHF -29,37A$.

For over 2 and a half years of active trading, the robot has brought only A$1223,70 of profit. Taking into account that the deposit was A$866,10 and there was no withdrawal, the amount it had earned for that period does not look impressive.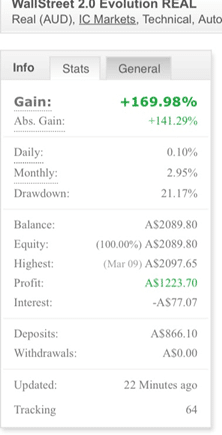 The EA opens trades every day, from Monday to Friday: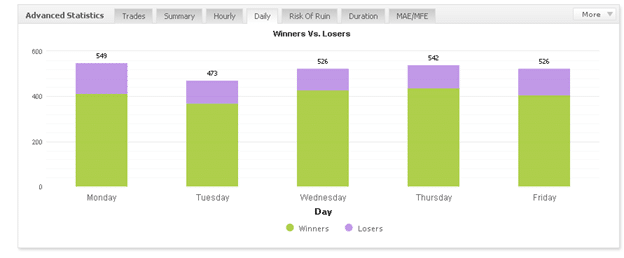 In 2019, the maximum monthly gain was 24,42%, while in 2020 the best trading result was in January and equaled 6,65%: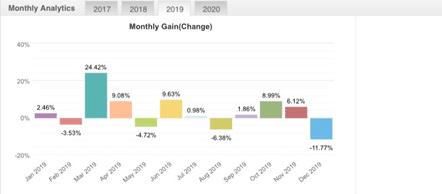 In the screenshot below you may see that the robot is still making profits, but it is not as effective as it used to be. The monthly gain varies. In some, there has been almost no profit at all.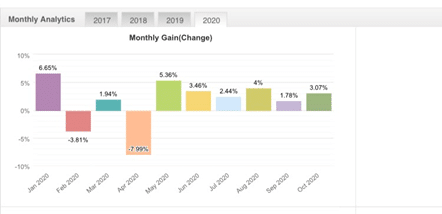 The other negative side we have noticed with this robot is its high risk of ruin. There is 27, 04% chance of losing 10% of the account:

People Feedback
Traders' reviews for this EA are not very positive. This trading system has a 2.82-star rating in 18 reviews on Forex Peace Army. The last client feedback was a 2-star rating that is somewhat concerning:

The trader tells that this EA provides very small profits and "huge WA arsenal for nothing". He also adds that the WallStreet Forex trades "but with very very very small profits and not so often." It only proves the facts of the poor trading performance of this EA.
Summary
We are not on the way to give WallStreet Forex approval. Although we are impressed with the properly organized website design and the information provided on it, the trading account provided on the seller's website shows very poor trading results. Would you like to tolerate -10% of losses knowing that you will recover by 2.95% monthly gain? You would not. Therefore, we do not think this EA is not a good choice for its price.