WallStreet Forex Robot 2.0 is the latest version of the long-standing expert advisor released in March 2011. This EA is one of a few products that has been on the market for so long. The last time we reviewed this product was in 2020. Let's see what has changed since that time.
Is a WallStreet Forex Robot Still Good to Go?
The information provided on the sales page of the WallStreet Forex looks quite detailed and professionally organized. FX Automater team claims that their product is one of the best ones available in the Forex market.
The devs of this trading tool have implemented a real-time update system to exclude the need of traders to restart their robots to obtain new settings. Now, traders can decide how frequently their robot will check for new settings.
Currently, the vendors are offering a 70% discount. There are 3 packages offered: Basic, Premium, and Ultimate available for $267, $347, and $387, respectively. These plans include 1 real money account, 5 real money accounts, and 5 real money accounts plus an indicator as a bonus. No matter what package you choose, all of them come with an unlimited number of demo accounts, full-time customer support, and a 60-day money-back guarantee.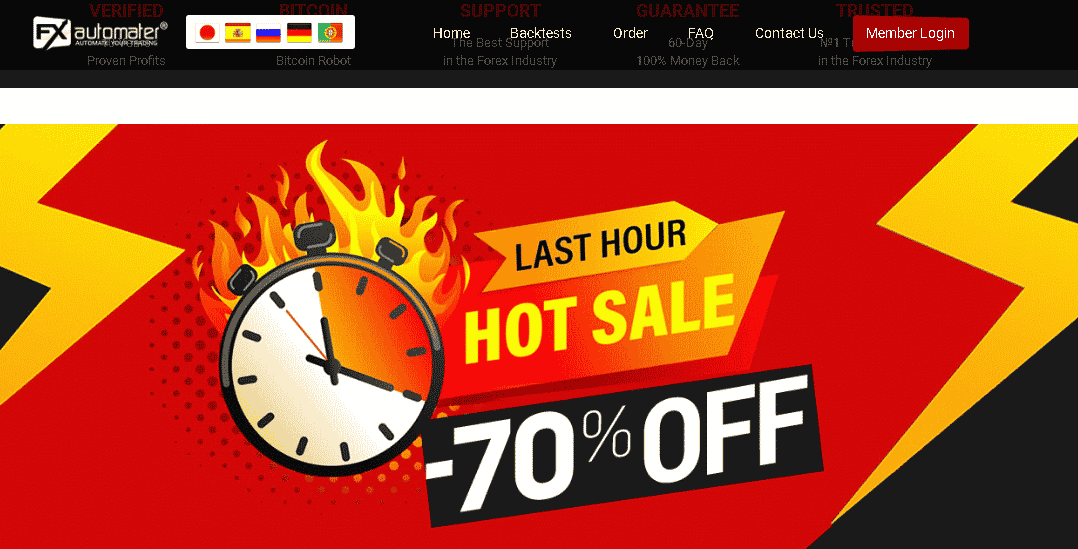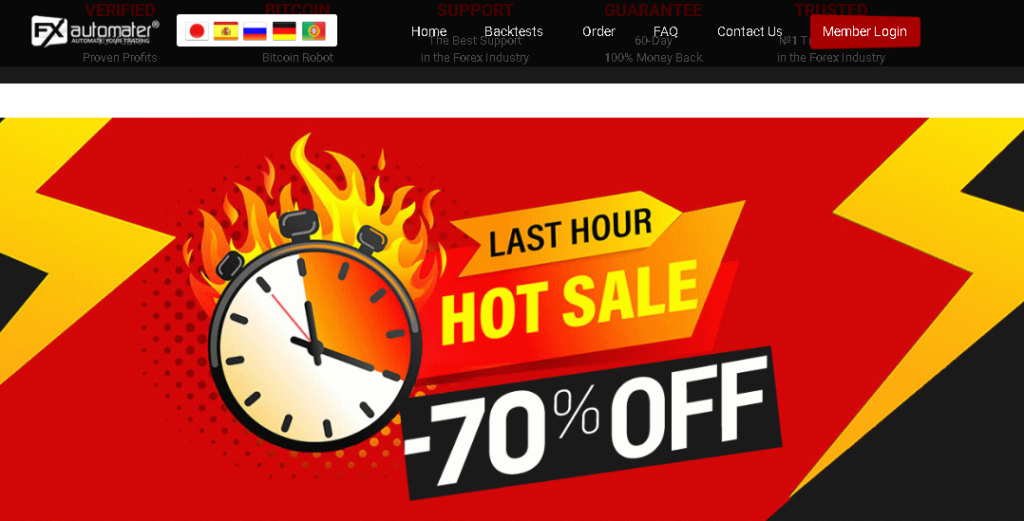 WallStreet Forex Robot Backtests
We are provided with a few backtests on different currency pairs: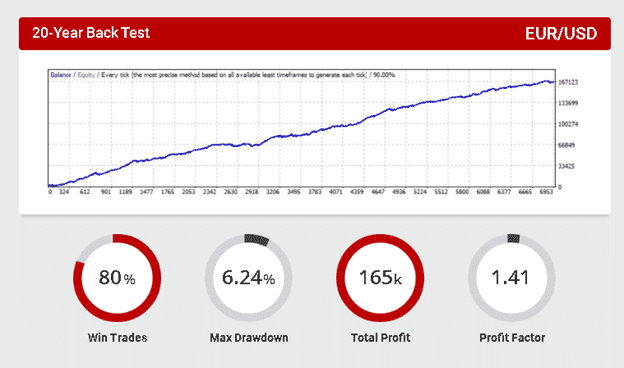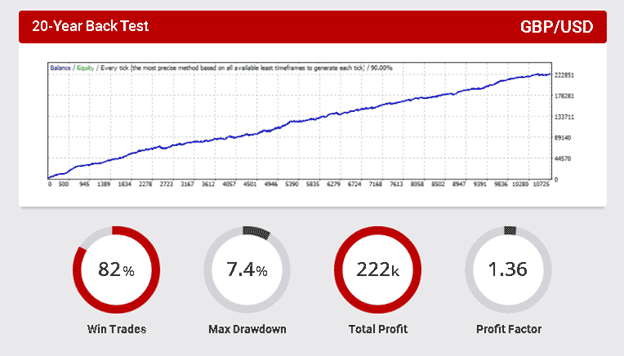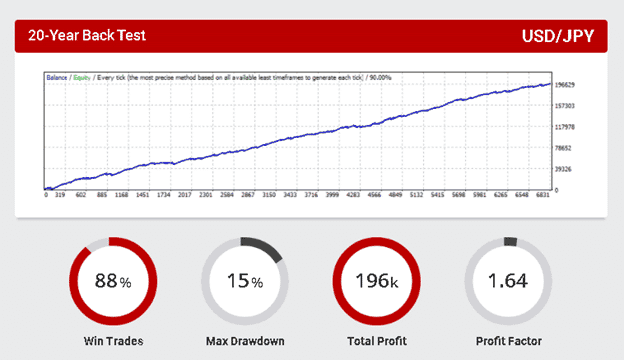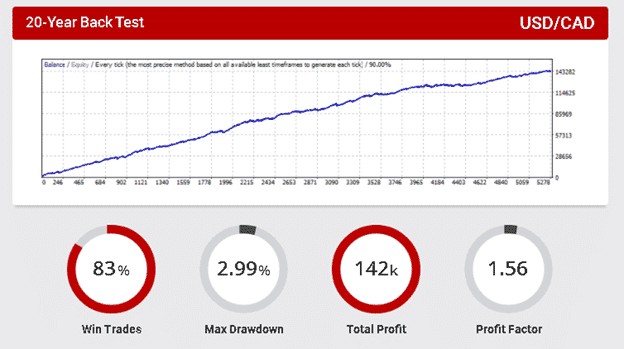 Each of them shows a win rate of over 80%, $142K-222K total profit, 6%-15% drawdown, and a 1,3-1,6 profit factor. It looks good but we would like to know how the system is performing now. That is where we are going to jump to–live trading results.
Trading Results
This is a screenshot of the trading account the devs have on their website 2 years ago. We do not know the reason, it was deleted or it was blew up, but it is not available on the devs' website anymore.
This trading account showed a 169.98% gain. An average monthly return was 2.95% and a peak drawdown was 21.17%. The robot placed 2616 trades and 9011 pips. Its profit factor was small (only 1,14) and the average loss was three times higher than the average win: 42,18 pips vs 15,84 pips.
It has brought A$1223,70 of profit for 2 years of trading activity. Taking into account that the deposit was A$866,10 and there were no withdrawals, the amount it earned does not look impressive.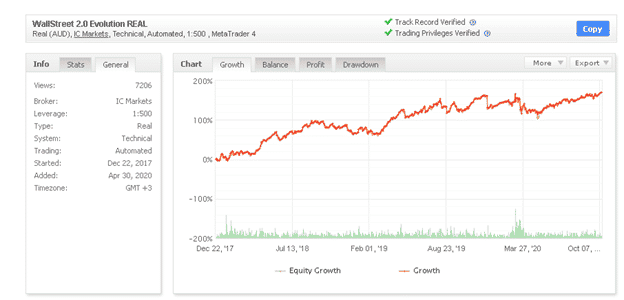 What do we have in 2022? This real (AUD) account trades with 1:500 leverage on MT4. It was created in December 2017. Since that time its total gain has grown to 276.53%. The picture is the same as it was 2 years ago. The drawdown (21,49%), the risk/reward ratio (1:3), and the profit factor (1.14) are the same. So, the history repeats.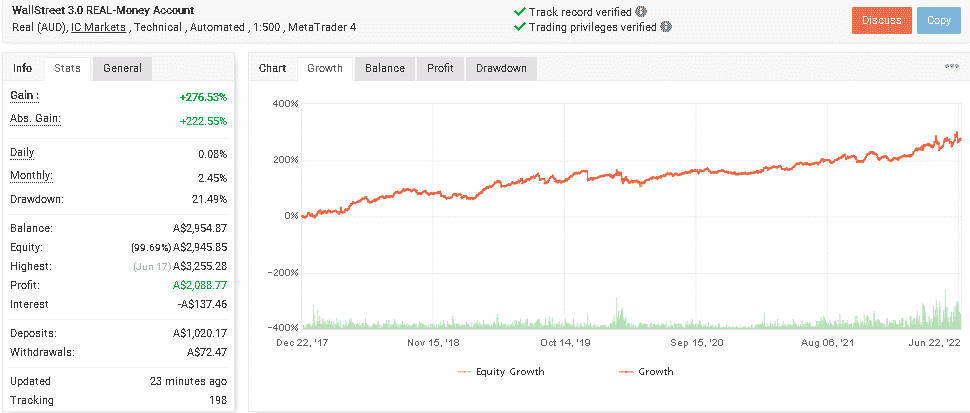 This year the system placed 571 trades that increased its total gain to 22.42%. In comparison with 2021 trading results, the gains it achieved from January to June are larger: the difference is A$103.55. Its average win rate is the same–76%.
It experienced a good gain of 13% in March 2022. June 2022 shows 4.9% of the profit which is 2-3 times higher than it gained in January, February, April, or May. Long story short, it demonstrates the same performance it had in 2021.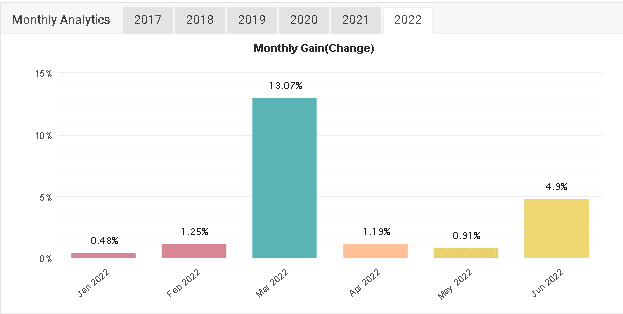 People Feedback
The overall rating the company has based on 18 reviews on the FPA website is 2.8 out of 5 possible. People are not satisfied with the trading results they achieve with this EA.

The last client feedback had a 2-star rating that is somewhat concerning:

The trader tells that this EA provides very small profits and a "huge WA arsenal for nothing". He also adds that the Wall Street Forex is not efficient. 
The Review
Although we are impressed with the properly organized website design and the information provided on it, the trading account provided on the seller's website shows very poor trading results. Customer reviews only back up these claims.