Solarbeam background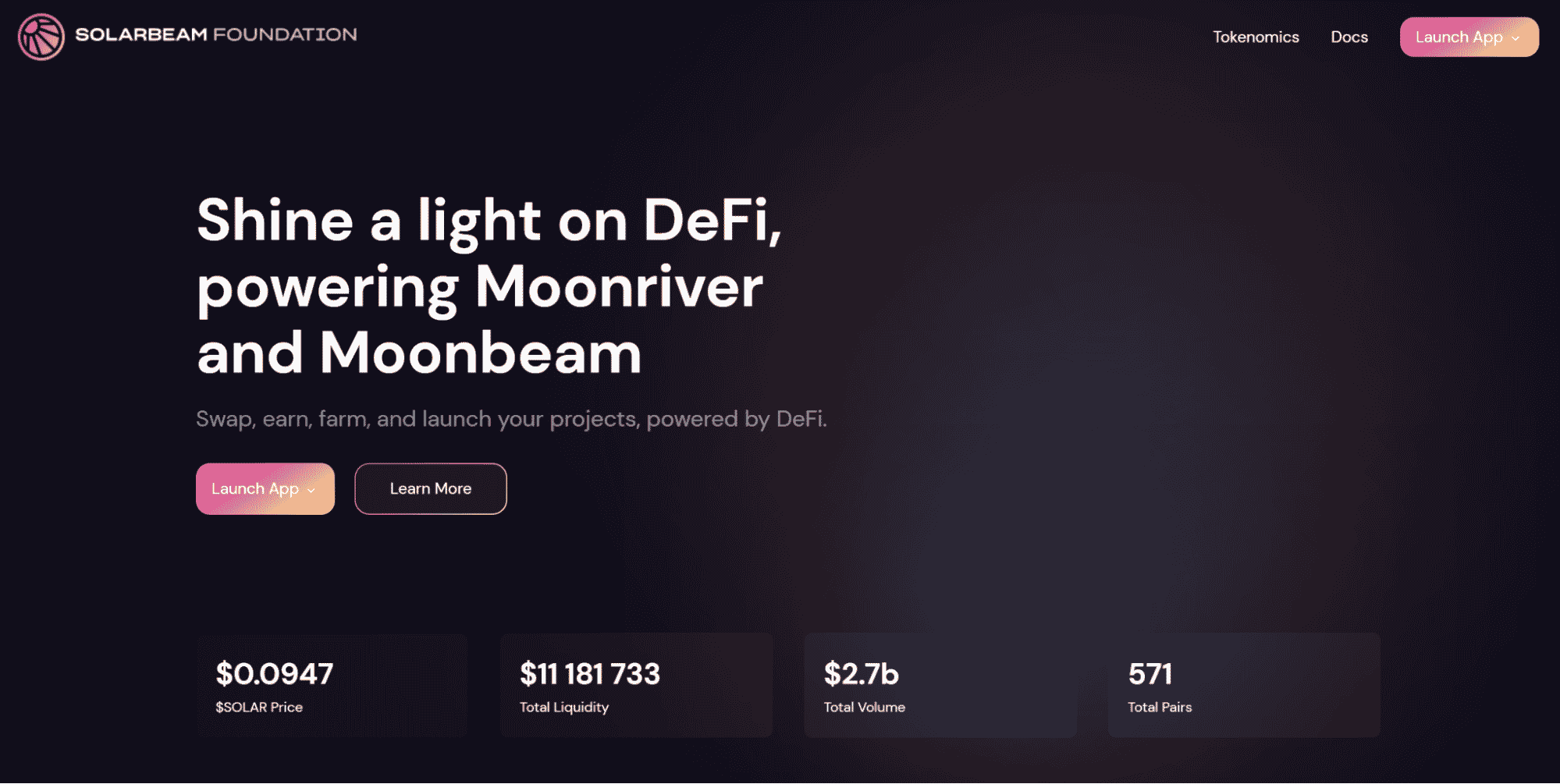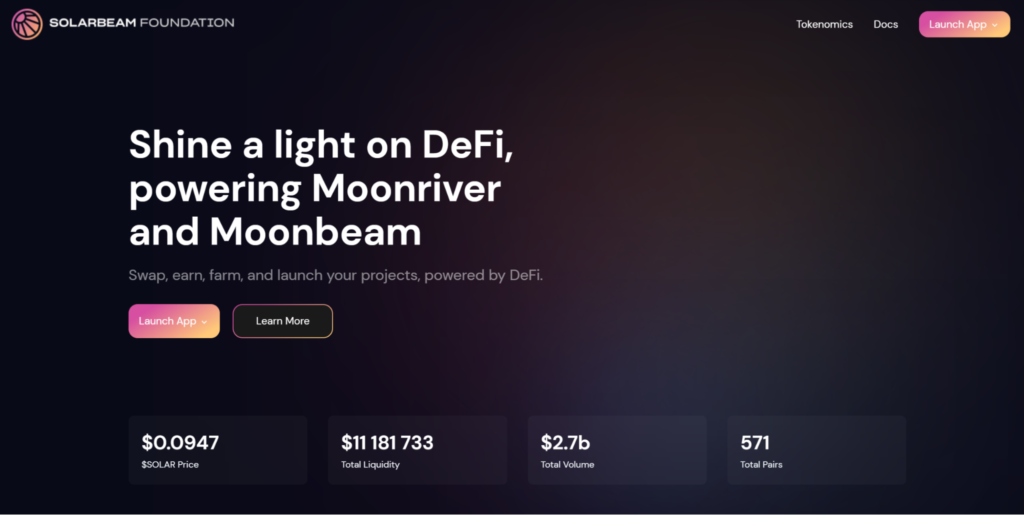 Solarbeam is a decentralized exchange that strives to give the cryptocurrency community a comprehensive and convenient one-stop platform. It is hosted on Moonriver and runs on its native SOLAR token. It was launched in September 2021. However, it is not clear where exactly the company is based. Its members include Firekid, the founder, Solar Ape, its Developer/co-founder, and Two Tooths, co-founder. In other words, nothing is known but their nicknames.
Solarbeam overview
This is a DEX that provides liquidity and facilitates peer-to-peer transactions on the Moonriver Network. Users can trade straight from their wallets instead of going via a third party. The developers claim that it has high liquidity. This allows it to provide a broad range of support to different aspects of the crypto community.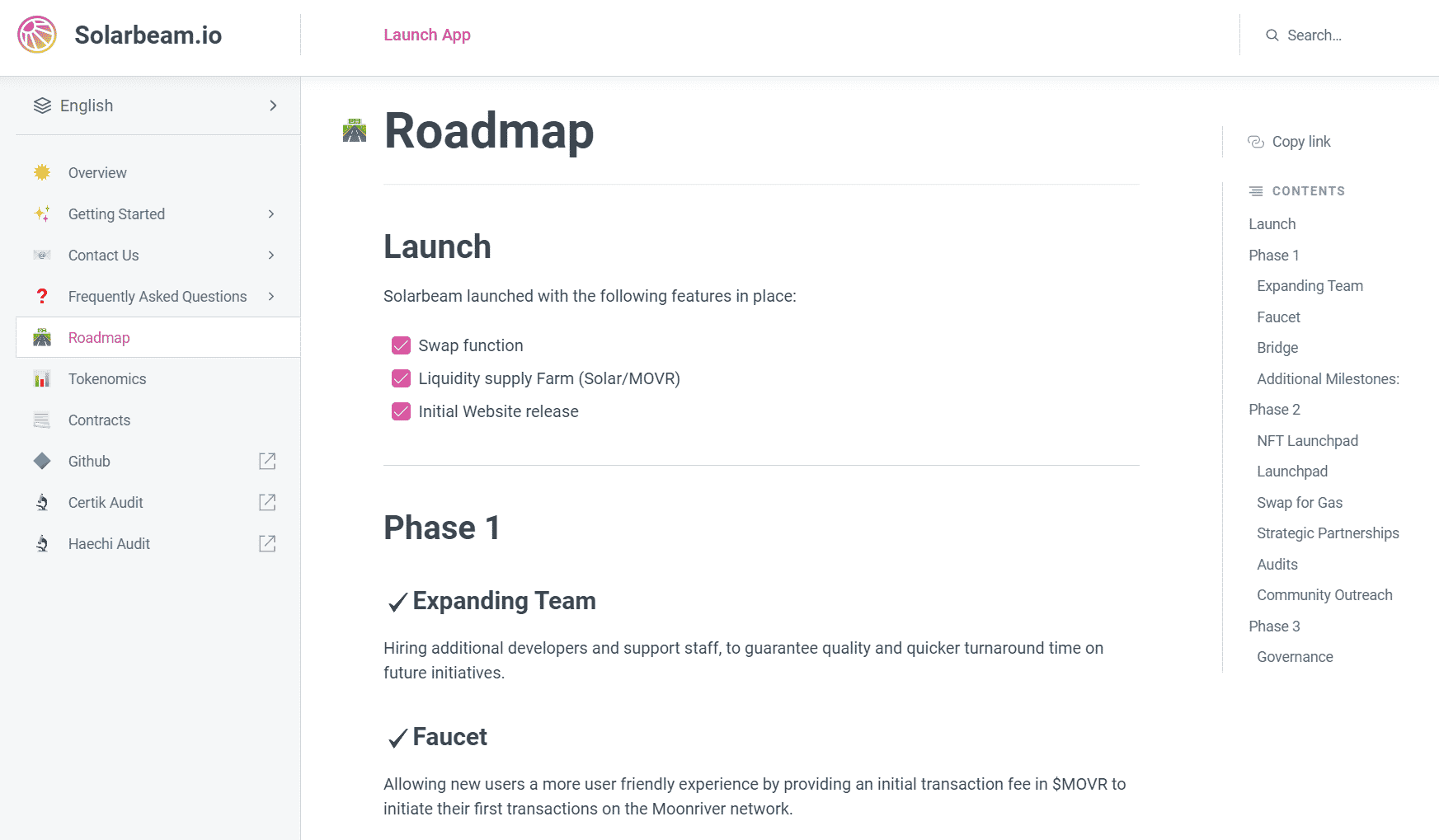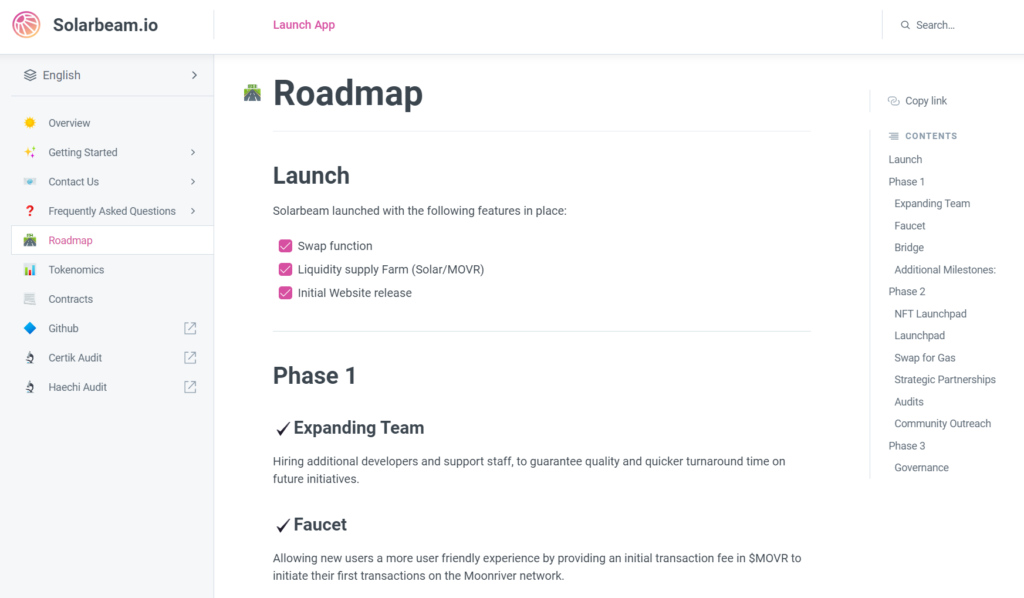 Pros and cons
Pros
Offers a large number of trading pairs
Offers complete asset control
Cons
No dedicated customer support team
Supports only two wallets
No live trading results
| | |
| --- | --- |
| Funding methods: | MOVR tokens. |
| Cryptocurrencies supported: | MOVR, 1SWAP, BNB, BUSD, DAI, ETH, MATIC, |
| Countries: | N/A |
Interesting features of Solarbeam
It has its own native token, SOLAR. You can earn this token by staking your coins in single asset pools or as pairs in liquidity pools.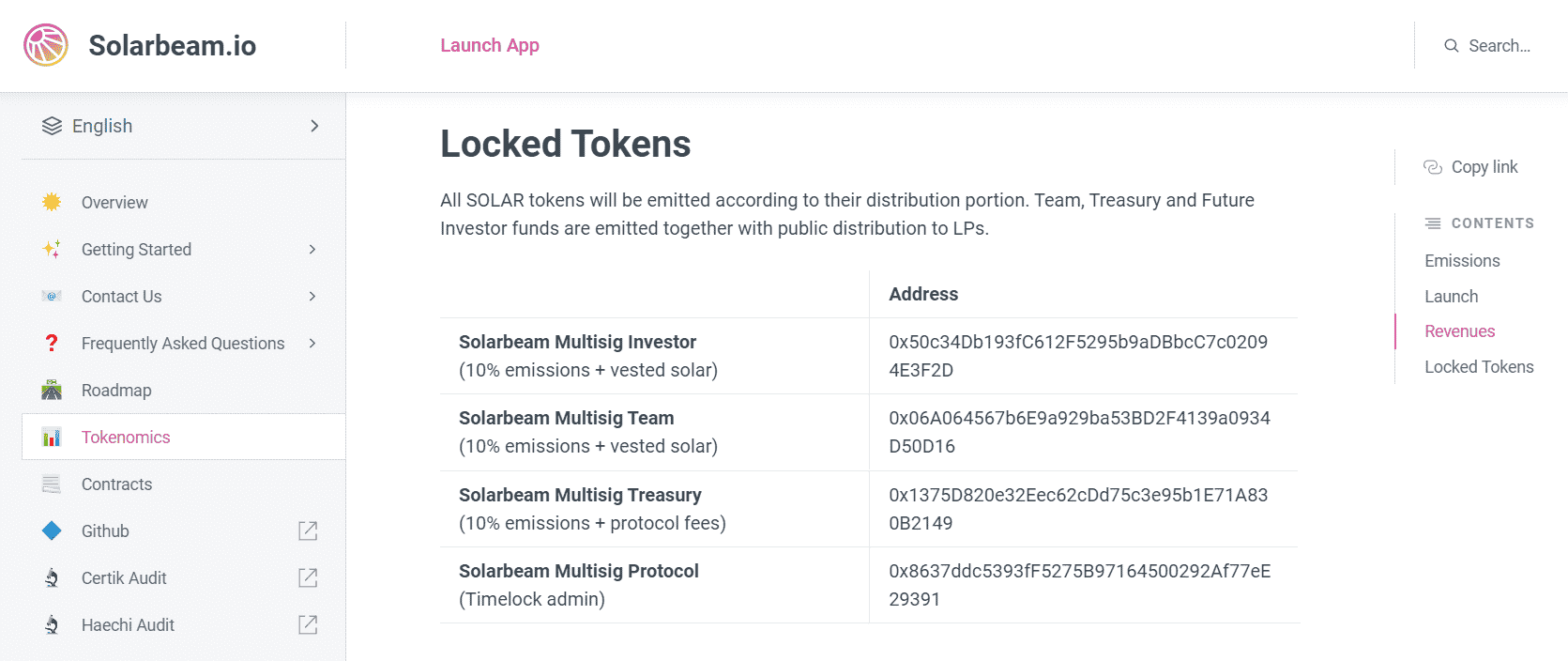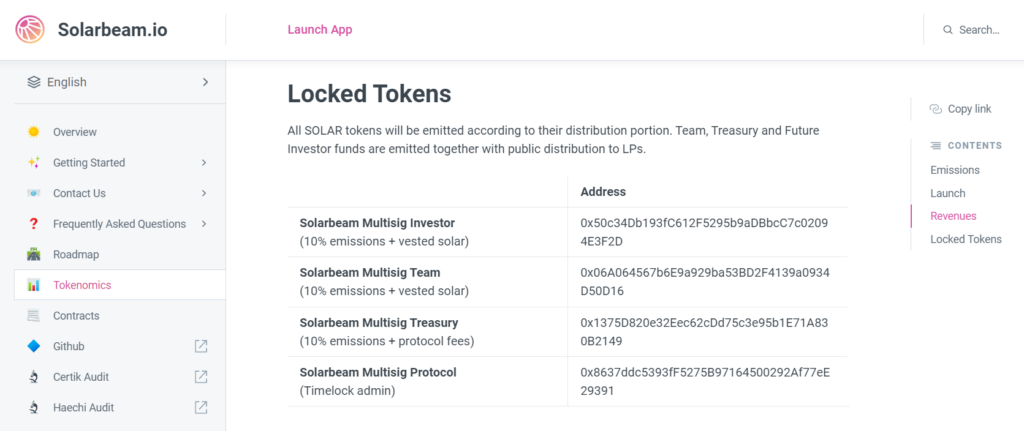 MOVR tokens are required to conduct transactions on this network. You can buy them from one of the supported exchanges or use the Solarbeam faucet.
Supported languages include English, Chinese, and even Russian.
What wallets does it support?
This platform supports two wallets, Metamask and WalletConnect. This number is rather small compared to other DEXs.
How does Solarbeam work?
On this exchange, you can perform the following functions:
Swap tokens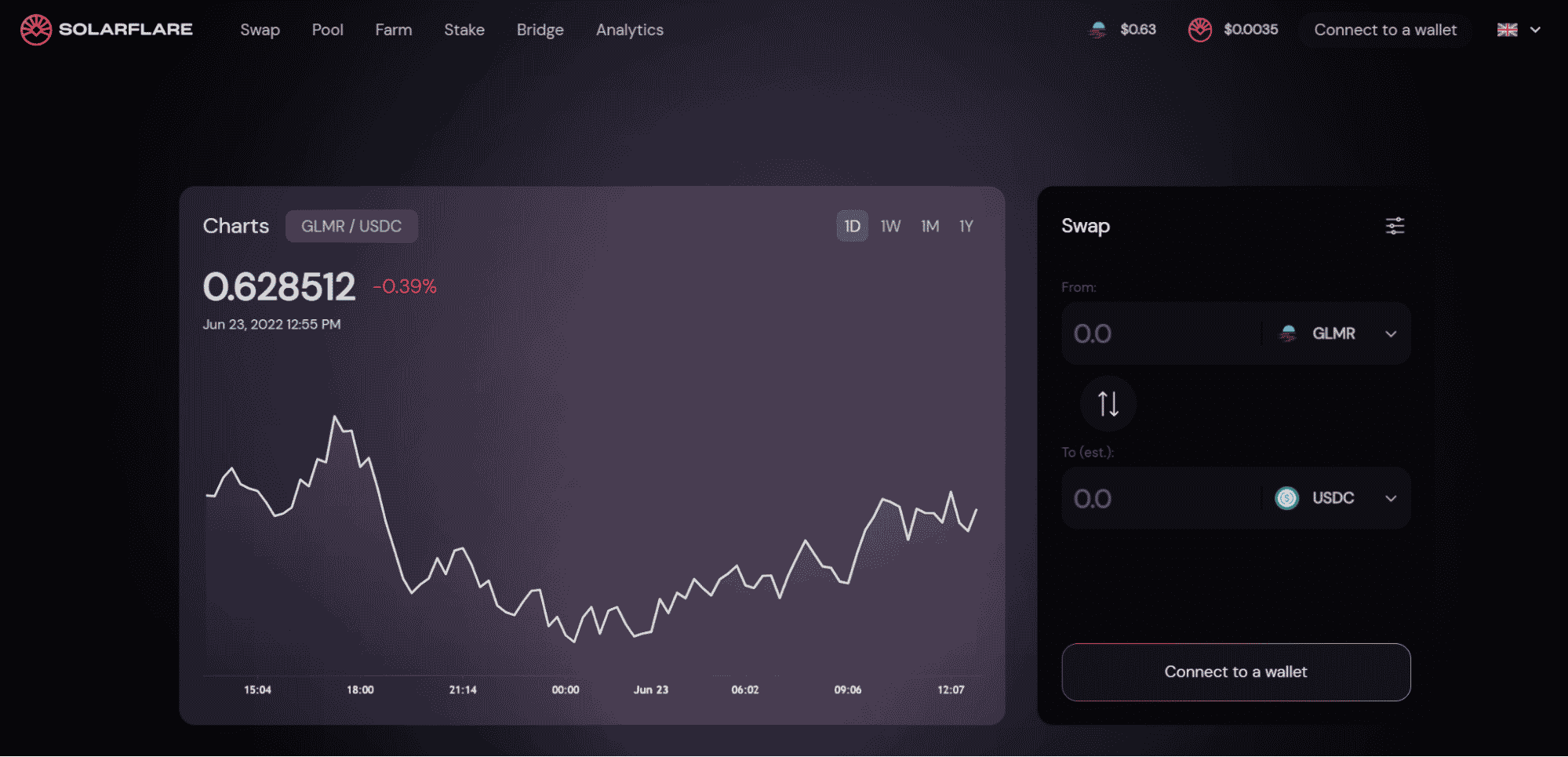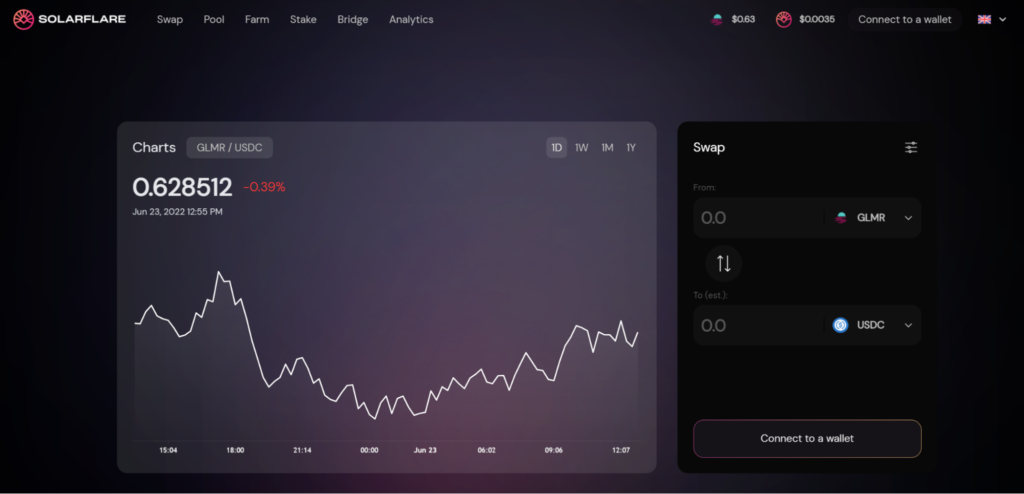 It allows you to exchange any tokens contained in its liquidity pools. You can also change the transaction deadline and slippage tolerance, as well as disable multi hops and switch to expert mode.
Yield farming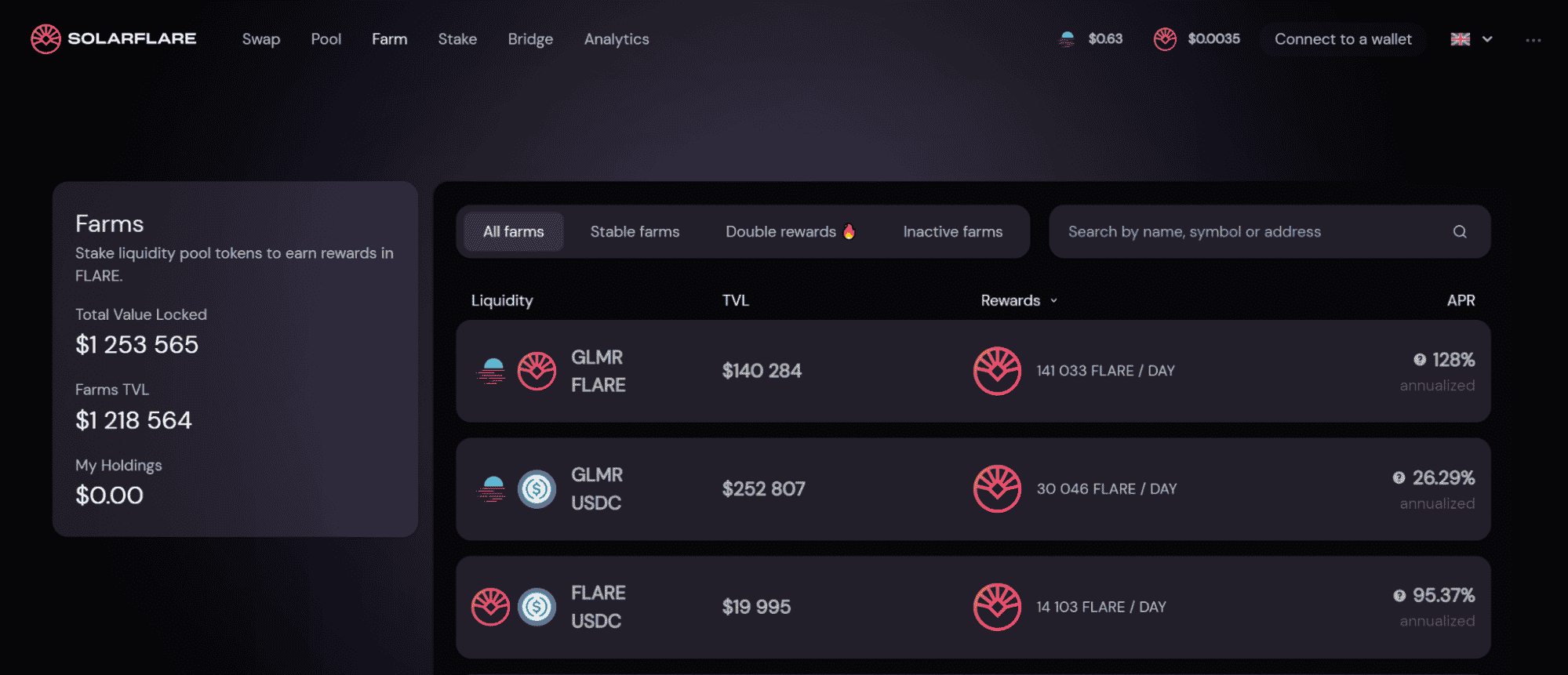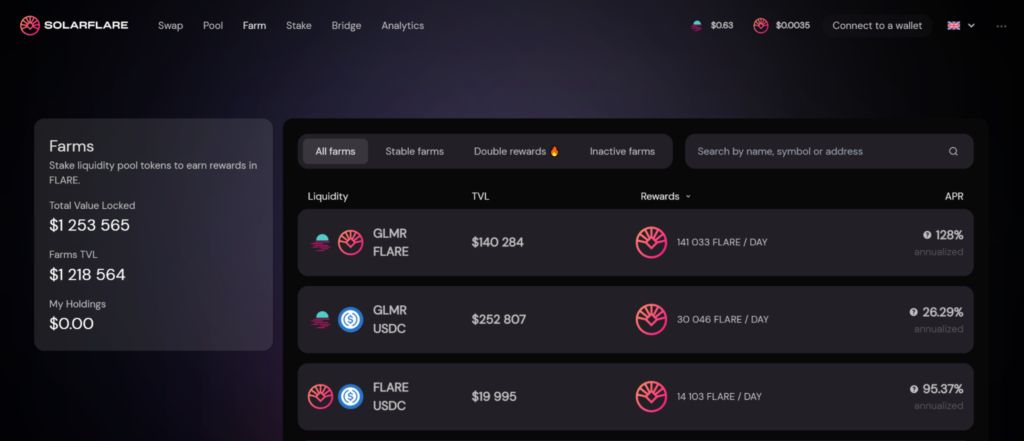 This feature allows you to stake and lend your money to a pool in exchange for bonus tokens. Single asset pools have a low-risk, low-reward system. Liquidity pools with paired tokens have a higher reward for a higher risk system. Staking MOVR can earn you SOLAR tokens, or you can pair them up and stake them in liquidity pools to get even more SOLAR coins.
Lock tokens in vaults
By locking your tokens in the Solar Vault for a set amount of time, you can earn more rewards. There are 7-day and 30-day lockup periods available at the moment.
How to sign up with Solarbeam
To start, you must first purchase $MOVR tokens, which are required for the Moonriver network. You can obtain $MOVR from the Solarbeam faucet upon using the bridge, or you can obtain them from supported exchanges. Next, you have to configure your wallet in Metamask. Lastly, sign up to Solarbeam using your details.
What can you buy with Solarbeam?
This platform supports a large number of digital assets such as MOVR, 1SWAP, BNB, BUSD, DAI, ETH, MATIC, etc.
Are there any risks with Solarbeam?
It has a limited number of wallets. Its customer support is also in need of improvement.
Solarbeam fees
A 0.25% fee is applied to each swap. 0.20% goes to LP providers, while 0.05% goes to the developer team. From the portion of the fees allocated to the team, 50% is used for burning coins and buybacks.
Deposit methods
Use fiat to buy USDT, ETH, or BNB. Then use the purchased USDT, ETH, and BNB to purchase Solar. Use a financial service platform (Paypal or Robinhood, which is only available to US citizens) that allows you to fund your account using a bank account or a credit card.
Should you buy it?
Cryptocurrency prices are volatile. Every investment has its own set of ups and downs. SolarBeam is not an exception to this rule. SolarBeam (SOLAR) is a high-risk blockchain asset; please do in-depth research carefully before investing.
The Review
Solarbeam emphasizes a simple user interface and tested tokenomics. It has resulted in an organic expansion within the Moonriver community. Unfortunately, the trading costs are rather high, and there are only a few wallets supported.