It is advisable to use the Shrimpy.io platform to work with crypto assets. It allows you to put together all the accounts and control any transactions. If you need help understanding the above, read our Shrimpy.io review carefully. It will help you understand all the nuances of using this platform.
About Shrimpy.io
To combine your crypto assets and be able to trade them, you should choose Shrimpy.io. Benthos Labs Inc owns this platform. It appeared in 2018 and became quite famous among traders a few years later. The company talks little about itself, its founders, and its employees. She also does not provide information about her location. This circumstance alarms many potential customers, which is why they are in no hurry to create an account. They are convinced by the many positive reviews from traders who praise the Shrimpy team for all aspects of their work. Shrimpy has about 500,000 users who visit the platform daily and conduct various cryptocurrency transactions with its help.
Shrimpy is a place where you can collect all crypto assets. Thanks to this, they will be in this place, and managing them will become much more manageable. In addition, the company offers traders many options for increasing capital. Most often, automated methods are used that involve the use of bot trading crypto. This option of earning is considered the most effective and profitable. Also, users can try their hand at copy trading or become providers of trading signals for other clients.
Shrimpy has three pricing plans. The first one is called "Starter." Its cost is $19. For this money, traders are provided with a basic set of functions suitable only for users who begin their journey in the world of trading. Customers with experience should pay attention to the "Professional" tariff. Its owners get most of the available services by paying $63. If a trader needs maximum platform capabilities, then the Enterprise package should be chosen. Its cost reaches $299, which is very expensive even for people with good financial abilities.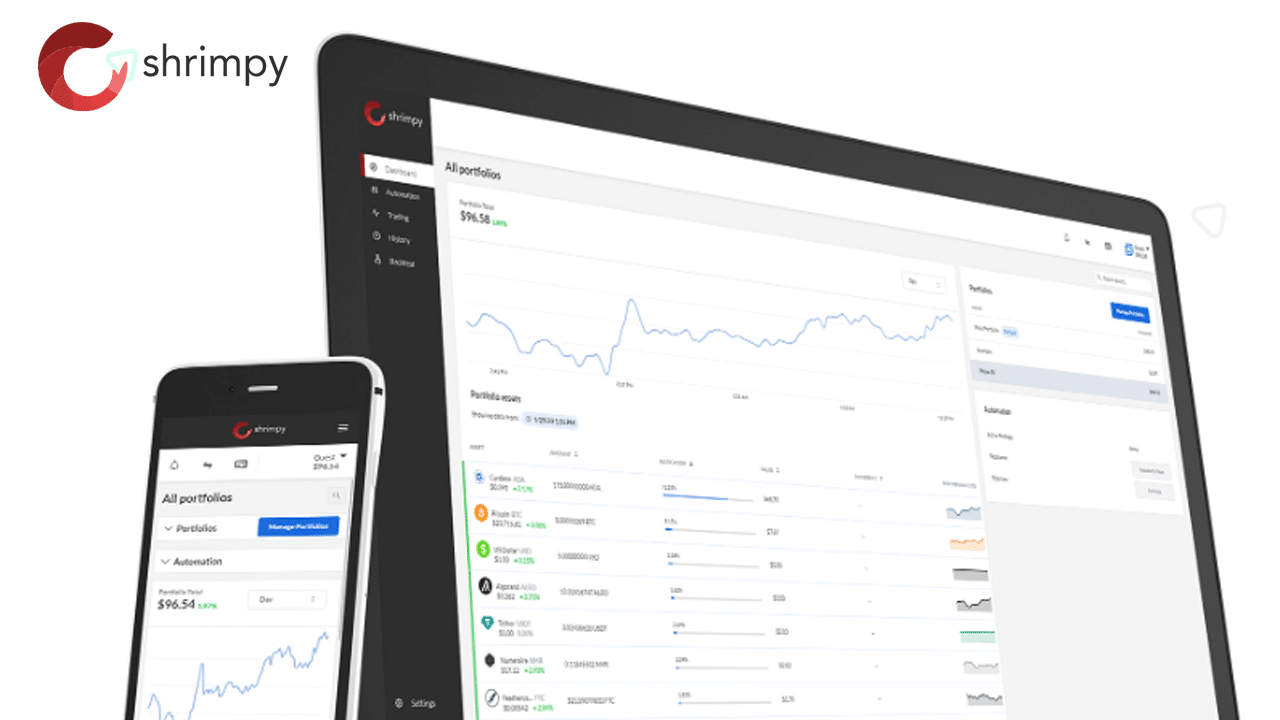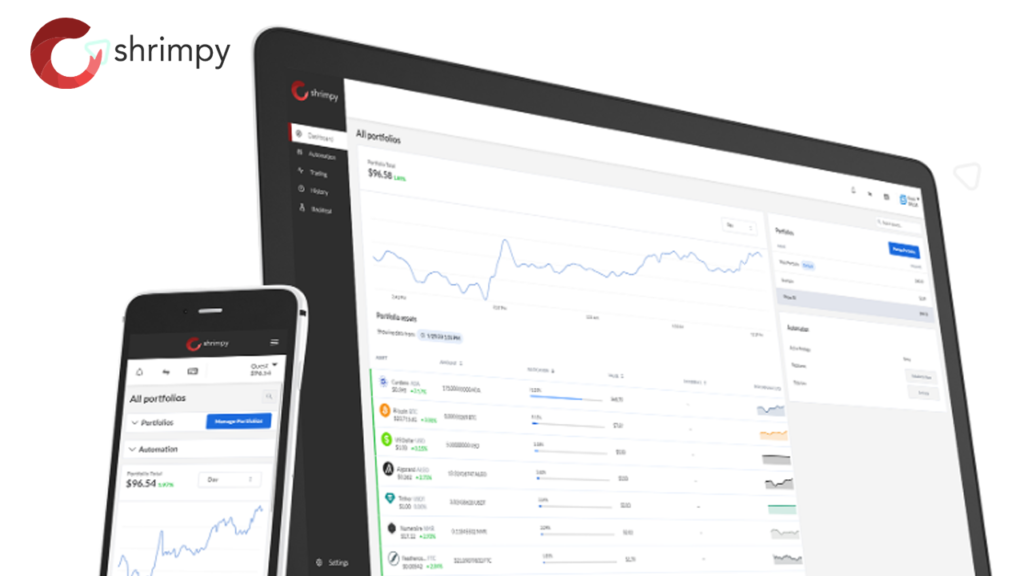 Important features
To fully use the platform, you must perform all the preparatory steps correctly. They are pretty simple and understandable to everyone, but they must be carried out in a specific sequence.
Procedure:
Go to the Shrimpy web resource and click "Sign Up" on any page.
A tab with a registration form will open. In it, fill in the fields with e-mail, name, and password. Put a checkmark next to the inscription "I am 18 years of age or older" (unless your age complies with the specified rules).
Confirm registration data, then log into your account.
Explore subscription options and find the best one.
Pay for a subscription and wait for the funds to be credited.
Next, link your crypto assets to Shrimpy.
Make adjustments to the settings and save them.
Get started using the available platform privileges.
Shrimpy has many exciting features. It will take a long time to describe them, so we decided to focus on the most significant ones.
Important features:
Discounts. Most tariffs are high, so Shrimpy customers are looking for affordable ways to save. They are offered to them by the developer company itself. It discounts users who purchase a subscription one year in advance. Prepayment must be made immediately, as in any other case, the discount will not be activated. If done correctly, you can save 20%.
Demo version. The platform has a unique demo version, which does not require registration on the site. It is enough to open the corresponding page and work through this platform. A demo account allows you to understand Shrimpy's nuances better. It also gives a chance to evaluate the effectiveness of cryptocurrency trading.
Customer support. Shrimpy customers have no complaints about this service. It quickly processes all applications, and users receive answers within a few minutes after they are sent. To communicate with operators, email or social networks are used. The platform also has a help center where you can find answers to dozens of questions.
Referral program. Shrimpy developed and offered an exciting affiliate program to its clients to popularize its platform. According to its terms, everyone can earn 20-50% of their spending on invited traders. Several factors influence the exact number of referral deductions, so it isn't easy to calculate. It is also worth noting that profit from referrals can be received for life without restrictions on amounts. Traders like this feature, and they are willing to attract referrals.
Educational content. Shrimpy is a good place for beginners. It allows everyone to undergo self-study on working with crypto assets. There is also a blog section on the company's web resource. It contains many helpful articles on various topics that will interest traders. Shrimpy also has a quality YouTube channel. You can find many good videos on the same issue of trading. All text and video materials are presented in English.
Trading bot crypto and other tools will become available to anyone using the Shrimpy.io platform. It is convenient and versatile, so it is perfect even for inexperienced traders. If you unlock its potential, you can get a good profit and forget about financial problems.
The Review
Shrimpy.io
Shrimpy.io is not among the top cryptocurrency trading platforms. Despite this, it has many advantages that will help it take its rightful place among more status competitors in the future. Shrimpy also has a few downsides.
PROS
a large number of clients
many options for work
variety of tariffs
referral program
demo version
quality customer support
good discounts
great educational content
a minimum of negative reviews
CONS
high prices
little information available
Review Breakdown
Features

0

Exchanges Supported

0

Security

0

Price

0

Customer Support

0