In this review, we are going to talk about Forex Steam, an expert advisor built to trade on the popular MetaTrader4 platform. The developers claim that their automated trading tool is one of the best and the most reliable robots in the Forex marketplace. However, before you decide you take out your money from your pocket and invest in this EA, we would like you to read this Forex Steam review. Here you will find out everything you need to know about the pros and cons of this trading system.
Is Forex Steam a Good EA to Invest Money?
The devs do not offer a free trial or demo version. Therefore, if you decide to trade with this EA, you will have to pay $117.99. This is a one-time payment, which includes all versions of Forex Steam, free updates, 4 licenses, free installation, instant access, and no upsells or membership fees. The minimum amount of money to start trading with this robot is $300-500. There is neither information about what currency pairs this EA supports nor money refund details.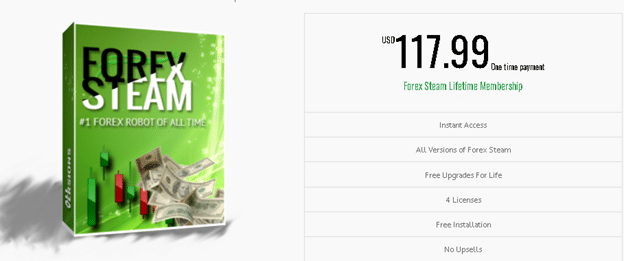 The Forex Steam team represents its main team leaders on their "About Us" page: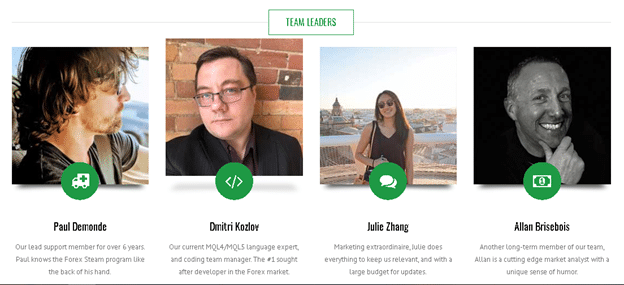 They boast about their 25 years of trading experience in the Forex market place and convince their customers that their robot is the best choice available in the Forex market. We do not know their location, they only say that they are "based in a multitude of countries, with our developers spread all over the globe".
The devs claim that their software works on a low-risk strategy that will eventually improve the risk-reward ratio for the trader.

They have also added a Time-Restricted strategy to provide more options to their client base:

How to Start Trading with Forex Steam?
The vendors of this trading software tell us that as soon as you pay for this EA, you will get an email with a unique link. You need to click on it and create your membership, where you can access the members' area to access all the software and materials.

Forex Steam Backtests
The Forex Steam team is boasting their 10 "years of real live trading proof showing long term success and big gains".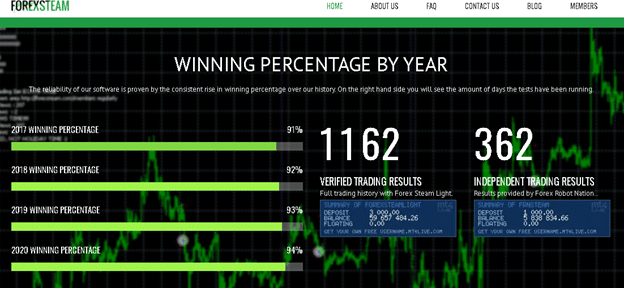 The backtests results are simple images that cannot be verified. In addition to this, they do not provide as much information as needed (there is a lot of misinformation out there about the trading results of this robot). Nevertheless, we prefer to see live verified trading results to analyze the trading performance of any system.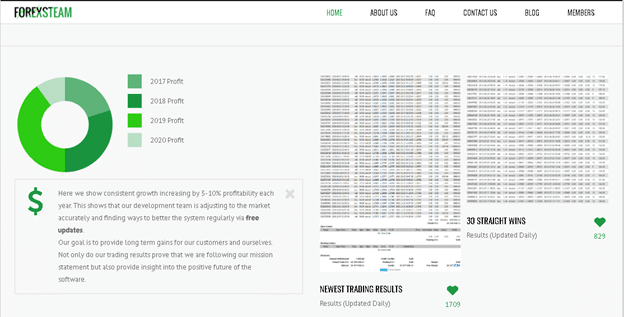 Trading Results
The developers fail to provide myfxbook or fxblue results on their sales page. They say that they provide verified trading results, but there is nothing that could be verified. Sadly for the team that is boasting over 10 years of trading history. If their system is as effective as described, so then why are they hiding this important information from their clients? Is it because it is not as good as described?
Well, we have to go on and that is why we had a quick look at Myfxbook, where we have found some Forex Steam named accounts.

Three out of 4 trading systems you see on the screenshot above are showing losing trades. One trading account is a new one and there is no data to analyze. Forex Steam V10 is an updated version of Forex Steam. Forex Steam $1K Account discontinued on September 13, 2019. We have left nothing but to analyze the only one trading account – Forex Steam, that is showing a -82,53% gain.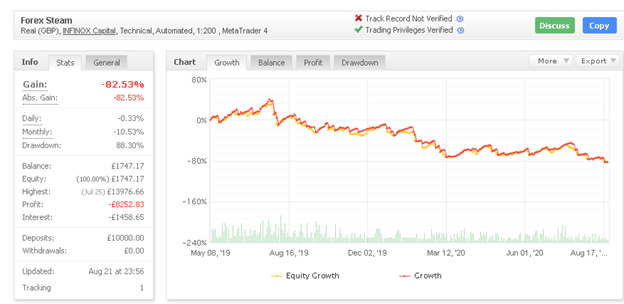 The account is working on the MT4 platform and is placing trades with INFINOX Capital brokerage with a 1:200 leverage. This real GBP account was launched on May 08, 2019, and since that time it has got nothing, but the gain loss of -82,53%. The initial deposit was £10 000. The robot has performed its work well since the day of activation to July 25, 2019 when its gain growth started constantly dropping down. Forex Steam has not brought any profit. In contrast, it has stolen -£8252.83 from the deposit. Its drawdown is extremely high and equals 88.30%. We have to say that the trading account is inactive now, because the last update was on August 21, the day of the peak drawdown performance: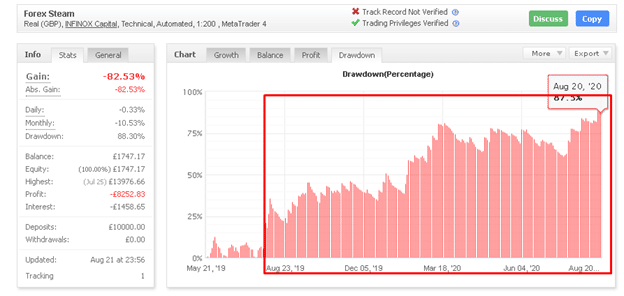 Therefore, we may guess that the account is inactive and that the trader stopped trading when he/she started losing money on it.
People Feedback
The developers of the Forex Steam EA provide us with multiple positive reviews from their customers.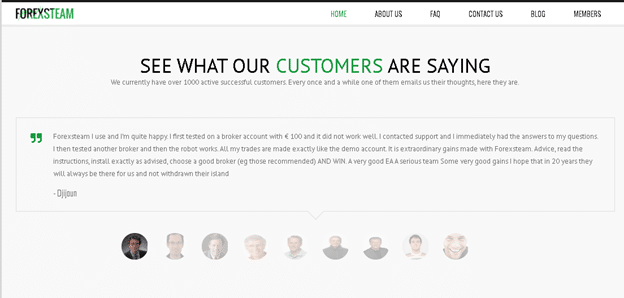 They try to convince us that these reviews are genuine. However, there is no way to get in touch at least with one of their customers to check out the veracity of claims. Frequently, reviews written on the websites of developers are paid or manipulated. Therefore, the reviews we see on the seller website are nothing that could be taken seriously. We prefer to analyze reviews written on third-party websites or forums and that is where we are going to move on.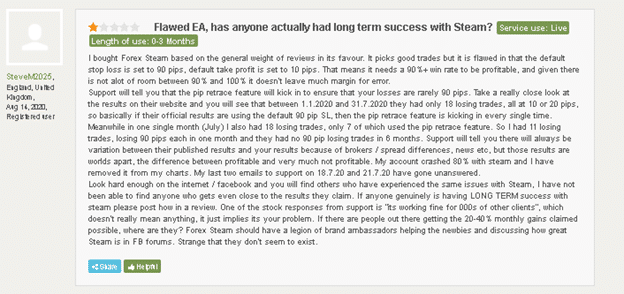 On the forexpeacearmy.com we have found not only positive but also a bunch of negative reviews. Some of them claim that this expert advisor is a "brilliant EA", while the others say that it is a "flawed EA" or recommend to beware of Forex Steam. Taking into account that there were 189 reviews written and that the robot has only 3 out of 5-stars rating, it does not convince us that it is the best product on the market.
Summary
After our detailed Forex Steam review, we have decided that this is not a good robot to be trusted. The Forex Steam team fails to provide verified trading results of their EA. Moreover, we do not like that there is neither info about the money-back guarantee nor trial or free demo accounts. High drawdown performance and mixed customer reviews do not increase the level of confidence of this product. Therefore, we have concluded that this EA is not a profitable way of trading.