The vendor claims that Profit Lab EA provides a smart lazy way for users to profit from the Forex market. We are made to believe that the robot can generate positive outcomes in all market conditions. So, you can use it on a live account without the fear of losing your investment. These are bold claims that we will evaluate in our review.
Is Profit Lab EA still good to go?
Find a list of the system's features below:
It is 100% automated and supports emotionless trading
Is easy to install and use, so no trading experience is needed to use it
Works on several currency pairs, namely EURUSD, GBPUSD, NZDUSD, and AUDUSD
The recommended timeframe is M15
The robot uses an advanced and intelligent strategy to initiate transactions. The vendor doesn't give any further details about this trading approach, much to our disappointment. We later realized that Profit Lab implements dangerous strategies—grid + martingale.
According to info on the official website, this system was created by a team of professional Forex experts. Their goal is to design unique and effective tools that traders can use to make a living. None of these professionals is introduced to the public, which is disconcerting.
How to start trading with Profit Lab EA
Profit Lab EA features three pricing plans. One is known as the standard package and offers a lifetime license for $99. Business and Premium packages are also available for $149 and $240, respectively. All packages provide free updates, a 30-day money-back guarantee, 24/7 support, demo, and live accounts.
Profit Lab EA backtests
There are no backtest results for this system. We suspect that the vendor didn't test the algorithm to see how it works on historical data.
Trading results

At a glance, we can tell that the account is not performing well. The EA has managed to reduce the user's investment from $4,827 to $1.48 within a month of trading. This is after it made a large loss of -$4825.52. So, we have negative total and monthly returns of 100%. This is bad.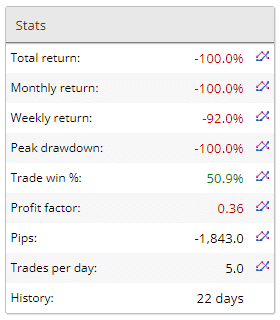 The win rate, which is 50.9%, doesn't inspire any confidence in the EA's trading decisions. A profit factor of 0.36 is reported and depicts Profit Lab as a loser. The peak drawdown is massive at -100%. It shows us that the strategies on board are very dangerous.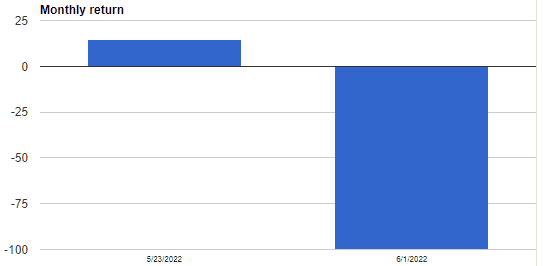 The system made some profits in May, but its performance deteriorated immediately in June, causing the user to suffer immense losses.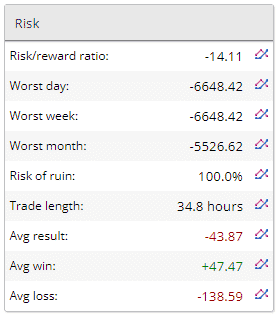 We have a poor/risk-reward ratio, which indicates that the robot makes more losses than wins. The risk of ruin is 100%, so the account may not survive for long. The average win rate is $47.47, whereas the average loss is -$138.59.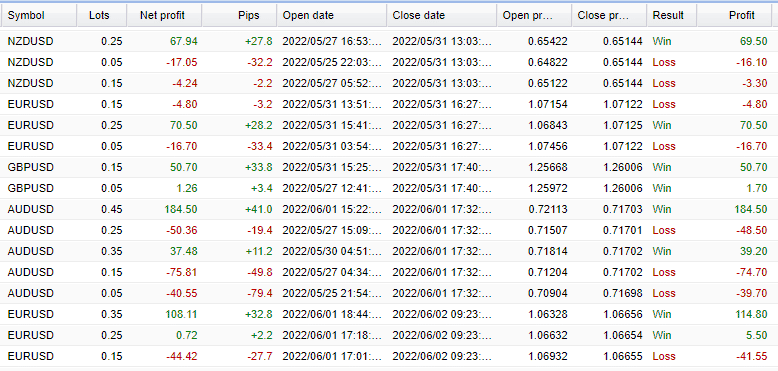 According to recent trading history, the EA works with grids of orders and implements the martingale strategy to recover losses. The approaches are very risky. No wonder the account has reported many losses. The lot sizes used are also large, further increasing the trading risks.
Other notes
The bot offers customer support through email. Therefore, you can use the online form available on the official website to make inquiries about the service.
People feedback
From the screenshot below, it is evident that the EA has not received any feedback from the Forex trading community. There's a chance that traders have not begun using it.

The Review
Profit Lab EA is fully automated, so it cannot be influenced by emotions. Other than that, we have learned that the robot performs very poorly in the live market. Contrary to the vendor's claim, it cannot increase your investment, thanks to the dangerous strategies used. In fact, the system can even burn your account within a month, as we have seen on FXBlue.
PROS
Fully automated
A 30-day money-back guarantee is present
Reasonable pricing
CONS
Grid and martingale strategies are used
Massive drawdown
Vendor is mysterious
High risk of ruin