Forex Combo is a fully automated Forex expert advisor that runs in the free MetaTrader 4 trading platform. The recently released V6.1 comes with so-called "Monday-Friday rules" that, according to FX Automater, are "specially developed to avoid losses due to Monday morning gaps!" The vendor promises us "Accurate, Predictable and Growing Profits", delivering winning trades built on 4 trading strategies: scaling, trend-detection, market correction, and range detection.
In today's Forex Combo review, we will check out the veracity of the vendor claims to let you know whether this robot is worth your money and time.
What Should We Know About This ATS and Its Vendors?
To start with we would like to analyze the overall website design and the information the dev provides to sell out his product. It is a one-page website that is difficult to navigate as it takes time to find the necessary information on it. According to WHOIS research, the website was created on August 30, 2010, with the IP location in Michigan.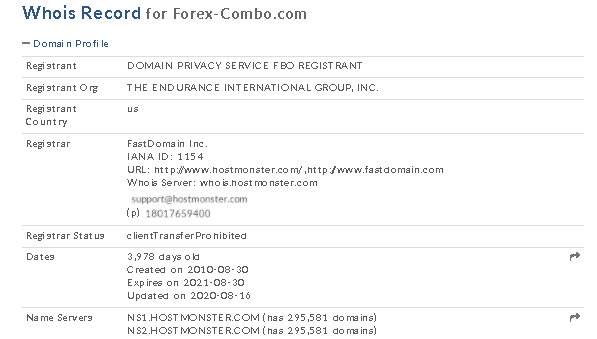 The Forex Combo presentation consists of the live trading results, trading strategy details, key features of the robot, backtesting reports, installation guide, and pricing details with a special summer offer of -60% included. On the same website, we can see the other products offered and sold by FX Automater: Omega Trend EA, Grid Master Pro, BF Scalper Pro, Forex Diamond EA, and many others.
As earlier mentioned, Forex expert advisor is developed by the FX Automater team that is run by Lachezar Krastev, located in Bulgaria. The team has already developed 14 products over the last 11 years. Forex Combo is one of them. Let's have a closer look at the key features of this ATS:
It is a 100% fully automated expert advisor that runs on the MT4 terminal
The EA has 10 years of proven Forex profits
It is run by 4 autonomous Forex trading strategies: Scalping, Trend Detection, Market Corrections, and Range Detection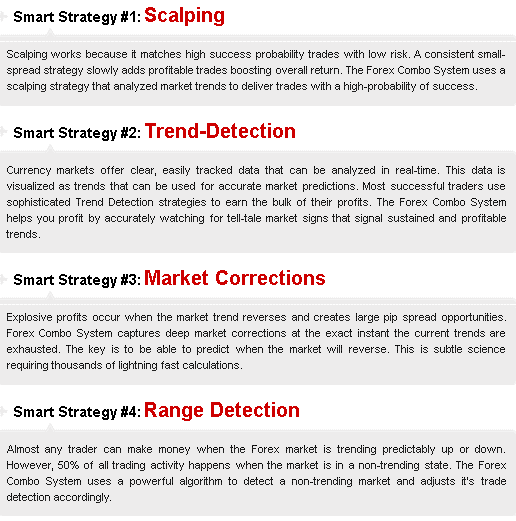 It also comes with Trend Detection + CounterTrend features that allow the system to trade when strong market movement is detected
It constantly analyzes the Forex market to find the most beneficial trading opportunities
It has a Stop-Loss Protection feature that is applied to exit positions to prevent premature SL activation
The robot has 'highly effective money management rules customized based on your risk profile'
It rarely opens positions during high market volatility periods with sharp price fluctuation, protecting traders' deals from suffering from the broker slippage
The latest version of this system is V6.1. It is called 'Monday-Friday rules'. According to the vendor, it helps to avoid losses due to Monday morning gaps
It supports 4 currency pairs: EURUSD, GBPUSD, EURAUD, and EURCAD
It is compatible with all brokers
It is also compatible with other expert advisors
It is advertised as a good trading tool that is #1 for beginners who are just getting started to trade on Forex
It comes with an alert notification system, meaning that the Forex Combo System will inform you about all actions performed in your account (comes with an email and mobile push notification system)
Currently, it is sold with a 60% discount
Customer support is provided 24/7
The system is regularly updated and upgraded for free
Traders are provided with 1 real and unlimited number of demo accounts
How to start trading with Forex Combo System
The regular price of this EA is $197. However, on the dev's website, we can see a summer sale: -60% of the price. So, traders interested in this EA can buy it for $137 and thereby obtain one real money account, 4 trading systems combined in one EA, and a 60-day money-back refund.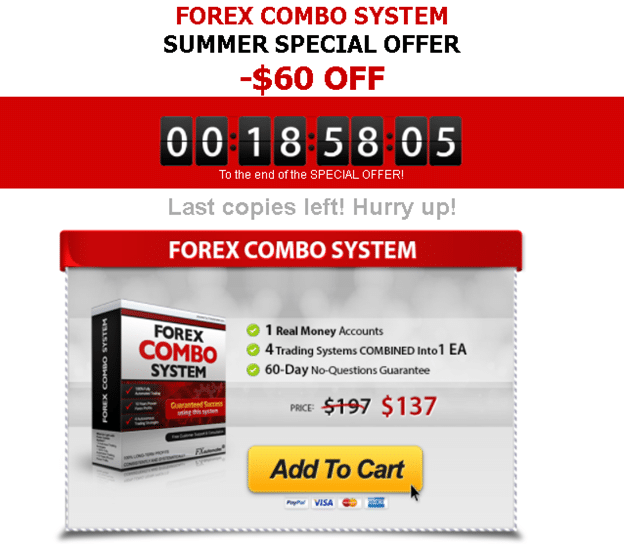 The system is easy to install. All you need to do is to follow these steps:

Traders can download a detailed installation guide from the download section in the member area. To activate your trading account you have to login into the Forex Combo members area. Then you have to type your account number in the field and click "Activate Account".
The devs point out that there is no minimum deposit to trade with this robot. They say that it depends on the broker you trade under. They recommend we have a capital of $1000-$5000 for trading on the real/demo account. Forex Combo works on the MT4 platform and on the M5 timeframe.
Forex Combo System Backtests
Out from the backtest reports represented on the dev's website we can see how each strategy performed over a long period. We can see how the search strategy worked combined on major currency pairs EURUSD/GBPUSD.
This is a strategy tester report combining all 4 trading strategies. The test was run for the EURUSD currency pair and was conducted on the M5 timeframe with a deposit of $5000. The test started in 2007 and ended in 2018. For this time, the robot generated $275372 of the total net profit. The profit factor was 1.75. The maximal drawdown was 32, 59% ($9338.64). It means that the system used a high-risk trading approach to generate profits. The win rate for both long and short trading positions was unsatisfactory: 59, 92% and 60, 56%. Out of the total amount of 2684 trades, only 1617 were profitable.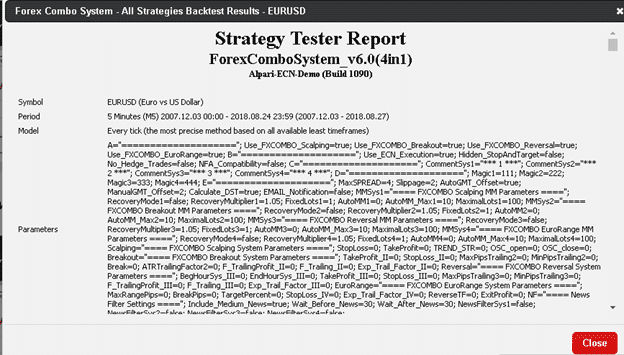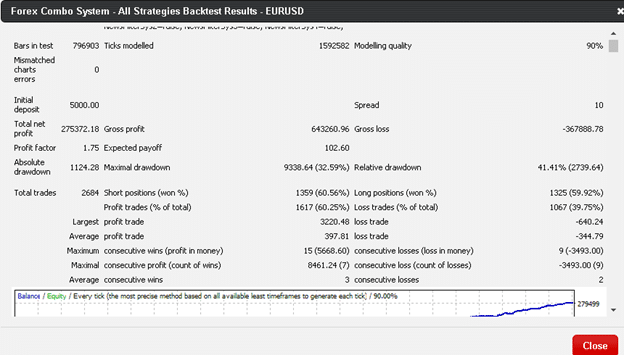 Trading Results
It looks odd that the devs provide 2 live trading accounts and both of them are Demo. Why? Is it because they don't trust their EA or the system is not as effective as they claim? Is there something the company is not telling us? Let's find out.
For over 5 years of trading activity, the robot could bring $848.21 of profit to this trading account. It looks sad. The account was deposited at $352 and trades with 1:500 leverage under Alpari RU brokerage.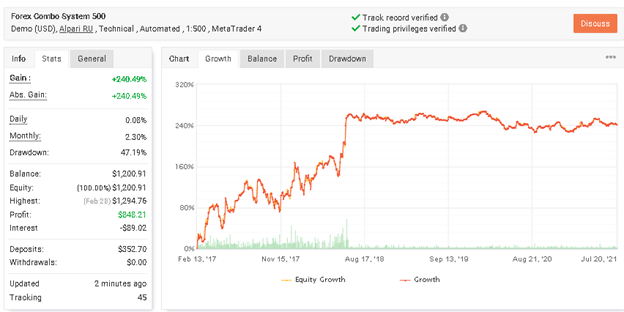 Its monthly and daily gains are low as well: 2. 30% and 0, 08% respectively. This is a minimal amount. When you count broker fees, you will end up with very little profits. It will take you years to make any significant growth on your trading account. This is a cause of concern. It looks like the robot is not as effective and good as its dev claims.
What scares us a lot is the high drawdown of 47, 19%. It's too much for a trading account whose total gain equals 240%.
The win rate of this system is mostly the same we could see in the backtest report – 60% based on 921 deals performed. Its profit factor is low – 1, 24 and the average trade length is 19 hours and 43 minutes.
There is a 41, 49% chance of losing 10% of the account balance in case of 13 losing deals in a row.

It uses Trailing Stop Loss to save a profit after the market decides to move in the wrong direction.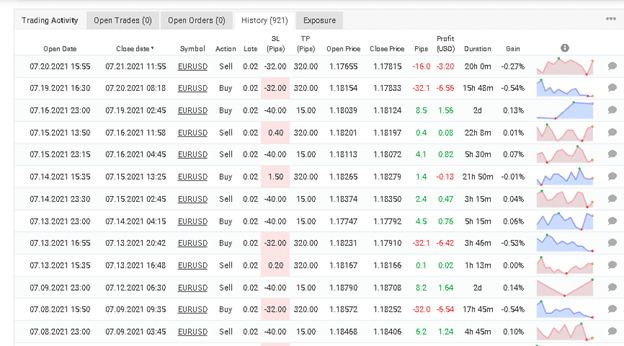 Trading results of the last 3 months look unoptimistic: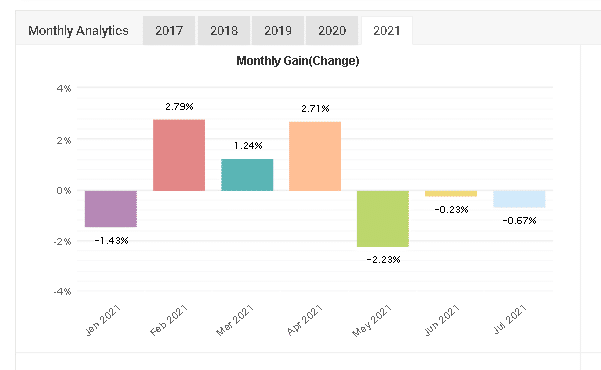 The system is not profitable anymore.
People Feedback
There is a Forex Combo page on FPA. The system has a 2 out of 5-star rate based on 5 customer reviews.

There is also a performance test that was stopped and not updated:

The last review was written in 2013. Oddly, there has been no feedback written since that time.

Summary
Advantages
Backtesting reports provided
Live trading results shared
Detailed trading strategy explanation
Well-known developers
Low pricing
60-day money-back guarantee
Disadvantages
The dev shared only demo trading results
The EA trades with high drawdowns
The system is not effective anymore
The last 3 months have brought money loss
No customer review on FPA since 2013
Summary
Wrapping our review up, it is clear that the robot does not produce the impressive results that FX Automater promises. The dev shared Demo trading account results instead of the Real ones. Now we know why. The system is a risky trading solution trading with high drawdowns and providing unsatisfactory trading results.