Regulation : FCM, CFTC, RFED, NFA, FSA, SFC, ASIC, FSA/ACP, CONSOB
Accepts US Clients: Yes
Min. Deposit : $50
Leverage : 1:50
Platforms : Trading Station Desktop, MetaTrader 4, Mobile App, NinjaTrader, Trading Station Web, Mirror Trader
We Like
Regulated by authorities of many countries
Tight variable spreads
In-house stable platform
Allows trading in US Dollar Index
We Don't Like
Low leverage 1:50
Traders might face slippage due to their variable spread offer
Does not offer Islamic accounts
The Verdict:
FXCM is a truly reliable forex broker as it is listed on the NYSE (New York Stock Exchange). Their strong regulation and stable unique platform have made them popular among forex traders. Besides this, they should improve their maximum leverage ratio to attract small and beginner traders.
Expert Opinion
User reviews
Specifications
FXCM is a leading no dealing desk broker founded in 1999. Headquarters of this broker are situated in New York, USA. This broker is listed on the NYSE (New York Stock Exchange) as FXCM. FXCM has customer equity near $2 Billion, own net cash of $193 Million and a revenue near $123 Million.
There are only a few brokers having strong regulation like FXCM. FXCM is regulated by FCM, CFTC, RFED, NFA, FSA, SFC, ASIC, FSA/ACP, CONSOB. FXCM is an award winning broker that has won many reputed awards such as FX Street, 2012 Forex Magnets, 2012 Investment Trends UK awards etc.
Trading Platform:
FXCM offers 4 downloadable platforms and 2 web based trading platforms.
Trading Station Desktop:
This is the in-house built trading platform of FXCM. This is a stable and reliable trading platform. This platform has a wide range of trading tools and indicators. This platform has various types of simple and complex order types including OCO orders.
Traders can trade on this trading platform and can set the predefined take profit/stop loss orders. In the Marketplace section of this platform, traders can analyze the market using technical charts. This Marketplace consists of various technical tools, charts and time frames. There is an account summary, trading summary and order summary besides trading and analysis tools.
Here are some snapshots of this trading platform.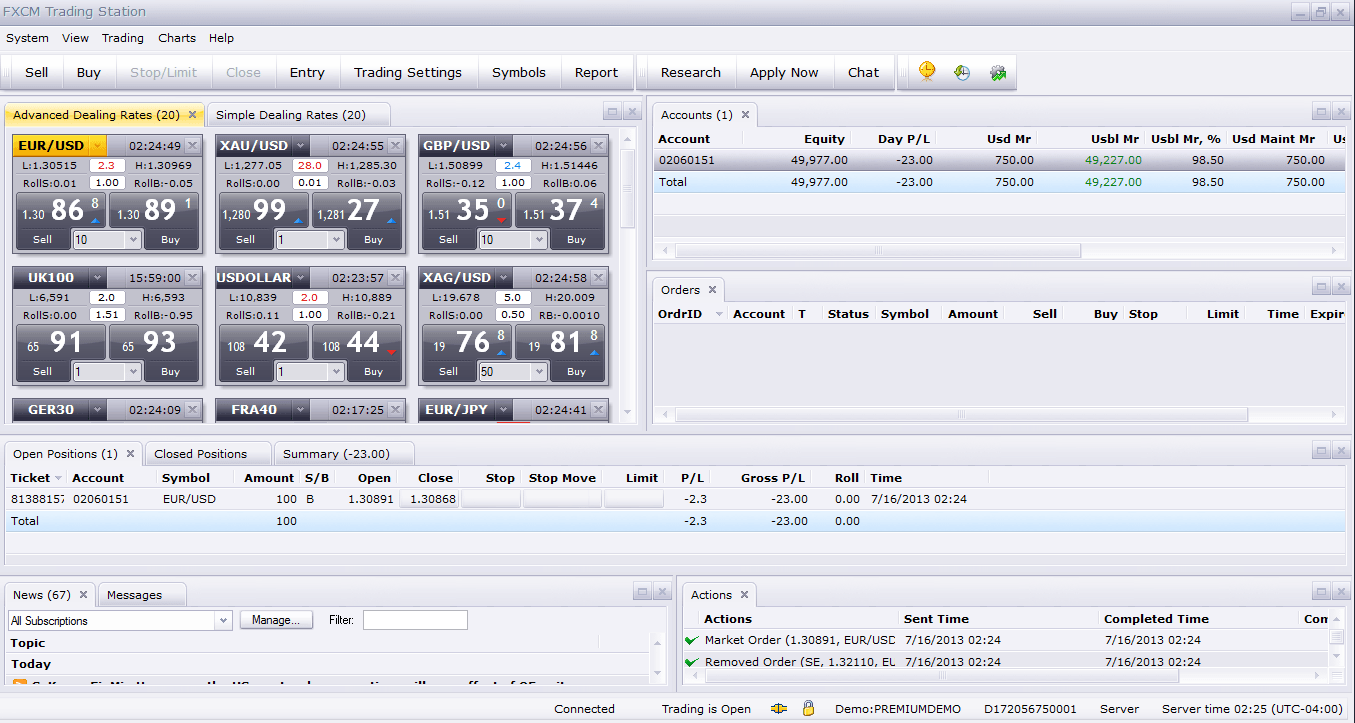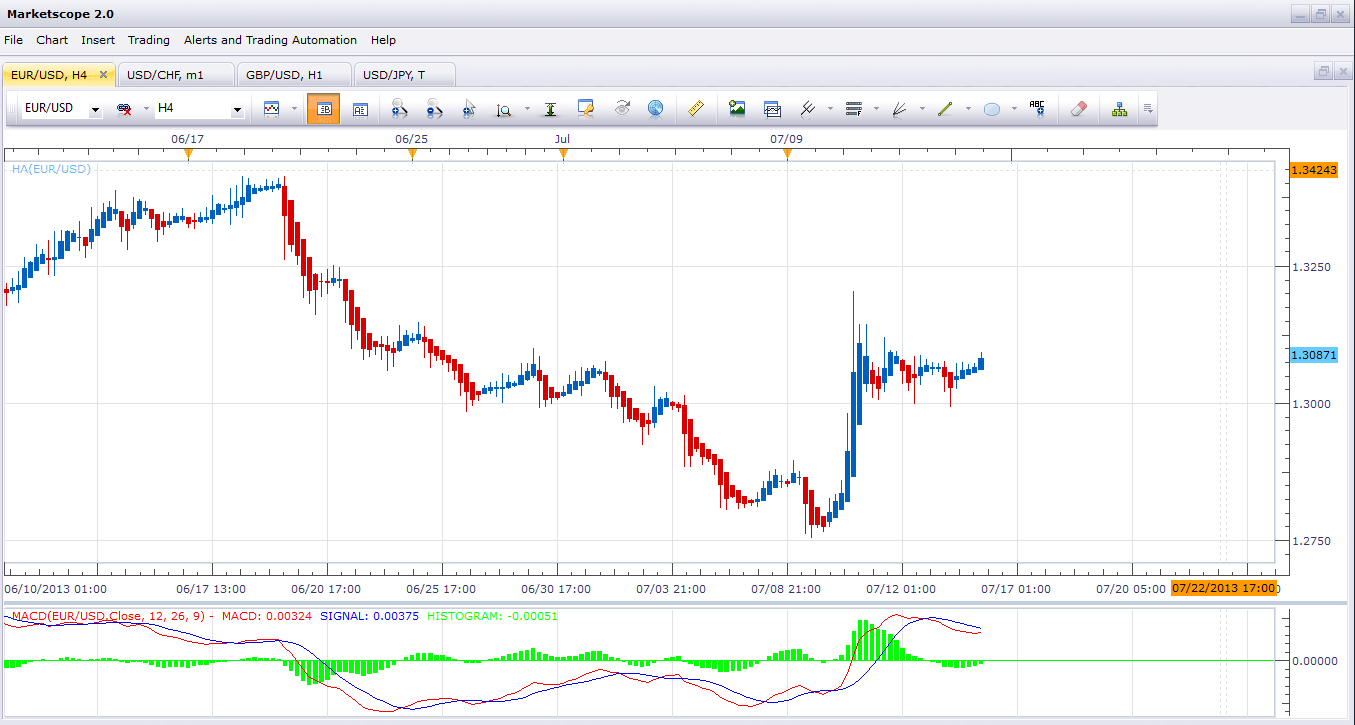 MetaTrader 4:
MetaTrader 4 is a popular trading platform in the forex trading arena. Most of the traders prefer to trade on MetaTrader 4 trading platform. MetaTrader 4 has all the features that a trader needs. MetaTrader 4 has Expert Advisors (EAs) to help trader's building, developing and modifying various trading strategies. Traders can also use many advanced indicators in this trading platform.
Mobile App:
FXCM provides powerful trading platform apps for mobile phones. These apps are useable in iPhone, iPad, Android phones and Android tablets. Traders can trade from anywhere using these trading platforms.
NinjaTrader:
FXCM provides both live and practice accounts for trading with NinjaTrader. NinjaTrader assures faster execution compared to other trading platforms. This platform has competitive pricing and quality execution from FXCM's large network of forex liquidity providers including global banks, financial institutions, prime brokers and other market makers.
Trading Station Web:
Trading Station Web is a web version platform of the Trading Station Desktop platform. This platform has all the features and tools of the desktop platform. Traders do not require downloading to use this platform. They can access, analysis and trade easily in this platform from anywhere around the world.
Mirror Trader:
This is another web-based trading platform of this broker. Mirror Trader allows automated and semi-automated trading besides manual trading. This platform consists of hundreds of trading strategies. Traders can open a demo account and practice trading on this trading platform.
Main Features:
FXCM is an industry leader broker that comes with various attractive features for their clients. FXCM has a wide range of orders including simple and complex OCO orders. FCM provides rapid order execution, fast trade confirmation and real time profit/loss tracking.
They provide two different types of trailing stop order; dynamic trailing stop and fixed trailing stop. They provide 24 hours reporting of trading positions. FXCM offers dealing desk and no dealing desk accounts. Their spread is comparatively lower than many other forex brokers. They have a wide range of stable and reliable trading platform.
The key feature of this broker is it is highly recommended due to its exceptionally strong regulation to safety of funds. Small and beginner forex traders can enjoy all these outstanding features with a micro account of $50 initial deposit.
Types of Trading Accounts:
FXCM offers various types of trading accounts beside their unlimited demo account. They provide demo or practice account for unlimited time, but you have to trade at least once in a month. Otherwise, demo account will expire. Types of trading accounts that FXCM provides are as follows,
• Basic Account
• Premium Account
• Active Trader Account
Commissions and Spreads:
FXCM offers tight variable spread for their clients. Many times, the spread remains under 1 pip in case of major currencies like EUR/USD. FXCM provides fractional pip pricing which is trader-friendly.
Customer Service:
FXCM has several customer service options for their traders. They provide customer service through live chat, telephone, fax, email and trading desk telephone. Traders can contact them through several toll-free international numbers. Their customer service station is active 24 hours a day.
What We Liked:
Investor Protection: FXCM is a transparent broker for their clients with very strong regulation. They are regulated by FCM, CFTC, RFED, NFA, FSA, SFC, ASIC, FSA/ACP, CONSOB. FXCM is also listed in NYSE. Due to their very strong regulation and provided safety of funds, investors feel safe to trade with them.
Different Types of OCO Orders are Available: FXCM offers two different types of OCO orders for their traders to provide them better trading experience. FXCM offers simple and complex OCO orders. OCO orders cancel the old orders with new orders, this prevents the possibility of unexpected execution of old orders.
Trading Signals and Alerts: FXCM has trading tools to help their traders to maximize their investments. They provide trading signals, alerts, tips on trading, charts with support and resistance levels, on-demand video lessons, live trading sessions etc. These tools are extremely helpful for forex trader of any level.
Allow US Residents: Most of the forex brokers do not allow US clients. There are only a few brokers allow US Residents or Citizens to trade with them. FXCM is one of those brokers that allow US clients. FXCM is also very reliable for their US clients as they are listed on the NYSE (New York Stock Exchange).
What We Disliked:
Low Leverage Ratio: FXCM allows maximum leverage of 1:50 which is not adequate for many forex traders who have a small initial deposit. This is a major limitation of this broker which must be improved. Otherwise, newcomers may lose interest in trading with them.
No Bonus on Deposit: FXCM do not offer any bonus on deposit or first deposit. This is a limitation for those traders who seek bonus on first deposit. Bonuses can help traders avoid margin calls and increase profitability.
The Bottom Line:
Except the low leverage ratio, other features of FXCM are outstanding. I like the transparency and regulation of this broker as choosing a reliable broker should be the prime objective for forex traders. Their trading platforms have various advanced trading tools. These platforms are stable and reliable during trading in the forex market. Their spreads are also tight and low, so you do not have to spend much for commissions. I must say that, they should include more deposit and withdrawal method to be a more flexible broker in the forex market.
Instantaneous Trade Execution – On live streaming, best executable prices

Portion of actual user comment on Thelastbear.com
I tried FXCM for a short time

pros : NYSE listed company , nice looking websites and software , active trader platform , good customer service .

cons : sluggish execution , hanging limit orders sometimes , high commission for the active trader platform

Portion of actual user comment on Trade2win.com
So far so good broker. Don't be greedy. Planning before trading. Take your time to learn. You will enjoy trade with them."

Portion of actual user comment on Earnforex.com
Platform:
Trading Platforms
Trading Station Desktop, MetaTrader 4, Mobile App, NinjaTrader, Trading Station Web, Mirror Trader
OS Compatibility
Mac, Microsoft Windows, Mobile, Web, iPhone, Android.
Mobile Trading
Yes
Web Based Trading
Yes
Platform Languages
English, Arabic, Chinese, French, German, Hebrew, Italian, Japanese, Portuguese, Russian, Spanish, Urdu.
Addition Services
Streaming News Feed, Charting Package, Trading Signals, Automated Trading, Trade from Charts, Market Commentary, Email Alerts, Mobile Alerts.
Other Tradable Instruments
Gold, Silver, Stock Indices, US Dollar Index.
Hedging
Yes
Scalping
Yes
Trailing Stop
Yes
One Click Trading
Yes
Automated Trading
Yes
OCO Orders
Yes
Account Details :
Max Leverage
1:50
Min. Initial Deposit
Basic – $50
Premium – $5000
Active Trader – $25000
Commissions
No (Depends on the type of trading account)
Typical Spread (Majors)
EUR/USD – 2.5
Deposit Options
Credit Cards, Debit Cards, bank Wires, ACH, Paper Check
Withdrawal Options
Credit Cards, Debit Cards, bank Wires, ACH, Paper Check
Demo Account
Yes
Account Types
Micro and Standard
Number of pairs offered
56
Dealing Desk
No Dealing Desk
Additional Features
Forex Trading Guide, Trading Signals and Alerts, DailyFX Trading Course, Live Events
Bonus and Promotion:
No Deposit Bonus
No
First Deposit Bonus
No
Other Promotional Offers
Refer a Friend
Company Information :
Headquarter In
New York, USA
Established Year
1999
Regulating Authority
FCM, CFTC, RFED, NFA, FSA, SFC, ASIC, FSA/ACP, CONSOB
Website
www.fxcm.com
US Clients Accepted
Yes
Customer Support Languages
Greek, Turkish, Scandinavian, Italian, Portuguese, Chinese, Spanish, French, Russian, German, English, Arabic, Hebrew, Chillian
Support by
Live chat, Telephone, Fax and Email and Trading Desk Phone Number