100% Monthly EA is a trading advisor that has a short presentation about its possibilities to achieve 100% of profit monthly. The main claim is "Don't Miss the final chance to make a money fortune."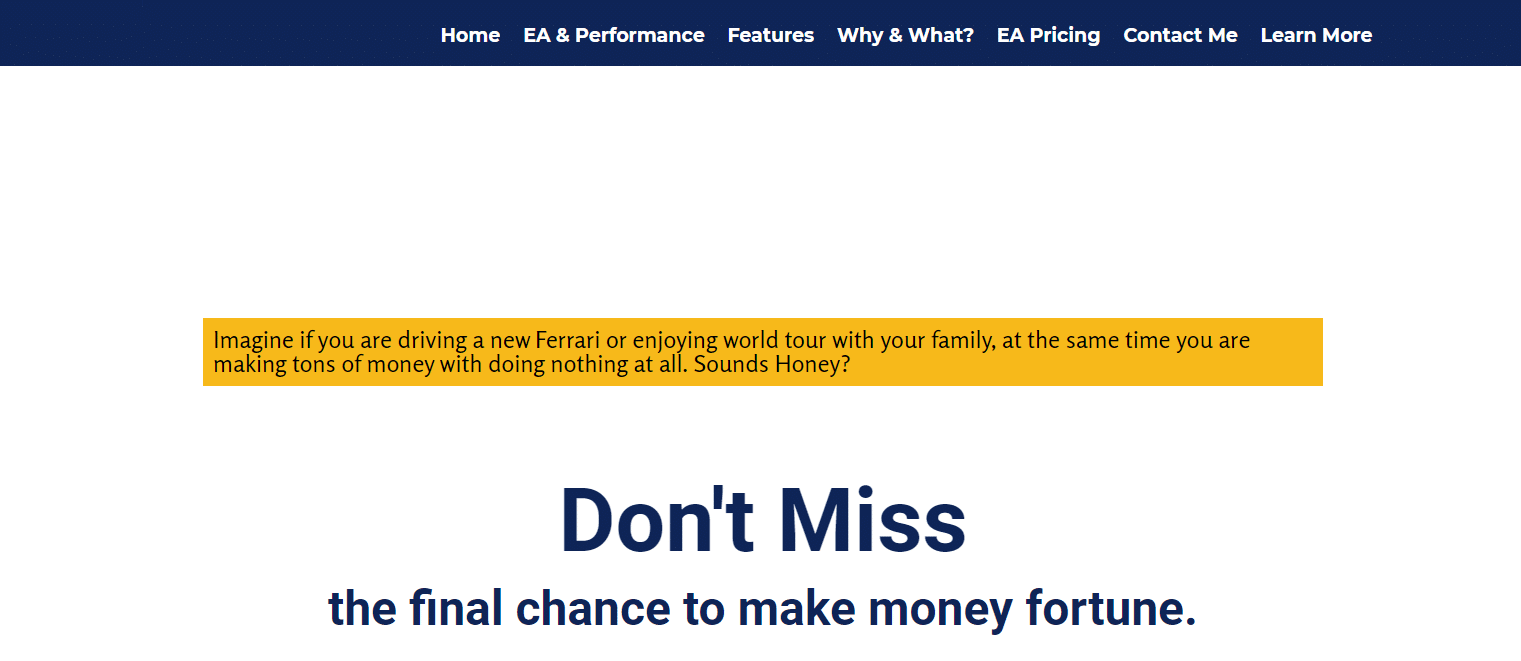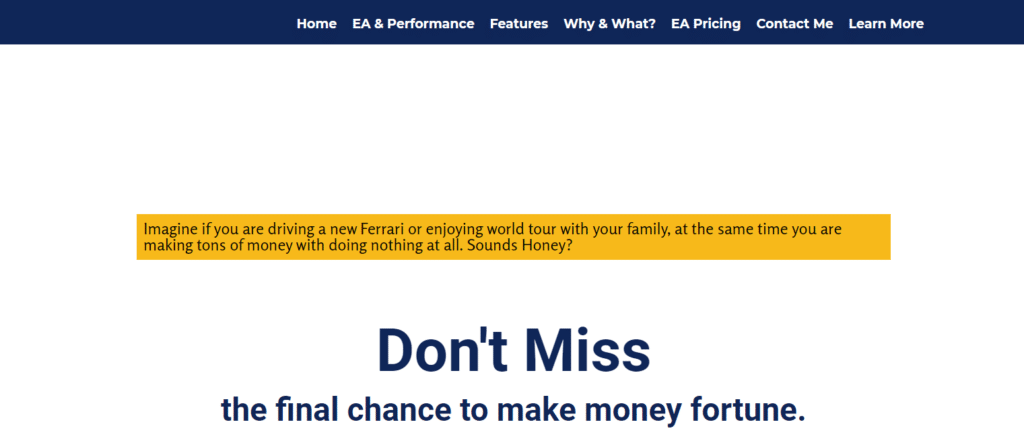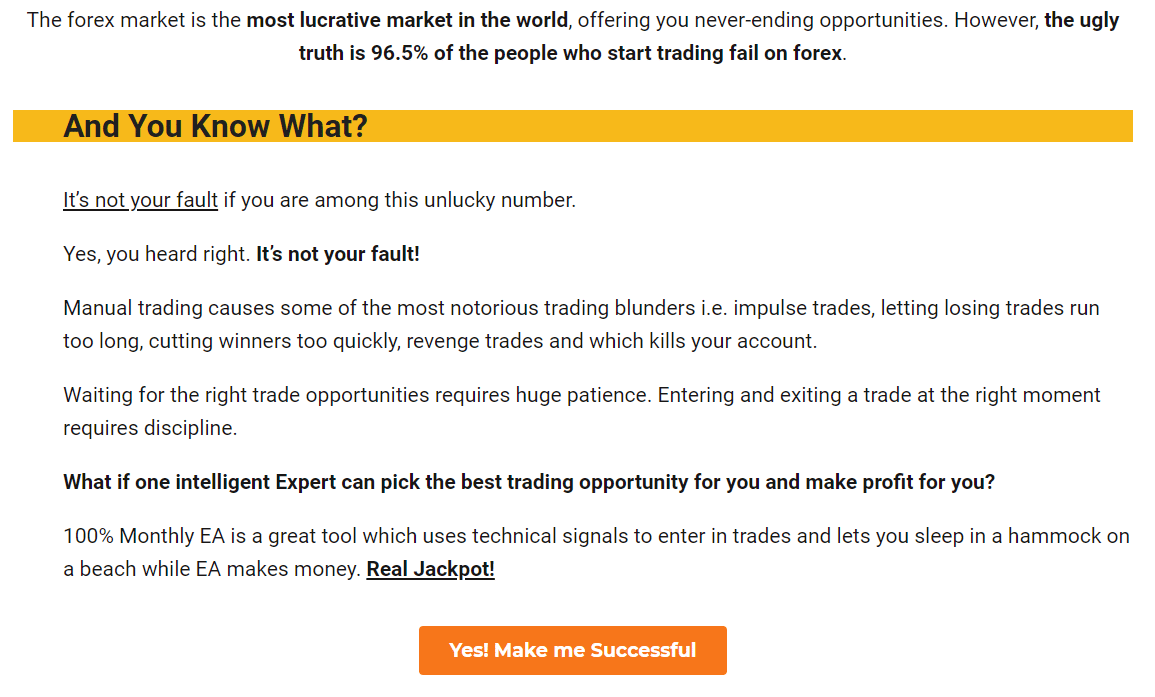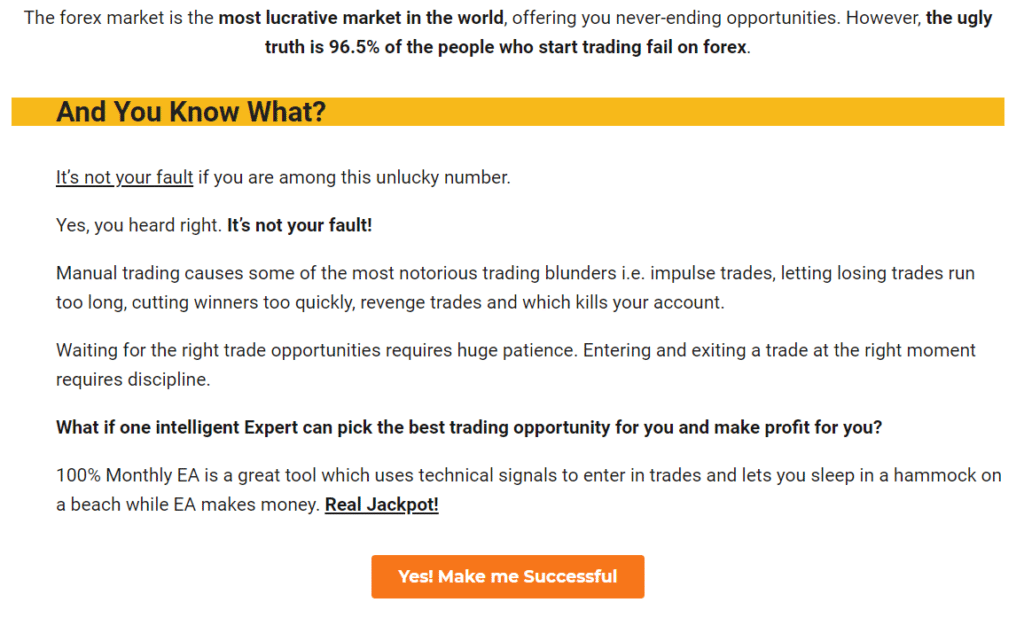 There's a common spooky story about how hard it is to make money on Forex and the fact that we need a coach or good expert advisor.
Is this robot a viable option?
We don't think so, because the robot was released a month ago and we can't be sure it can be profitable for at least half a year. We have to keep tracking the trading results.
How to start trading with 100% Monthly EA
There is a little information about how the system functions especially about strategies, indicators, and calculations:
100% Monthly EA executes orders on the terminal automatically.
There's a "multi-pattern trading approach." It sounds like we don't want to tell you.
The advisor works with eight currency pairs: AUD/CAD, AUD/JPY, EUR/GBP, EUR/JPY, EUR/USD, GBP/CAD, GBP/USD, and NZD/CAD.
There's no mention of time frames the system can work on.
We can start trading without previous experience.
We can rely on over 100% monthly profits.
The developers have solid experience in trading.
The backtest was performed on a year's data only.
The advisor works with high accuracy.
The default settings allow us to be profitable.
We can work on an ECN account for low spreads.
The minimum account balance is $500.
The leverage can be 1:500 or higher.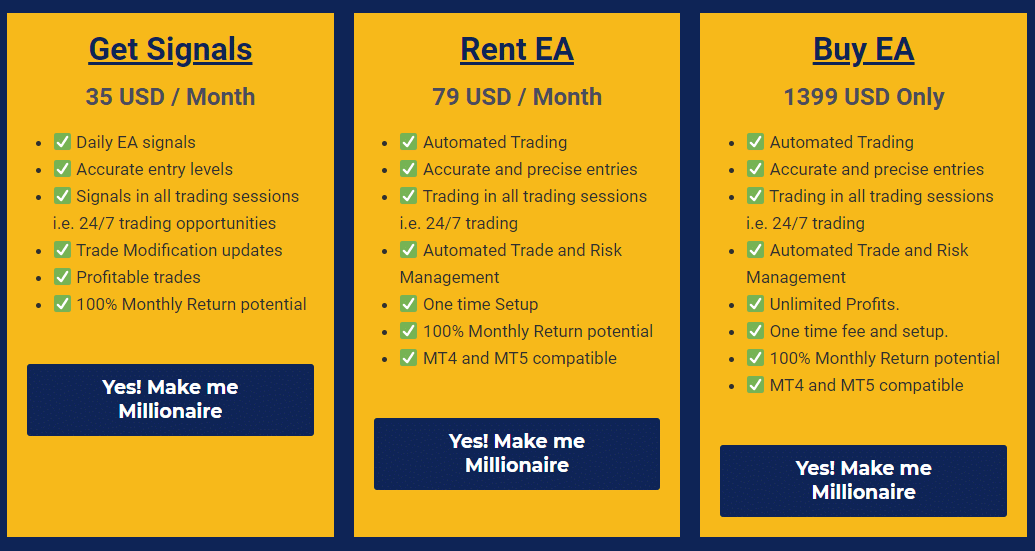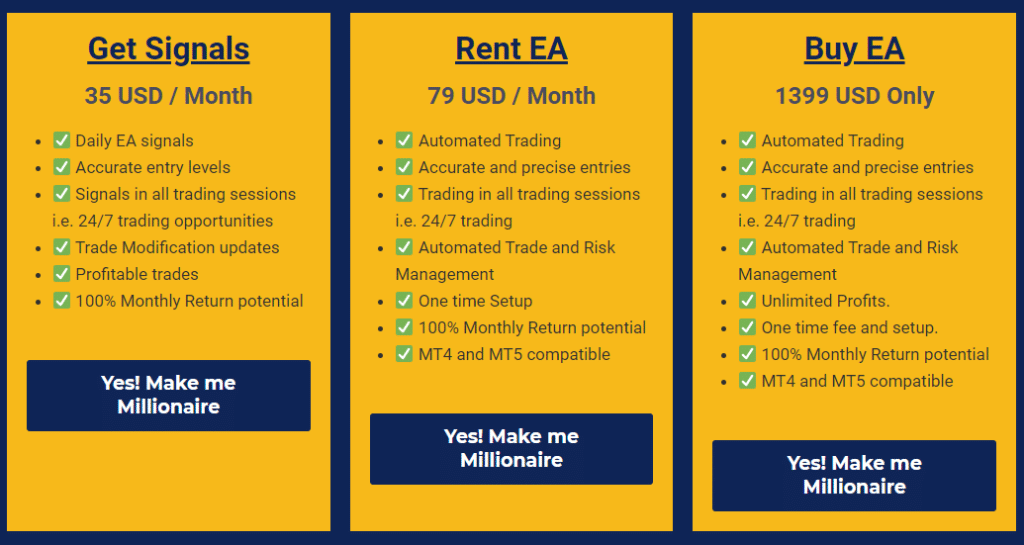 We can start working with the advisor following one of the cases. We can subscribe for signals for $35 monthly. The pack is featured by daily signals, precise entry levels, signals for all trading sessions, and updates. The rental case is available for $79 monthly. It's featured by auto trading software. The system is delivered in both versions: MT4 and MT5. The most expensive package costs $1399. It includes a lifetime license. The developers don't support the offer with a refund policy.
100% Monthly EA Backtests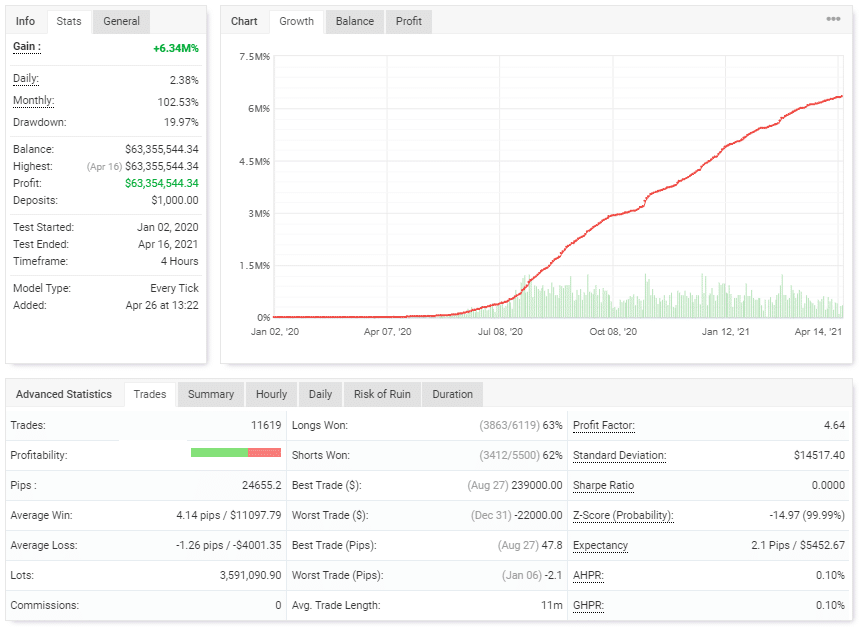 We have a backtest report on the myfxbook verification site published. The absolute gain was 6.34M%. The deposit was $1000. It transformed into $63,355,544 of the total net profit. An average monthly gain was 102.53%. The maximum drawdown was 19.97%. The period was set from January 02, 2020, to April 16, 2021. 100% Monthly EA has performed 11,619 orders with 24,665 pips. An average win was 4.14 pips when an average loss was -1.26 pips only. The win rate was 63% (3863/6119) for Longs and 62% (3412/5500) for Shorts. An average trade length was 11 minutes. The Profit Factor was 4.64.

The test includes only a EUR/USD symbol.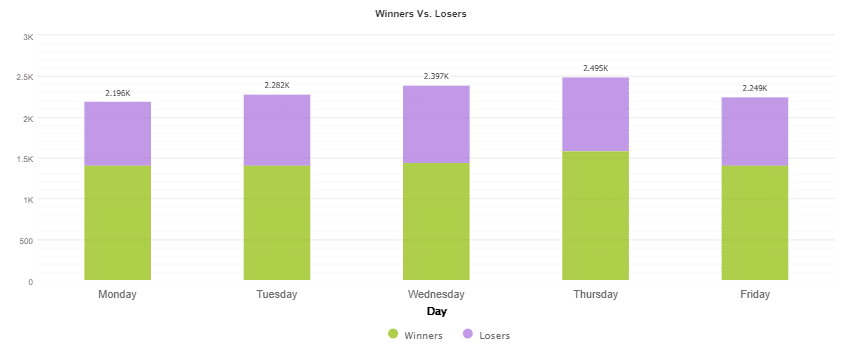 Monday with Friday were the less traded days.

The system worked with low risks.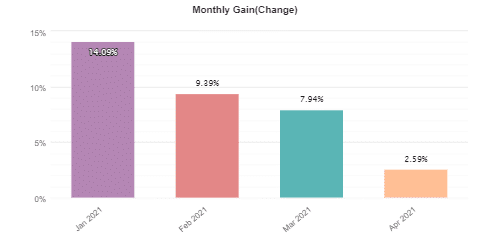 The profitability went down from January to April 2021.
Trading Results

As proof, we have to take a look at a live real USD account. The deposit is $3,037. The account was created on April 15, 2021. The closed profit is $5,577. The floating profit/loss is -$393.85. There's a $183.84 margin in use.


The total return is 241.1%. An average monthly return is 143.1%. The maximum drawdown is 12.7%. It's a high number. The win rate is 76.8%. The profit factor is 1.99. It has decreased by 15% since our last visit. The trading frequency is 11.5 deals daily. The robot has been running the account for 41 days.


The Risk to Reward ratio is 6.04. The risk of ruining the account is 0.1%. An average trade length is 31.4 hours. The average result is $11.87. An average win is $31.09 when an average loss is -$51.51.

The system works with AUD/CAD, AUD/JPY, EUR/GBP, EUR/JPY, EUR/USD, GBP/CAD, GBP/USD, and NZD/CAD. EURUSD is twice more frequently traded symbol than any other – 153 deals. GBP/CAD has the best profit factor is 48.96 ($1,572.68).

The Buy direction is less traded but has a higher profit factor – 2.30.

Various strategies provide different profits and win rates.

Thursday with 126 deals is ahead in trading frequency, but Tuesday is in the profit factor – 3.71.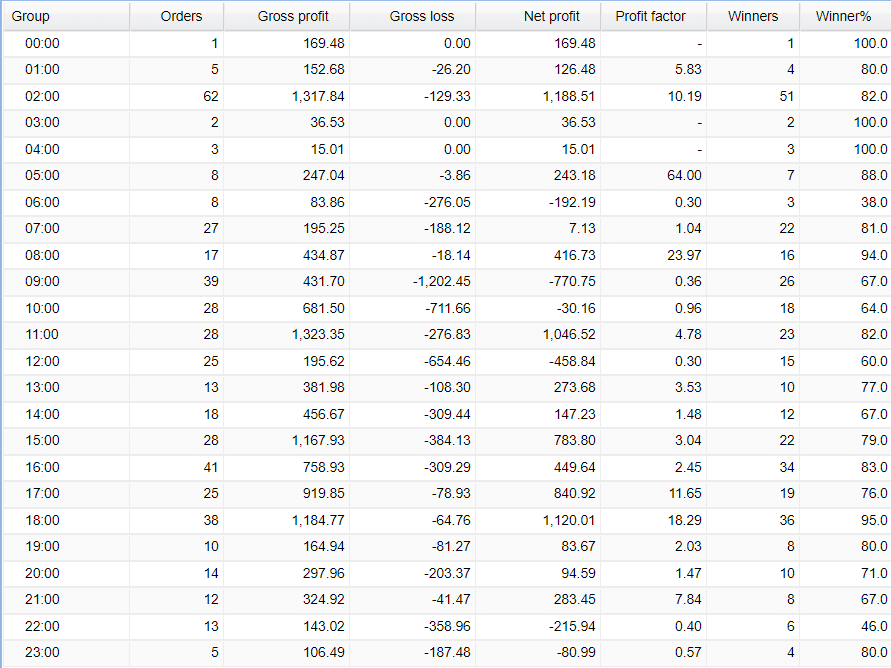 The robot trades the opening of the Asian session, and the European and American sessions all the way.

The profit factor and accuracy rate in May are much worse than in April 2021.
Other Notes
The developers avoided disclosing information about themselves. We have almost nothing about strategies. The same, we may note about their company registration.
People Feedback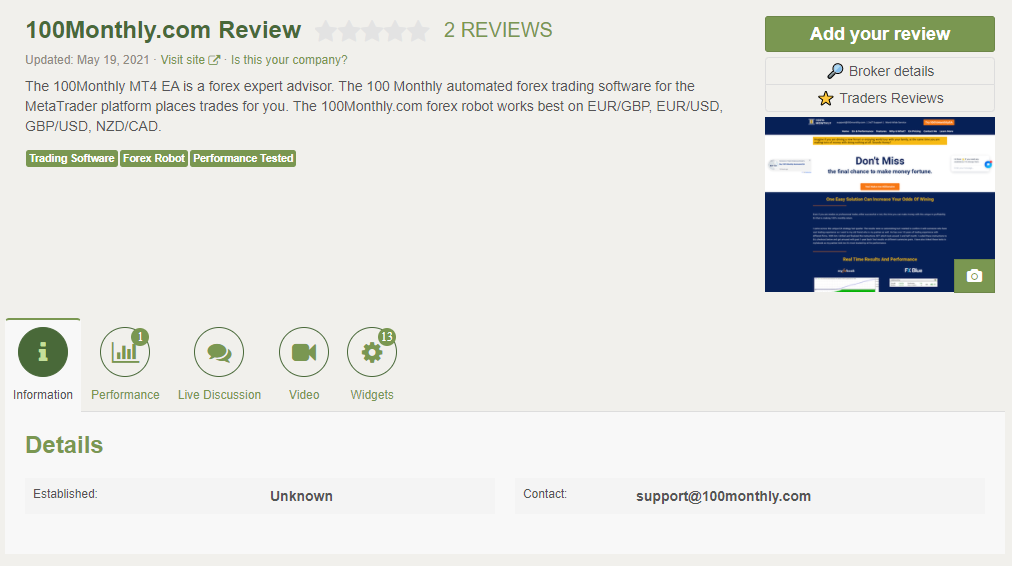 There's a 100% monthly EA page on the Forex Peace Army. We have two comments that don't even form a total rate.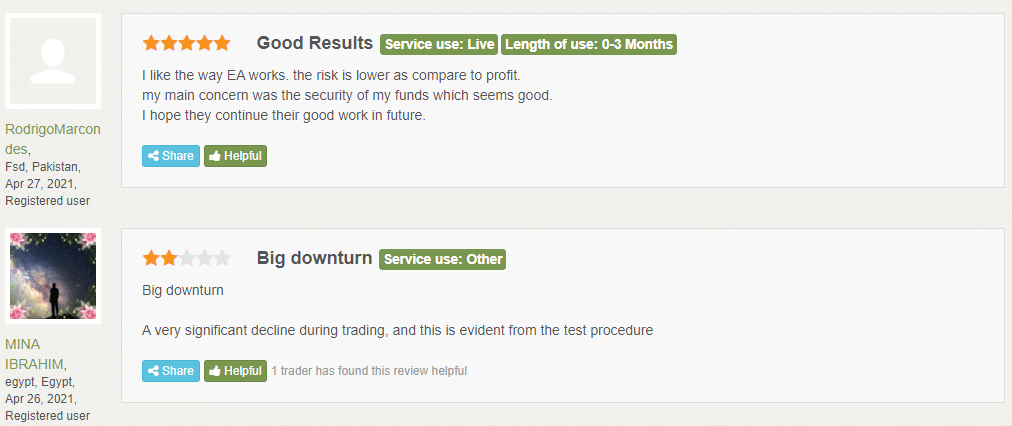 There's a negative comment that was liked once. Anyway, it's a little feedback as for the advisor that suggests we get 100% monthly.
Wrapping up
Advantages
Backtest reports provided
Real-account trading results
Disadvantages
No team revealed
No setting explanations provided
No strategy details disclosed
Trading results went worse in May 2021
Lack of people's feedback
A lifetime license costs big money
Summary
100% Monthly EA makes profits on the real account, but it doesn't mean it's a good system to go to. We know nothing about developers, strategies behind the system. The offer costs much more than other advisors in the MQL5 community. We can't rely on getting our money back if something goes wrong. There's almost no feedback. We have to read more testimonials if it's possible to make that much.