Advanced Fibo Levels is an EA that was published just the other day, June 24, 2021. Till now, it has been activated 5 times. The developer updated it to its latest version on July 12, 2021. We can all agree that this system is very young. Therefore, we need to know if it is something that traders can benefit from or not. We invite you to read this evaluation to get more insight about the robot before you make the decision of acquiring it.
Is Advanced Fibo Levels worth your money?
The EA is presented on the mql5 website. Here, the author briefly describes its strategy, publication details, trading results, pricing, parameters and customer reviews.
The features are specifically described as follows:
Is not sensitive to spread and slippage
Mainly trades with the EURUSD and GBPUSD symbols
It can work with any broker
Designed to work on the MT4 or MT5 platform
The recommended time frame is M15
The required minimum deposit is $3000
This software was developed by an individual known as Ho Tuan Thang. He is from Vietnam and has a total of 6 Forex products in his portfolio. This profile is too short and does not tell us much about the developer. We are not sure if Ho created this EA single-handedly or he received help from other programmers. In addition, he does not talk about his qualifications or the period he has been operating in the FX market. Lack of this data makes us doubt his validity.
The EA applies the Fibonacci strategy. This approach is usually applied as part of trend trading. In this case, the system tracks a retracement within a trend and attempts to initiate low-risk entries in the direction of the first trend utilizing Fibonacci levels. This kind of trading is highly challenged since it is based on ratios that do not necessarily correlate to the individual trade.
How to start trading with Advanced Fibo Levels
Advanced Fibo Levels is an automated robot that trades Forex. After you purchase it, you are required to write to the developer and he will send you all the set files of all his settings. He will then assist you to install and configure it. The system can begin trading for you immediately.
Advanced Fibo Levels costs $149. There are only 3 copies out of 10 left that are offered at this price. The price will increase to $249 once they are sold out. The vendor has also provided the option where traders can rent it for one full year at $49. Notably, when you buy this system, you will also receive another EA or indicator free of charge.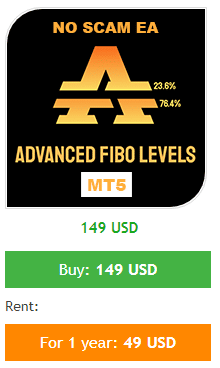 Advanced Fibo Levels backtests
There are no backtest results for this EA. We are not sure if the developer took time to test the efficacy of its strategy. He probably just went ahead to release the product without a care in the world if it would benefit traders.
Trading results
The developer has posted a screenshot of unverified trading results on the mql5 site. We cannot rely on the data displayed because it may have been manipulated. Nonetheless, we have assessed the available trading metrics below: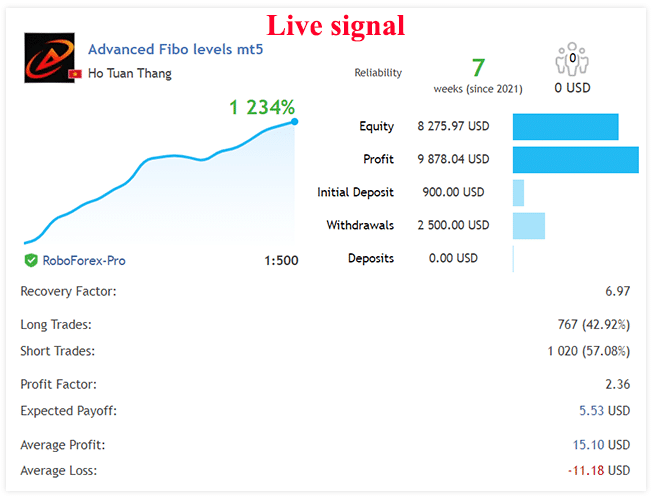 Here, we are seeing a gain of 1234% for the 7 weeks it operated. This is such an unrealistic value. The initial deposit was $900 and a profit of $9878.04 has been generated from it. The trading performance is quite poor. We are talking of win rates of 42.92% for long trades and 57.08% for short ones. The profit factor is 2.36. The average profit is $15.10 when the average loss is -$11.18.
Other notes
The system has been subjected to stress tests for a long time and supposedly passes each annually with a very beneficial profit/drawdown ratio.
People feedback
There are a total of 5 user reviews of this product on mql5 website and all are positive except one. The negative review is written in Spanish but we sought the services of Google translator and figured out what the discontented customer is communicating. Apparently, he says that traders can easily lose money with this EA due to its endless grip.

Summary
Advantages
Disadvantages
Live trading results are unreliable
Backtest results are missing
Lack of vendor transparency
We are beyond disappointed by this EA. First of all, the vendor fails to disclose if he is qualified enough to develop trading systems. On that alone, we cannot trust him. Secondly, he hides the backtest data, a sign that he is not proud of the system's historical performance. Lastly, the available trading results are unverified and this puts their credibility into question. These findings have led us to conclude that you are better off without this product.