ELITE Automated Algorithm EA is a robot that promises long-term success and claims to earn consistent profits week in and week out. According to the vendor, this system has never had a losing day as of yet. Apparently, you can establish a solid income stream with this robot, but that claim needs to be verified by evaluating the various aspects of the system.
Is This a Forex EA That Can Win You Profits?
The vendor has made an extremely brief presentation for this Forex robot, on the official website. We are provided with an overview of the main features, after which there is a list of benefits. There are several tabs on the website, where we find information related to the vendor, as well as the trading results.
The founder of ELITE Automated Algorithm EA is Nick Ross, a trader based in Long Island, New York. He has a degree in Business Management and is knowledgeable regarding the MQL5 coding language that helped him develop this robot. The company headquarters are located in Shoreham, New York, and the office hours are Sunday to Friday, 9 AM to 11 PM.
This robot trades in currency pairs like USD/JPY, EUR/USD, EUR/GBP, EUR/CAD, and AUD/USD. It is mentioned on the website that it does not use chart markups, technical analysis, or indicators. That being said, we have no actual information about the trading strategy, which is a bit disappointing. Technical information related to trading strategy is something most Forex traders look for, because it helps them gauge the system's profitability, and hence this might be taken as a huge red flag.
How to Start Trading With ELITE Automated Algorithm EA
This Forex EA is available for a price of $199, recurring every one month. The company has a strict no-refund policy, so you won't get your money back, even if the system underperforms. Now, most reputed Forex EA vendors have a refund policy in place, so this makes us wary about investing in this robot.
According to the vendor, this robot is best-suited for larger balances of $5000 and more. It effectively combines automated trading management with human interaction and monitors your account on a 24/7 basis. Every aspect of the trades starting from taking profits to stop losses and entry points is decided by the robot. After you have reached a certain profit level, it uses trailing stops to secure the profits.
ELITE Automated Algorithm EA Backtests
The vendor has not provided us with the backtesting results on the official website. This is not a good sign, because a trustworthy EA should have several years' worth of backtesting data showing historical performance. From this, we can know about some important performance aspects, as well as whether the system can endure difficult market conditions.
Trading Results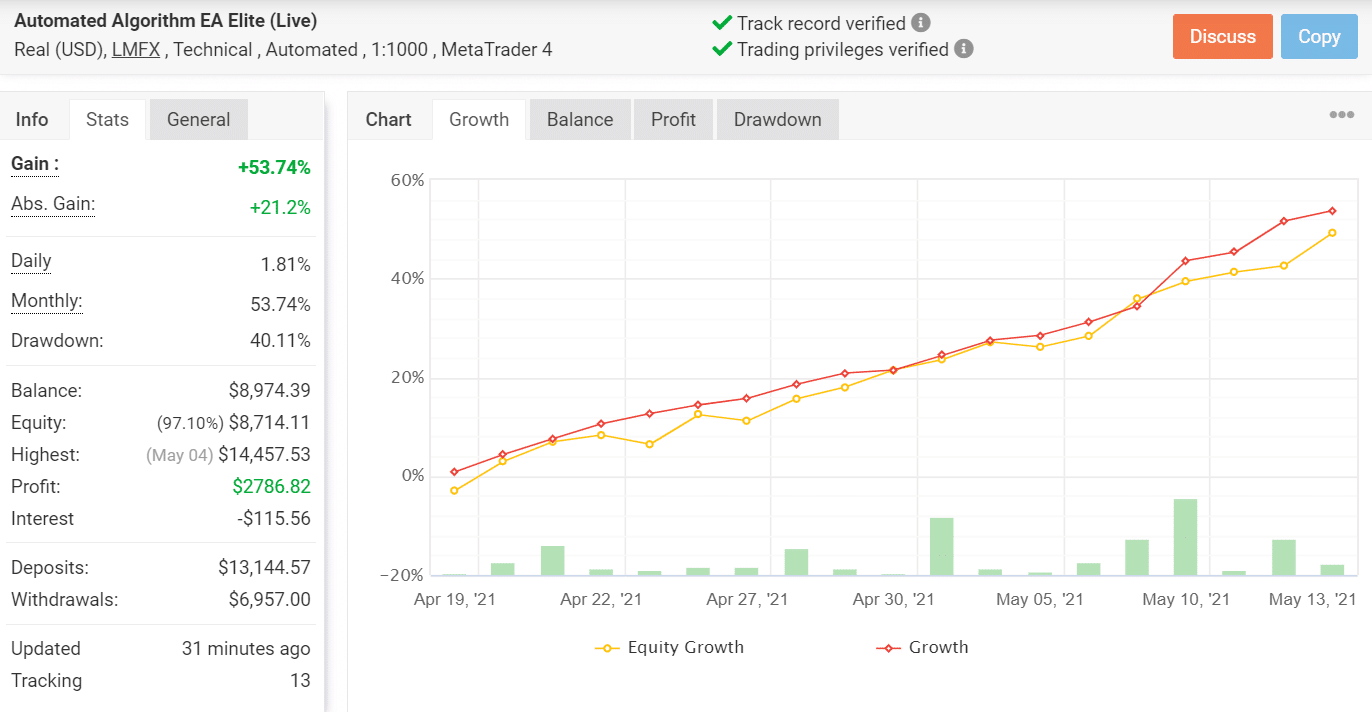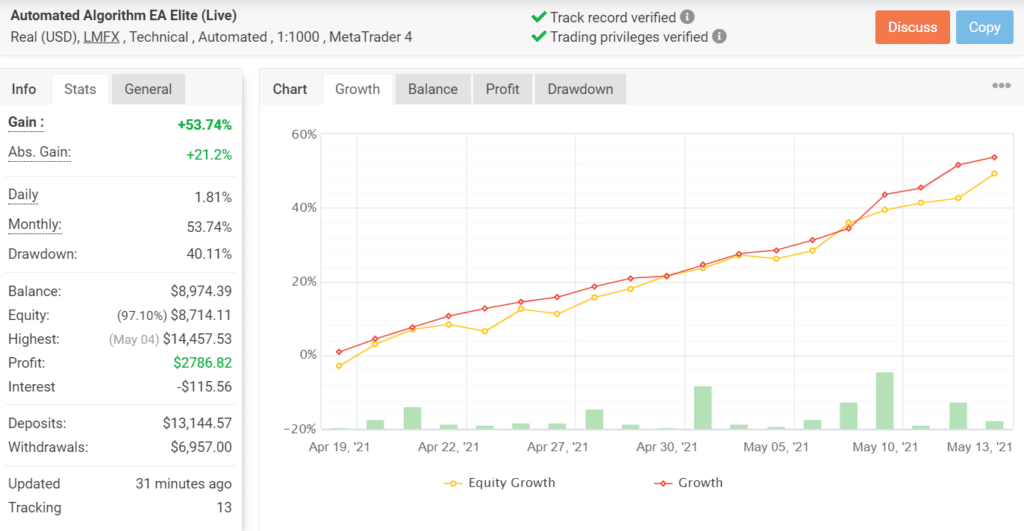 This is a live trading account that has been running since 19th April 2021. The track records are independently verified by Myfxbook, but as we can see, the trading history is too short. To date, 628 trades have been placed through this account, out of which 393 have been closed in profits. This means the EA has a moderate win rate of 63%.
The daily and monthly gains for this account are quite satisfactory at 1.81% and 53.74%, respectively. However, the drawdown is extremely high at 40.11%, and this makes us wary. Usually, trading with systems that have such a high drawdown carries a significant amount of risk. Nevertheless, it has a decent profit factor of 1.72.
Other Notes
The vendor has mentioned that his largest profit with this system in a single day was $109,000, while the largest loss was $80,000. After you purchase the system, the service team assists you with the installation process.
People Feedback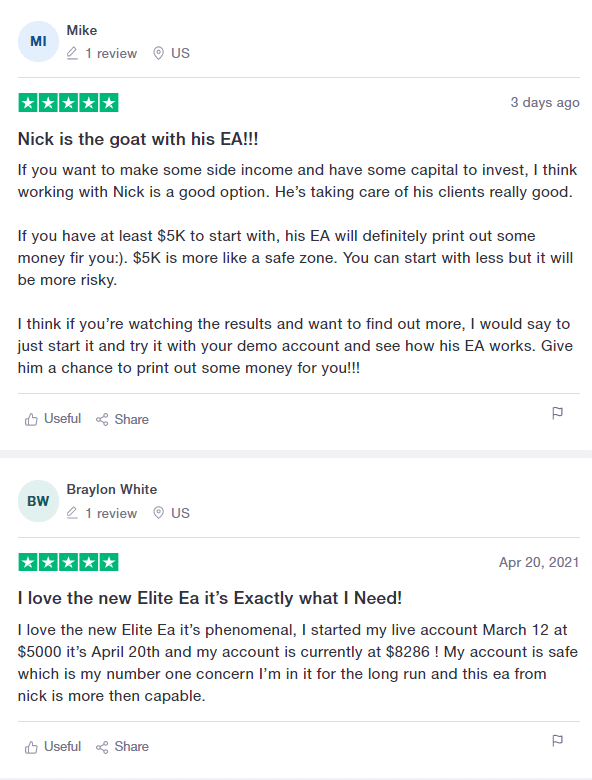 Out of all the customer reviews available for ELITE Automated Algorithm on the Trustpilot website, most are positive. The customers have gushed about how the EA let them make some sizable profits within short periods of time. One user has praised how the vendor handles his clients and solves their issues quickly and efficiently.
Wrapping Up
Advantages
Verified live trading statistics available
Vendor transparency maintained
Disadvantages
High drawdown seen in the live trading results
Lack of strategy insight
No backtesting results available
Summary
After analyzing all the different performance aspects of the system, we have reached the conclusion that this Forex robot cannot be trusted to make you profits on a consistent basis. It has not been trading live for too long, but in spite of that, it has an extremely high drawdown. Thus, there is a good chance that you might suffer some big losses if you were to use this robot for live trading. We think you would be much better off investing in another system that has a longer trading history and better results.