ForexBot28 is a Forex robot that trades in more than 28 currency pairs and claims to deliver stable and reliable performance with all of them. The vendor claims that the EA places continuous trades and maintains a steady stream of profit. Further details about this system and its profitability can be obtained after conducting a thorough analysis of its various performance aspects.
Is This The Perfect Forex Robot?
On the official website, the vendor makes an extremely brief presentation. We are provided with a brief overview of what the system is about and how it functions. Next, the minimum deposit requirements are outlined and the main features are listed. The vendor also provides the pricing details and the link to a live trading account on Myfxbook.
We don't know anything about the company behind ForexBot28, and this makes us wary about investing in this system. Nothing is known about the developer's history, or whether they have built similar robots in the past. No physical address is provided for the company either, and as such we can say that vendor transparency is not maintained as far as ForexBot28 is concerned.
This robot trades in all major and minor currency pairs, including AUD/CAD, AUD/CHF, AUD/JPY, AUD/NZD, AUD/USD, CAD/CHF, CAD/JPY, CHF/JPY, EUR/AUD, EUR/CAD, and others. It is compatible with all brokers and has measures in place for controlling drawdown.
The vendor does not clearly explain what kind of strategy this Forex robot uses. So we don't know what kind of indicators are used by the robot or how it spots profitable trading occasions. The absence of strategy insight might be taken as a red flag by those Forex traders who are particular about technical details.
How to Start Trading With ForexBot28
You can purchase ForexBot28 for $255, and this will give you access to a lifetime license and different software versions for Metatrader 4 and 5. The vendor provides a 20-day money-back guarantee for this product.
This robot trades with the help of a neural network that allows it to achieve profitable outcomes. It carries out extensive analysis on all the pairs, and this means it can trade without stopping for breath. By placing a large number of orders, it manages to generate steady profits. It avoids trading during hours where the trading activity is extremely low.
There are three modes for this EA, namely Conservative, Normal, and Aggressive. The minimum amount you need to invest depends on which mode you have chosen. For conservative risk, it is $10,000, whereas, for normal and aggressive modes, it is $5000 and $3500, respectively.
By purchasing this EA, you get access to a detailed user manual that reveals all the technical details of the system. Periodic updates are provided for free, and the customer support team is ready to help you 24 hours a day, 7 days a week.
ForexBot28 Backtests
We don't have the backtesting data for ForexBot28 on the official website. From backtesting data, we can gather some crucial information related to the various performance parameters, and as such, it becomes difficult to assess the robot's profitability in its absence.
Trading Results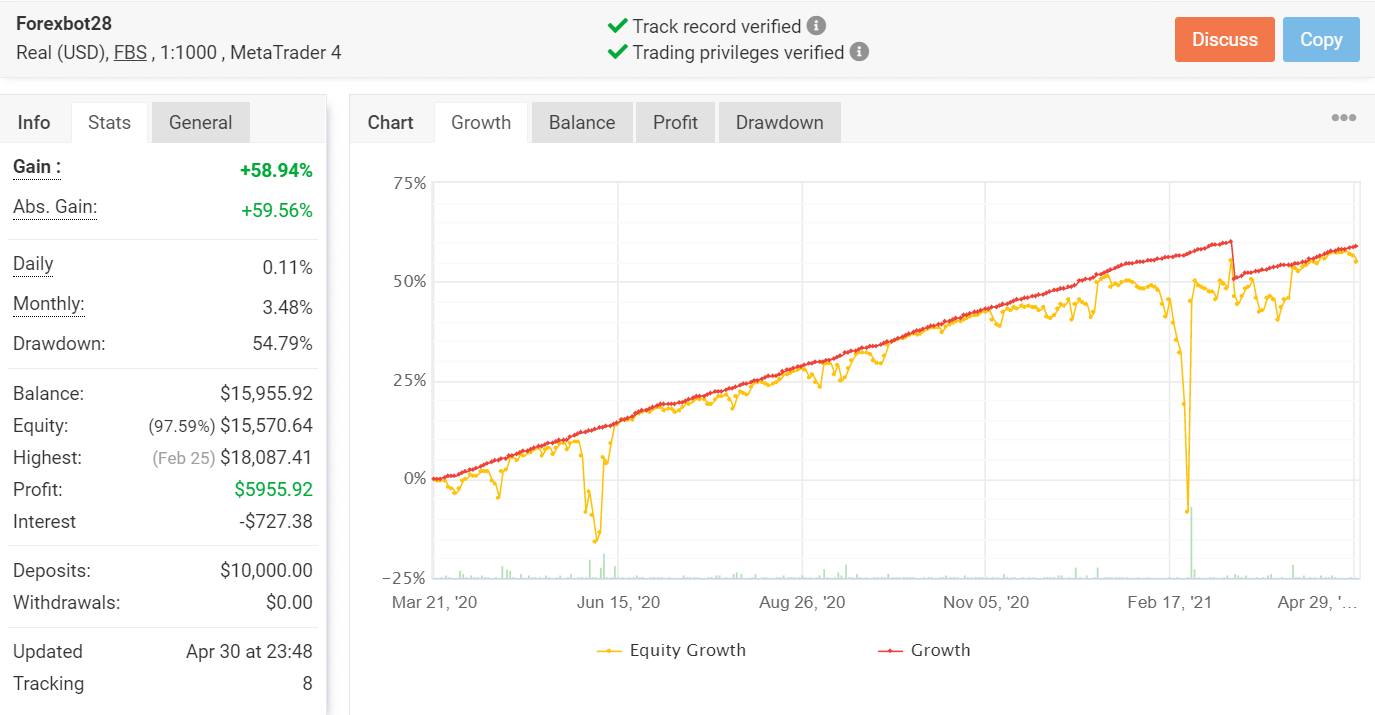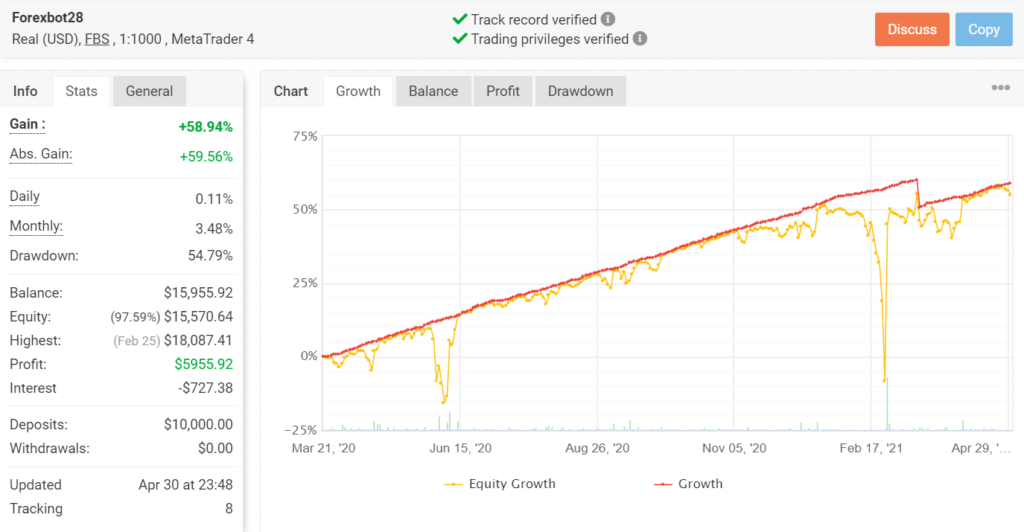 Here we have the live trading results for a ForexBot28 account on Myfxbook that has been active since 21st March 2020. Currently, the total profit generated through this account is $5955.92, and this has been achieved after completing 2831 trades. Out of these trades, 1882 were won, which represents a decent profitability of 66%.
While the daily and monthly gains for this account are 0.11% and 3.48% respectively, the drawdown is extremely high at 54.79%. Most traders would shy away from investing in a robot with such a high drawdown since it indicates a higher level of risk. The profit factor of 1.38, while decent, is nothing exceptional.
Other Notes
The product is delivered electronically either through email or via the download option on the website. You might have to visit a third-party website to complete the download. There is the option of having the product delivered physically, but then you have to incur the extra charges that are applicable.
People Feedback
We were unable to find any customer reviews for ForexBot28 on websites like Quora, Myfxbook, Forexpeacearmy, and Trustpilot. It is very clear that not many people are using this system as of now. It might take some before it manages to build a reputation for itself.
Conclusion
Advantages
Live trading results shared
Money-back guarantee
Disadvantages
Lack of strategy insight
Lack of vendor transparency
High drawdown
Summary
As a general rule, you shouldn't buy Forex robots for vendors you know nothing about. The same applies for ForexBot28, and on top of that, it shows a high drawdown in the live trading results. Hence, it would be unwise to trust this system to make you steady gains.