FXCONSTANT is a Forex EA that promises to provide profitable automated trading services on a daily basis. The vendor claims that the system can be effectively used in tandem with other robots, and this allows it to keep the drawdown to a bare minimum. It has been backtested for a period exceeding 9 years and is backed by real-time statistics verified by a third party.
Is This The Perfect Forex Robot You Need?
On the FXCONSTANT official website, we have the live trading results presented at the very beginning, after which the vendor has provided us with a brief explanation of how the EA functions. Backtesting data for aggressive and normal modes are presented separately, after which the pricing details are outlined. Finally, we have a contact form where we can write a message to the service team after providing the name and email address.
We have no information about the parent company on the official website, which is a bit of a disappointment. No physical address has been provided for the company, and the identities of the traders and developers are also not revealed. As such, when it comes to vendor transparency, we must say that we are not too impressed with FXCONSTANT.
Little or no information is available on the trading strategy used by the EA. The vendor has just vaguely mentioned using 20 patterns, but we have no idea what these are exactly. Technical information related to trading strategy is something that most Forex traders look for, and the absence of the same might be taken as a red flag by some.
How to Start Trading With FXCONSTANT
FXCONSTANT can be purchased for $295, and this will give you access to a single license for any type of account. Additionally, you will receive a user manual, both MT4 and MT5 versions of the EA, access to 24/7 technical support, and the ability to change your account number as many times as you wish. The vendor also offers a 30-days money-back guarantee for this product.
This robot utilizes a market analysis principle developed by the company, and trades without using any indicators. The price movement trends are accurately analyzed with the help of an advanced algorithm and depending on the result, one of the 20 patterns is activated.
FXCONSTANT compares the patterns to present market scenarios and if the instructions coded in a particular pattern match the market sentiment, it is used to open a trade. Each distinct pattern has a unique algorithm that specifies the opening and closing points for the trades.
FXCONSTANT Backtests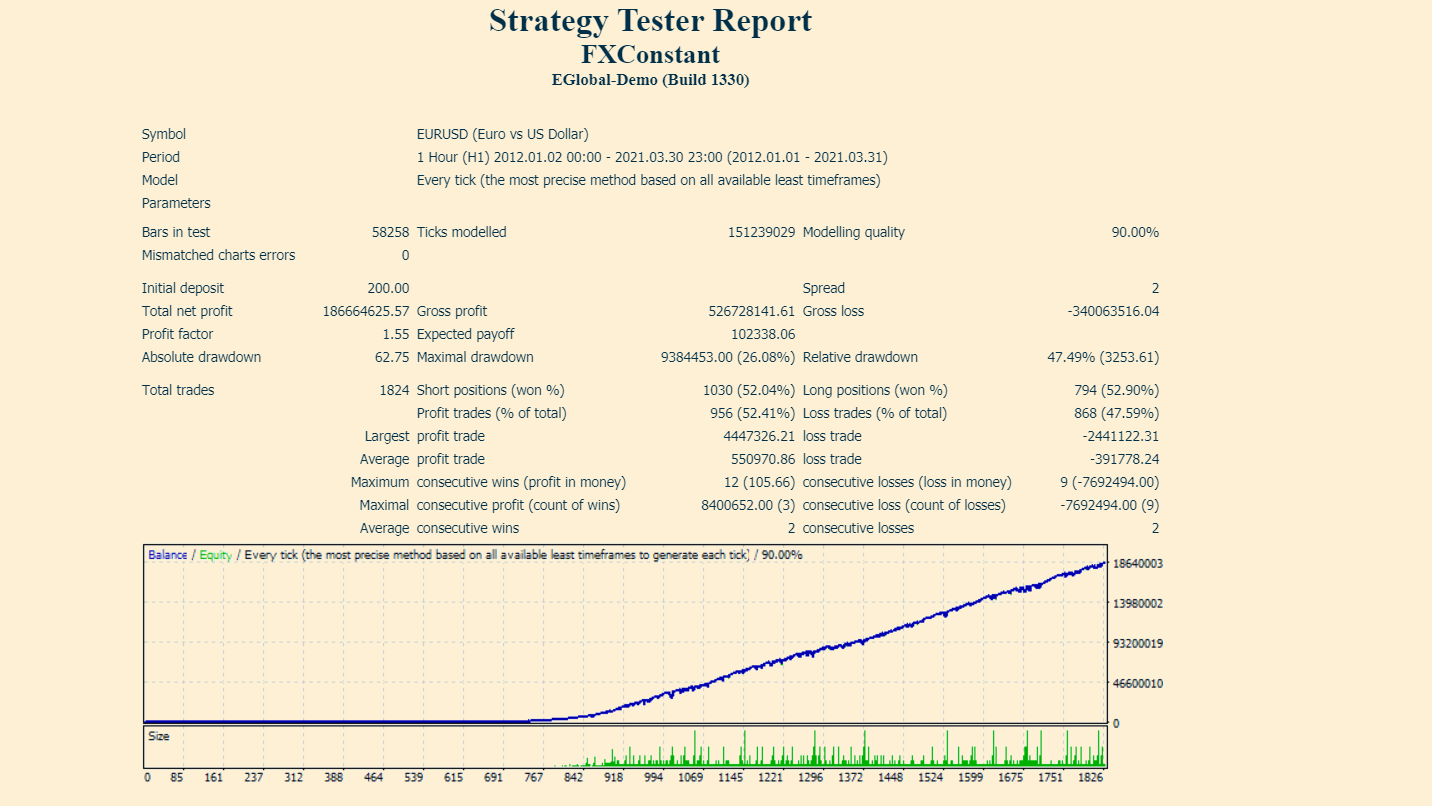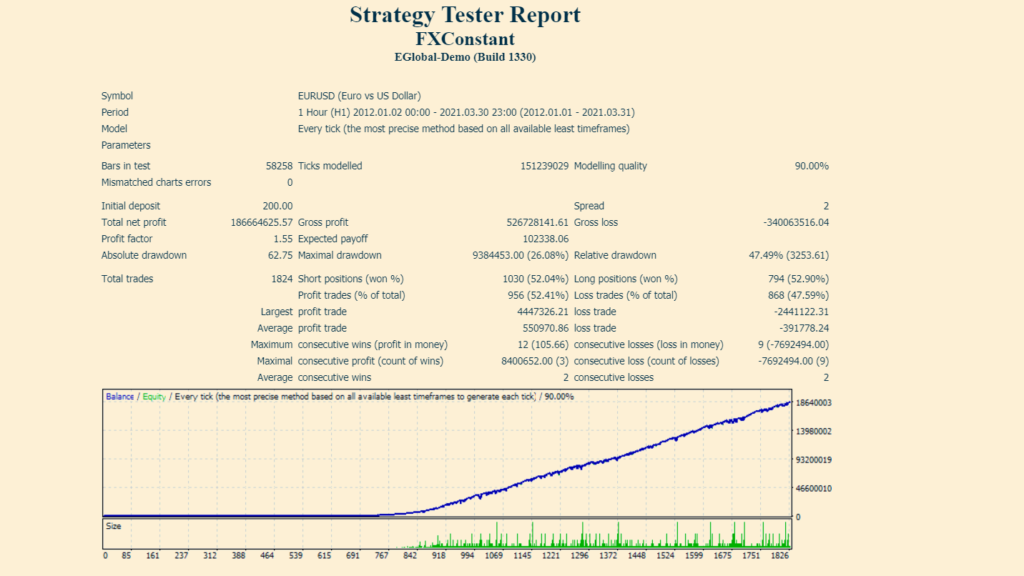 This backtest was conducted for the EUR/USD pair starting from January 2012 to March 2021. In this time period, a total of 1824 trades were placed, out of which 956 were won by the robot, and this presents a moderate win rate of 52.41%. With an initial profit of $200, a total net profit of $ 186664625.57 was generated.
One thing to note about this backtesting result is the high relative drawdown of 47.49%. This essentially means that trading with this robot carried a significant amount of risk. While the profit factor of 1.55 is nothing spectacular, it is decent enough.
Trading Results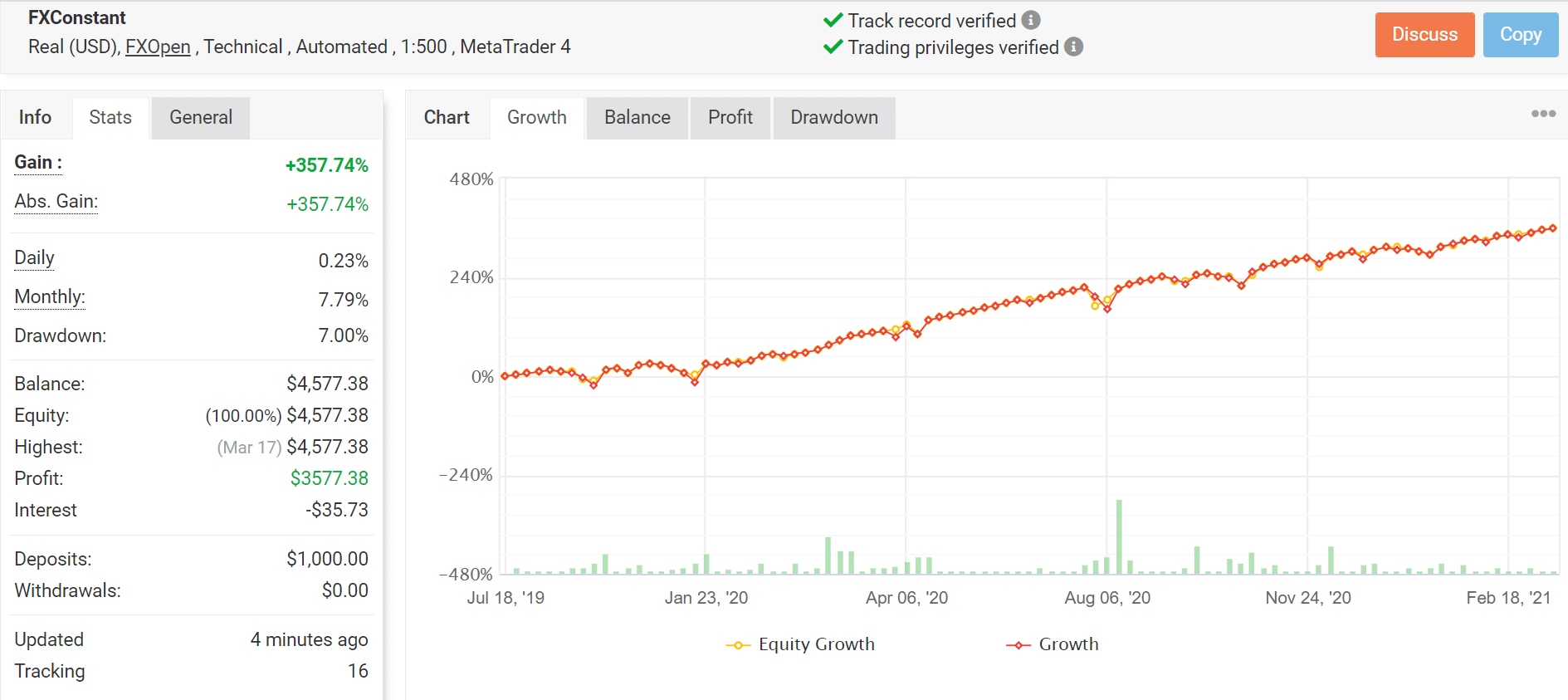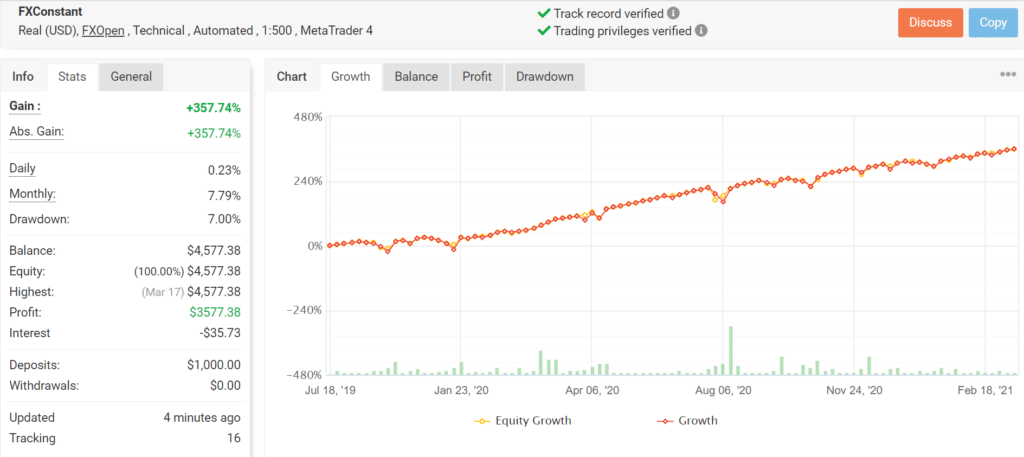 This live trading account for FXCONSTANT was launched on 18th July 2019, and to date, only 146 trades have been placed through it. Out of these, 82 have been won, representing profitability of 56%. Currently, the total profit generated through this account stands at $3577.38, while the time–weighted return is 357.74%.
It has daily and monthly gains of 0.23% and 7.79% respectively, along with a low drawdown of 7%. The trading history is a mixed bag of wins and losses, with average win and loss being 44.35 pips/$110.85 and -43.56 pips/-$86.13 respectively.
Other Notes
As mentioned before, this EA has two modes, namely aggressive and normal. In the first mode, the robot tries to gain the maximum pips, while setting the stop loss a bit far away. In the normal mode, the stop loss is set sooner, so even if you reach it, you have a significant portion of your funds remaining with which you can place your trades and recover the loss.
People feedback
We couldn't find any customer reviews for FXCONSTANT on websites like Myfxbook, Quora, Trustpilot, and Forexpeacearmy. It seems that in spite of trading live for almost two years, this robot hasn't earned much of a reputation for itself.
Wrapping Up
Advantages
Verified live trading results
Backtesting data available
Disadvantages
Lack of vendor transparency
No strategy explanation
Very few trades placed through live trading account
Summary
After conducting a detailed assessment of the various aspects of the Forex EA, we have reached the conclusion that it is not worth buying. First of all, we don't know if the product is from a reputed company, and secondly, nothing has been mentioned about the trading strategy. The live trading results look promising but are not good enough to blindly trust this robot.