Night Hunter Pro was launched on 15th June 2021. As per vendor claims, this Forex expert advisor has generated stable profits for several months with a low drawdown. However, in order to verify it, we need to conduct a thorough analysis of this robot and its performance factors.
Is this the perfect Forex automated trading system?
Night Hunter Pro is sold on the MQL5 website, where the vendor provided us with a brief introduction to the EA followed by some recommendations and a list of features. They have also explained how to install the software and use it with your trading platform. There are multiple screenshots showing backtesting data for multiple currency pairs.
The creator of this system is Valeriia Mishchenko, a Russian trader we have very little information on. She has sold more than 500 products on MQL5, but there is information on trading experience and background. Apart from Night Hunter Pro, she has another expert advisor called Waka Waka EA. According to her MQL5 profile, she is a newcomer on the website.
This expert advisor supports multiple currency pairs like EUR/AUD, EUR/CAD, AUD/CAD, CHF/JPY, USD/CHF, USD/CAD, EUR/CHF, EUR/USD, and GBP/USD. Night Hunter Pro has a one chart setup, which means you can trade different symbols using one chart. It has a news filter that lets you choose which economic events you wish to avoid.
The robot can detect the GMT of the broker automatically. According to the vendor, this is a self-diagnostic system, but we are not clear on what it means, since the vendor has elaborated further on the topic. Another feature of this expert advisor is the negative swap filter.
Night Hunter Pro is a scalping bot that places a large number of trades throughout the day and tries to extract small profits from each. This is a high-frequency strategy that is difficult to follow for novice traders. Since the profit generated from each trade is so small, it can take a long time before you earn a sizable amount.
How to start trading with Night Hunter Pro
Night Hunter Pro has a hefty price tag of $699. It makes little sense to spend so much money on a robot that was launched only recently. The vendor offers a free demo version of the robot that you can download for testing purposes. However, there is no money-back guarantee, which is a huge red flag.
This robot uses entry/exit algorithms with filtering techniques to make its entries when the market is not too turbulent. It is an FTMO compatible system that works on both Metatrader 4 and Metatrader 5. The vendor recommends running it on M5 charts.
Night Hunter Pro backtests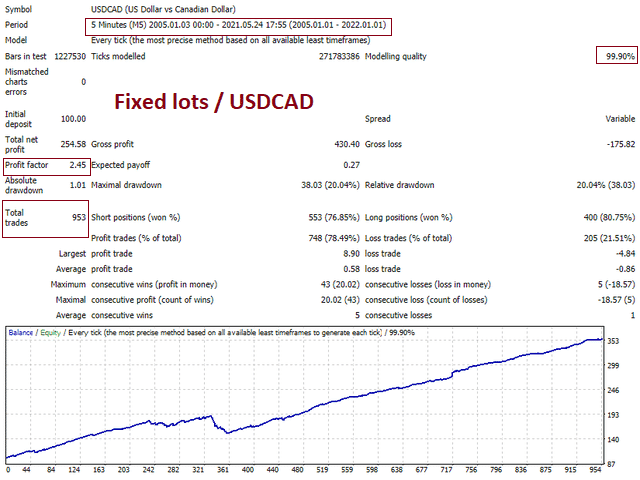 Here we have the results for a backtest conducted between 2005 and 2021 with 99.90% modeling quality. During the testing period, the EA placed 953 trades, winning 78.49% of them and generating a total profit of $254.58. The relative drawdown for this backtest was a bit high at 20.04%, indicating a risky strategy.
Trading results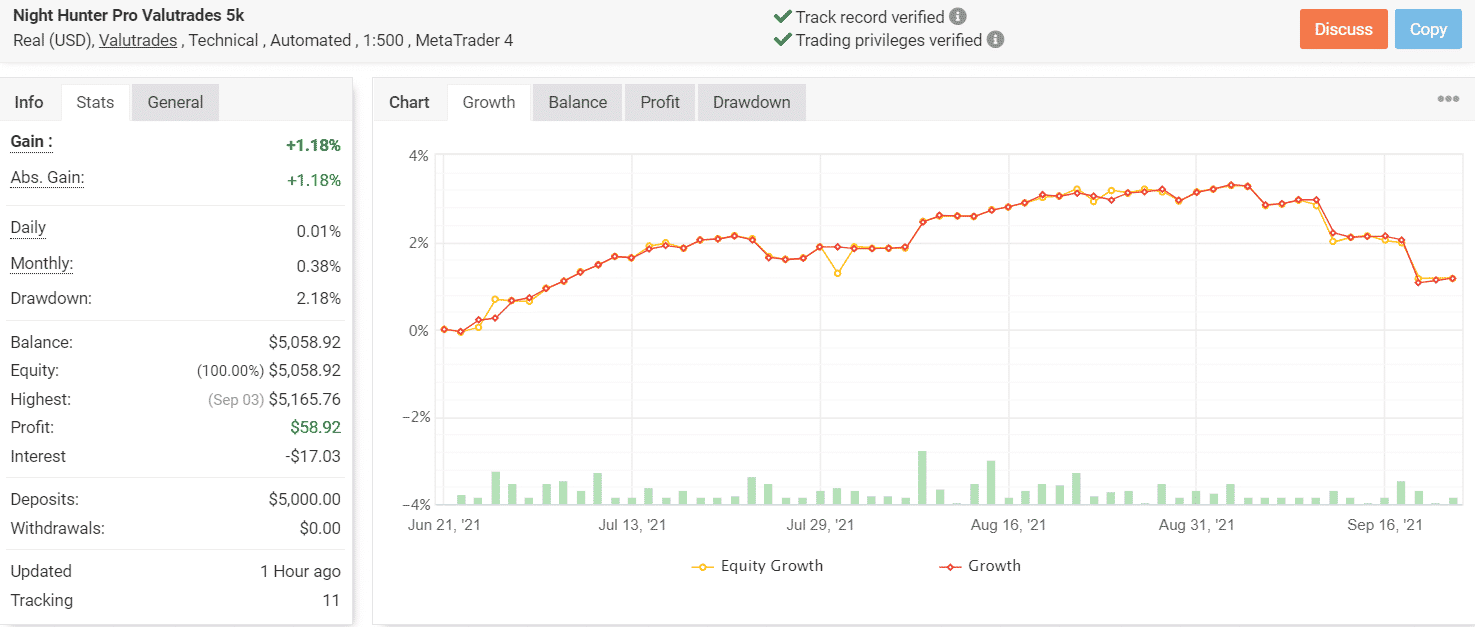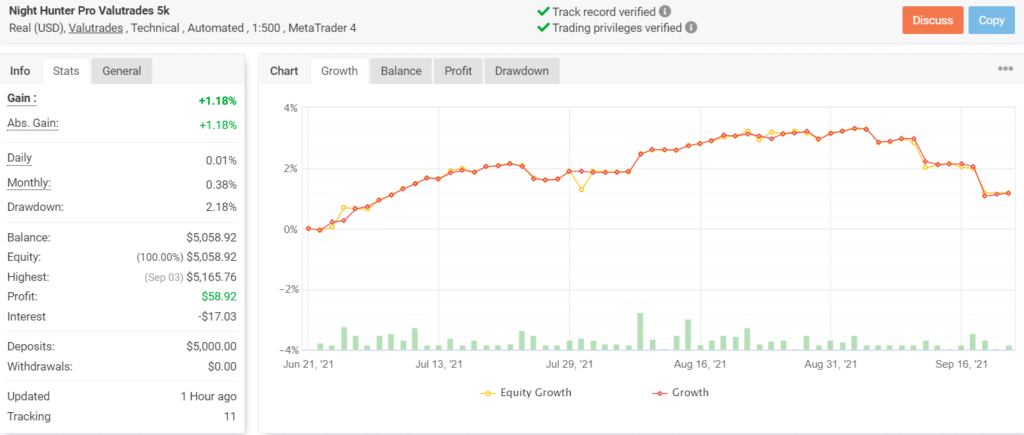 This trading account was launched on June 21, 2021, and this means it has been trading live only for a few months. This makes it a little difficult to get a clear idea about EA's profitability. To date, it has placed 358 trades through this account, attaining a win rate of 68%.
The daily and monthly gains for this account are quite low at 0.01% and 0.38%, respectively. Currently, the profit generated through this account is only $58.92. The profit factor is not too impressive at 1.23.
Other notes
You should attach this EA to a single M5 chart, preferably EUR/USD. In case the broker uses a particular suffix for a currency pair, you should update the Symbol parameter accordingly. This robot needs low slippage and spread, as well as a hedging account. You also need to install a VPS to run in continuously.
People feedback


There are no user reviews for this robot on third-party review websites. We can find some reviews on the MQL5 website, but these cannot be considered genuine. It is clear that the system lacks reputation.
Conclusion
Advantages
Trades in multiple currency pairs
Disadvantages
No money-back guarantee
Too expensive
Short trading history
Night Hunter Pro is an expert advisor that does not have a long track record of winning profits in the live market. Also, it is an overpriced system for which there is no money-back guarantee. Therefore, we would advise you to stay away from it.