ProHT TREND EA is a Forex robot that exclusively runs on the MT4 chart. It offers you the liberty to work, rest, and engage in hobbies as it generates income on your behalf in the background. You won't have to spend hours assessing the charts to find the right trading opportunity. Notwithstanding, the vendor warns that Forex trading is generally risky, so you might incur some losses while still working with the system. The advice is to trade with funds you can afford to lose.
Is ProHT TREND EA still good to go?
The following are the features of the robot:
The main currency pairs used for trading are; AUDUSD, EURUSD, EURCAD, USDCHF, CADCHF, USDCAD, and GBPUSD.
You can use any fast execution broker and any account type.
The dev offers free updates and customer support.
The leverage used ranges between 1:30 and 1:2000.
The robot trades 24/5 on the H1-H4 timeframe.
Settings change depending on the risk you set.
The devs say that the system's strategy is based on trend-support/resistance, reverse trend, volume size, and fake "breakout" filters. To our disappointment, these approaches aren't explained. We are concerned that traders, especially new ones, may experience difficulties trying to figure out how exactly this EA enters and exits trades.
FXHT is the vendor behind this robot. The company's other products include MultiCurrency EA, Rotterdam EA, Holland Trader EA, Amsterdam EA, and others.
How to start trading with ProHT TREND EA
ProHT TREND is programmed to automatically conduct trades for the user. At best, it is a useful Forex solution that can assist you in making informed trading decisions. However, the EA's ability to make substantial profits will depend on a variety of factors, including its strategies and prevailing market conditions.
The system is currently priced at $200, down from $400. It comes with an indicator, but a money-back guarantee is missing. The vendor doesn't indicate what other features are included in the system.
ProHT TREND EA backtests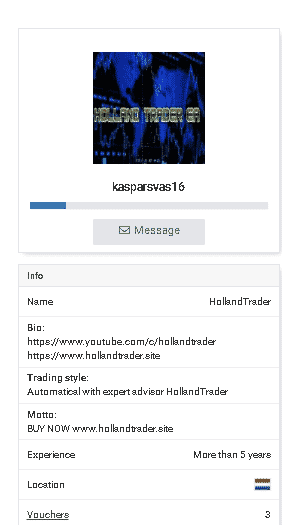 The devs failed to share backtest reports; therefore, we conducted an additional myfxbook research and found their profile page there. They created a page on this site 5 years ago, and according to the profile, the team is based in the Netherlands.


According to the results showcased above, this EA was only tested for a year. This testing period is too short. So, it might have failed to capture a variety of market conditions that usually affect a system's overall performance.
Anyway, the bot worked on the M1 using a $10000 deposit to conduct 5790 trades. On average, it made daily and monthly profits of 2.02% and 82.3%, respectively. Cumulatively, the total net profit realized was $20494458.77. Therefore, the account closed with a large balance of $20504458.64.

Good win rates for both long (94%) and short positions (94%) were attained. The profit factor (5.43) figure showed that the EA won a lot of trades. The average trade length was 6h 1m, whereas the traded lots were 321082.12.
Trading results
Sadly, we could not find the live trading stats for this robot on Myfxbook. This means that the devs are not using it at the moment to trade a live account on this site. This is dumbfounding considering that the EA showed outstanding results during simulation. To earn the trust of potential customers, the devs need to act fast and open a live account. Otherwise, the public may think they have something to hide and hence avoid the product.
Other notes
A referral program is available. This enables traders to earn up to 35% worth of commissions for each successful referral. To join the program is very easy. Create an account, select from the company's products to advertise to your customers, and earn commissions from all qualifying purchases.
People feedback
Customers had not given their opinions about this product by the time we were writing our review. The lack of people's feedback could mean two things. It is either clients are not familiar with the system yet, or traders are just waiting for the EA to have a solid reputation first to begin using it.
Summary
Advantages
Reasonable pricing
Free updates are offered
Supports numerous currency pairs
Disadvantages
Lack of live trading data
Short backtest period
No people feedback
Trading strategies are not explained
ProHT TREND EA might be a good choice for people who prefer to trade on many currency pairs to increase their chances of earning more profits. You can purchase the robot at a fair price and also get free updates for life. Even then, investing in the tool without knowing how it performs on a live account beforehand would be risky.