Aura Rocket provides a classical way to engage in long-term trading. When you set the EA on low risk, you can supposedly sleep well as it will trade safely by protecting each position using a hard stop loss. It is also possible to use higher risk, but you are warned that the drawdown will be higher.
A Russian named Stanislav Tomilov developed Aura Rocket. His other inventions are Aura Pro, Aura Turbo, Matterhorn, and Aura Black Edition. Stanislav's professional background is not disclosed, though.
Is Aura Rocket a good trading tool?
The key features of the bot are highlighted below:
It's suitable for FTMO and FIFO compatible.
No grid, hedge, martingale, arbitrage, or other risky methods of money management are used.
It can be installed easily.
The system is not very sensitive to broker conditions, but lower spreads are recommended.
The EA focuses on deep machine learning and hyperparameter search technology, which helps it reduce a given loss function on certain independent data. The vendor also says that the system opens trades in the trend direction.
How to start trading with Aura Rocket?
The system is sold on MQL5 only. It's price is $995. There also are 3 rental options offered, one coming for $245/3 months, other is available for $445/6 months, and the third one costs $595/year. A free demo account is also offered for those users who want to test the system before purchase.
Aura Rocket backtests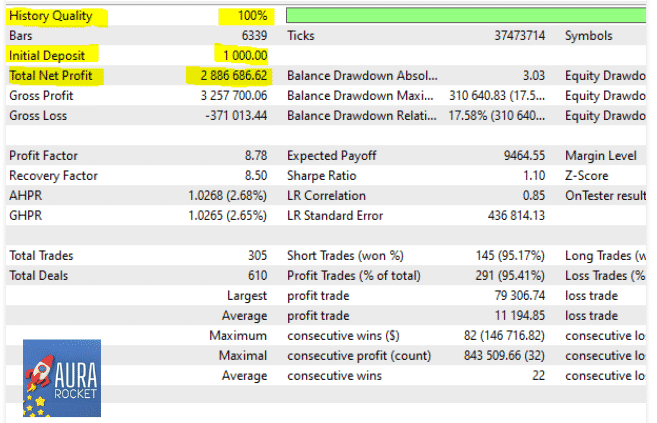 As per this backtest report, the system used a small deposit of $1000 to generate 2M+ dollars in profits. Interestingly, this income was generated from 305 trades. So, we might assume that each trade made approximately $95000, which is somewhat unrealistic. The win rate for the short trades was 95.17%, whereas the profit factor was 8.78. As illustrated by a low drawdown of 17.58%, low-risk trading was employed.
Trading results
There is a vast difference between the performance of Aura Rocket in the live market and on historical data. Here, the EA is making losses on most occasions. So far, it has caused the user to lose -$44.86, decreasing their account's worth by -13.43% in just 3 months of trading. The balance is now $289.14, down from $334. The drawdown is 21.46%.
There are 58 completed trades, and the success rates for the long and short positions are 83% and 88%, respectively. The profit factor of 0.79 depicts the EA as a loser. The bot's high losing streak is also demonstrated by a very high average loss (-2642.38 pips) compared to the average win (333.06 pips).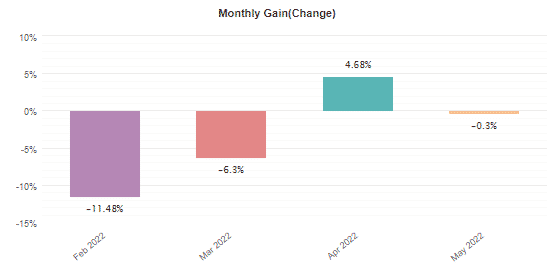 April is the only profitable month this year.


The account is hanging by a thread. It might be wiped out in the near future.
People feedback
Aura Rocked has received mixed reviews on MQL5. On the one hand, users assert that the system is profitable and has a supportive vendor behind it. On the other hand, there are claims that the EA conducts fewer trades and makes more losses than wins.


The Review
Aura Rocket conducts all trades automatically and is not difficult to use, as long as you are tech-savvy or have basic trading skills. However, the main problem is that the system is a poor performer in the live market. It hardly identifies profitable opportunities, which can cost you a lot of money in the long run.
PROS
Fully automated
Easy to use
Backtest data and live trading stats are available
CONS
High risk of ruin
Expensive
High losing streak