Breakthrough Strategy can be found on the mql5 marketplace, particularly under the Experts section. It was uploaded on this site on August 3, 2020. In this assessment, we will discover the performance of the EA among many other things.
Is the robot worth it?
Breakthrough Strategy was authored by Konstantin Kulikov from Russia. He has also developed other trading tools some of which include Franko Scalp, Friday Monday, Good Monday, and GridMoney. Unfortunately, information about the vendor's experience, expertise, and proficiency in the Forex Market has been left out. This raises serious transparency issues.
Konstantin presents the features of his product as follows:
Works with a variety of currency symbols: AUDCHF, AUDJPY, AUDNZD, CADCHF, EURCAD, EURCHF, EURGBP, EURJPY, EURNZD, EURUSD, GBPCAD, GBPJPY, GBPUSD, NZDJPY, NZDUSD, USDCAD, USDCHF, and USDJPY
Works on any time frame because it automatically takes the needed data from many time frames
Runs on the MT4/5 platform
Sadly, the dev does not talk about the strategy that his EA uses. However, from the brand name, we can tell it focuses on the breakthrough that occurs in trends. But then again, this approach presents many risks. False trend breakthrough signals are a reality. Furthermore, if the trend breakthrough fails to continue, and the phenomenon of going back to its initial position occurs, significant losses can be made since the intensity is powerful and long-term.
How to start trading with Breakthrough Strategy
Breakthrough Strategy is an expert advisor. It tells you when to initiate and execute trades using its trading criteria. Therefore, if interested, you can purchase it at $197, a price which we find to be somewhat expensive. You also have the option of renting the system for 1 month at $30 or 3 months at 60$ and supposedly save 33%. A money-back guarantee is unavailable though.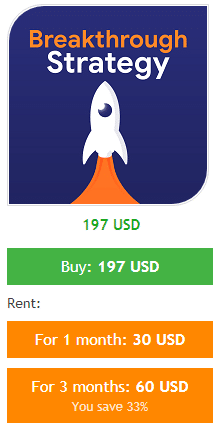 Breakthrough Strategy backtests
Backtest statistics for this system are conspicuously missing. This could mean one thing: the vendor is not confident about the workability of his product. If it was so, he would have tested it and displayed the results for all to see.
Trading results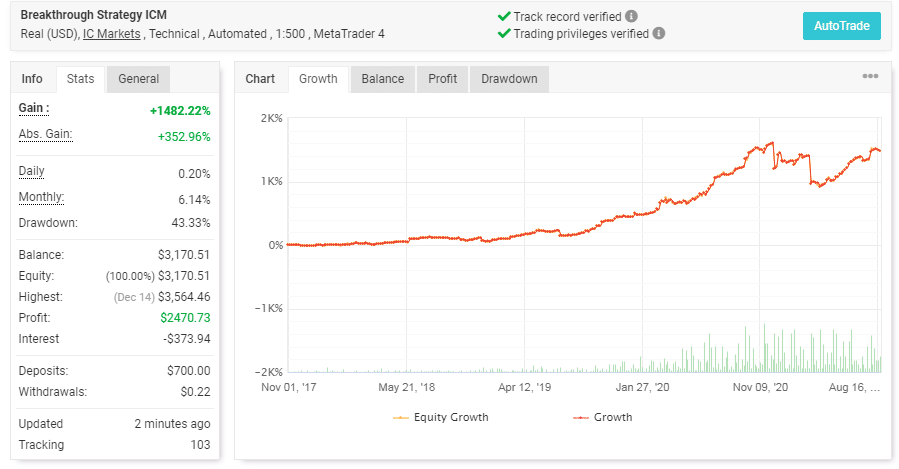 The account has been in the market for some years, having begun its operations in November 2017. A deposit of $700 was placed and a profit of $2470.73 has been generated to date. This is equivalent to an absolute gain of 352.96%. Consequently, the balance has risen to $3170.51. The money withdrawn is $0.22.
The daily and monthly profits are 0.20% and 6.14% respectively. The drawdown which is 43.33% is massive. The robot is making bad trades at distressing rates.

The total trades are 1920. The long trading positions won are 75% while the short ones are 76%. The profit factor is 1.33 and denotes a system that is not winning enough deals. The pips are 5626.7. The average win is 8.60 pips when the average loss is 14.92 pips. This gap is big and further points to a robot that is struggling to win trades. The number of lots (178.53) used is large. This indicates that the EA is exposing the account to a lot of market punches.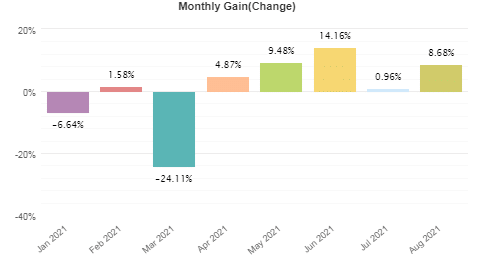 The system has been making sporadic profits. Only two months were unprofitable: January and March.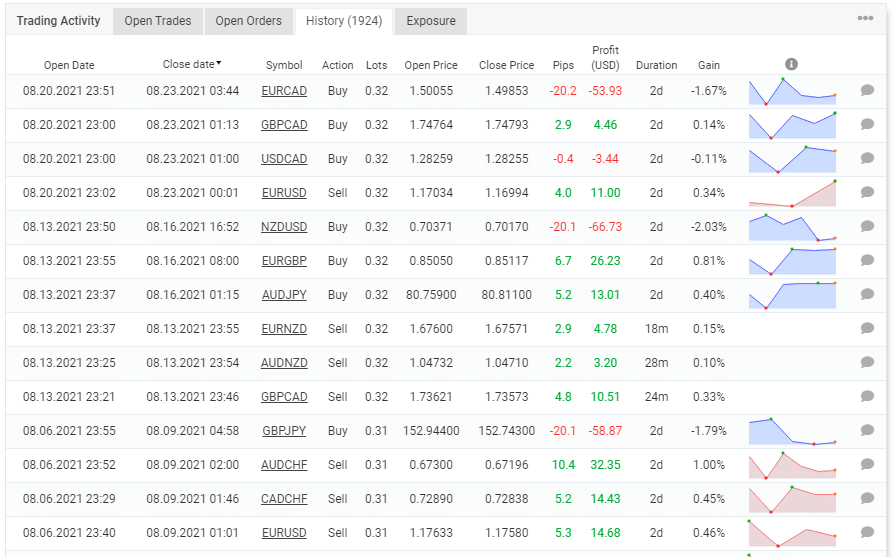 Large lot sizes are evident and long time frames were applied. Small profits were made.
Other notes
Breakthrough Strategy has gone through several updates. For instance, it was previously updated from version 1.8 to 1.9. It was recently revised to its current version 2.0 on February 16, 2021.
People feedback
There are several reviews for this product on mql5, but a majority of them are positive. The negative reviews are only 2. One of the traders says that the system is a shithole while the other says that it makes huge losses and small profits. We do agree with these clients since the trading results have clearly shown us that the system has a disturbing losing streak.


Summary
Advantages
Live trading results are present
Works on many currency pairs
Disadvantages
Lack of backtests results
High drawdown
Lack of vendor transparency
Small profits
From the customer reviews and trading results, it is evident that the Breakthrough Strategy is unprofitable. Chances are that you will make more losses with it than gains. Also, the massive drawdown threatens to bust your account. The lack of transparency points to a vendor who is untrustworthy and should not be given any attention. These findings should be enough to make you lose confidence in the EA and, consequently, stay away from it.