Champion EA is a Forex expert advisor that was launched on 30th September 2021. It can trade in 5 different Forex pairs simultaneously. According to the developer, this robot has maintained a drawdown percentage of less than 10% for 1 year.
Is this a reliable Forex robot?
There is no official website for Champion EA. It is sold on the MQL5 marketplace, where the vendor has explained the working principle and outlined the main features. We also have a list of requirements as well as installation instructions. You can also find the general EA settings and the settings for the news filter. Finally, there are a few screenshots of trade setups and backtests.
Evgenii Machok, the developer behind this EA, is a resident of Russia. On his MQL5 profile, you can find an official email address. However, there is no background information available on this person. Also, it is not clear whether he works alone or as a part of a team. Some of the other expert advisors built by this person include GOLD EAgle, Batman Midnight Hunter, Trend Line PRO EA, Genesis EA, Joker EA, Gold Dragon, Level Trend EA, and FIBO Trend EA.
Champion EA supports five currency pairs, namely AUD/NZD, GBP/CAD, EUR/CAD, NZD/CAD, and AUD/CAD. You can trade all these symbols using just one chart. The EA has a news filter and you don't need any additional set files or optimization to run it. It also has an in-built profit ratio system and is suitable for FIFO and FTMO conditions. The developer has not provided a proper explanation of the trading strategy.
How to start trading with Champion EA
The current price of this EA is $588, which is higher than the market average. If you wish to test the performance of the robot with virtual money, you can download the demo version for free. The vendor does not provide a money-back guarantee for this product.
Champion EA looks for optimal entry and exit points in the market and analyzes the price and dynamic deviation of each candle in the flow of quotes. It has built-in safety features and can avoid random transactions in a volatile period due to the presence of a news filter. In the dashboard panel of the EA, you can see account-related information like free margin and profit-loss ratio.
The vendor recommends attaching the EA to a single H1 chart. You should use a hedging account and an ECN broker having a low spread. A VPS service is also recommended for this robot. The minimum starting balance is $100 for each pair.
Champion EA backtests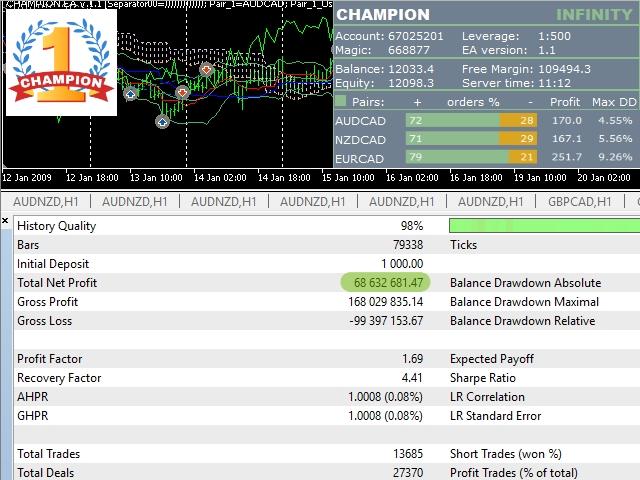 The vendor has not shared the backtesting results in the proper format. Parts of the screenshots are missing and we cannot see the win rate, the Sharpe ratio, and the drawdown percentages. After completing 13685 trades, the EA made a total net profit of $68632681.47. It had a profit factor of 1.69, which can be considered decent.
Trading results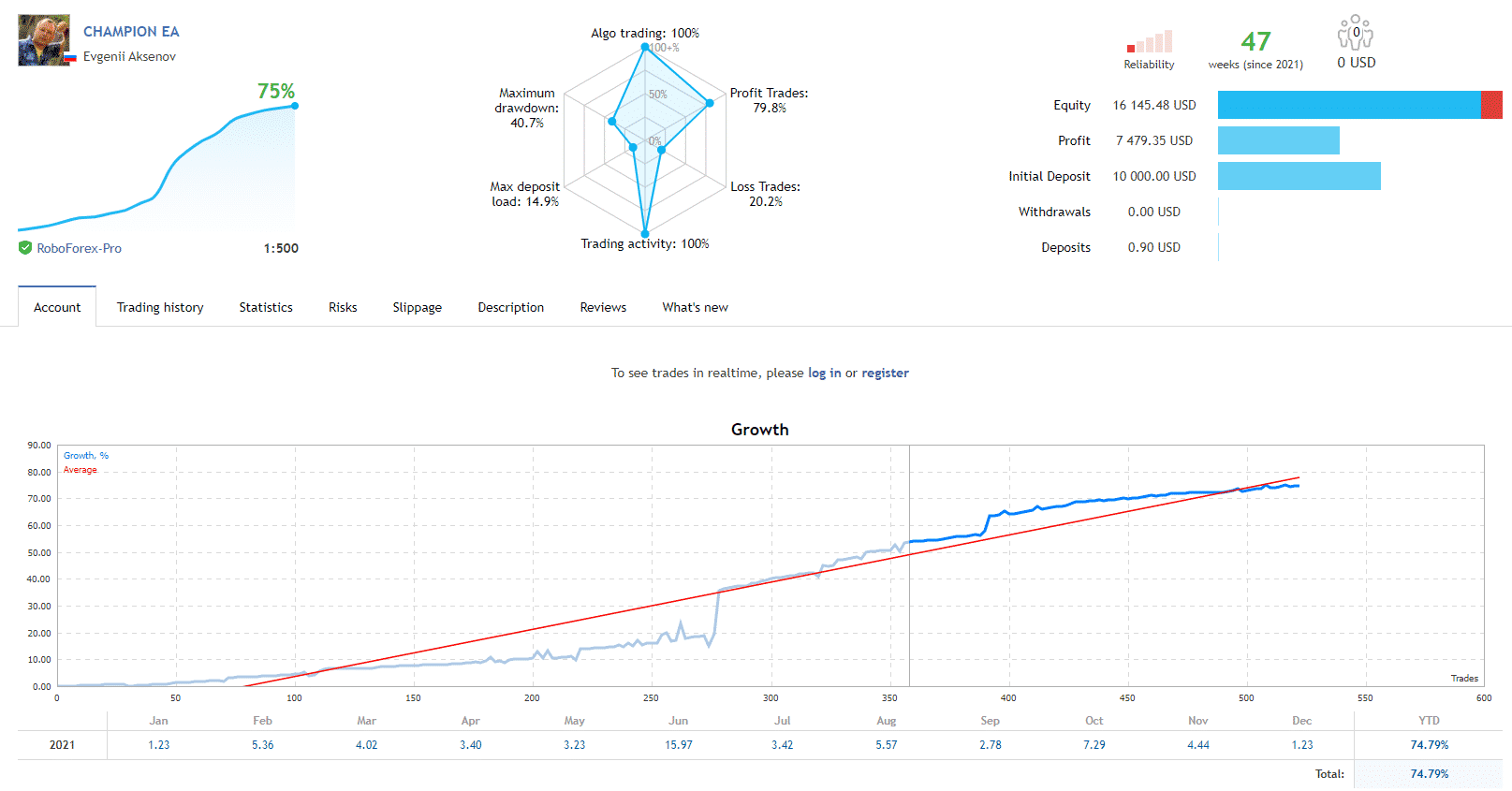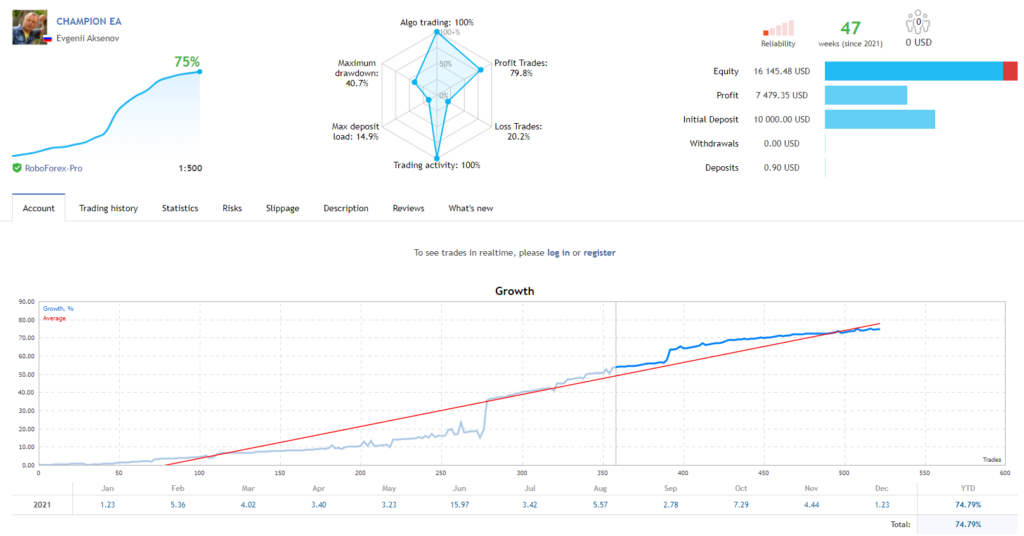 Since there are verified live trading accounts for this EA on third-party websites, we can only analyze the results presented on MQL5. This account has been active for 147 days and after conducting 521 trades, it has a profitability of 79.84%. The profit factor of 2.14 is significantly higher compared to the backtests and the total profit is $7479.35. Here, we should mention that the account has a high maximum drawdown of 40.7% and this indicates the absence of a risk limitation system.
Other notes
The trader needs to add a news resource in the terminal settings in order to use the news filter. Also, they need to allow web requests for listed URLs. It is possible to turn the news filter on and off and to make it pause a few minutes before or after the news release.
People feedback


Currently, there are no reviews for this EA on websites like Myfxbook, Quora, Trustpilot, and Forexpeacearmy. We have a handful of reviews on the MQL5 website, but these are not moderated by an independent third party.
Wrapping up
Advantages
Compatible with five different pairs
No additional optimization needed
Disadvantages
Lack of strategy insight
No verified trading statistics
No money-back guarantee
Champion EA is sold by an unknown developer. They don't offer a money-back guarantee for the EA while selling it at a high price. Also, there is no verified record of this EA winning profits in the live market.