Elemental EA is a trend based trading advisor that focuses on rough market moves to make profits.
Is this robot a viable option?
The system has its pros and cons. Trading results show that the system is profitable. However, there are some drawbacks interested in this EA should know about.
How to start trading with Elemental EA
The advisor has a medium-informative presentation. There are many details, settings, and other information provided.
The robot was developed to help us with automatic trading on our terminal. It's a set and forget trading advisor.
The advisor can work with several cross pairs at once.
The advisor works with a trend strategy "The main idea is that any trend has its current boundaries, after which the price comes to an equilibrium state."
It takes into account support and resistance levels in calculating entry points.
The system focuses on opening orders during the night session.
It can place limit orders to catch the market moves.
It checks the market slippages before placing orders.
We can work with it even without proper trading experience.
There's a MT4 version of the system available.
We can work with all pairs from a single chart.
The devs suggest we use different charts for different pairs.
The robot doesn't work with Martingale, Grid, and Arbitrage.
It places proper SL levels.
It can work on any broker with low spreads and fast order execution.
We have to use an ECN account.
The minimum deposit is $100.
We can trade with EURUSD, USDCHF, USDJPY, USDCAD, AUDUSD, EURJPY, EURCAD, and CHFJPY.
The time frame is M5.
The terminal should be MT5.
Regular price of this EA is $398. However, the vendor offers a 50% discount and interested in the robot traders can buy for $199. There are no rental options available. We can download a demo copy of the system for free.
Elemental EA backtests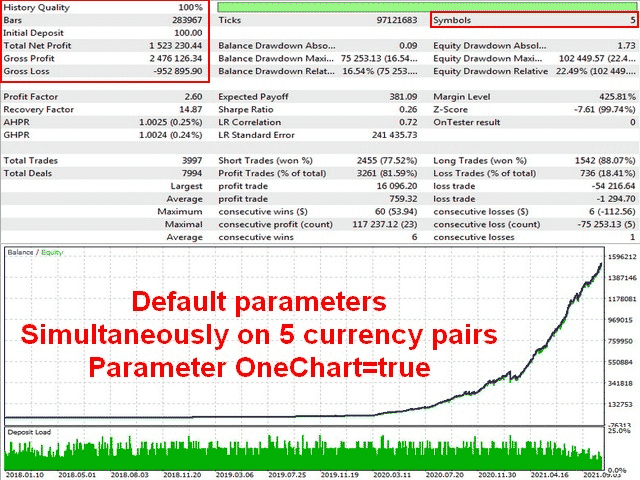 We have a test of the system in five pairs at once. The modeling quality was 100.00%. An initial deposit was $100. It has turned into $1,523,230 of the total net profit. The profit factor was 2.60, when the recovery factor was 14.87. It had a maximum drawdown at 16.54%. There were 3997 orders traded with 77% of the win rate for short and 88% for long trades.
Trading results


The system works on a low deposited account on IC Markets automatically with 1:500 leverage. The maximum drawdown is 13.3%. The maximum deposit load was acceptable – 11.8%. An average win rate is 83.9%. The account works for 9 weeks and has a 5-star rate.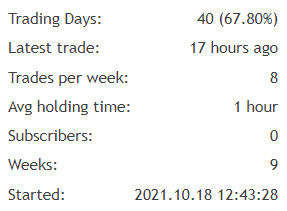 The robot trades with 8 deals weekly frequency. An average trade length is one hour.


The advisor has closed two months in profit.


It doesn't use a Grid of orders or Martingale.


The system has closed 88 orders. The best trade is $1.39 when the worst trade is -$3.38. The recovery factor is 3.64 when a profit factor is 2.85. Both numbers are pretty solid.


EURUSD is the most actively traded symbol with 20 orders. The system prefers trading the short direction.

The system was warned because of low activities.
Other notes

Evgeniy Machok is a developer from Russia with a 598,624 rate. It's truly a veteran rate. He has over eight years of MQL5 experience. There are 15 products on the board. They have a 5 star rate based on 149 reviews.
People feedback


The product has some positive testimonials from real clients.
Wrapping up
Advantages
Backtest reports provided
A strategy explained
Trading results shown
Disadvantages
No risk advice given 
The system is too young
We have a few testimonials about it
Elemental EA is a just released trading advisor that works based on a trend strategy, support and resistance levels. The robot is a young trading solution and has a few trading results and testimonials. So, it's too early to say something for sure.