Forex GBP Avenger's site looked abandoned and forgotten. No, picture, company's logo, and other decorations.


All social network links are empty and go nowhere.
Is Forex GBP Avenger a good system to rely on?


Taking a short look at the widgets from myfxbook, we're sure that we can't rely on this system.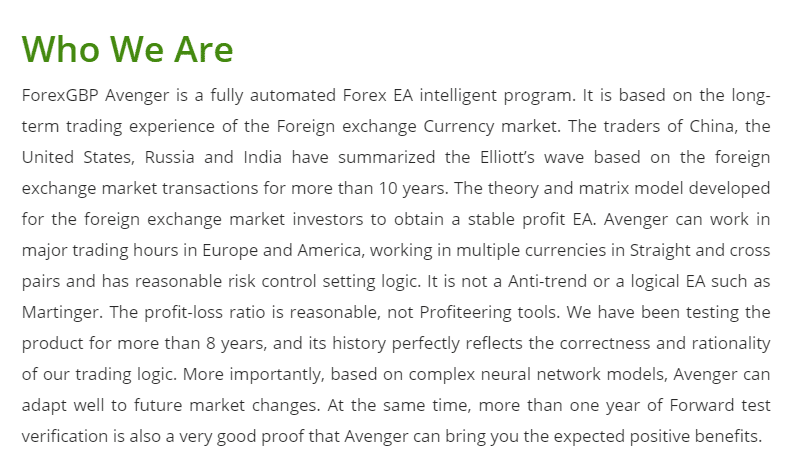 The robot has been designed by developers from many countries: China, the US, Russia, and India. The robot performs swing trading based on Elliott's waves. The robot doesn't perform Martingale or Counter-trend strategies. The robot focuses on trading European and American trading sessions. It can be run on various charts. It can adapt itself to the market conditions well.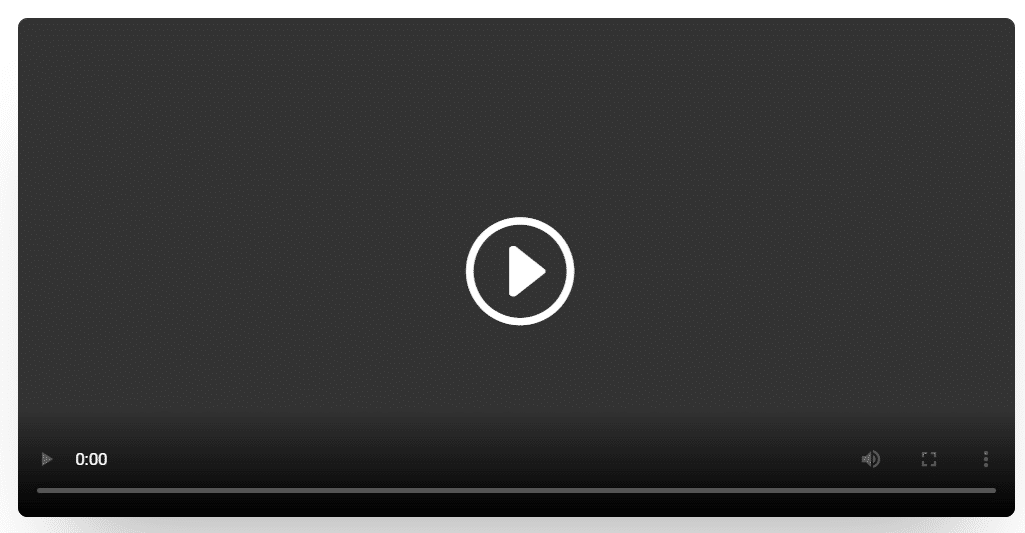 There should be additional explanations, but the video was removed.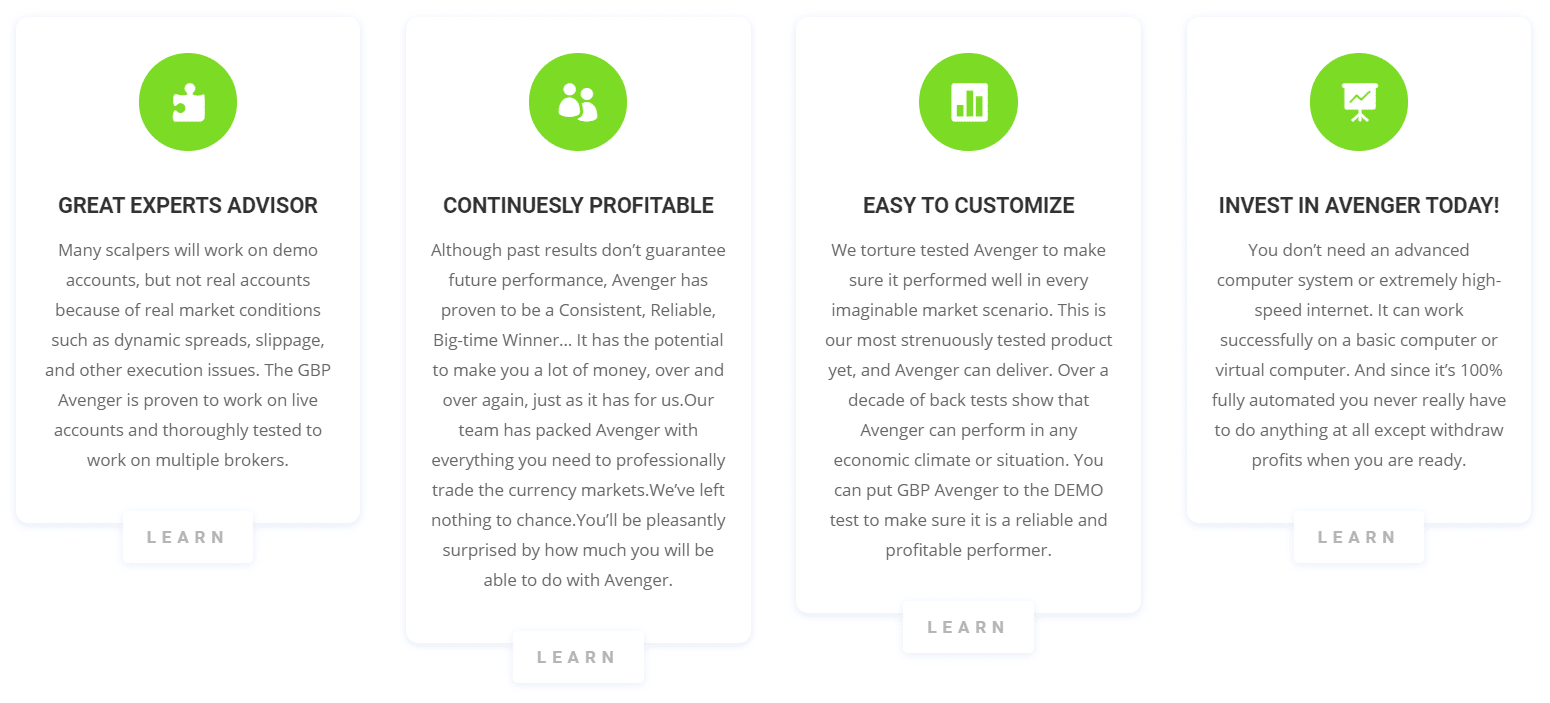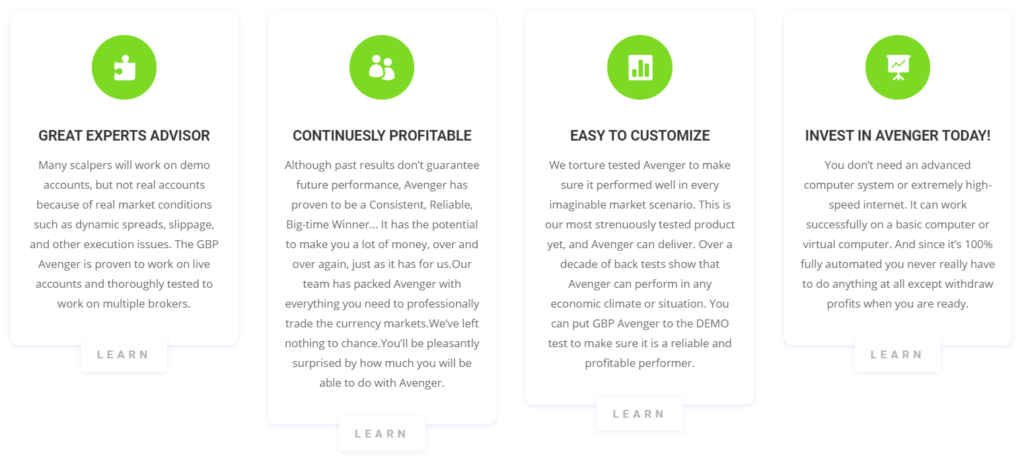 The "Learn" buttons go nowhere too, so it's all info we have. From this schema, we know:
The EA performs a scalping strategy.
It can be applied to the demo or real accounts.
It's a plenty-of-money robot.
The robot has received a decade of testing experience.
It can be run on any PC with a stable internet connection.
The robot is a full-automated trading solution and doesn't need human interventions.
How to start trading with Forex GBP Avenger
To get started, we have to follow several simple-to-do steps:
We have to pay for the EA.
We have to download a copy of the product.
We have to complete a registration on any broker.
We have to download and install the MetaTrader 4 platform.
We have to attack the EA to any shart we want.
The developers didn't provide info about margin requirements, preferable risks, the minimum, and a desirable balance.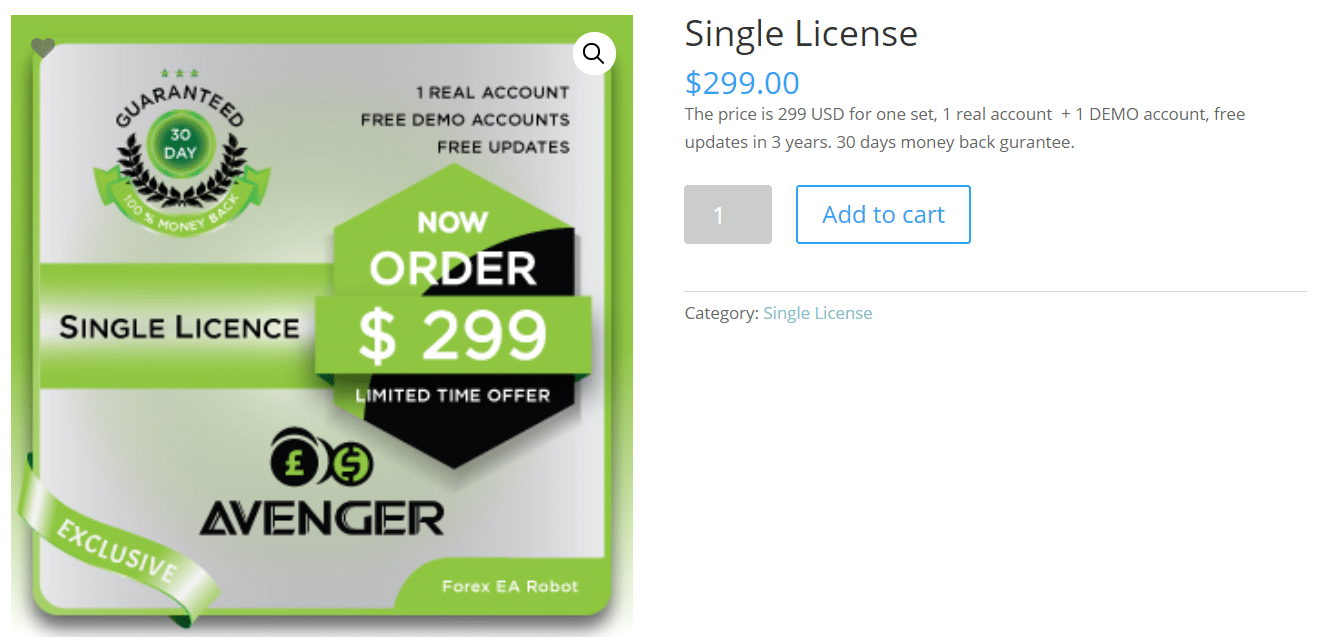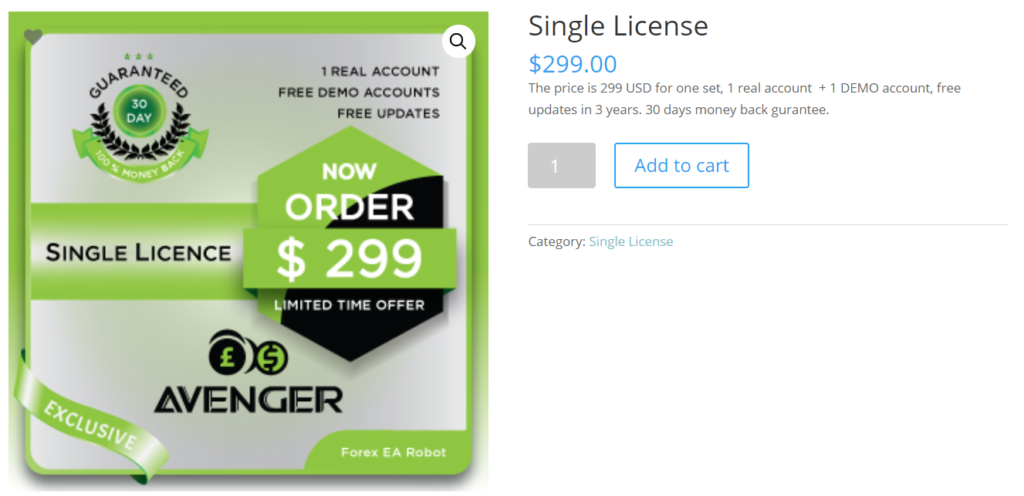 EA's copy costs $300 (Limited time offer). The package includes one real and any number of demo accounts, free updates and upgrades only in 3 years (!), and a 30-day money-back guarantee.
Forex GBP Avenger Backtests
The developers provided no backtests reports, having said that they had 10-year backtests. It looks suspicious.
Trading Results
All three accounts have been stopped on June 16, 2020, August 13, 2020, and September 16, 2020 (after it went to eat the initial deposit).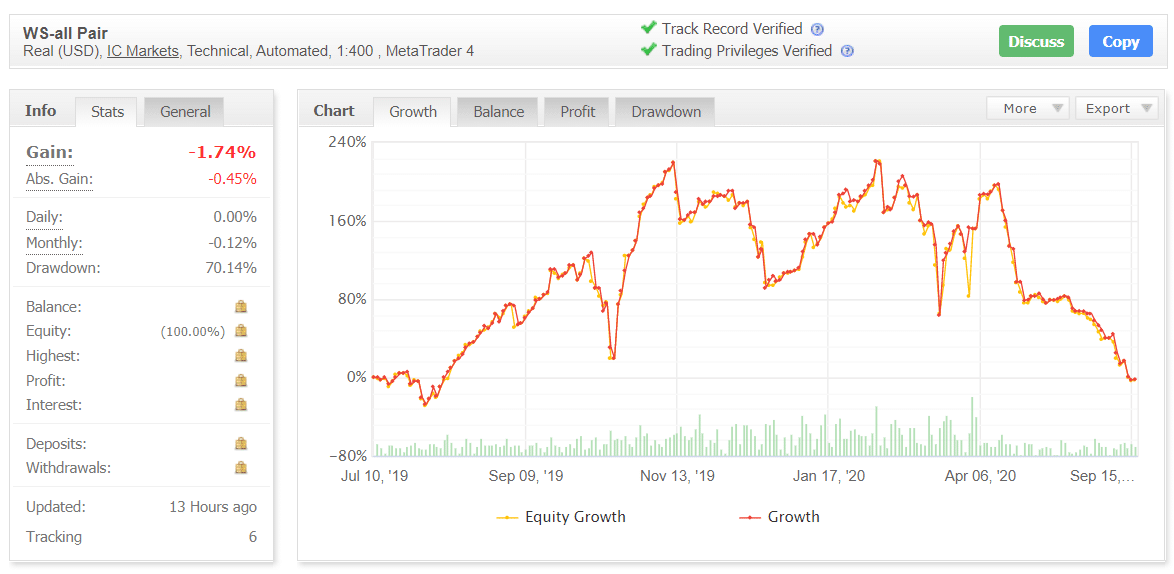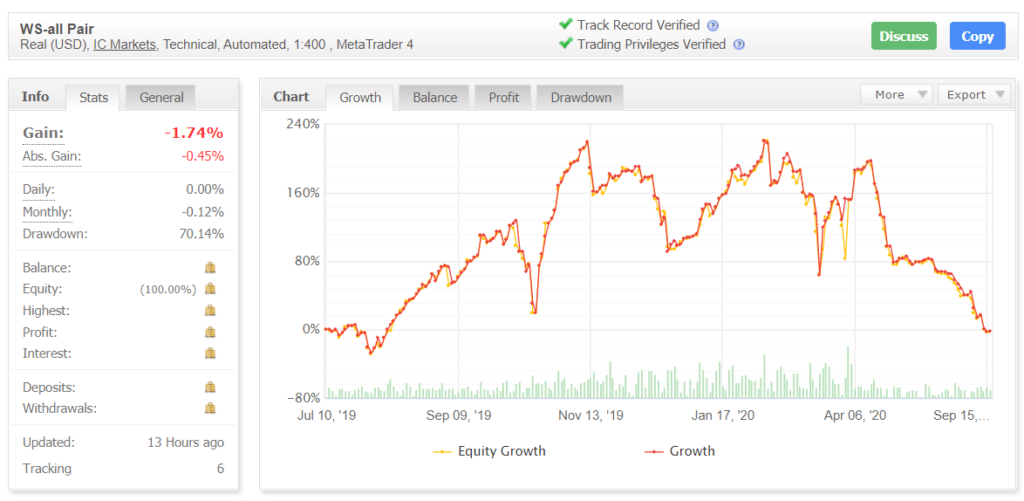 As we can see, it was one, big, endless disaster. It's an all pairs version of the robot at the real USD account on IC Markets with a verified track record. The EA traded automatically with 1:400 leverage on the MetaTrader 4. The account was created on July 10, 2019. The absolute gain after a four-month fall has become -1.74%. An average monthly gain was -0.12%. The maximum drawdown was -70.14%. The drawdown with 1:400 leverage is a strange way to Stop Out for many traders.


The robot traded 1315 deals with a good number of pips (1629) as for an almost burn account. An average win (13.80 pips) is almost twice less than an average loss (-23.83 pips). The win-rate was between 65% and 67%. All of this means that money-management was broken. An average trade length was over six hours. The Profit Factor was 1.00.


It traded not all pairs, as the devs suggested to us, but only eight plus one trade on CAD/CHF symbols. In general, the EA traded okay, nothing special.


It traded the end of the American session and the opening of the Asian one.


The weekly chart looks like a tree. It's typical for a robot to trade like this.


The robot traded with insanely high risks, having tried to recover losses.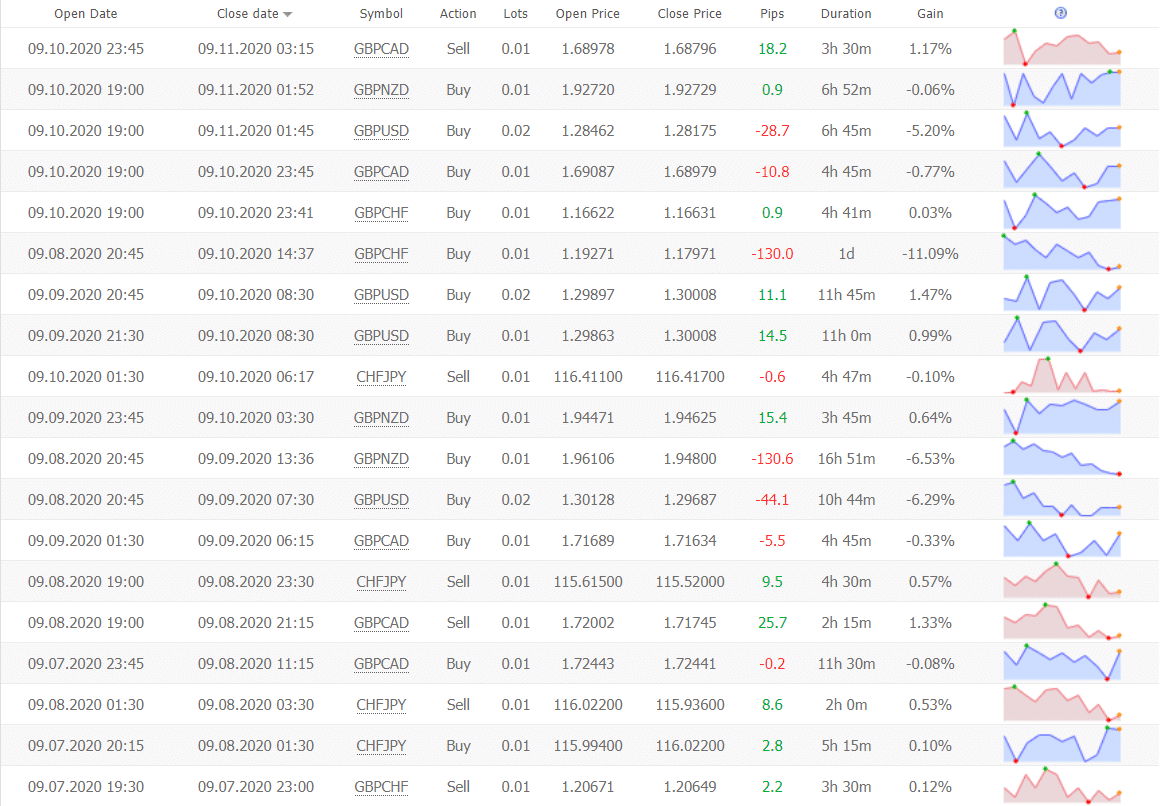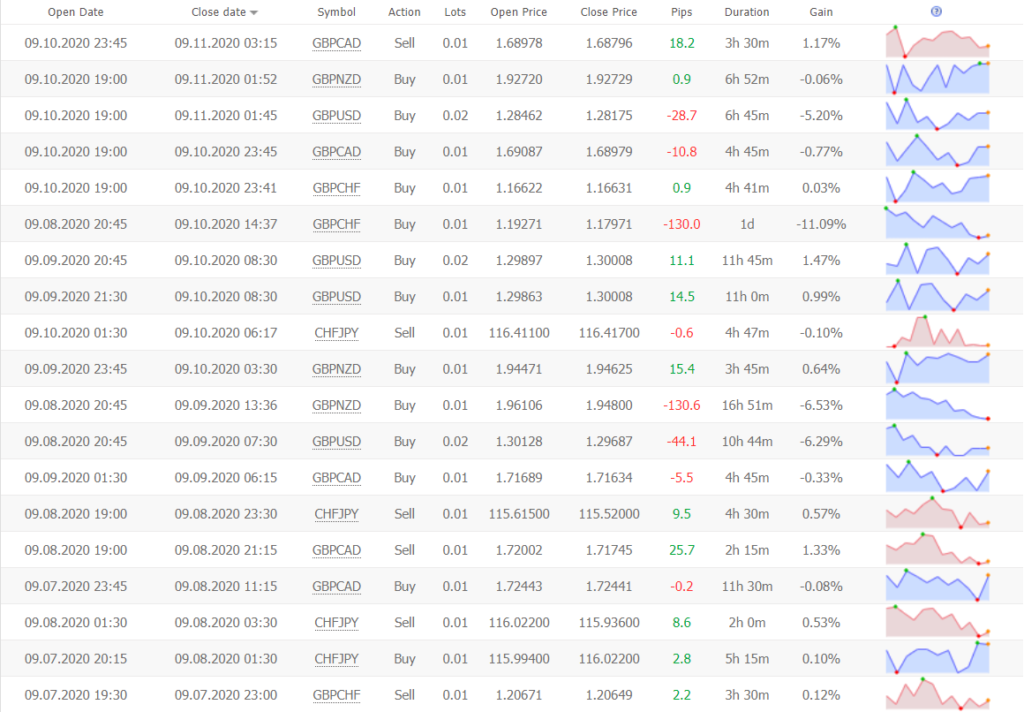 The robot has set unfriendly SL levels. -130 pips is something from another world for a win-rate like this.
People feedback


There's a page of Forex GBP Avenger on Forex Peace Army. The robot traded for a big period, but there are no comments from happy/unhappy customers. It means there were just a few copies sold.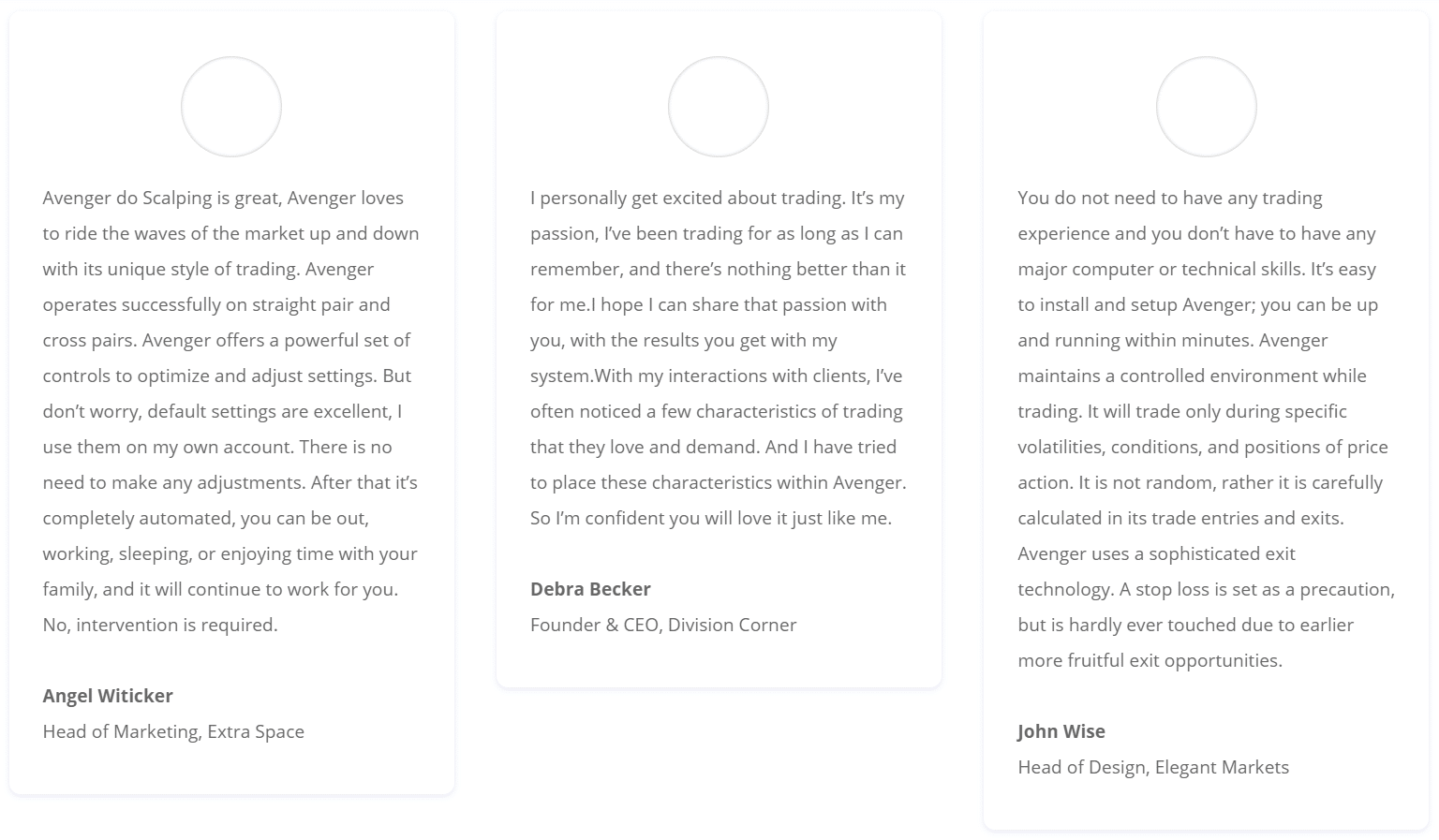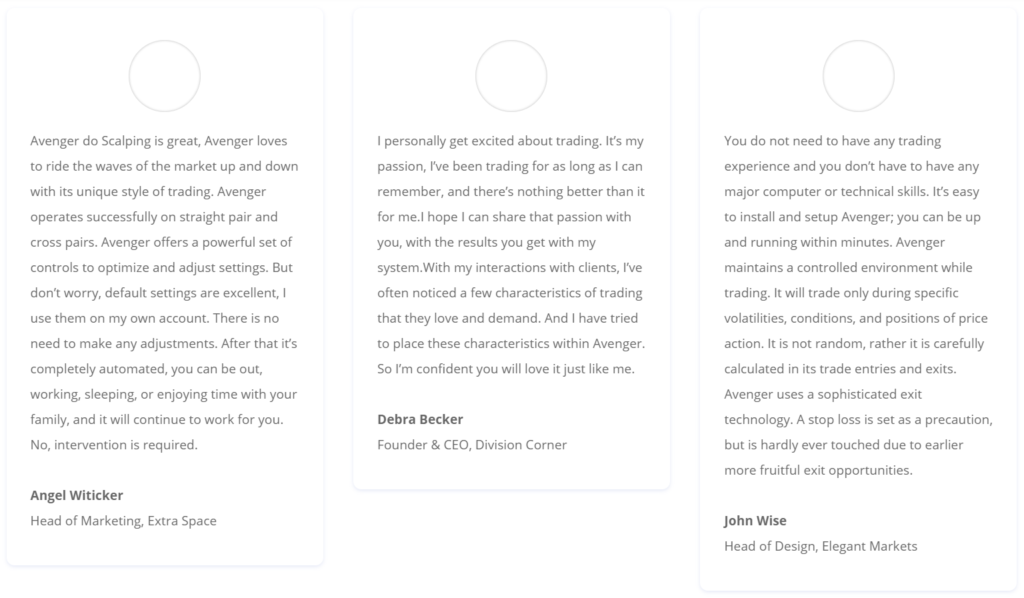 There are some fake reviews on the site from weird persons. Just look at their positions: head of marketing, CEO, head of design (?).


Their FAQ is a cherry on the top. Instead of answers, there's a text from a site template.
Wrapping up
Advantages
Disadvantages
Forgot and abandoned site
No strategy explanations provided
No settings revealed
No money-management advice provided
No backtests provided
Horrible trading results
Weird SL levels
Trading with insane risks
Insane pricing
Fake people's feedback
Summary
Forex GBP Avenger has never been a good, stable, and consistently profitable robot. The presentation looks like the vendor doesn't care about it at all: pictures and videos were removed, FAQ text has never been prepared to help customers. Everything tells us, "It was a scam service. Runaway." The last available trading results showed that the EA was manually stopped when it started wasting the initial deposit. So, the devs didn't allow it to recover.