With the claim of consistent profits for over two years, Ninja Scalper is an EA targeting the EURUSD pair. This is a fully automated system that uses a five-minute timeframe for trading. According to the vendor this system has over 20 years of consistent results.
With most of the Forex robots in the market making similar promises, does this system actually work? Read this Ninja Scalper review by our experts to find out whether this is a trusted system or not.
Is This a Perfect Trend System to Use?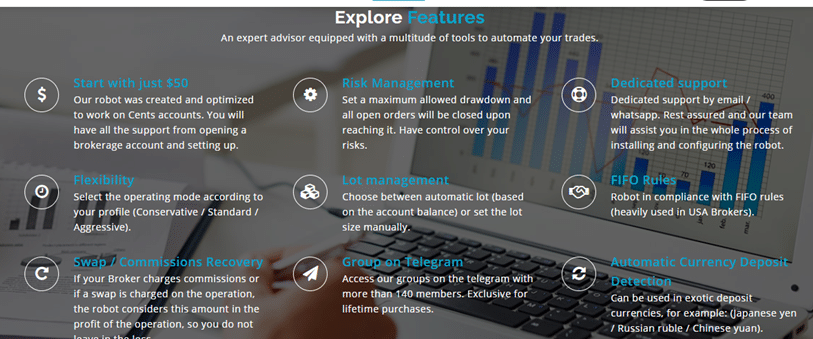 In contrast to other automated trading systems available now, Ninja Scalper focuses on Cents accounts. It provides full support for brokerage account opening and setting it up. Important features of this expert advisor include dedicated support via WhatsApp and email for queries on installation and working of the robot, risk management, and management of lot size. You can choose from the different trading modes namely, aggressive, standard, and conservative modes.
Other significant features include FIFO compliance, recovery of swaps or commissions, and access to Telegram group that has over 140 members. We could not find any information about the developer team which makes us suspicious about the reliability of this system.
Regarding the strategy used, a statistical analysis is used for deciding the entry and exit points. The MACD indicator and few other trend indicators are used. There is no further information about the strategy. The explanation provided is not sufficient to assess the performance of this automated system.
How to Start Trading With Ninja Scalper?
Four different price packages are provided for traders. This includes a basic package of $30 for 30 days, a popular package of $50 for 3 months, a huge package of $100 for 6 months, and the Wow package that costs $149 for a full lifetime license.
Although the price is not as expensive as some of the Forex robots online, the low rate makes us suspicious of the quality provided and the results. The minimum recommended amount for trading is $50. Traders can customize their package by choosing from the three different modes present. Inbuilt management of money option helps to control the drawdown to a nominal level.
Ninja Scalper Backtests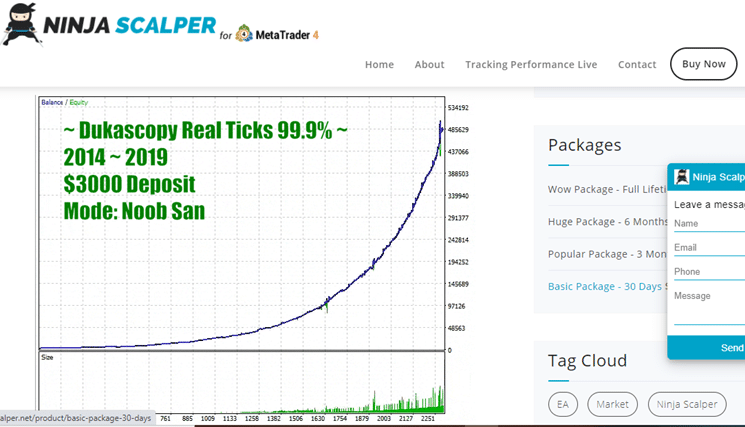 Backtesting results are displayed by the vendor on the official site. The backtest shown above is done over 5 years with a deposit of $3000 and uses 99.9% modeling quality. We could not find details of the backtest on the site, which would have helped in an in-depth analysis of the strategy test. Furthermore, backtests reveal only historical data which are not indicative of a similar performance in the future.
Trading Results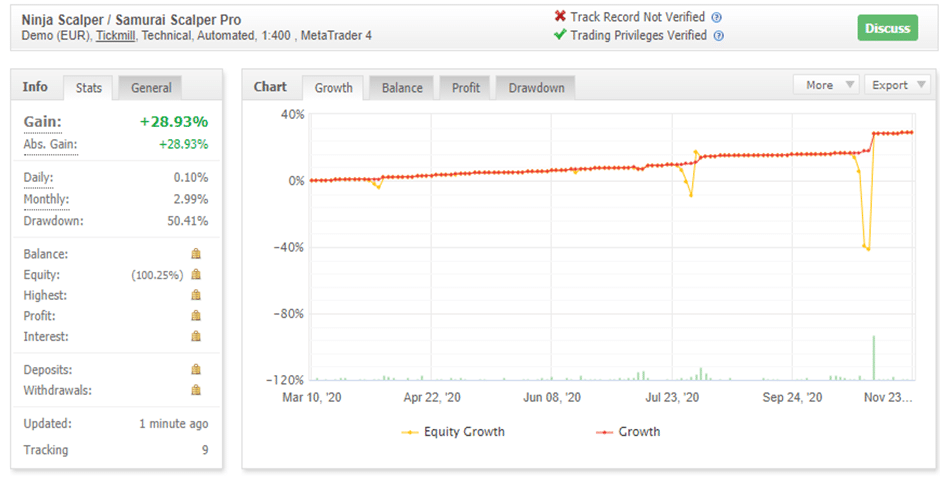 Only one verified Myfxbook trading result for a demo account is provided by the developer. However, the track record is not verified and only trading privileges are verified for this account. This demo account uses a leverage of 1:400 and displays a gain of 28.93%. The daily and monthly gains are 0.10% and 2.99% respectively.
A huge drawdown of 50.41% is seen which shows that the account was in danger of losing more than half of its balance. Many of the details such as the balance, equity, etc. are hidden by the developer which raises a red flag. Furthermore, the absence of a real account also confirms our suspicions regarding the performance of this Forex robot.
False Claims of Consistent Profits
According to the developer information on the official site, the Ninja Scalper signal has been running in the real market for over two years with consistent profits. And, the team claims to have 400 satisfied buyers with top ratings.
However, we could not find a real live account on the Myfxbook site for this Forex robot. Furthermore, there are no positive user feedbacks for this system on reputed review sites. All these raise a red flag.
People Feedback
User reviews help assess the reliability of an expert advisor and help traders decide on whether it is suitable for them. We could not find user reviews for this Forex robot on sites, such as Forexpeacearmy, Trustpilot, Myfxbook, etc. This confirms our suspicions about the system being an ineffective one.
Conclusion
Advantages
Price is affordable
Backtests with 99.9% modeling quality
Disadvantages
Huge drawdowns and low gains
No live trading accounts
No user feedbacks
Does not offer a money-back guarantee
Summary
Wrapping up our Ninja Scalper review, the system lacks reliability in several aspects as revealed in our detailed review. Lack of vendor transparency, absence of user feedback, and poor performance are significant factors that lower the reliability of this expert advisor.
The absence of real live account results makes it difficult to assess the performance of the system in real-time. This further confirms our stand that this is not an automated system we would recommend.