Forex Gump is a Forex robot having a total return of more than 2000% after two years of live trading. As per vendor claims, you won't miss out on a single profitable trading opportunity when you work with this system. However, whether the robot is profitable or not can only be determined by carrying out a thorough analysis of the different system aspects.
Is This The Perfect Forex EA You Need?
On the official website of Forex Gump, the vendor has highlighted the live trading performance of the robot, verified by the FXBlue website. We also have a clear explanation of the strategy used by the system and how the EA functions. Additionally, we have the vendor's recommendations in regards to account balance, timeframe, and currency pairs.
Next, we have the pricing plans outlined, and a contact form using which you can drop a message to the customer service team. There is no information available on the company that created the software. We don't know who the developers are, or what kind of experience they have. The vendor has chosen not to reveal the identities of the team members, and we don't have a physical address for the company either.
Using Forex Gump, you can trade USD/JPY, USD/CHF, USD/CAD, GBP/USD, EUR/USD, EUR/JPY, EUR/GBP, EUR/CHF, and AUD/USD on the M1 timeframe. It has an in-built news filter and a trendy candle and is able to adjust itself to changing market conditions. The vendor does not explain in detail the trading strategy used by the robot, in spite of dedicating an entire section to it. This might come as a disappointment to some of the more technically inclined traders.
How to Start Trading With Forex Gump
There are two distinct pricing plans for Forex Gump, priced at 199 and 399 Euros, respectively. For the first plan, you get access to a single live account and a single demo account. The second plan, on the other hand, provides you with 3 live accounts and an unlimited number of demo accounts.
With both the plans, you get free updates, free 24/7 support, and a 30-day money-back guarantee. There are three different settings for this robot, namely high, middle, and low. This, you never lose more money than what has been specified in the EA settings.
Programmed with full market implementation and evaluation, it keeps functioning at all times without being affected by negative circumstances and emotions. It operates 24 hours a day, 5 days a week looking for lucrative opportunities. The vendor recommends using a $4000 account to trade with this robot, and a minimum of $40 for a cent account, with leverage of 1:100 or more.
Forex Gump Backtests 
We don't have the backtesting data for Forex Gump on the official website. This comes as a bit of a disappointment since backtesting data provides us with some crucial details about a system's performance based on historical data. We hope the vendor considers including this in the future.
Trading Results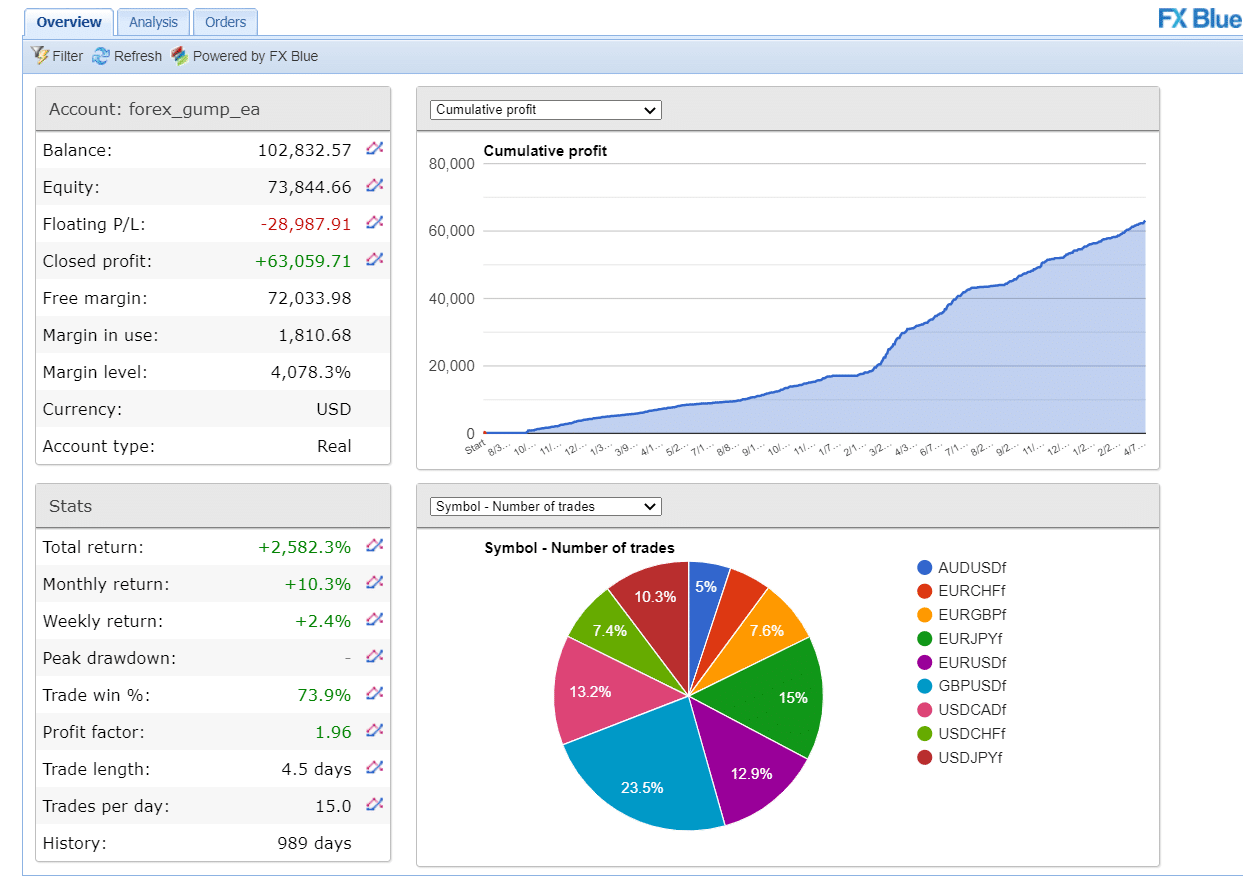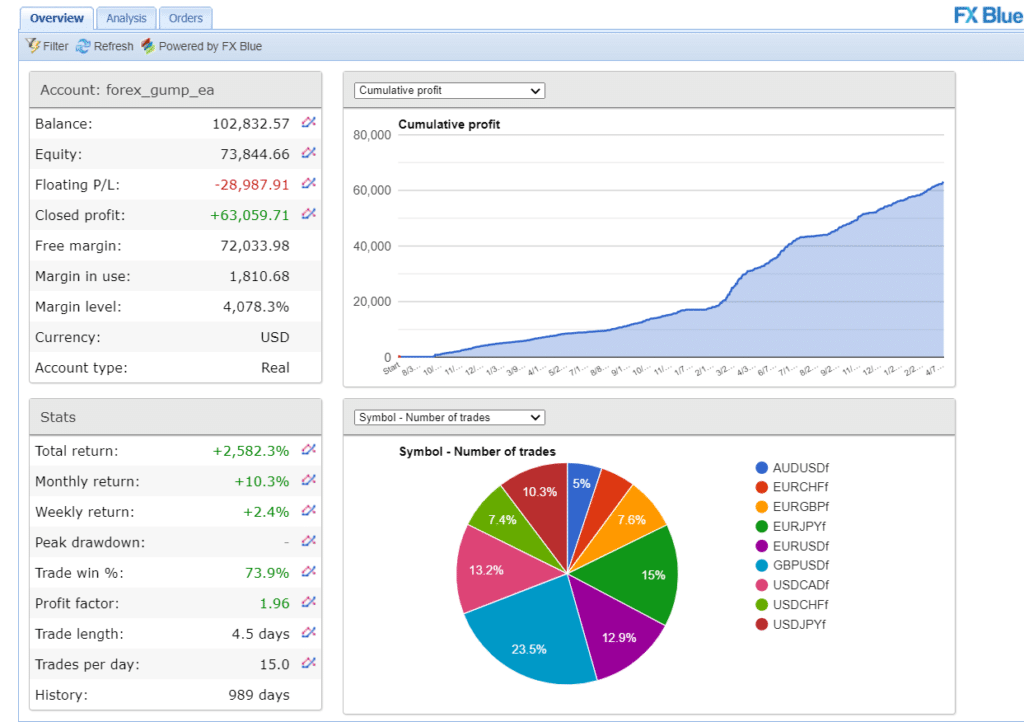 This is a live trading account for Forex Gump on the FXBlue website, having a trading history of 989 days. During this time period, it has closed a total profit of $63,059.71 and a total return of 2582.3%. We can see that it has won 73.9% of all the trades it has placed and has monthly and weekly returns of 10.3% and 2.4% respectively.
The profit factor of 1.96 is quite high compared to other Forex EAs, and it tells us that you have a high chance of winning consistent profits with this system.
Other Notes
Forex Gump has an affiliate program where users are paid a 30% commission excluding processing fees for each sale made by the visitors they referred to the website. You can place the affiliate ID and link on your website to direct customers to the Forex robot. The commissions are paid via PayPal.
People Feedback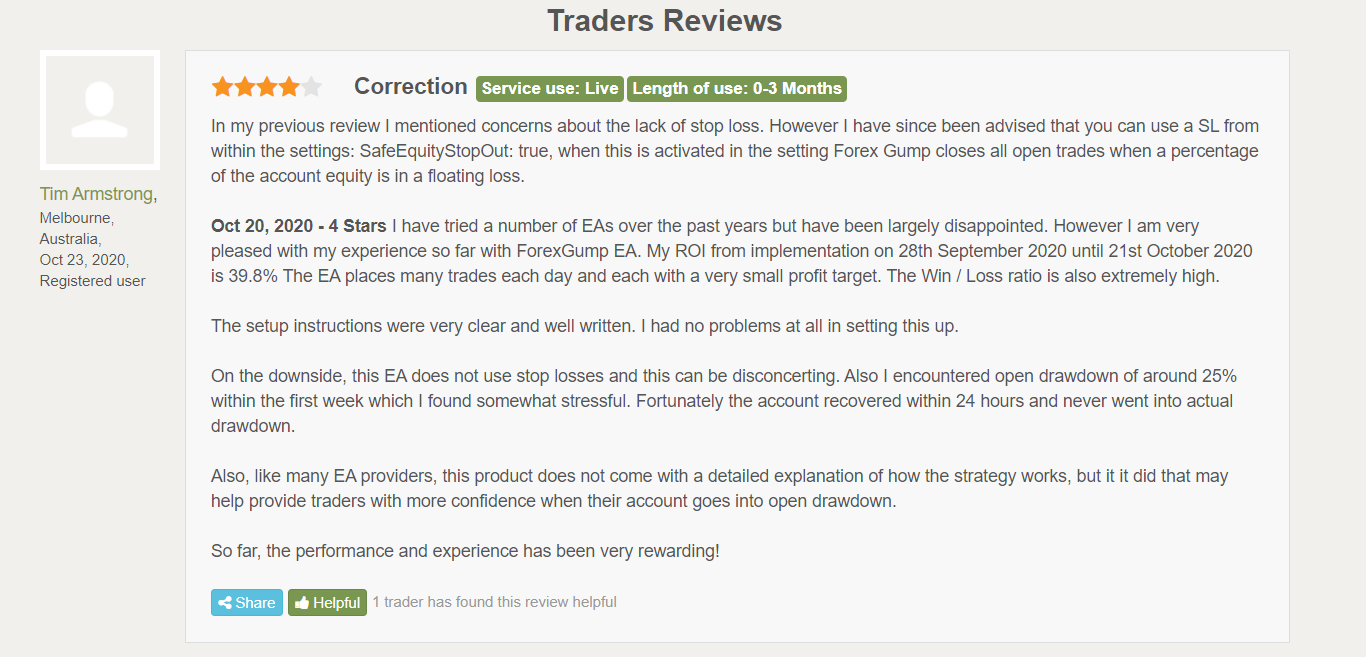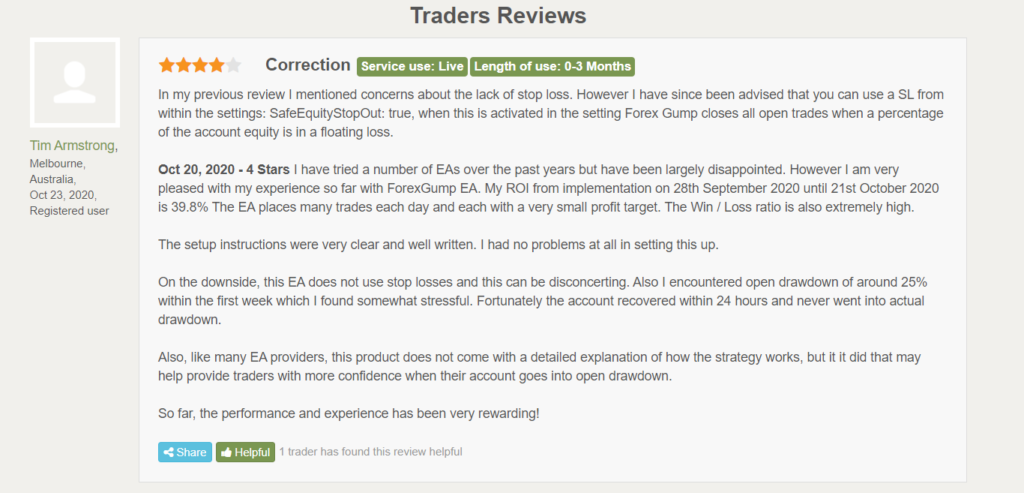 We found a single customer review for Forex Gump on the FPA. Here, the customer has mentioned that the system has a high win/loss ratio and that it has clear setup instructions. However ,he has also added that the robot does not use stop losses which may lead to high drawdown.
Conclusion
Advantages
Verified live trading results
Affordable pricing plans
3 different EA settings
Disadvantages
Inadequate strategy explanation
Lack of vendor transparency
No stop losses used
Summary
After evaluating all the different system aspects, we have reached the conclusion that Forex Gump is not a scam. It does share verified live trading data, but there are a few things that worry us, like the lack of vendor transparency and strategy insight. Furthermore, as a customer has mentioned in a review, the system does not use stop losses, which some traders might consider a risky approach.