Forex Paris is a new expert advisor that was released on March 29, 2021. It is a 2-in-1 adaptive and dynamic trading algorithm 'with more than 99% profitable trades in the historical backtest'. Today we are going to provide you with a detailed analysis of the service and letting you know all the details that the developer is providing us with.
Is it a good EA to invest in?
The product is placed on the MQL5 market. Forex Paris EA does not have an official website. The developer of this robot is Ruben Octavio Gonzalez Aviles from Switzerland. From his mql5 profile, we know that he is CEO at Rubengaviles. The developer has a high 3787 rating among the mql5 community. He has 475 subscribers.
We've gathered features, functionality, and strategy details in this list:
Forex Paris EA was published on the MQL5 on March 23, 2021
The current version of the system is 1,3. It was updated on March 29, 2021
There were 496 demo downloads and 8 activations of this EA
The robot was optimized to work on MT4 and MT5 platforms
Based on historical data, the adaptive and dynamic algorithm of this EA can provide more than 99% of profitable trades
The robot trades weekly and closes trades within the same day
The robot does not use Martingale, Smart Recovery, Grid Trading, or Averaging
Every trade has fixed SL and TP settings
Although traders can adjust the EA to suit their trading preferences, the dev recommends trading with default settings
The robot does not open more than 1 trade at a time
It trades GBP/USD and EUR/USD currency pairs
Traders can also test the robot on any other currency pair (the default logic of the EUR/USD algorithm is applied)
Although the robot is compatible with any broker, the dev recommends us to trade with the VantageFX broker
The robot was tested for the period between 01.01.2016 and 23.03.2020 on 99% history quality data
The dev provides a direct link to their Telegram channel
The vendor also provides input parameters:

How to start trading with Forex Paris
Interested in the Forex Paris robot traders can buy a digital copy of this EA on the MQL5 marker. It is sold for $349. It should be also noted that the previous price of this EA was lower and equaled $299.

There is also a rental option offered. It costs $199 per month. If you want, you can test the robot on a Free Demo account.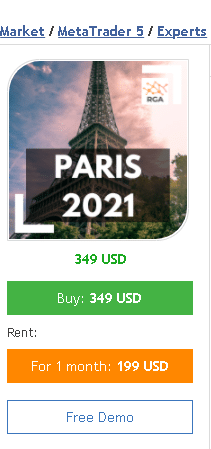 There is nothing told about the minimum trading balance or how to set up the EA. Moreover, no word was mentioned about the money-back guarantee. Risky as for a recently launched EA that has not obtained reputation and trust among Forex traders yet. Nobody is interested in investing money in a new trading system that does not even provide a money-back guarantee.
Forex Paris Backtests
The dev provides 2 backtest reports for each currency pair the robot was optimized to trade-in.
It's a EUR/USD report with a high 99% modeling quality. It was deposited at $500. For mostly 4 years of trading, the robot could generate over $728K of the total net profit. There were 1943672 bars in the test. The profit factor was sky high – 112, 12. There were 609 trades traded. Only 1 trade was lost, which represents a high win rate of 99%. The average win was higher than the average loss: $1218, 96, and $-1092, 60 respectively. The maximal drawdown was 20, 05%.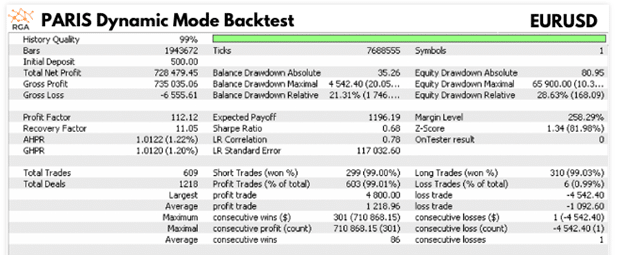 Trading Results
The account was launched on mql5 on March 23, 2021. The signal price is $199 per month – $6,63 per day. It is too much for signals. Usually, signals' cost ranges between $50-$100 per month.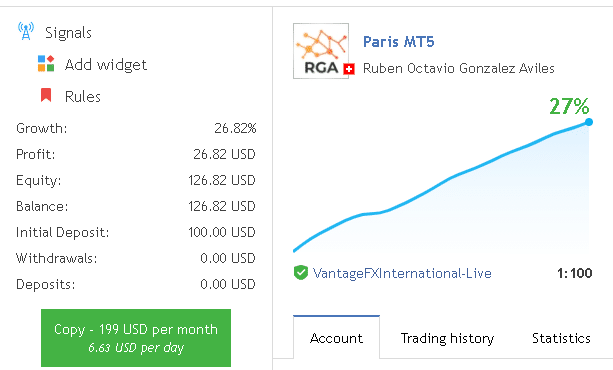 Being deposited at $100, the robot has brought 26, 82 dollars of profit. It trades with a 1:100 leverage. The trading days are only 44, 44% of the total (22 days) of trading. For this period, the total growth of the EA has reached 26.82%. On average, the robot trades 4 trades a week. An average trade length is 1 hour.

As you can see, the robot trades with low drawdowns. The maximal drawdown was on March 31 and equaled 6, 36%.

March and April trading results are same:

The root traded 17 out of 17 tradings with profits. There were 11 deals in the Long direction and 6 in the Short direction. The profit factor is high – 18, 53. The average monthly growth is 26, 82%. The recovery factor is 149. The average profit is $1, 67. The maximum deposit load is 66, 42%. It sets the trading account at a high risk of getting a Margin Call.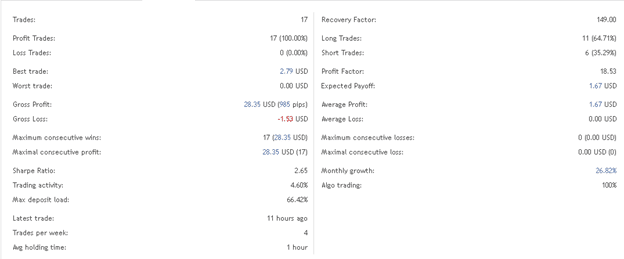 It trades 2 currency pairs: GBPUSD and EURUSD:

Telegram Group
The dev has provided a direct link to their Telegram group, which includes 638 members.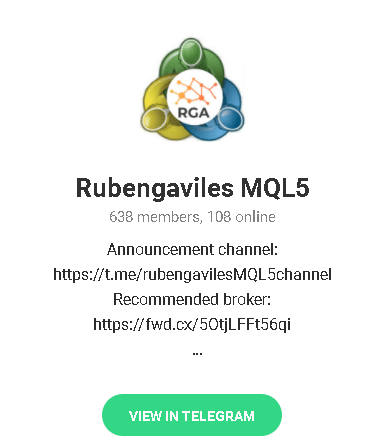 As you can see, Joan, who is an active person at the Telegram group, points out that Paris EA is better to run on default settings.

If you visit their Telegram group, you'll see active dialogues of traders who discuss their trading results achieved with Paris, Cairo, Tokyo, or Kyoto EAs.
People Feedback
Because the system is young, there are no customer reviews on third-party websites. We've found only 2 customer reviews on MQL5. Both of them are positive ones.

Summary
Advantages
Backtest reports provided
Real-account trading results provided
Telegram group for chatting
Disadvantages
High pricing
No strategy details published
No settings explanations provided
No money-back-guarantee provided
Two customer reviews published
Forex Paris EA makes a small profit on a $100 deposit. It trades 2 currency pairs and minimal risks to the account balance. Being released 3 weeks ago, the robot comes for extremely high pricing. A digital copy of this EA does not include a money-back guarantee, which is odd and suspicions. However, it's good that interested in the system traders can test the robot on a free Demo account. We need more time to monitor the trading results of this expert advisor and decide whether it is a good choice for traders to invest.