Foreximba is an expert advisor that promises stable and profitable results. It works on multiple pairs and even novice traders can easily install and start trading with it. To get a clearer picture of the system, we must analyze its various performance factors.
Is this the perfect Forex EA?
The presentation on the official website is not very detailed. We don't have proper explanations of the working principle and the trading strategy, and the vendor has not shared a list of features. There are multiple links to live trading and backtesting results. We also have the pricing details and a contact form for messaging the support team.
There is zero information on the developer behind this Forex robot. We don't know when the company was founded or whether it has built other automated trading systems in the past. The vendor has not shared the identities of the team members and there is no official address.
This robot only trades in EUR/USD and AUD/USD. It trades with a fixed lot size regardless of your account balance. Foreximba has a drawdown control feature, but the vendor has not clearly explained how it works. You can use this expert advisor with any broker of your choice.
Strategy insight is something most Forex traders look for because it helps them assess whether the robot is suitable for their trading style. Unfortunately, we have no information on the trading strategy employed by this expert advisor. The vendor has not explained how Foreximba looks for profitable opportunities or whether it trades with the trend or against it.
How to start trading with Foreximba
The current price of this Forex robot is $194.99. Compared to the market average price for expert advisors, the price is quite reasonable. The package contains a single lifetime license for a real account and three lifetime licenses for demo accounts. Also, you get a detailed user manual and support.
The vendor offers a 30-day money-back guarantee for this robot. In case the robot fails to generate profits, you can ask for a refund of the entire amount.
The minimum starting balance for this Forex EA is $60. We have no information about the EA settings and the vendor has not shared any other recommendations. Also, we don't exactly know how the robot works on a trading platform.
Foreximba backtests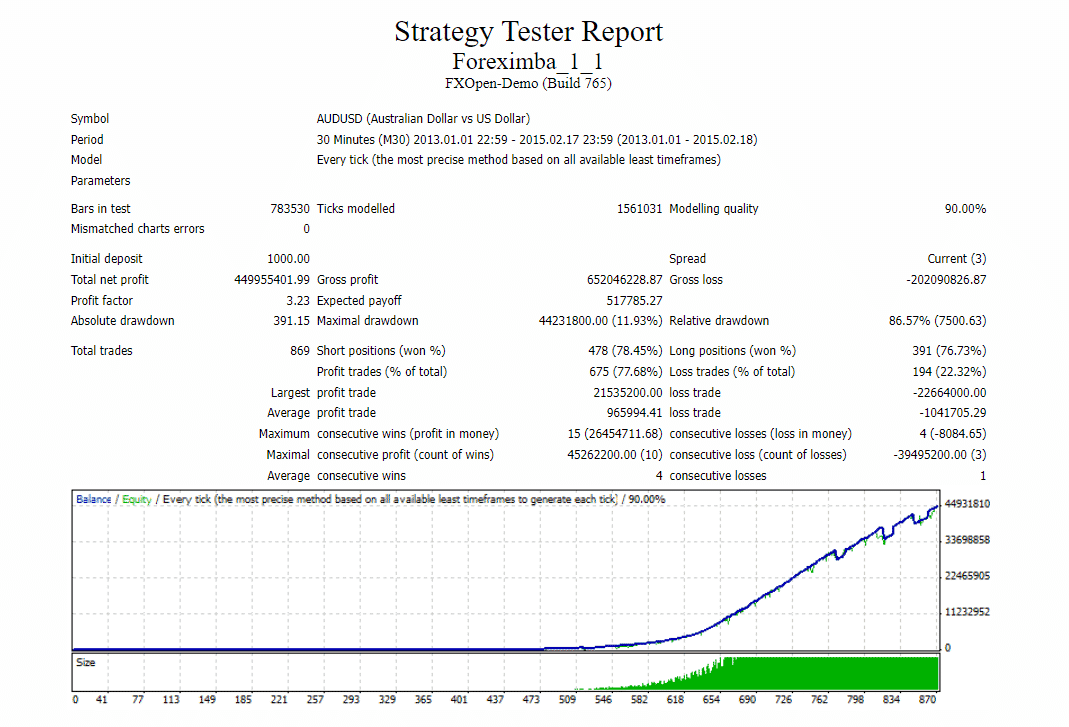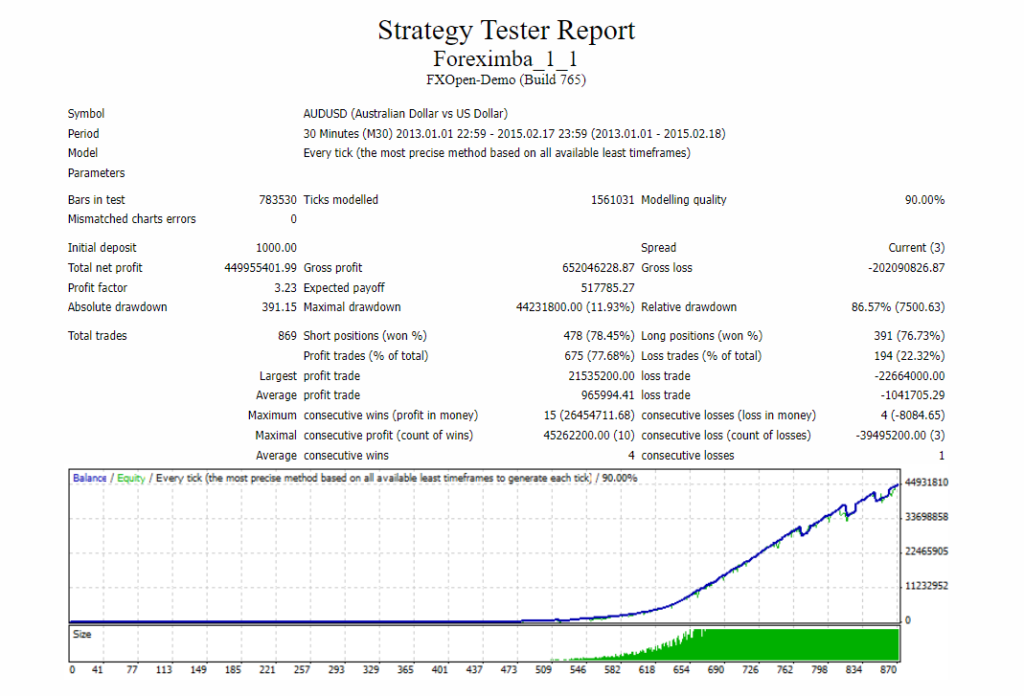 This backtest was conducted from January 2013 to February 2015 for the M30 timeframe. Foreximba used an initial balance of $1000 to conduct a total of 869 trades. It won 77.68% out of them, generating a total profit of $449955401.99.
The relative drawdown for this backtest was extremely high at 86.57%, and this indicates a high-risk trading strategy. There were 15 maximum consecutive wins and 4 maximum consecutive losses for this backtest. The profit factor for this backtest was 3.23.
Trading results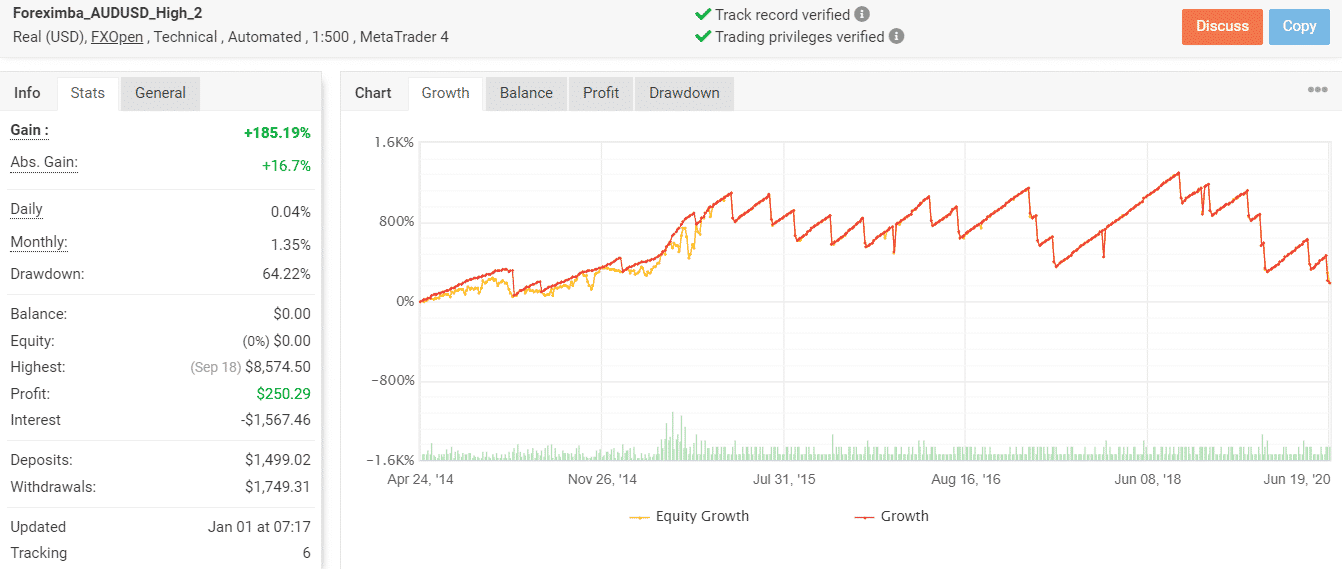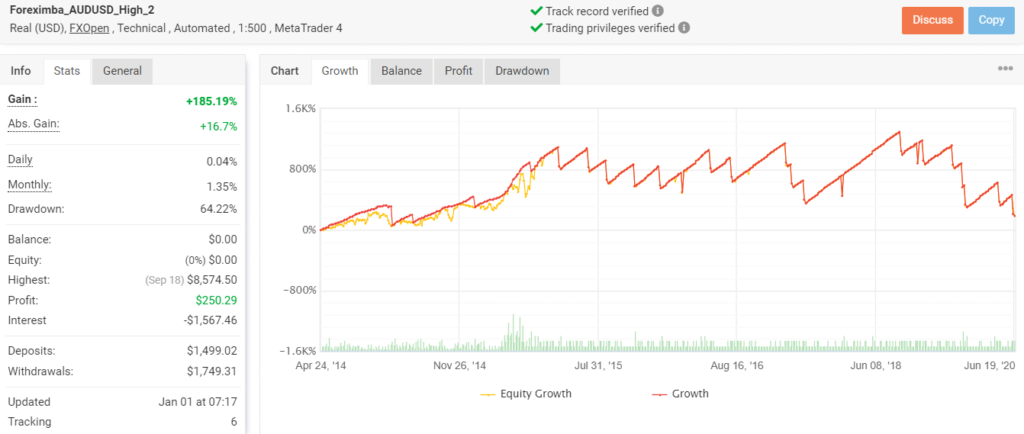 This trading account on Myfxbook has been active since April 24, 2014. To date, it has conducted 980 trades, but the total profit is only $250.29. The win rate for the account is 70%, which is slightly less in comparison to the live results. While the daily and monthly gains are 0.04% and 1.35% respectively, the drawdown is extremely high – 64.22%.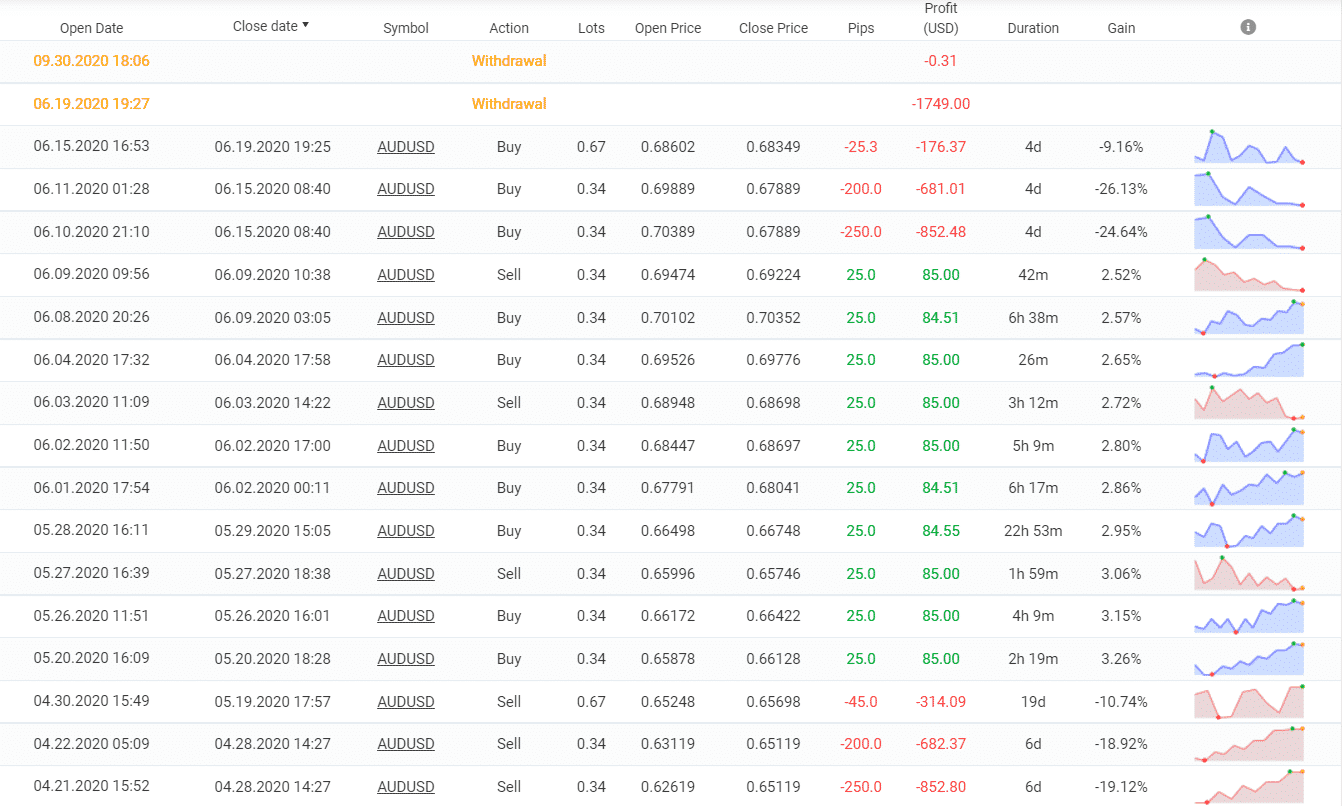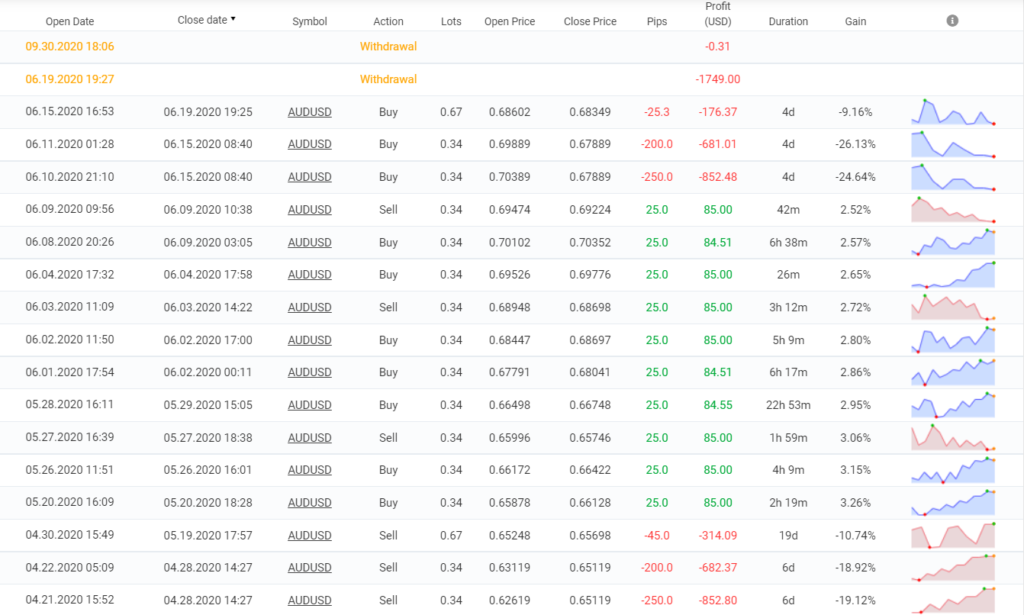 From the trading history, we can see that the last three trades placed by this expert advisor were closed in losses. The EA often suffers back-to-back losses and some of these are quite large. On 11th November, it suffered a loss of 26.13%. The average win and loss for this account are 24.46 pips/$66.40 and -49.28 pips/-$151.86, respectively.
Customer support
There is no official email address and the website does not have a live chat feature. Therefore, you can only contact the support team via the contact form.
People feedback
At this moment, there are no user reviews for this expert advisor on websites like Quora, Myfxbook, Trustpilot, and Forexpeacearmy. It seems that not many traders are currently using this robot for live trading purposes.
Summary
Advantages
Verified trading results
Money-back guarantee
Disadvantages
High drawdown
Lack of vendor transparency
Lack of strategy insight
Foreximba is an expert advisor sold by an unknown developer with no reputation. We don't exactly know what strategy it uses, but it seems to be a risky one since the robot exhibits a high drawdown during live trading. It is available for an affordable price but is prone to suffering consecutive losses and some of them are quite large.