Disclaimer: The information provided here does not constitute any form of financial advice. Readers are fully responsible for conducting their due diligence before making any investment decisions.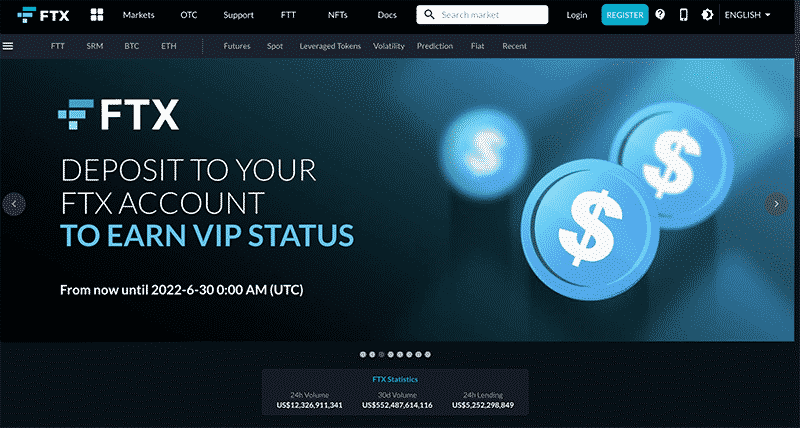 FTX: Market Sentiment
Here, we'll observe the Crypto Fear & Greed (FGI) Index computed by Alternative.me. The current reading is 47, which is a 'neutral' bias as in the image below.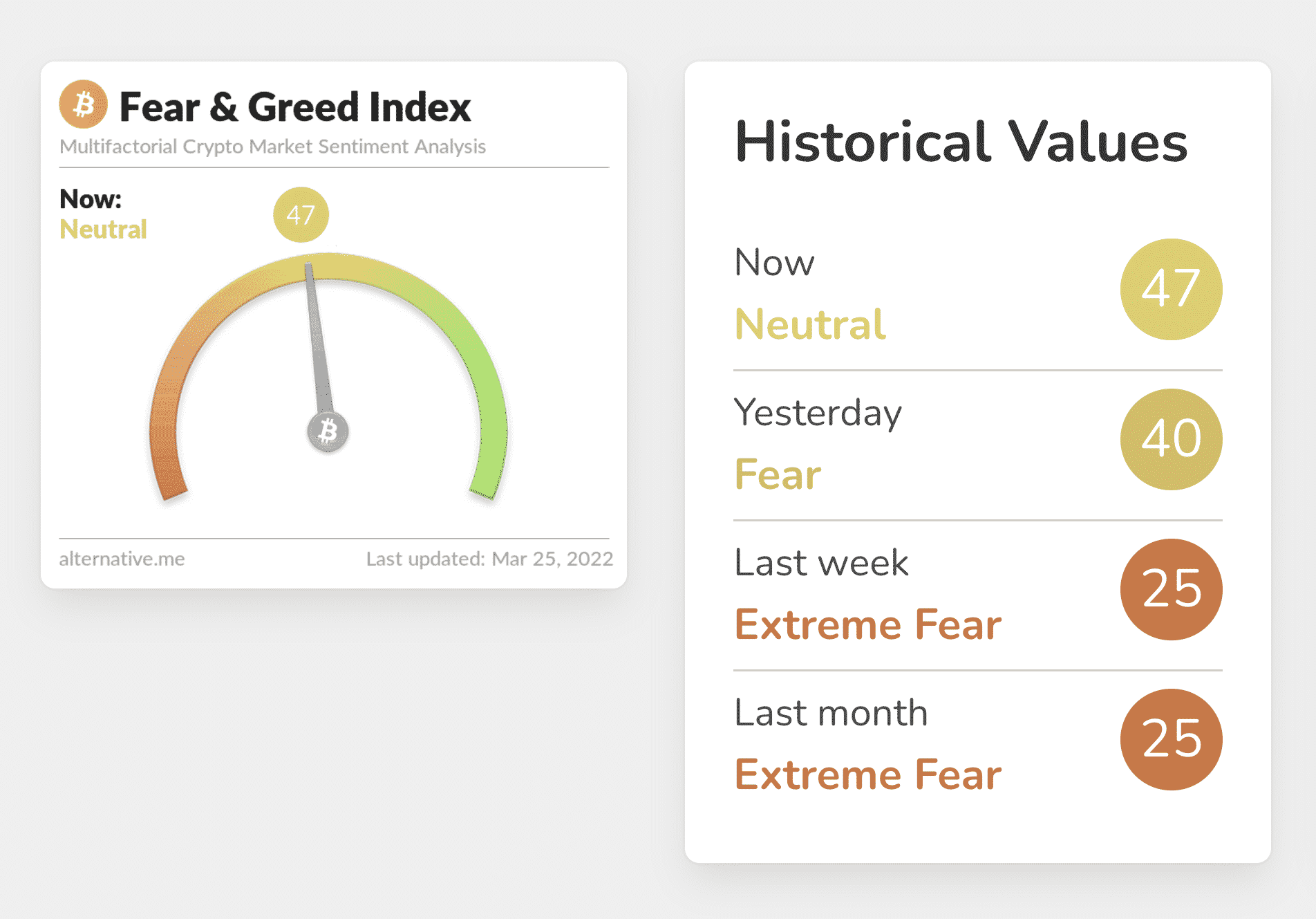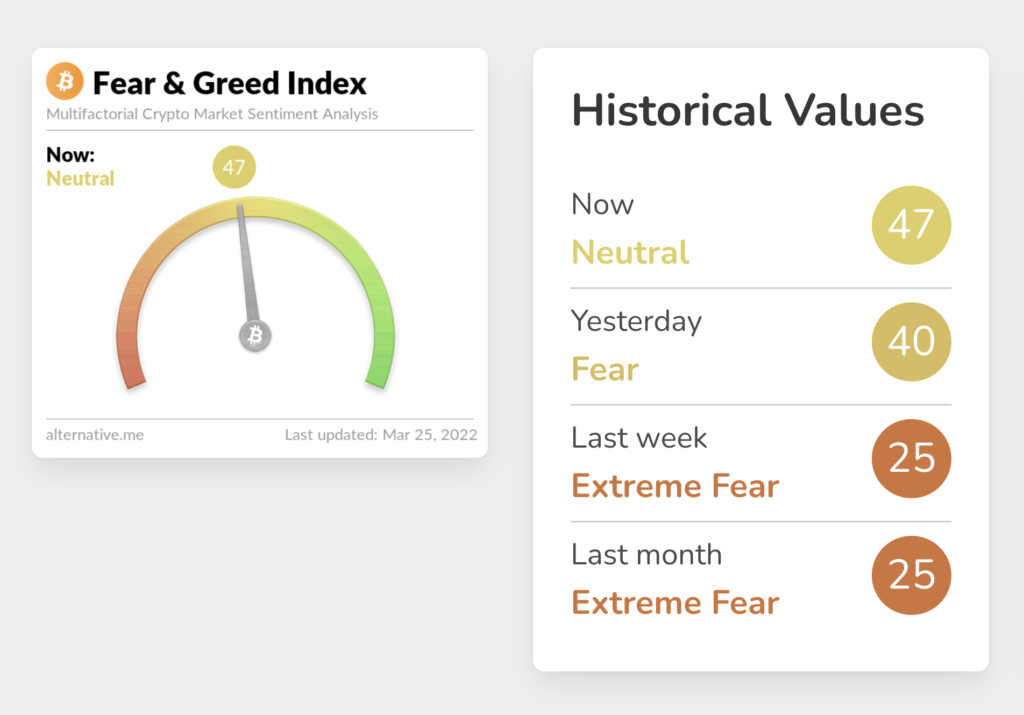 Technically, 47 is considered a 'fearful' market (as it constitutes readings between 0-50), and with fear, experts perceive this sentiment as representing buying opportunities.
In the image, we can see the FGI moved from 'extreme fear' (25) in the last month and gradually moved up. This behavior correlates with the price behavior of many altcoins like FTX, which have seen some rallies over the past few days.
We believe that the FGI should eventually move into the 'greed' territory (readings between 50-100), the sentiment that typically suggests some correction in the markets. The technical and fundamental analysis still points to bullishness for FTT. However, we cannot rule out an impending pullback.
Technical analysis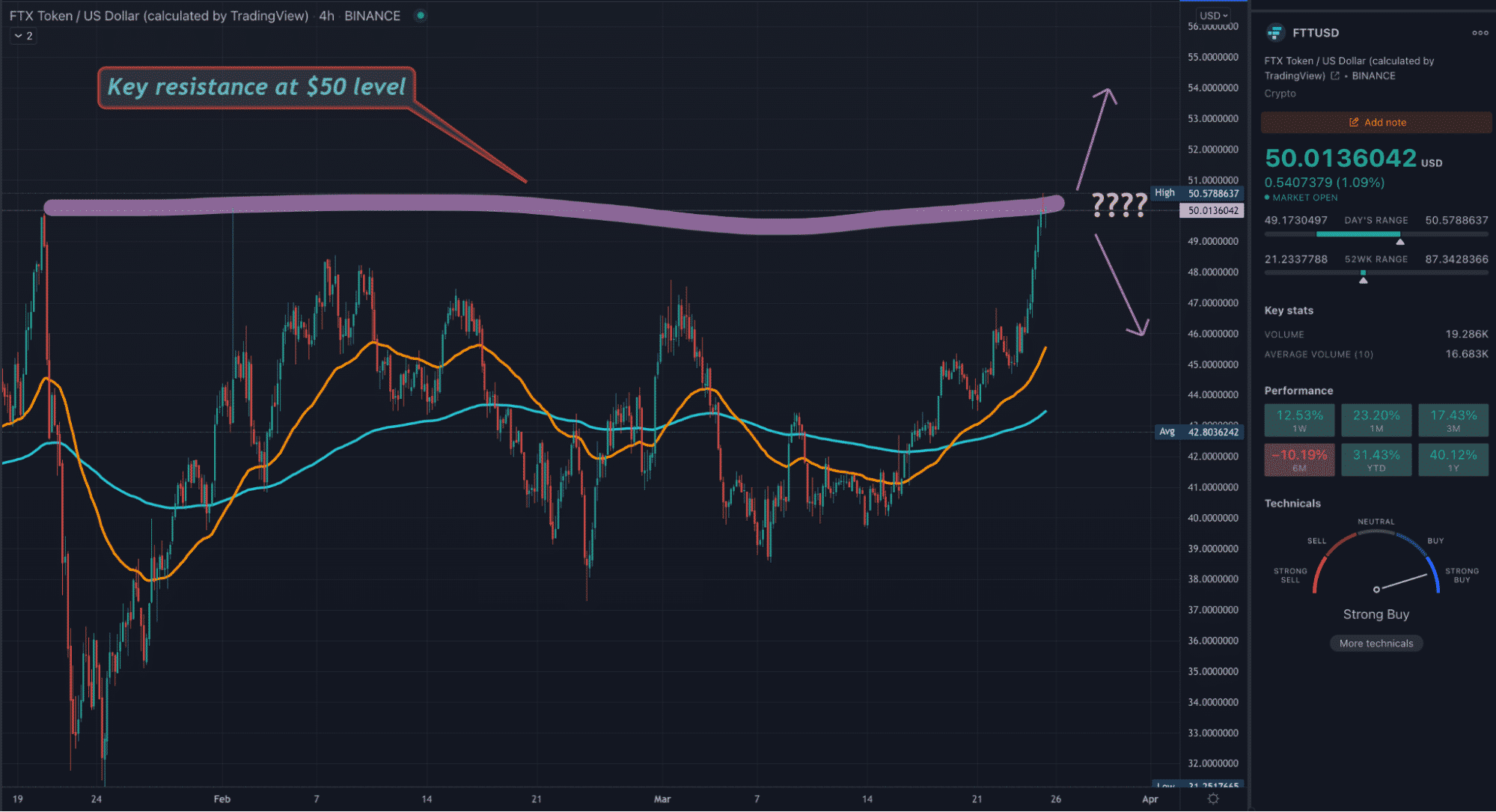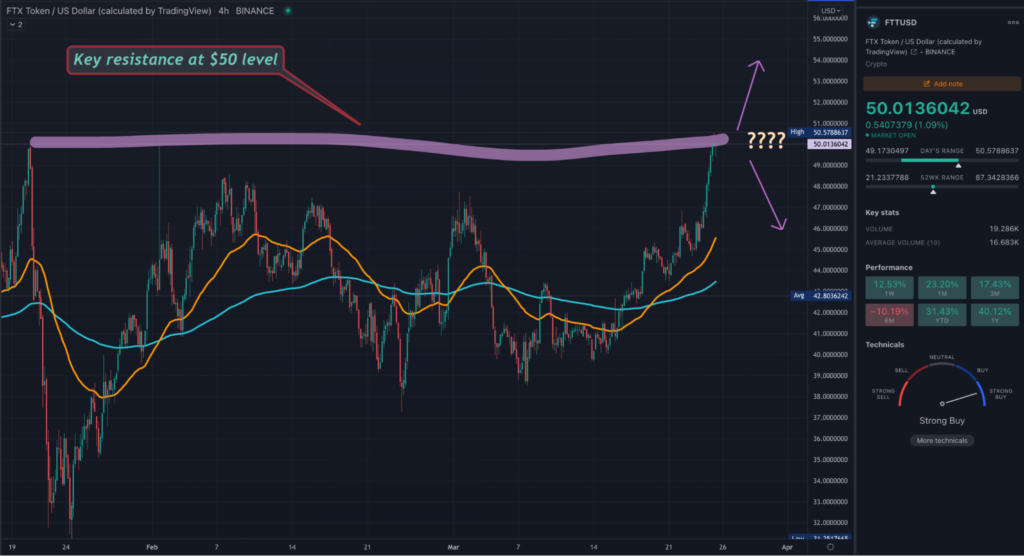 FTT is evidently in strong bullish momentum. We've applied the 50-day (orange) and 200-day (blue) moving averages on the chart above. The price is well above the two MAs, and the 50 has crossed on top of the 200. These are both signs of a market likely to trend higher.
We can see a rally of green-colored or bullish candles even without looking at indicators. However, despite this buying pressure, FTT is currently at a key resistance level at $50. How the next few candles close around this point will be of significant influence.
Considering the FGI reading is neutral and closer to the greed side, a temporary sell-off is possible.
Fundamental analysis
Over the past two weeks, FTT's price has risen by about 30%, and a few reasons have fueled this. In the last few days, FTX's CEO, Sam Bankman-Fried, announced that the exchange acquired the video game 'Good Luck Games,' which will see the company venturing more into Web3 and NFTs.
WhaleStats, a site analyzing the top 100 ETH, BNB, Polygon, and Avalanche wallets, has recently noted many whales buying up various altcoins, including the FTX Token.
Furthermore, FTX Europe, a recently established division of FTX, became the first crypto exchange for receiving an operating license in Dubai, where it plans to set up a regional office.
According to CryptoSlate, FTT is the fourth-largest exchange utility coin by trading volume, with a current market cap of about $6.9 billion. FTX tends to have a favorable reception partly because of its billionaire co-founder and CEO, Sam Bankman-Friend, known for his altruism.
Lastly, FTT was designed to be deflationary. Aside from having a fixed supply, periodic 'burns' are conducted to reduce the number of circulating tokens.
So, overall, there are a lot of positive developments for FTT, meaning this token is still quite fundamentally attractive.
FTX (FTT) Price Prediction: 2023-2025
So, where next for FTT in 2023 and 2025 regarding price?
2023 forecasts
For this year, most forecasting sites are leaning towards an average of $75.77, with a minimum of about $41.86. Of the ones we observed, Gov Capital was one of the most optimistic, with the lowest and highest valuations of $72.32 and $97.84, respectively.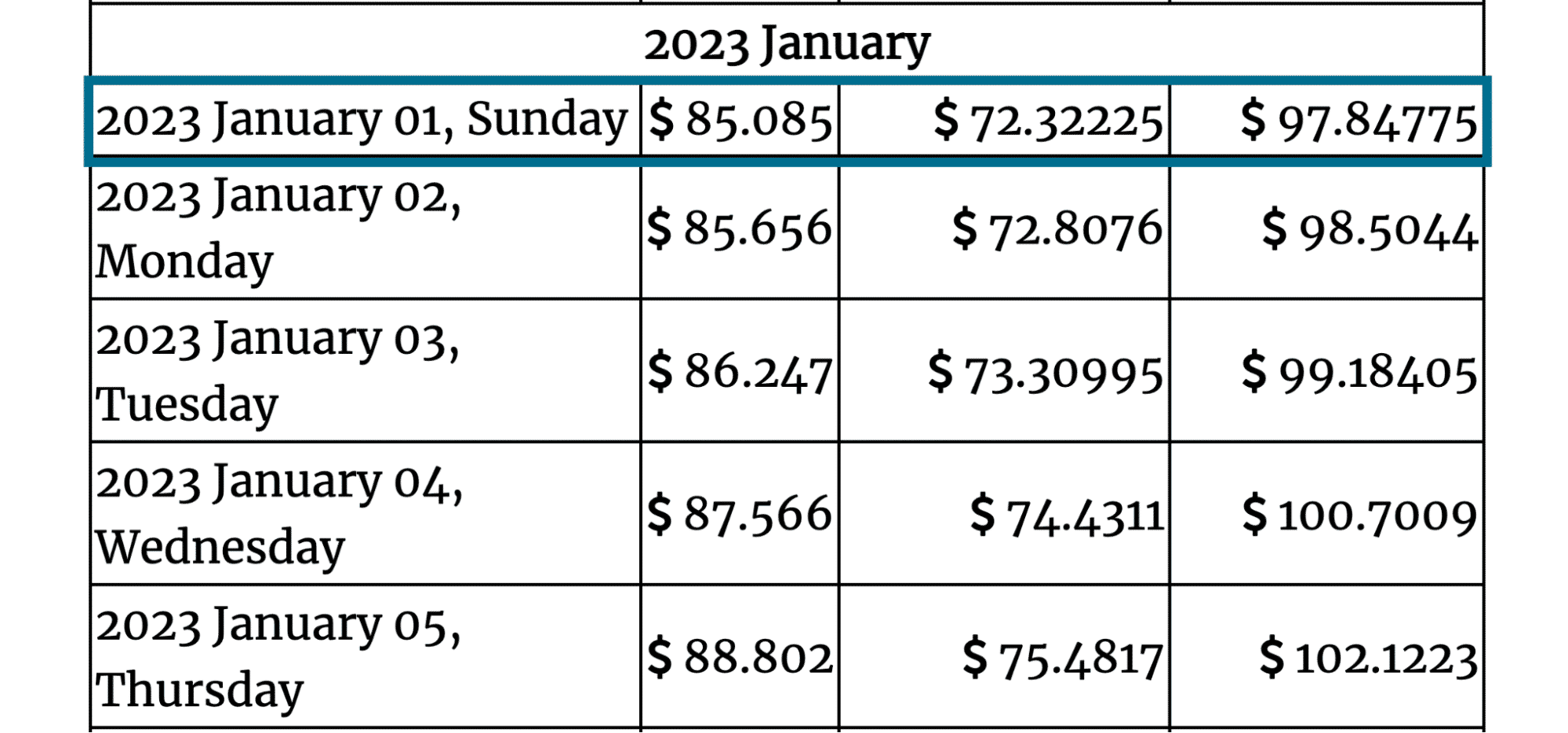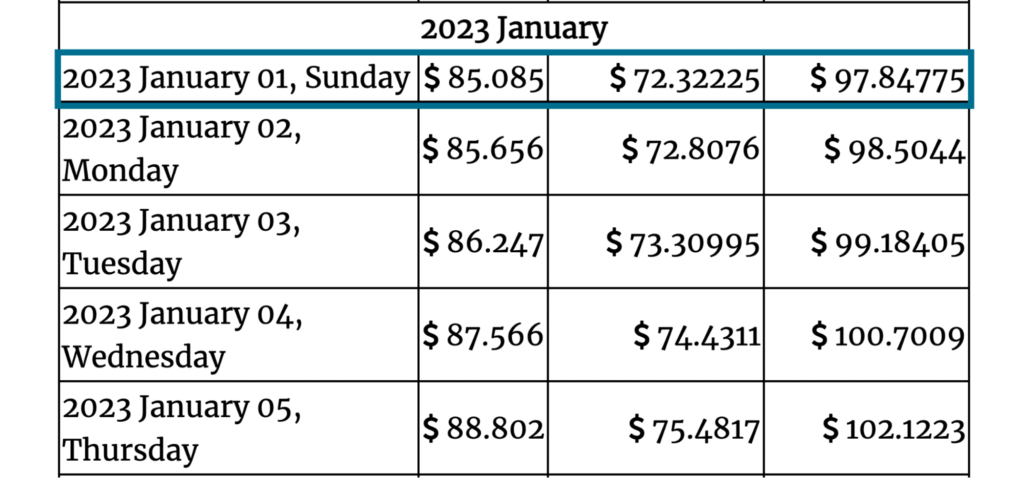 Assuming no adverse developments transpire for the token and the markets generally, it's reasonable to believe FTT should at least be worth 50 or 100% more by 2023.
2025 forecasts
By 2025, FTT should comfortably be worth somewhere in the three-figure range. If the overall crypto market enters a bull phase, FTT could increase a few fold.
The average we derived this time from looking at many forecasting sites was $207, with the lowest valuation of $129. Again, Gov Capital presented some of the highest estimates for FTT, starting from $289 going to $391.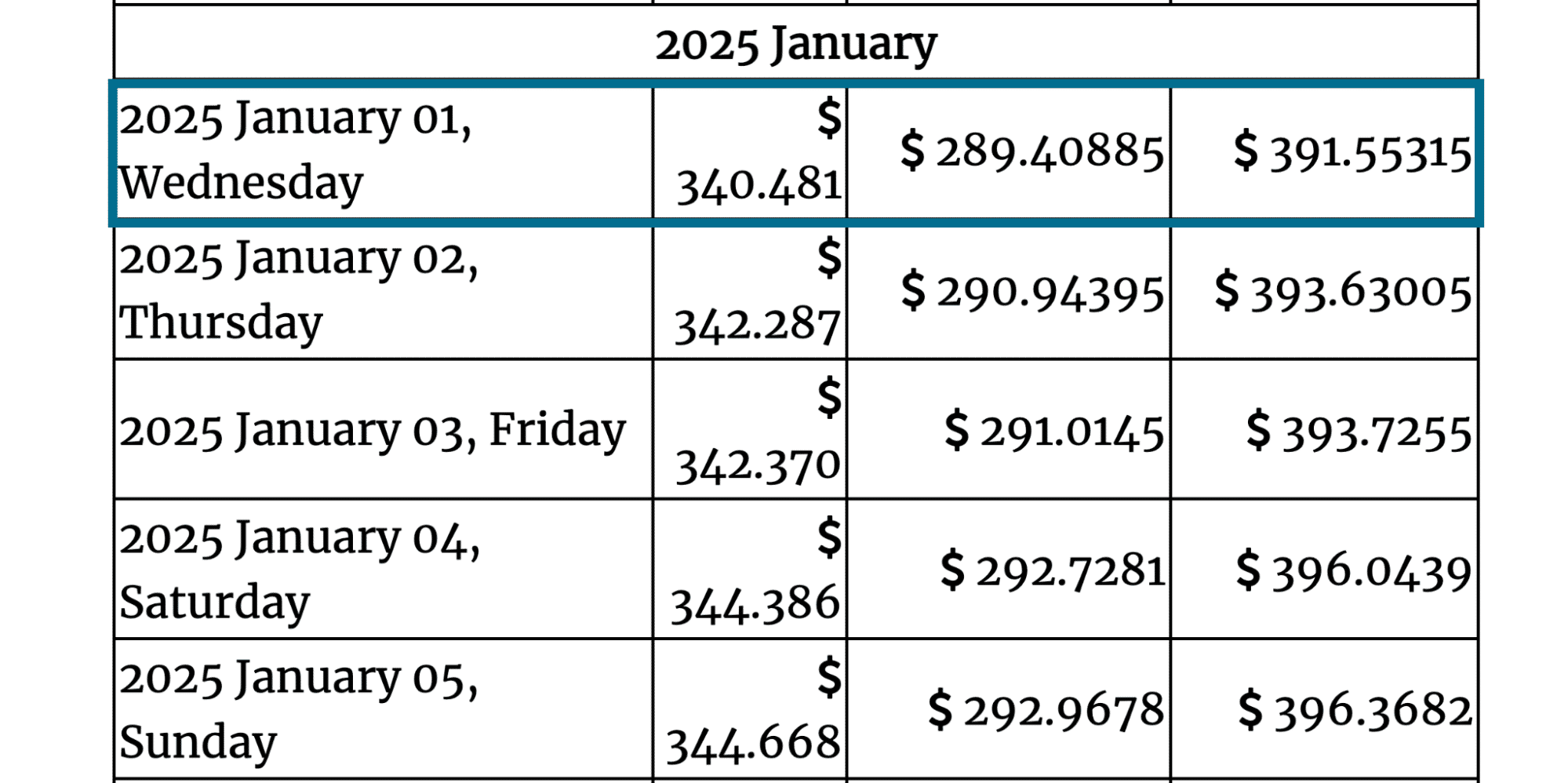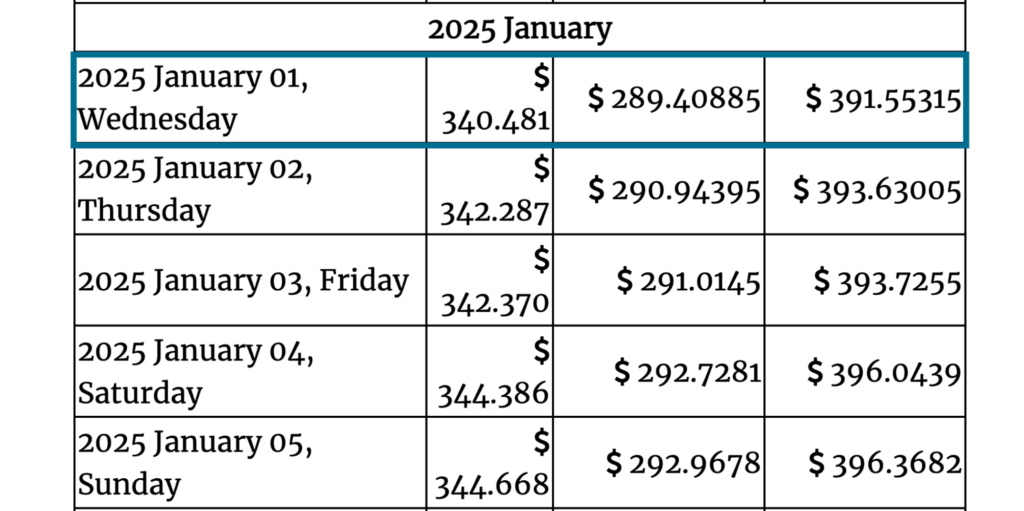 FTX Frequently Asked Questions (FAQs)
Is FTX real?
Yes, it's one of the most popular and fastest-growing crypto exchanges in the world.
What is the FTT price today?
$50.22.
Will FTT's price reach $100?
If FTX can continuously onboard more users who trade at increasingly higher volume, $100 is possible within a few years.
Should I buy FTT?
You should always remember cryptocurrencies are risky investments, meaning the chance of losing is high. However, if you believe in the growth potential of exchange utility tokens, then FTT could be a bet worth taking.
Where do I buy FTT?
Aside from, of course, FTX, you can buy FTT from many established crypto exchanges such as Binance, Gate.io, Huobi, Bitstamp, Bybit, Bitfinex, KuCoin, etc.