At the beginning of the FX Track Pro presentation, we are informed that this EA was designed to grow our profit, no matter what the deposit is. We are said that this expert advisor was developed to increase our capital and provide us with stable and 'pretty solid' profit.
So, is this robot as good as it is advertised? Is it worth its price? Should we trust the developer and the aggressive claims we see on the website? Keep on reading our review to know the answers.
Is FX Track Pro a Good EA to Invest?
The website presentation is just several pages long. It includes product info, live trading results, key features of the robot, backtesting results, pricing details, and a contact page.
Unfortunately, we could not find any information about the developer or the team behind this expert advisor. Lack of information makes it difficult to trust the vendor and the product it offers.
The developer points out the main features of this EA:
It's a highly profitable trading system, allowing traders to make good money over a short period
It allows traders to trade with low risks and requires small capital to trade from a long-term perspective
It supports 6 symbols: EURUSD, USDCAD, GBPUSD, EURJPY, USDJPY, and CHFJPY
FX Track Pro comes with 2 EA versions: one works on the MT4, other – on the MT5 platform
The software has an inbuilt risk control system (Stop Loss and online analysis), protecting trader's account from unpredictable trading losses
The robot is compatible with any brokerage
Easy to install EA
The EA automatically calculates every Lot size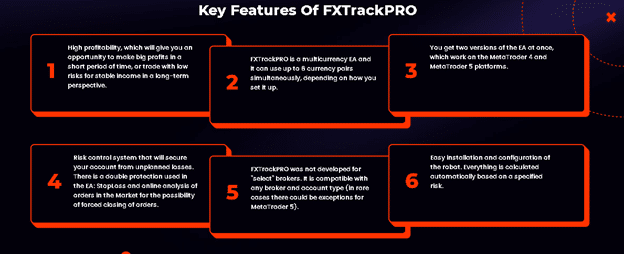 The software works with 3 different types of indicators simultaneously. To determine the best trade opportunities, the robot can use them together, apart, or several. It allows the system to use an appropriate trading style in the current market condition. With the help of a unique trading approach, the robot aims to provide high profits and reduce drawdowns. Unfortunately, this is all we know about the trading approach of FX Track Pro. The devs failed to provide info on what indicators the system uses for trading.

How to start trading with FX Track Pro
The robot is available in 2 different packages: Standard and Super.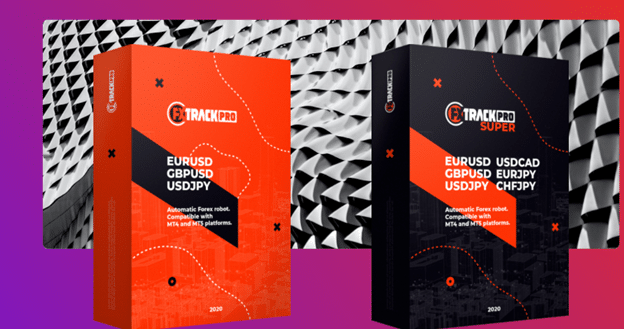 1) Standard Package
This package comes for $325 and includes free updates, the possibility to change account number without any restrictions, and 24/7 customer support. This package can work on MT4 or MT5 platform. It supports 3 currency pairs: EURUSD, GBPUSD, and USDJPY.
2) Super Package
The Super Pack is available to buy for $445. It supports EUR/USD, USD/CAD, GBP/USD, EUR/JPY, USD/JPY, and CHF/JPY currency pairs and can work on MT4 or an MT5 platform. It also comes with full-time customer support and the possibility to change account number without any restrictions.
Both packages include 30 days of the money-back guarantee. The devs add: 'If the trading on your account differs for the worse from ours, we will refund your money'.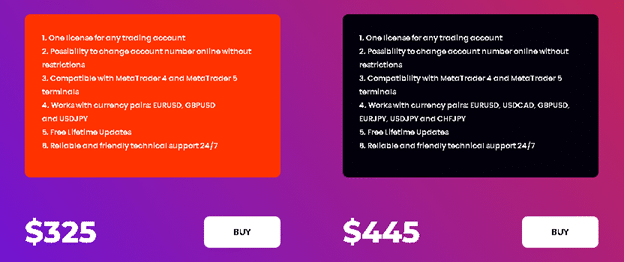 FX Track Pro Backtests
The developer provides us with backtesting results on their website. They try to make us sure that if we buy this EA, we will have the same trading results as they had in the previous year. We are provided with 6 backtesting results for each currency pair the EA supports EURUSD, USDCAD, GBPUSD, EURJPY, USDJPY, and CHFJPY. All backtests are of 3 years duration and were done with 90% modeling quality. To tell the truth, 90% is not enough and we prefer 99% quality for the test because it can provide more details concerning trading strategy insight and the results the EA gained. The drawdown for all currency pairs ranged between 24%-85%, the highest one was for USD/JPY currency pair and equaled 87.81%.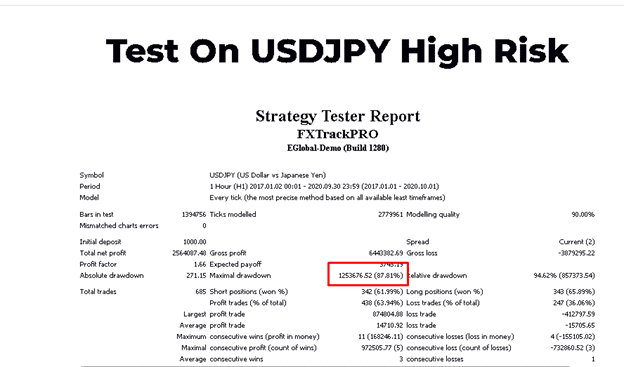 Well, let's analyze the currency pair the EA has earned the highest profit of 2350 515% (EURUSD).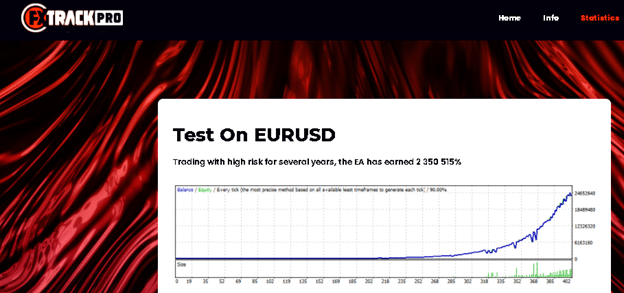 It is a EURUSD trading account performed in the H1 timeframe. The EA had been trading for 3 years (started on January 2, 2017, and ended on September 30, 2020).
An initial deposit was $1000. For over 3 years of trading its total net profit has exceeded over $23M. The peak drawdown was 25, 90%. The profit factor was high and equaled 2.24. The robot traded 401 trades, with a 57.77% win rate for short positions and a 54.87% win rate for long positions.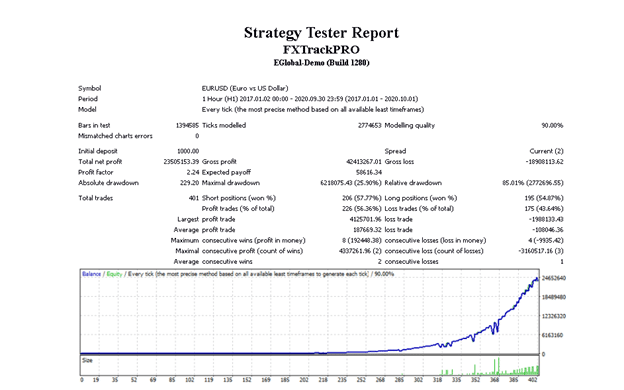 Trading Results
We are provided with 3 trading results verified by myfxbook:

All these trading accounts are active. However, 2 out of them were updated 5 days ago, on December 2 and December 3. Thus, we will be analyzing the trading account which is trading now – FXTrackPRO_USDCAD.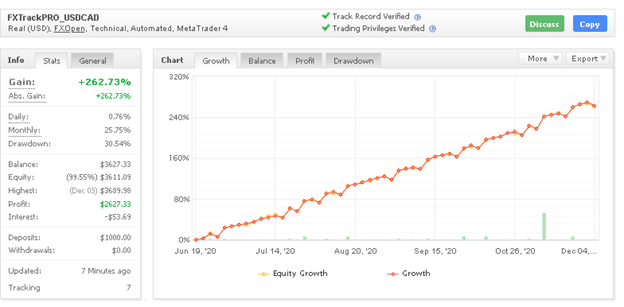 This trading account was added on myfxbook on June 19, 2020, and funded at $1K. It is a Real USD account trading on the MT4 platform with FXOpen brokerage and unknown leverage. For over 6 months of trading, the account has gained over 262% of gain with a monthly gain of 25, 75% and peak drawdown of 30, 54%.
The robot has traded 74 trades (won 54 out of 74 trades, which represents 73%) and 115 pips. The average loss (46, 85) in pips is higher than the average loss (-70, 75). The win-rate varies. It equals 63% for the BUY direction, and 84% for a SELL direction. The average trade length is 2 days. Profit factor is high and equals 2, 51.


It trades daily, from Monday to Friday: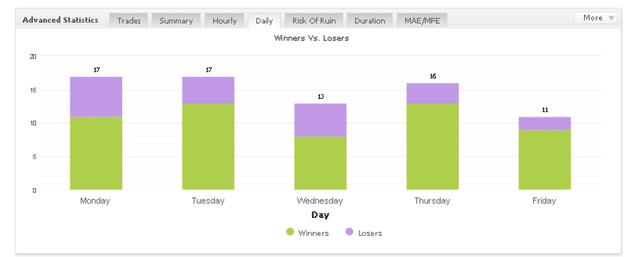 We do not like the fact that the trading activity data of the robot is hidden. What does the developer want to hide from us? For what and why is he doing so?

As you can see, there were Martingale deals (2.34 Lot Size) after losing several Martingale deals (0.32 Lot Size) in a row.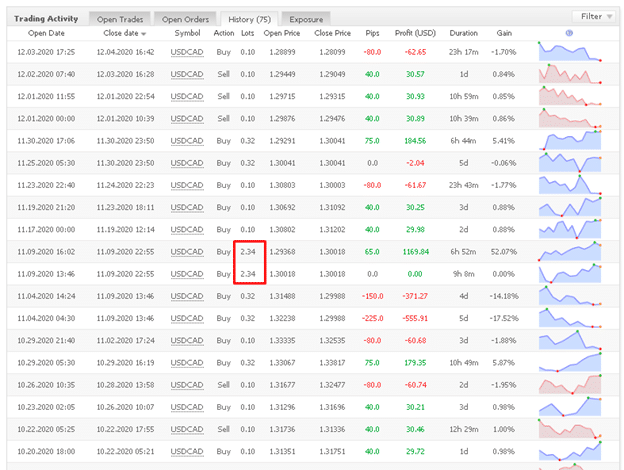 Other notes
On myfxbook, we have found that the FX Track Pro profile was added on November 16, 2020, while trading results show that their EA has been running since June 2020.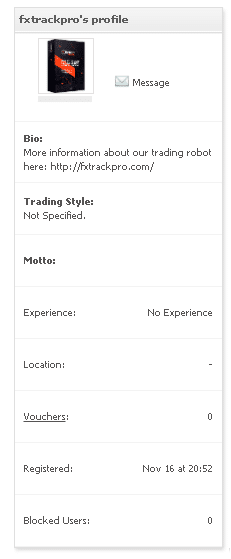 The software is powered by Forex Store. On whois.domaintools.com, we have found that the website was created 46 days ago. Its IP location is Arizona – Scottsdale.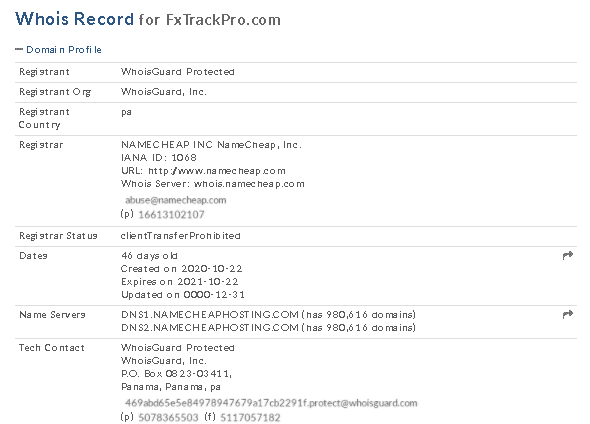 People Feedback
We have surfed the Internet but found no customer review neither on FPA, nor the other third party website.
Summary
Advantages 
Backtesting results provided
Live trading results provided
30 days money-back guarantee
Disadvantages 
Extremely high price
No trading strategy insight provided
Low-quality backtesting results
No setting explanations provided
Martingale on the board
Lack of vendor transparency
No customer reviews
Summary
The EA supports 6 currency pairs and uses 3 indicators to determine an entry point. We appreciate that the vendor provided backtesting and live trading results for FX Track Pro. However, we do not like that the developers did not provide a detailed trading strategy insight and that the trading activity of their EA is hidden. We still do not know who stands for this robot. We are also concerned that the robot uses the Martingale trading approach with a 7 times increased lot size. So what will be if the robot brings the loss instead of 52.07% gain? Are you ready to lose half of your trading account? No.