FXCIPHER is a fully automated Forex robot that is regulated by NFA and compliant with FIFO. It opens and closes all trades automatically. This Forex expert advisor has verified trading results on Myfxbook. In this article, we will get to know more about this trading software, including its pros and cons, so that you can determine if you should invest in it or not.
Is the FXCIPHER robot worth the investment?
There is not much info on the official website of FXCIPHER. It says that there is friendly and high-quality 24/7 technical support, but we don't know how this support is provided as there are no contact details.
Moreover, there are no details about the developer and their trading experience. You can only get in touch with them by filling a form on their official site. This shows a lack of vendor transparency and makes us doubt the credibility of this trading tool.
We also do not know about the trading techniques used. Traders must know the trading strategy of a trading system so that they can assess its profitability, tweak its settings accordingly, and make their own trading plans.
As per the trading history provided on Myfxbook, we can know that FXCIPHER uses a grid and martingale strategy since several trades are closed in similar situations with rising lot size. These are risky strategies that can result in high drawdown. This is why we do not think FXCIPHER is worth your investment.
How to start trading with FXCIPHER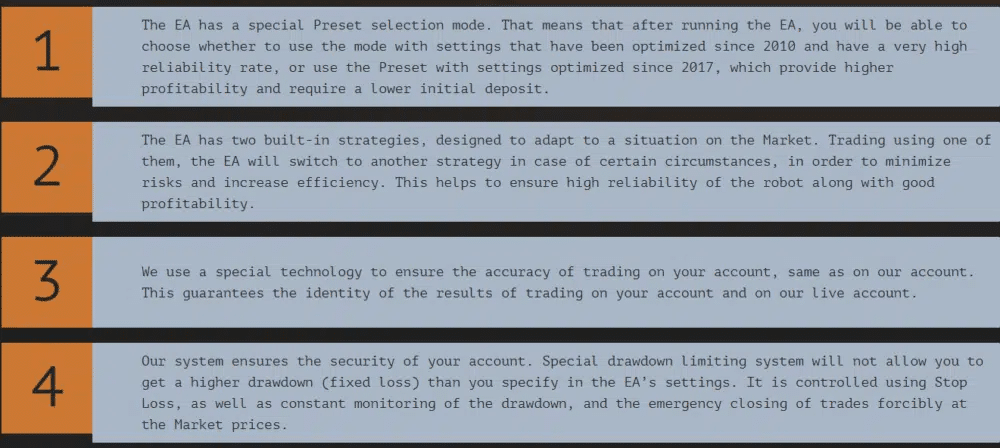 FXCIPHER is a fully automated Forex expert advisor that comes with two in-built presets, which have been optimized since 2017 and 2010. The 2017 preset trades using a high profit target and requires a lower initial balance while the 2010 preset follows a traditional trading strategy.
You can use it on both MetaTrader 4 and MetaTrader 5 platforms. One preset deals in five currency pairs, including EUR/JPY, GBP/USD, AUD/USD, USD/CAD, and EUR/USD, and the other deals in only two currency pairs, including EUR/JPY and GBP/USD.
They can work on any timeframe. However, the vendor does not inform us how these trading systems work. FXCIPHER uses two built-in Forex trading approaches and it alternates these techniques in order to minimize the risk.
Furthermore, there is no information about the trading strategies used so we cannot know how the system manages risk. The tool employs stop losses in all trades. By limiting the drawdown, you can set your trading account's highest drawdown. When it surpasses this limit, the system closes the trades automatically.
You will get this Forex robot in your email after you buy it. After this, you have to put it in the directory of experts on MetaTrader 4 and MetaTrader 5 platforms. This will enable the tab of automated trading and put the software on respective charts for it to start trading.
Some of the main features of FXCIPHER are listed below:
24/7 technical support
Comprehensive instruction manual for installation
Two live trading accounts to analyze results
Backtesting results give an insight into the system's performance
FXCIPHER backtests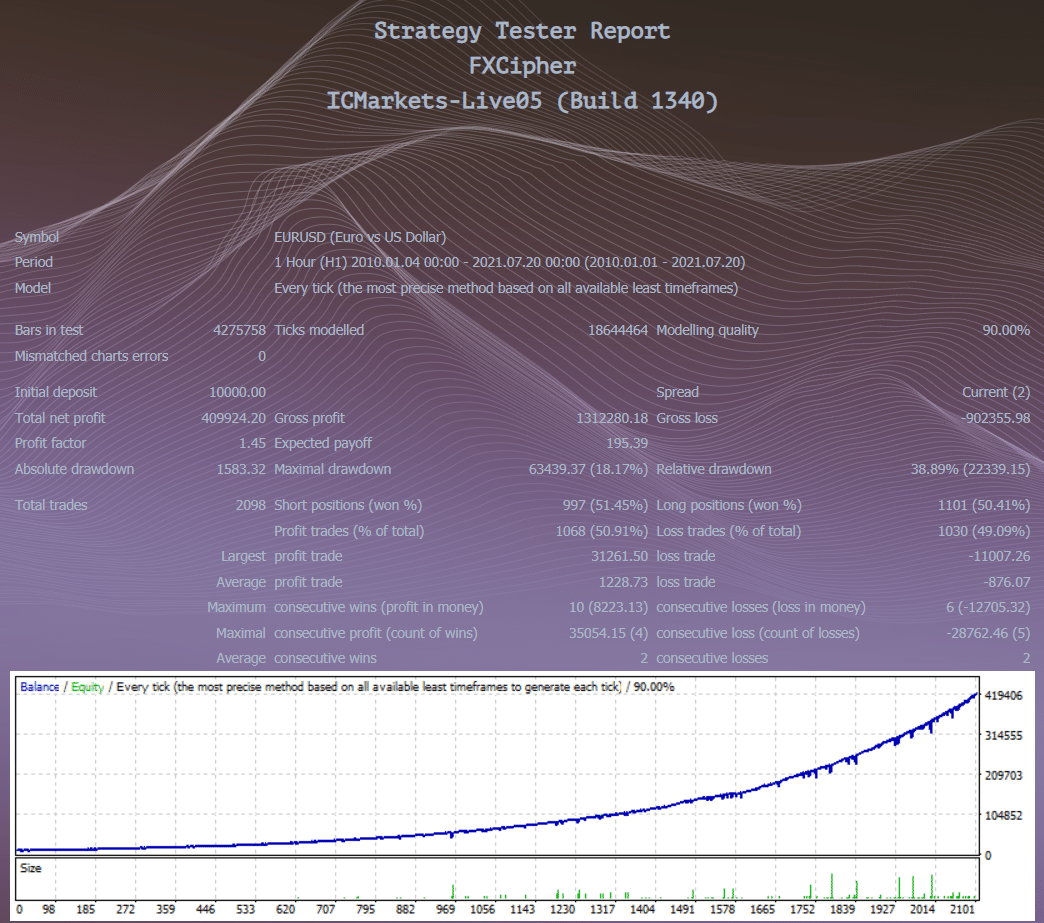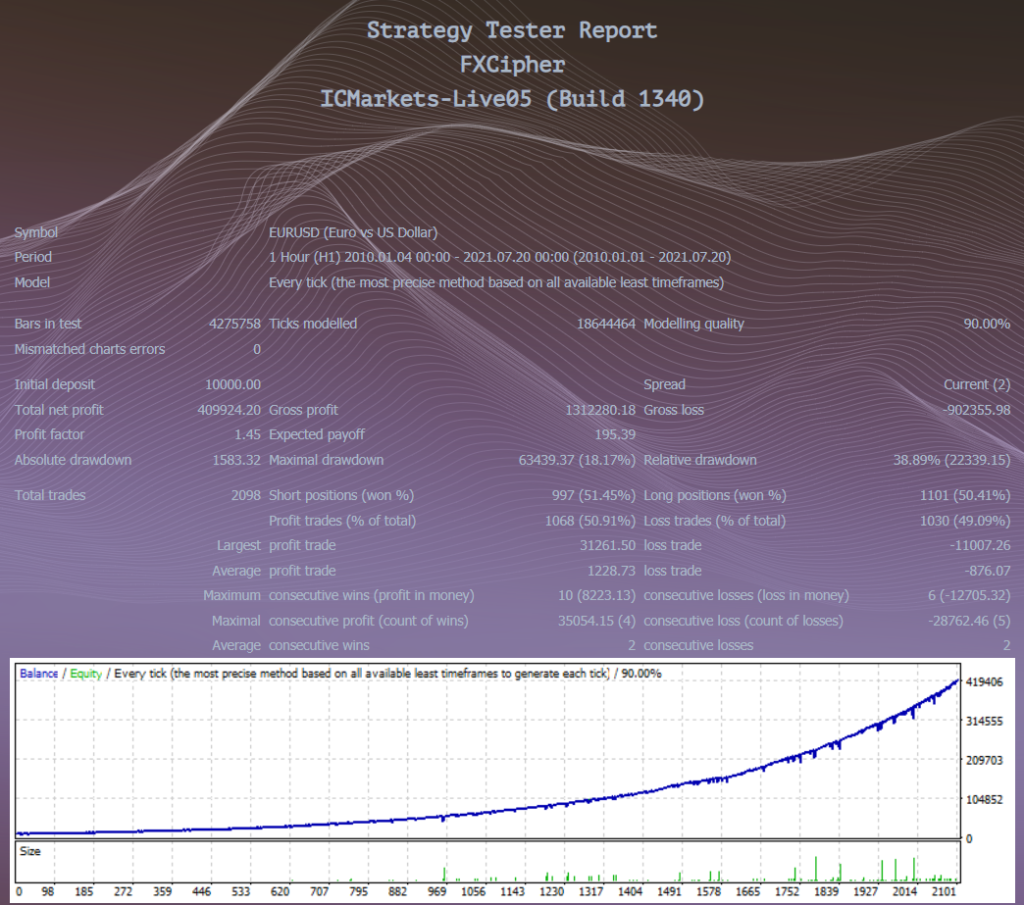 FXCIPHER provides backtesting results for all its recommended currency pairs. Here, we will take a look at the backtest report of the EUR/USD pair. The relative drawdown was 38.89% with a winning rate of 50.91% and 1.45 was the profit factor.
Its initial balance was $10000 and the timeframe used was one hour. The total net profit was $409924.20 with a total of 2098 deals and a modeling quality of 90%. Plus, the top trade equaled $31261.50 and the worst one equaled -$11007.26.
Trading results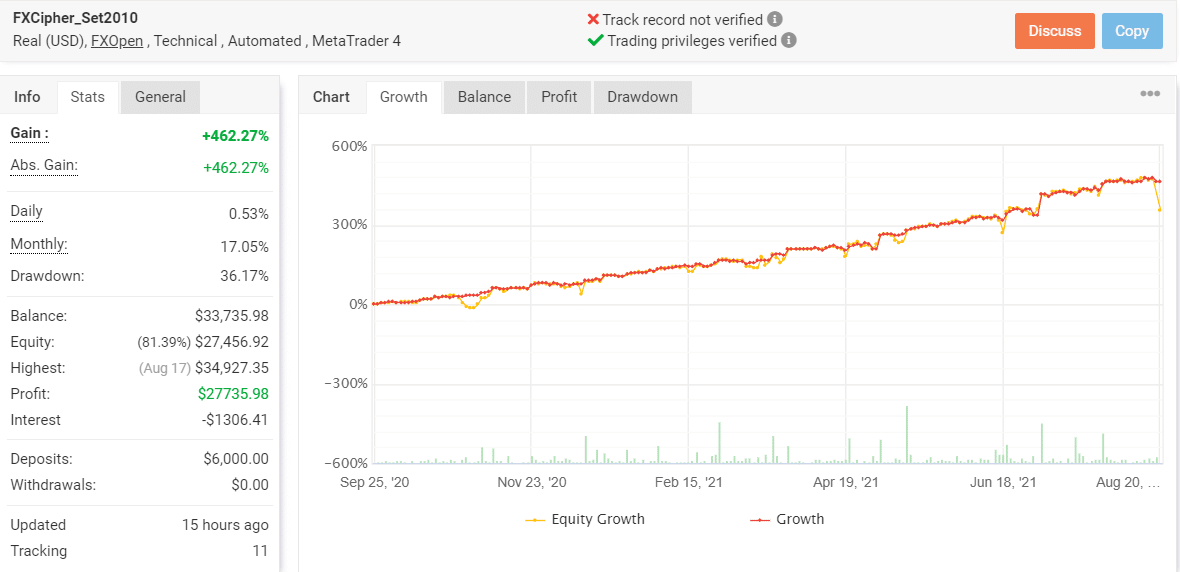 FXCIPHER has live trading results on the Myfxbook site. The 2010 preset account was created on 25 September, 2020 and it has 17.05% as average monthly profit and 36.17% as the drawdown. In this, the drawdown indicates that the trading system lost almost half of the capital. A total of 699 deals are carried out till now with 301.72 lots. The profit factor is 1.58 with 49% is the winning rate. Plus, the best trade equals $3206.82 and the lowest one equals -$1627.56.


Pricing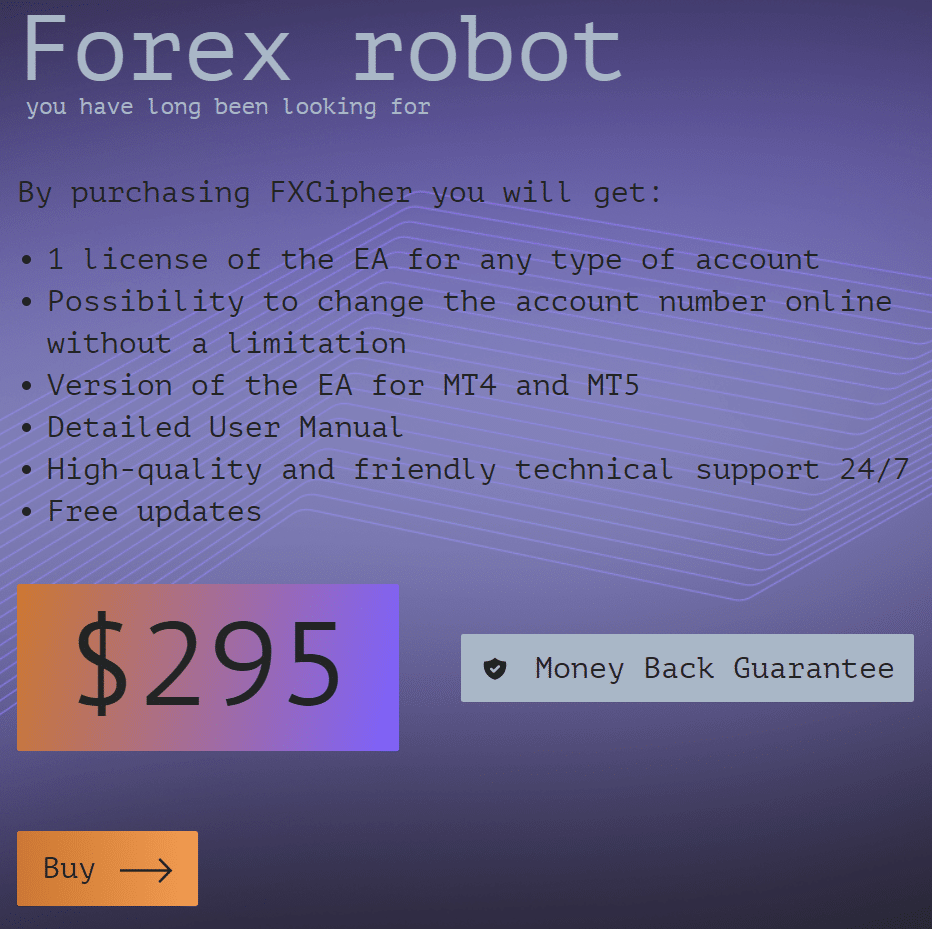 FXCIPHER is offered at $295 with a single license, 24/7 customer support, user manual, and free updates. Plus, there is a money-back guarantee of 30 days if your account has a drawdown of more than 35% with the suggested settings.
People feedback
There are no customer reviews of FXCIPHER on trustworthy sites, such as Forexpeacearmy, Trustpilot, etc. Customer feedback tells us about the EA's performance and the experience of other traders. This indicates that traders are hesitant about trying this trading tool and its developer is not reputed in the market.
Summary
Advantages
Free updates
24/7 customer support
Disadvantages
No information on the trading strategy used
Lack of transparency
Low win rate
High drawdown
FXCIPHER lacks vendor transparency. It employs dangerous trading approaches, such as the martingale strategy, which are not good for your portfolio since they can lead to a margin call anytime. Its live trading account shows a low win rate and a high drawdown. Thus, FXCIPHER is not a reliable Forex expert advisor to invest in.