FXHT MultiCurrency EA is an automated system that claims not to work with dangerous strategies like martingale, grid, and hedging. It is easy to use and requires no optimization. The devs don't give any promises as to the amount of profit the system will earn for you. We will have to find this out for ourselves in this review.
Is FXHT MultiCurrency EA still good to go?
These are the features of the robot in brief:
It engages in full auto-trading 24/5.
Works with any broker.
Trades on any high-volatility pairs, so it's best for the EURUSD symbol.
The minimum deposit needed to trade is $500 for each pair, while the minimum leverage is 1:30. You can work with a lot size of 0.01 or more.
This robot was created by the FXHT team. Sadly, there's no info about the team or the company, such as their location, professional backgrounds, reputation, trading experience, etc. The only thing we are aware of is that FXHT is also the developer of other trading tools like ProHT Trend EA, Scalping EA, Rotterdam EA, and Holland Trader EA.
How to start trading with FXHT MultiCurrency EA
The EA uses the intraday scalping strategy. So, it focuses on making small profits from conducting high volumes of trades during the day. It is worth noting that scalping needs a stringent exit plan since a single huge loss could get rid of the gains the system worked to make.
The vendor is selling the tool at a discounted price of $99. Its original price was $400. A money-back guarantee is not present.
FXHT MultiCurrency EA backtests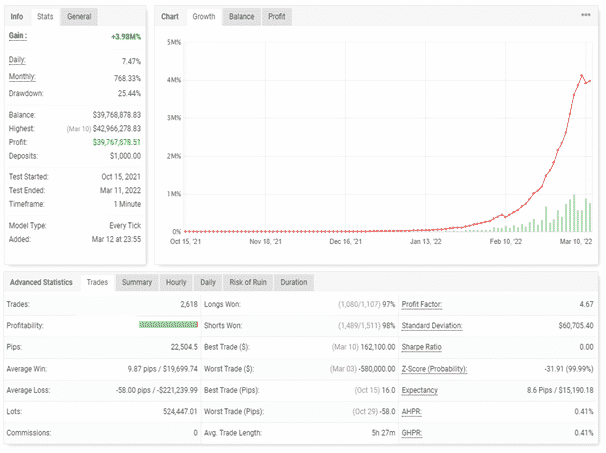 The EA was backtested for about 5 months, which is a short period to determine how a system can perform in the long term. Anyway, the system managed to conduct 2618 orders, winning 97% of the long positions and 98% of the short ones. As a consequence, the balance jumped from $1000 to $39768878.83. The drawdown generated was 25.44%, while the profit factor was 4.67. At the time, the average trade length was 5 hours and 27 minutes.
Trading results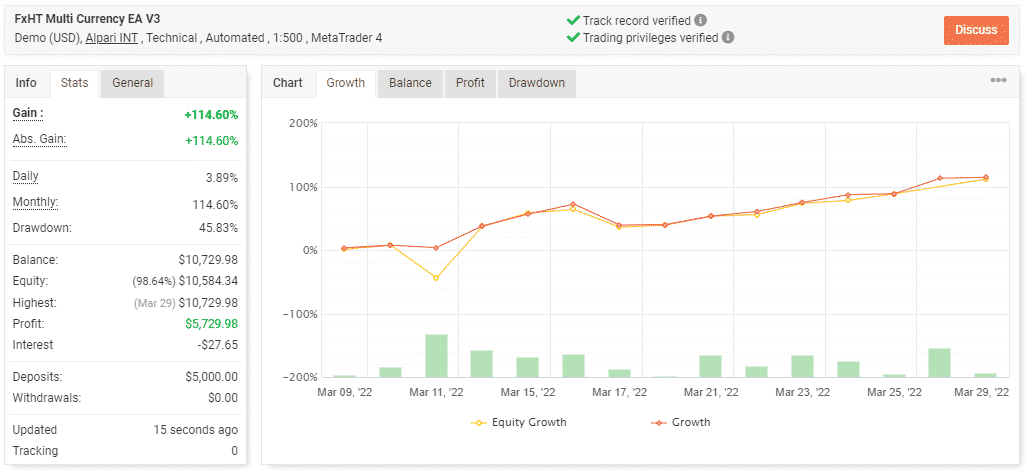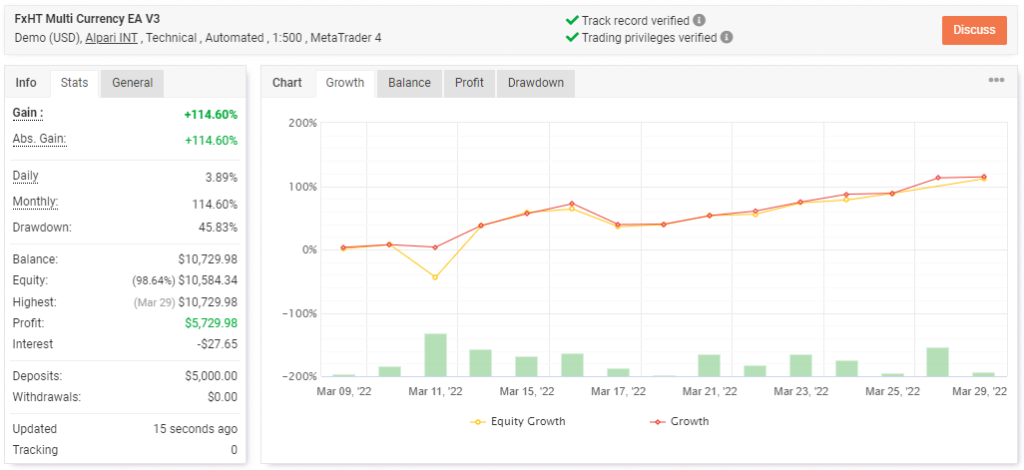 This account is about 3 weeks old. The balance of $5000 has grown to $10729.98 following the generation of a $5729.98 income by the robot. Unfortunately, the trading risks are very high. That's why a huge drawdown of 45.83% has been reported. So far, the total gain is 114.60%.


The system has carried out 308 trades, attaining an 85% profitability rate in the process. The profit factor (2.21) tells us that the EA is lucrative as it can double your returns. Till now, we have 3201 pips won and 56.91 traded lots. The win rates for long and short positions are at 86% and 84%, respectively.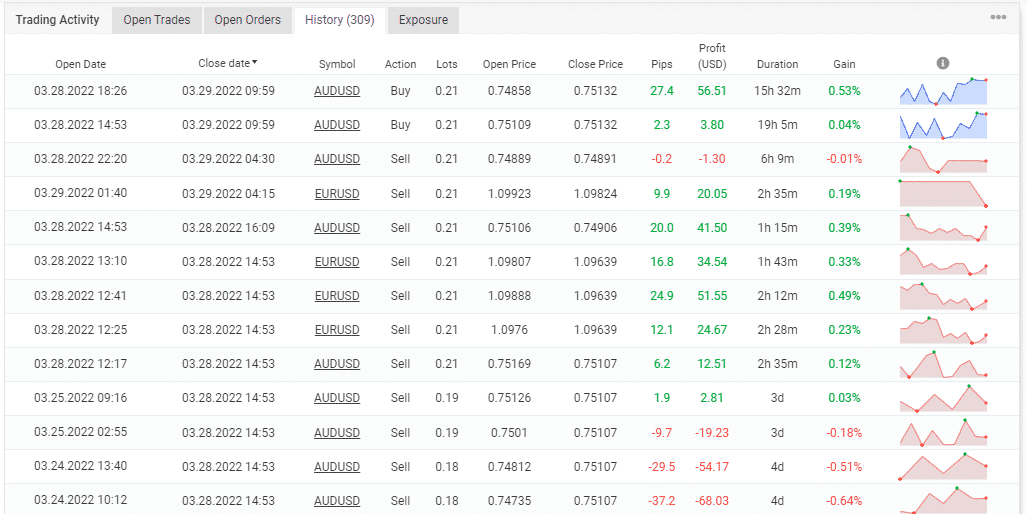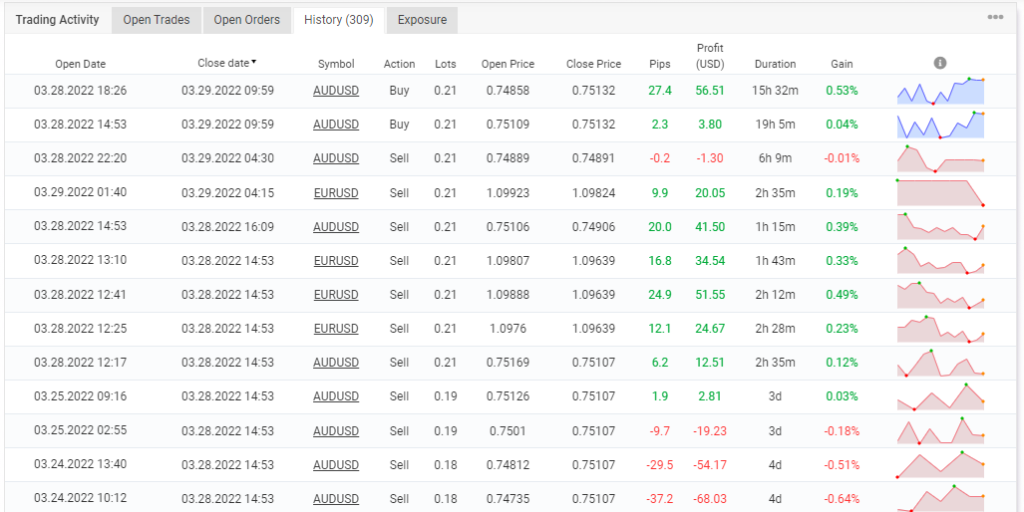 Large lot sizes are used, which essentially increases trading risks. Grids of orders are placed, and from the duration column, we can see that the system can hold a position for days.
The stats above indicate that the account is at high risk of being blown up.
Other notes
A referral program is available to mainly reward traders who introduce others to the EA. All successful referrals can earn you up to 35% in commissions. Moreover, the devs say that they have competitive conversion rates that can assist you to optimize your earnings.
People feedback
The EA has zero feedback from customers. Our search for customer reviews concerning this system on reputed sites like Trustpilot, Forex Peace Army, and Quora yielded no results. Therefore, it is easy to conclude that the robot has not become popular yet.
Summary
Advantages
Past and present trading statistics are available
High profitability rate
Affordable pricing
Disadvantages
High risk of ruin
The grid strategy is used
Large drawdown
No user reviews
FXHT MultiCurrency EA has been able to raise a live account's value by more than 100% in just 3 weeks of trading. This shows us how lucrative it is. However, you need to be careful with this system because it also trades dangerously. As such, it has eaten away almost 50% of the user's capital and increased the account's risk of ruin.