Built to work on the MT4 platform, this Forex expert advisor is designed to improve the financial position of every trader. This 'Perfectly Automated Algorithmic Trading System' is built to help traders skip all the legwork, which is required in manual trading. The vendor of this fully automated trading tool claims that this root will 'take your profits to a whole new level', so you can enjoy financial freedom without the hard work of interpreting trends, analyzing market changes, or searching for the best opportunity for an entry point.
Is everything as simple and good as it sounds? Can we rely on this EA? Keep on reading our FXMath X Trader review to know whether this expert advisor is what can help you reach your financial goals.
Is FXMath X-Trader a Reliable Trading System?
Our first impression is not positive at all. Their website is poorly organized with plenty of spelling and grammar mistakes. The design elements as well as the website content are unorganized. It looks like somebody was working on it in a hurry.

Plenty of random landscape images have nothing in common with FXMath X-Trader: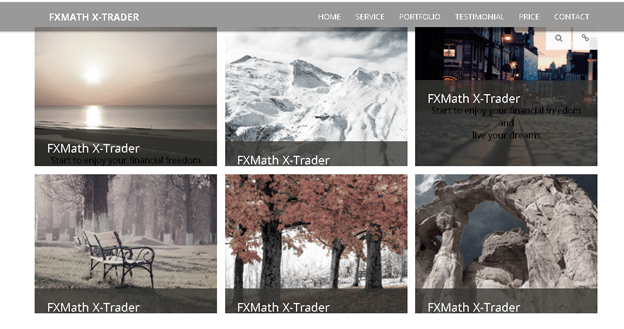 Some buttons on their website do not work. As, for example, the one that is attached to a new product description. If you click the 'read more' button, nothing will happen.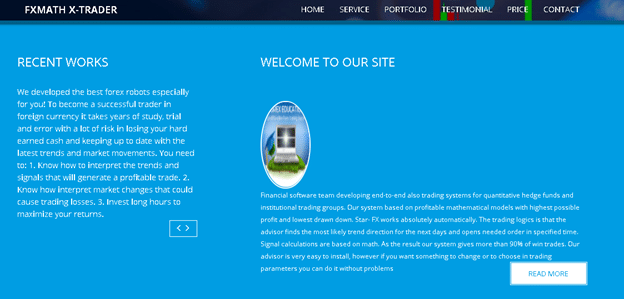 This shows poor organization and responsibility and likely a company that is not doing very well, as they cannot hire a professional website designer and experienced content writer to do this portion for them.
Google maps we see on their website are showing an error, which looks odd.

To get in touch with the FXMath X-Trader team traders need to email [email protected]
We've gathered a list of FXMath X-Trader robot features in this list:
It works on the MT4 platform
The basic currency pair is EURUSD, but it's said that the robot supports other currency pairs too
It can adjust to any market conditions
No human intervention needed
Supports Windows 2003, Windows XP, Windows Vista, Windows 7, 8, 10 operating systems
The robot is easy to use for both experienced traders and newbies
It can be run only on a real account
The system has free regular updates and upgrades
Vendors provide full time 24/7 customer support
The devs of this MT4 tool do not provide any details about their trading strategy. This is a major con for this EA. The one thing we know about this robot is that it works automatically, by it is a drop in the ocean. If the vendor wants to be taken seriously he should provide detailed trading strategy information. Lack of this sort of information is unacceptable.
How to start trading with FXMath X-Trader
The vendor says that to start trading with their EA traders have to send them their mt4 account number for activation. Then, users will get an email notification with license activation information. The EA is competitive with any brokers, thus traders are free to choose the one they will be comfortable to trade with. Recommended leverage is 1:100 – 1:1000.

This EA is sold for a reasonable price – $99-$149.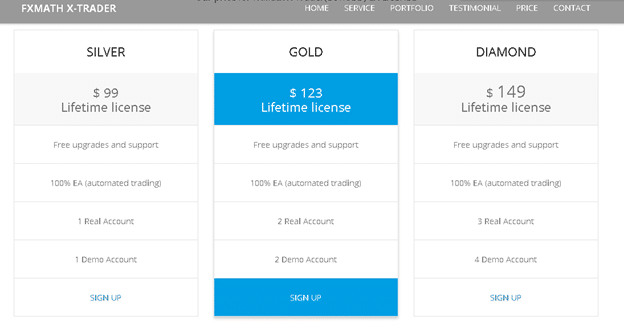 It is available in 3 packages that differ in price and number of licenses. The silver package is available to buy for $99 and includes 1 real and 1 Demo account license. Gold package is sold for $123 and comes with 2 Real and 2 Demo account licenses. The diamond package is sold for $149 and offers 3 Real and 4 Demo account licenses. Payments are made via 2checkout. A refund policy is not included.
FXMath X-Trader Backtests
We are provided with a backtesting report on their website: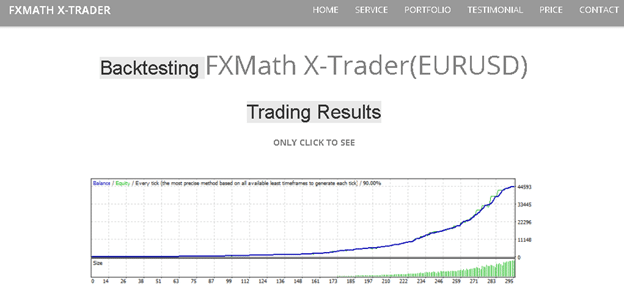 This is a backtesting report of the EURUSD currency pair. It lasted for 2 years from January 1, 2018, to December 1, 2020. It performed on the H1 timeframe. There were 19067 bars in the test. The maximum drawdown was high – 23, 43%. The modeling quality was 90%. The spreads were set at 20 pips. The initial deposit was $99.For 2 years of trading, the robot closed 295 trades. Its average win for Short positions was 89, 77%, and 96, 64% for Long positions. Its average win trade result was $165,30 and the average loss was $-29,80. Its profit factor was incredibly high– 68, 85.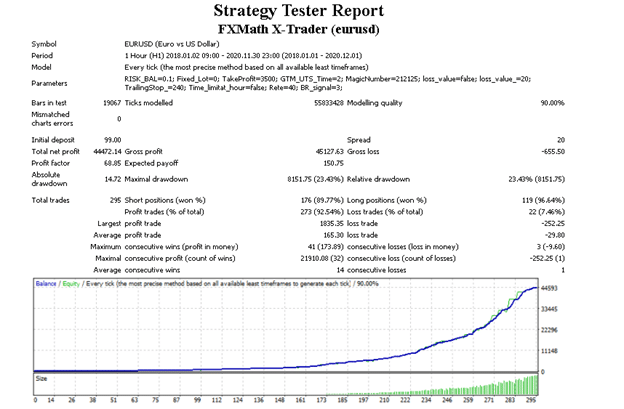 Trading Results
The robot runs a Real RUB account on RoboForex brokerage. It trades with 1:500 leverage on the MT4 platform. Its trading record and trading privileges are verified. It was created on November 29, 2020, and deposited at RUB5,281.60. For 3 months of trading, the robot's gain raised to 111, 67%. Its average monthly gain is high – 28, 80%. The robot trades with low drawdowns – 10,42%. It has brought RUB5897.79 of profit.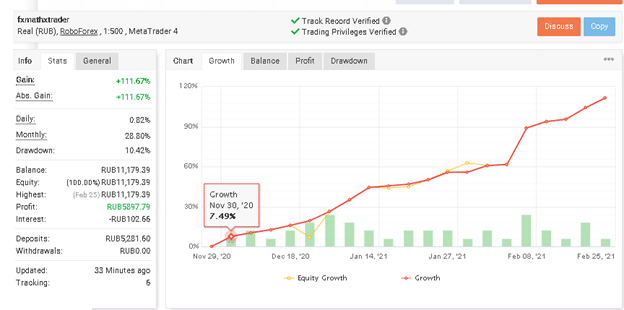 It has traded 40 trades and won 39 out of them. Its win rate for both shorts and Longs positions is high: 96% and 100%. The average win (RUB153.16) is twice higher than the average loss (-RUB75.58). The profit factor is extremely high – 79, 03. The average trade length is one day.

It trades only 1 currency pair – EURUSD:

The robot trades daily, from Monday to Friday with the highest trading activity from 2 a.m to 7 p.m.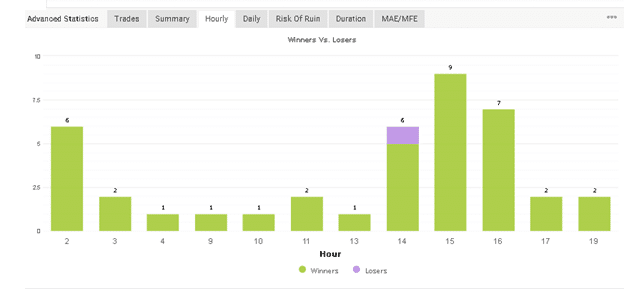 The robot runs the account with minimal risks to the account balance:

Vendor Transparency
Unfortunately, there is no word mentioned about the developers, their location, or what trading experience they have in the Forex market. However, taking into account that their trading account is run on RUB currency, we can guess that the developers are from Russia. We've decided to conduct an additional whois.domaintools.com research and found that their IP location is Russia.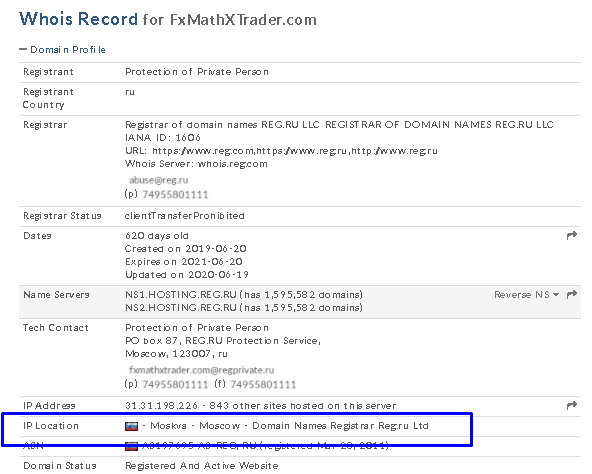 People Feedback
There are plenty of positive testimonials on the FXMath X-Trader website. However, we have no reason to trust them as these reviews cannot be verified. Thus, they can easily be manipulated, paid, or concocted.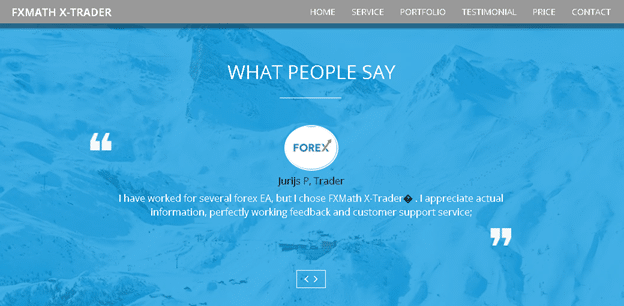 There is an FXMath X-Trader page with only 1 customer review on FPA.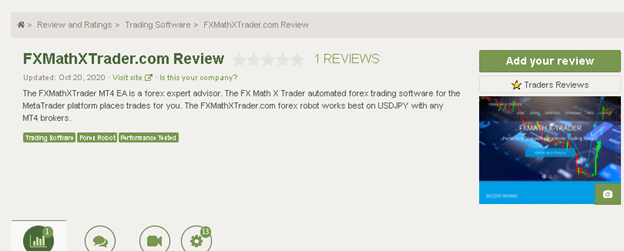 The trader complains that the devs refuse to refund money. Now we know that in case we are not satisfied with the performance of this EA, we cannot expect that Russian developers will pay us refunds.

Conclusion
Advantages
Backtest report provided
The live trading account provided
Affordable pricing
Disadvantages
Lack of vendor transparency
Undisclosed trading strategy
No settings list revealed
A negative review from a customer on FPA
No money-back-guarantee provided
Summary
This EA is a Russian-made robot that trades only 1 currency pair – EURUSD. The dev provides backtest reports and live trading results but does not have detailed trading strategy information. We do not know who stands for this robot. The absence of a money-back guarantee is another drawback of this Forex MT4 tool. There is no reason to trust this suspicious trading system with zero vendor transparency.