FXQuasar is an expert advisor that works with real funds on the account. It's a powered by Forex Store trading solution. They insist that it is "Cosmic Forex Advisor." So, we are going to figure out if this advisor fits our expectations.
Is this robot a viable option?
The advisor works with huge drawdowns. We can't suggest anyone use this system. So, the rest is up to you.
How to start trading with FXQuasar
There are not so many features explained. So, it was a challenge for us to guess what settings or features are behind it.
The advisor works for us completely automatically on our terminal.
The system can be used on MT4 and MT5 terminals.
We can expect it follows NFA rules.
It can work with any broker we want. No need to change it.
Any account type is supported.
The system doesn't need indicators data to decide when it's the right time to open a trade.
The strategy is based on price action.
"The system works with six various sessions." Three of them for long and three for short directions.
We have "a special risk limiting system, which will protect you from losses that you are not ready to bear. This will let you secure your investment and allow you to regain losses."
Alas, this is all that the devs want to tell us.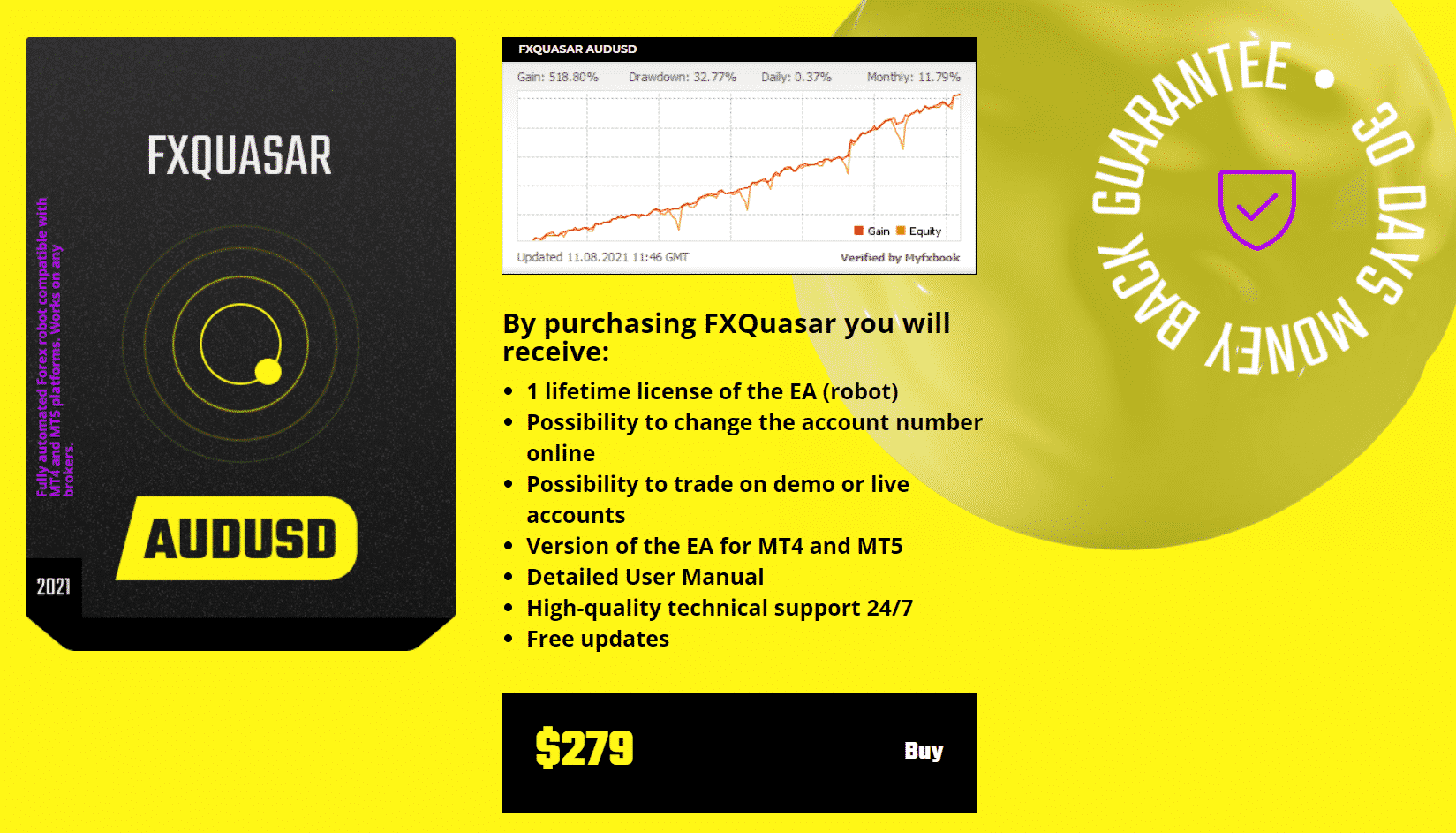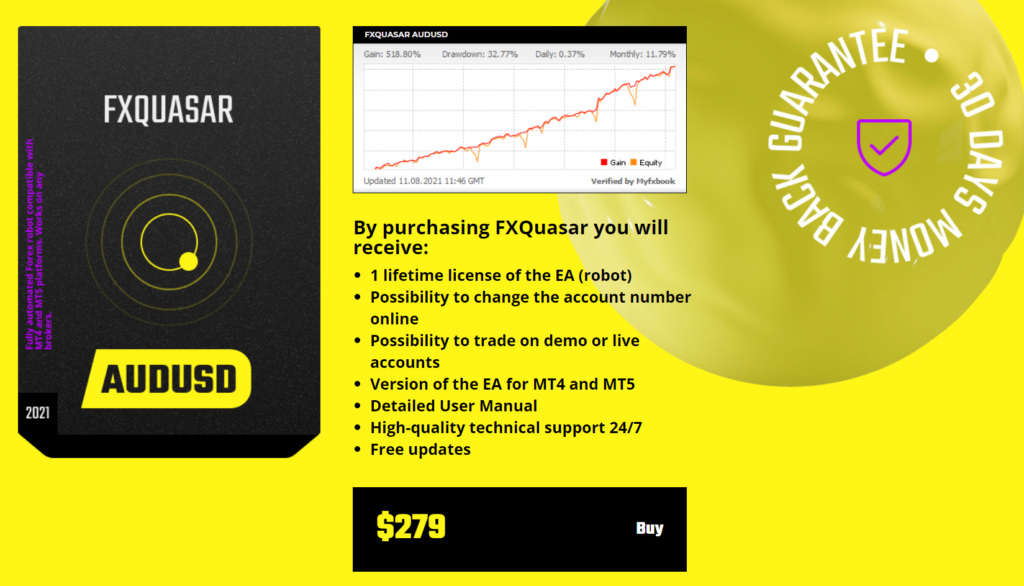 We can purchase a copy of the system for $279 only. We may note a spin phrase about a 30-day refund. The package includes free account switching, a detailed user guide, 24/7 support, and free updates. There's a 30-day refund policy.
FXQuasar backtests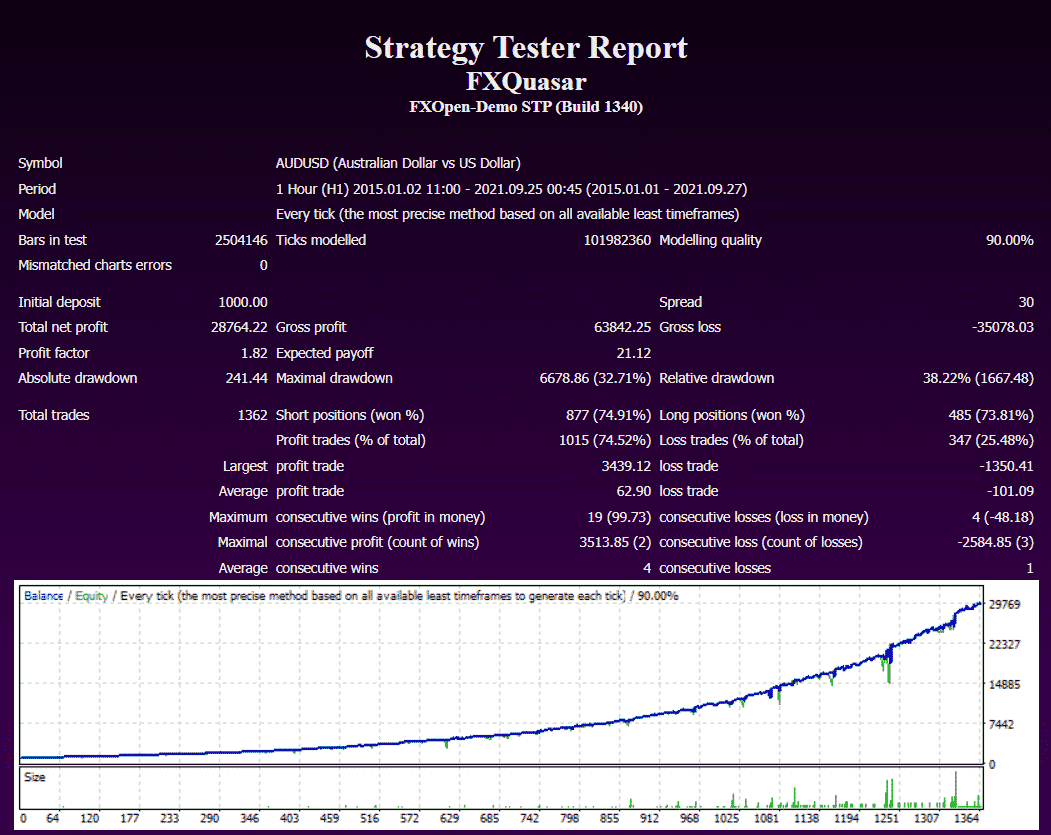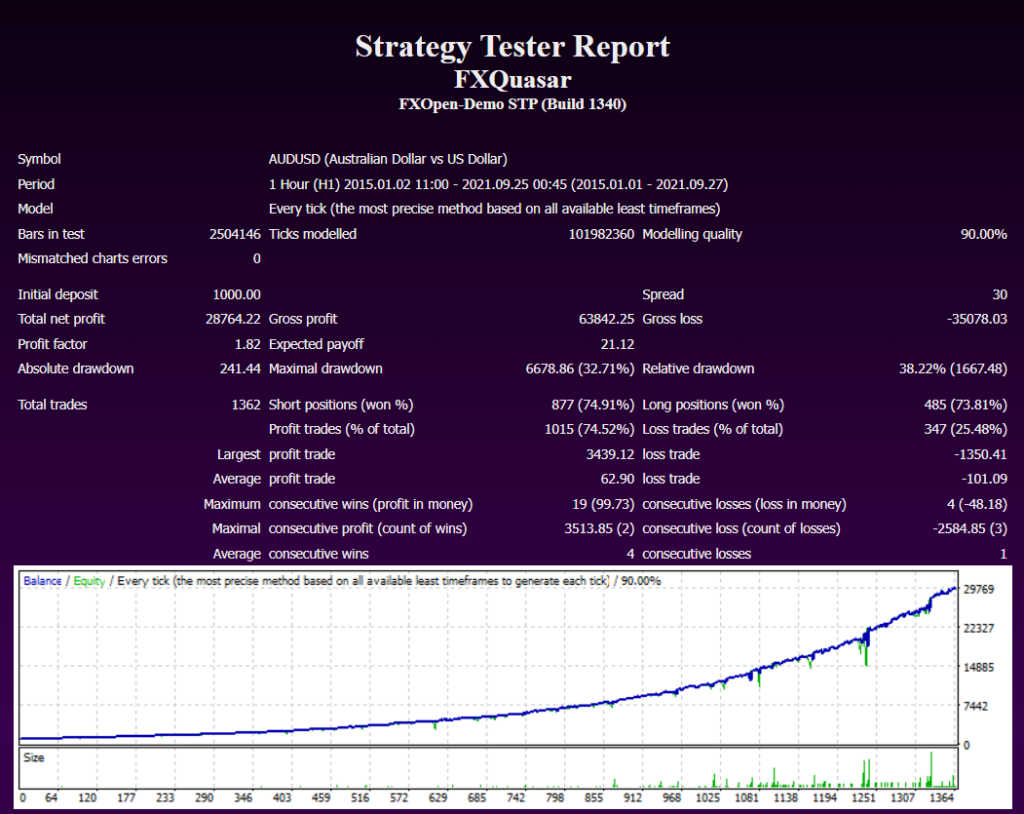 We have some backtest reports provided. It's an AUDUSD report on the H1 time frame based on six years of tick data. We don't know from what broker it was. The modeling quality is 90,00% with 30-pip spreads. An initial deposit was $1000. It has turned into $28,764 of the total net profit. The profit factor was 1.82. The maximal drawdown was 32.71%. There were 1362 deals executed. An average win rate was between 73% and 74%.
Trading results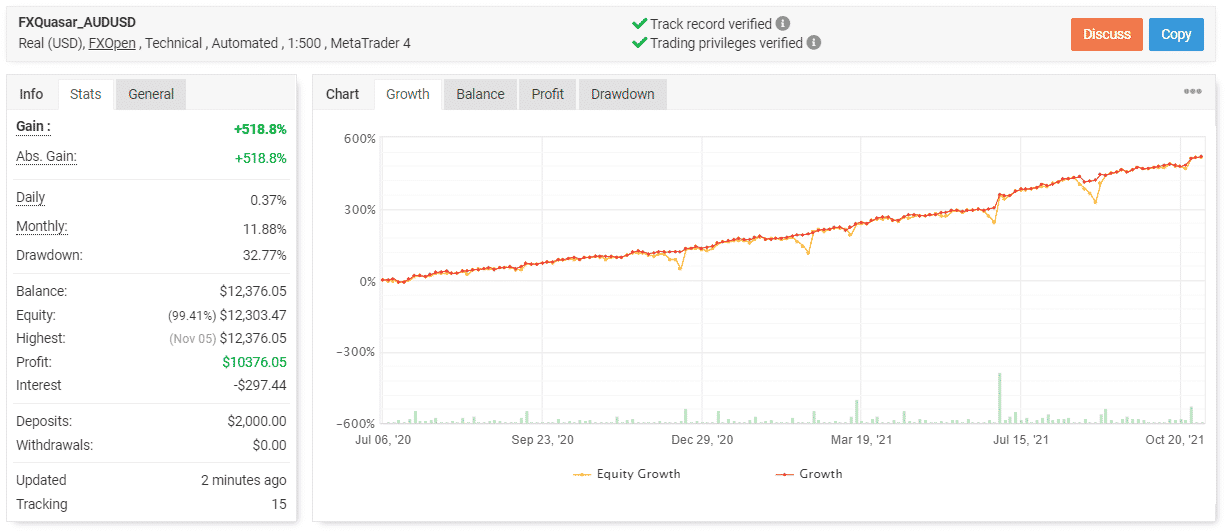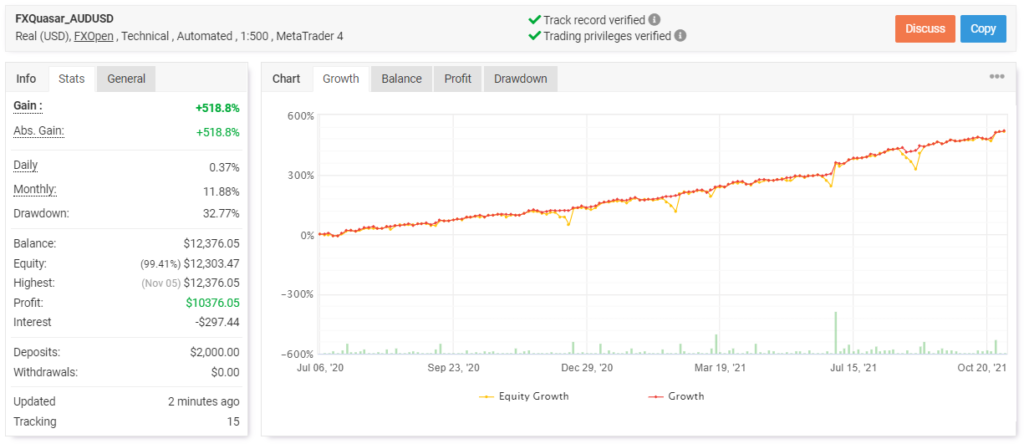 We have a link on verified trading results. The robot executes orders on a real USD account on FXOpen automatically with 1:500 leverage on MT4. We have a track record verified. The account was created on June 06, 2020, and deposited at $2,000. Since then, the absolute gain has become 518.8%. An average monthly gain is 11.88%. The maximum drawdown is 32.77%. We'd like to note that these numbers are quite high. It means that the system works with high risks.


There were 317 deals with 827.2 pips executed. An average win is 39.00 pips when an average loss is three times wider, -101.68 pips. We may rely on the win rate of 74% for Longs and 73% for Shorts. The profit factor is 1.80. It's a bit over than the average win rate is.


The advisor trades in both directions on AUDUSD. The long direction is more profitable (646.9 pips) when the short one is more frequently traded (190 deals).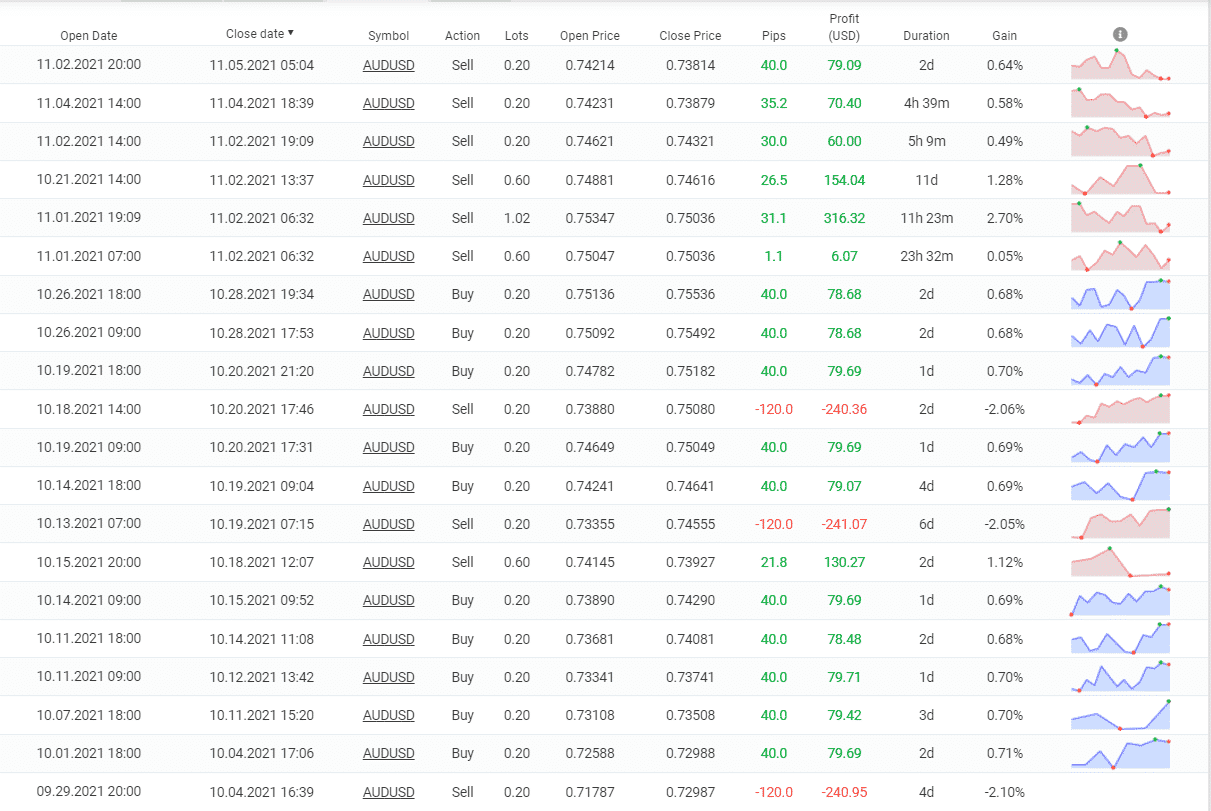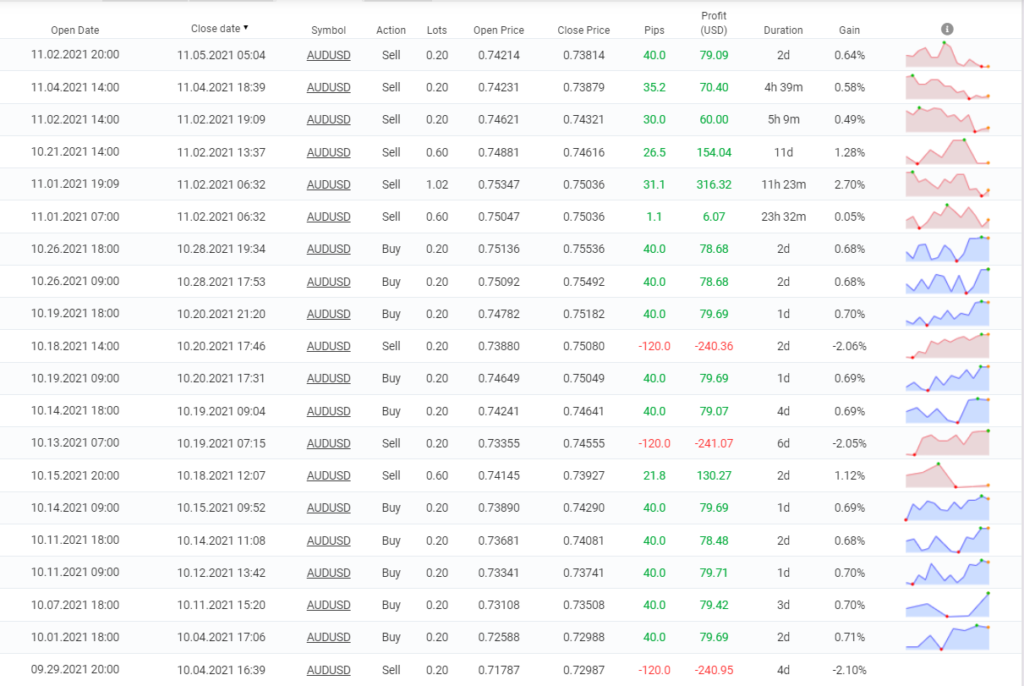 The advisor uses Martinnale without a Grid. The average trade length is 4 days. It's too much for a system trading with this risky approach.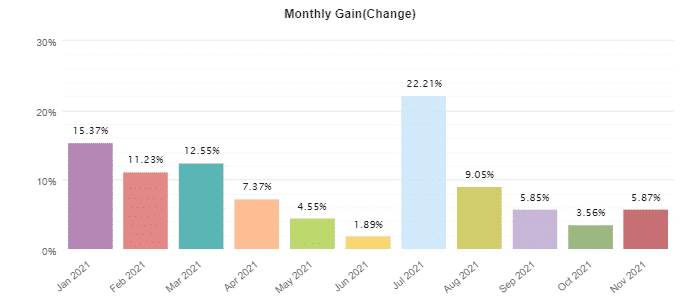 The system provides such various monthly profits. It's hard to predict how it will work.
Other notes


The system is available on Forex Store as well. It has a R rate or 10/10.
People feedback
We have no feedback written about how the system works on the people's accounts.
Wrapping up
Advantages
Backtest reports provided
Trading results shown
A refund policy applied 
Disadvantages
No team revealed 
No risk advice provided
No strategy details shown
The system uses Martingale strategy
No testimonials provided 
No discounts applied
FXQuasar is a system that runs the charts based on a price action strategy with risky but conservative Martingale. We don't have feedback from clients if the system is working well for them. So, purchasing this system will be at your own risk.