Golden Coup EA is advertised as the most effective system in the Forex market. The developer has supposedly spent a significant portion of time and effort on making this software sophisticated. So, it has the potential to generate high returns and keep the drawdown below the 20% mark. The EA is easy to use and gives traders of all skill levels a chance to trade safely and aggressively.
Is Golden Coup EA still good to go?
Here is a list of the EA's key features and recommendations:
It is suitable for any broker conditions.
The sysyem does not have auto lot settings.
It's easy to use.
The EA is compatible with FIFO, NFA, and MT4 Build 600+.
Golden Coup EA supports ECN and works with any Forex broker.
It trades on any currency pair and index. However, you are advised to work with the XAUUSD symbol.
Martingale, grid, hedge, or scalping strategies are not utilized.
The recommended timeframe is H1.
The system works with a fixed stop loss and take profit.
It is recommended to use a VPS chosen based on the nearest location to the broker to attain the lowest possible ping..
Roman Erokhin is the author of this EA. He has no trading experience and has created other trading systems like Genius Assets, Golden Fleece, and Angry Lion. Roman is based in Russia and conducts his operations from there. There's no more info about this vendor's professional background and qualifications.
How to start trading with Golden Coup EA
It will cost you an arm and a leg to acquire this robot because a lifetime license is $750. A rental option is also offered at $699 per year. packages feature a money-back guarantee.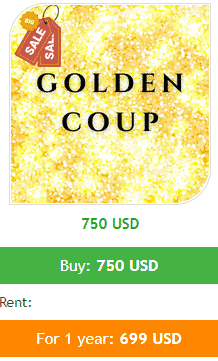 This EA's trading strategy is said to mimic how the brain works, enabling it to learn and adapt to varying market conditions as well as predict situations. So, when it comes to the financial markets, the system uses quotes and any other relevant data to assess the market and place trades accordingly. What's more, the EA integrates a self-adaptive market algorithm that utilizes price action patterns and standard trading indicators.
Golden Coup EA backtests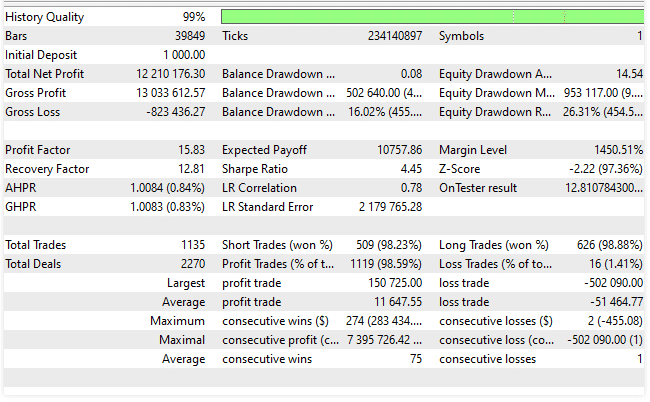 The backtest results of this EA are outstanding. Of the 1135 trades completed using a $1000 deposit, 98% of the short and long trades were successful. As a result, a large net profit of $12210176.30 was made. The profit factor was 15.83, outlining the high profitability rate of the system. A relative drawdown of 26.31% was generated, indicating that the trading risks were not that high.
Trading results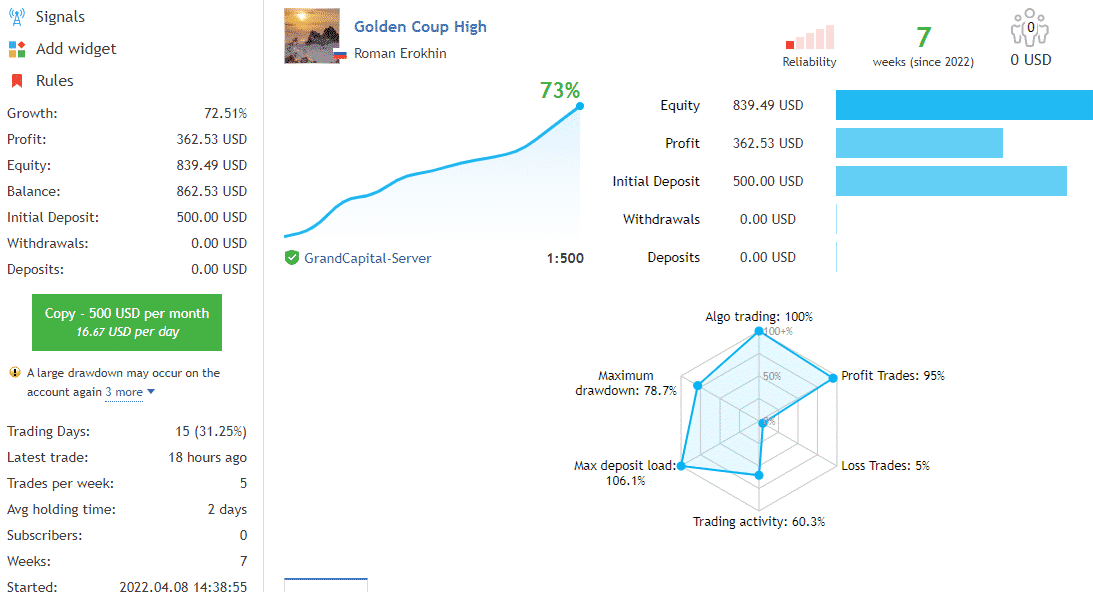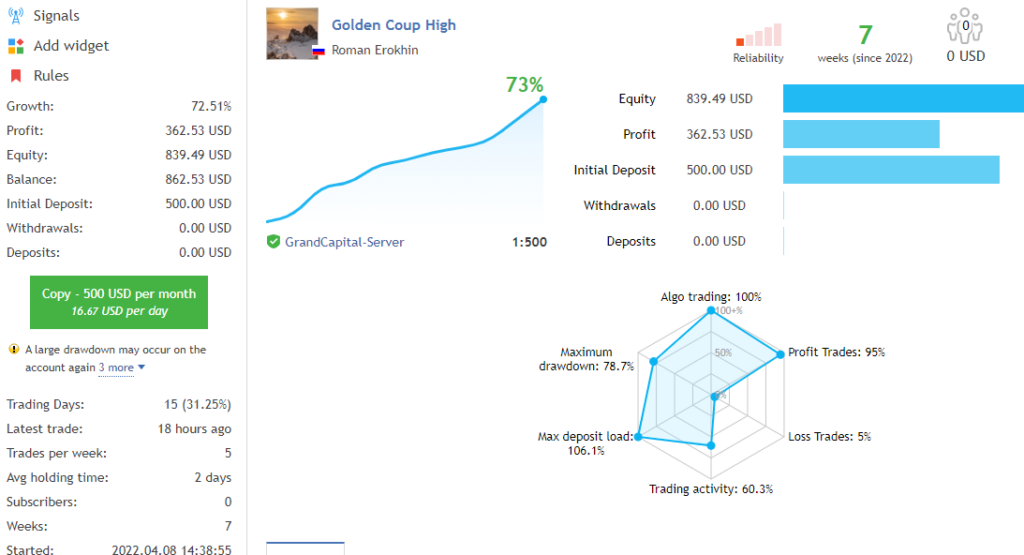 The author has been using this EA to run a personal account on MQL5 since April 2022. To date, the robot has generated a profit of $362.53, increasing the capital from $500 to $862.53. The resulting growth rate of the account is 72.51%, which is quite good. Sadly, the system trades with high risks to the balance as the drawdown has risen to an all-time high of 78.7%.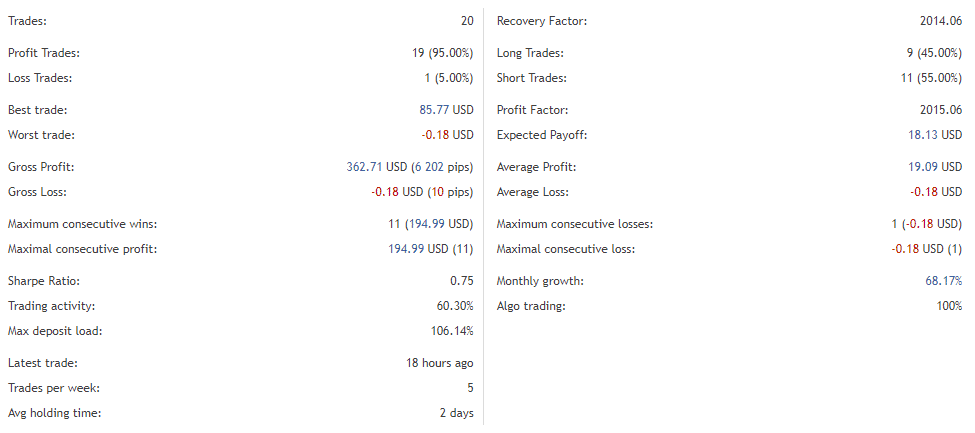 A total of 20 trades have been executed, and so far, their profitability rate is high at 95%. In fact only a single trade has been unsuccessful. The EA mainly works with short positions (11) compared to long positions (9). More wins than losses are reported, as illustrated by an average profit trade of $19.09 against an average loss trade of -$0.18.
Other notes
Golden Coup EA was published in March 2022, and since then, it has been updated more than 5 times. The latest version fixed minor bugs in the code and updated the EA's algorithm, trailing stop, and strategy patterns.
People feedback
There are numerous positive reviews for this EA on MQL5. Most users praise the backtesting results, claiming they are impressive. We also found some negative reviews in which the disgruntled users raise concerns about the poor performance the system demonstrates on forward testing. According to one of them, it seems like Golden Coup was designed to make small profits, and the stop loss may not be effective. So a few updates may make the robot work better.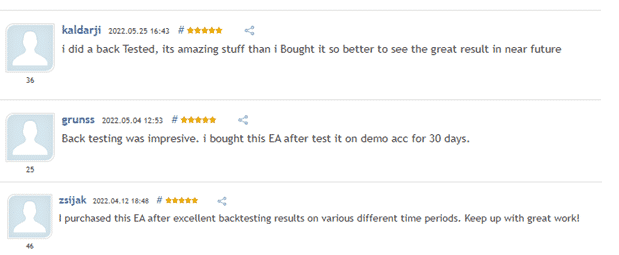 The Review
Golden Coup EA is easy to use and by supporting ECN brokers, the system seeks to help you to trade more profitably and effectively. But the high drawdown generated by the system in the live market casts some serious doubt about its trading efficiency. Clearly, the trading strategy on board is risky and can reduce your capital significantly within a short period of trading.
PROS
Backtest data is available
User-friendly
Supports ECN brokers
CONS
Live trading results are unverified
Expensive
A money-back guarantee is not provided
High drawdown