Green Graph EA was introduced like 'Earn Safe, Earn Green. Green Graph EA trades the green market, getting green profits & earning big money.' It sounds like nonsense because it's Forex and profits have no colors. We can see several widgets that inform us about the advisor's success.
Is this robot a viable option?
We don't have a 100% sure answer to this question. There were many profits made, but the advisor is so young to be convinced that it keeps going for the rest of the year at least.
How to start trading with Green Graph EA
The presentation has some features and settings explained:
Green Graph EA can work fully automatically for us without a need for human intervention.
The robot is a low-risk trading solution.
The system has a "special algorithm" for calculating correct Entry Points.
It uses EMA, stochastic, RSI indicators, and some mathematical formulas.
It can trade the next symbols EUR/AUD, EUR/GBP, EUR/USD, and GBP/USD.
It works on the H1 time frame (if the backtests are correct).
The robot can decrease losses from lost deals.
We can use the software without previous experience.
The robot can be used on any broker house we want.
The developer can suggest to us some brokers if we need them.
The money-management system covers all deals from opening to closing.
"EA is connected to the Green Graph website server where AI keeps revising the ticks and develops an algorithm for future trades."


We have an unproven statistic that there are approximately 1000 visitors monthly and 100 traders (?).
The robot doesn't trade with a huge SL. As a result, there are no significant and long-term drawdowns.
To get started, we have to deposit at least $100.
The leverage we may set at 1:500.
We're allowed to customize default settings.
The robot needs a VPS service for high execution speed.
There's only a subscription-based package. The one-month rent costs $45 instead of $80. The package includes one real and one demo license, free updates, a 30-day refund policy, and 24/7 support. The developer noticed that there are no hidden charges.
Green Graph EA backtests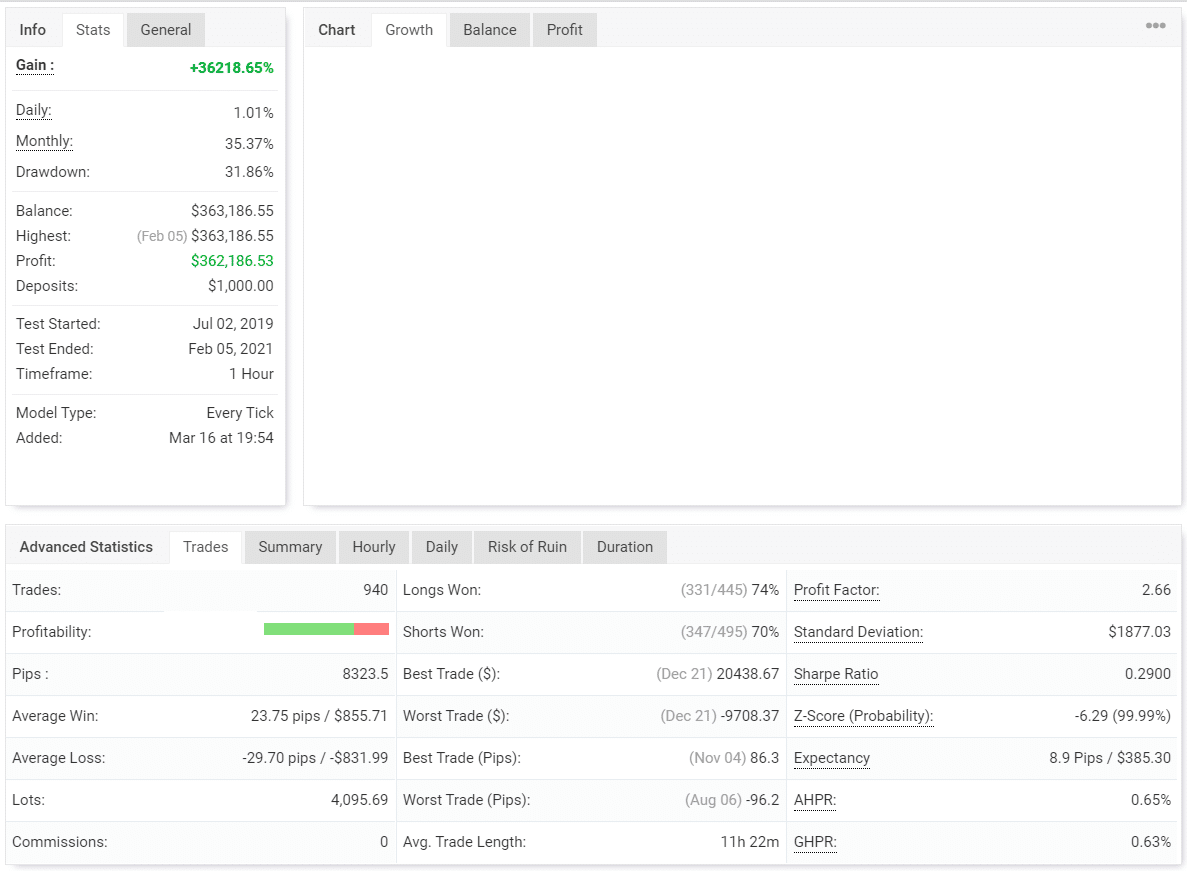 We have a EUR/AUD backtest of the H1 time frame. The period was set from July 02, 2019, to February 05, 2021. The absolute gain has become 36,218.65%. An average monthly profit was 35.37%. The maximum drawdown was 31.86%. Green Graph EA has closed 940 deals with 8323.5 pips. An average win was 23.75 pips when an average loss was -29.70 pips. An average trade length was 11 hours and 22 minutes. The win rate was 70-74%. The Profit Factor was 2.66.


The Long direction brought twice more profits than the Short one.


The robot executed trades with low risks.
Trading results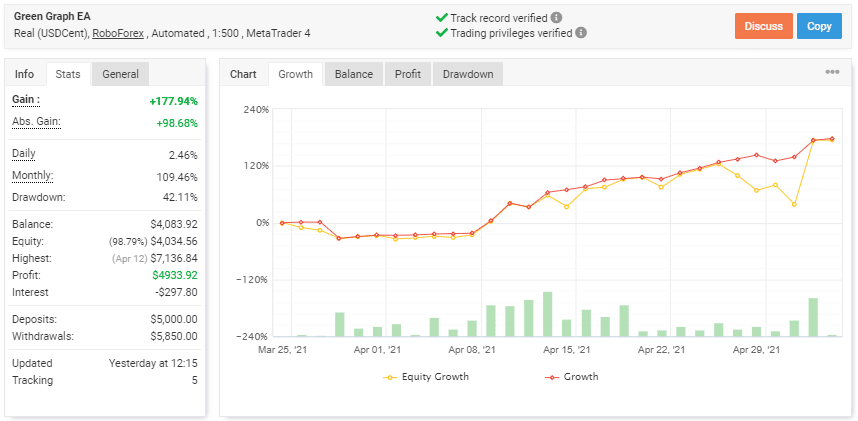 Green Graph EA has been running a real USDC account on RoboForex. It works automatically, trading with 1:500 leverage on the MetaTrader 4 platform. The account has a verified track record. It was deployed on March 25, 2021. The developer deposited it at $5,000 and withdrew at $5,850. Since then, the absolute gain has become +177.94%. An average monthly gain is 109.46%. The maximum drawdown is 42.11%.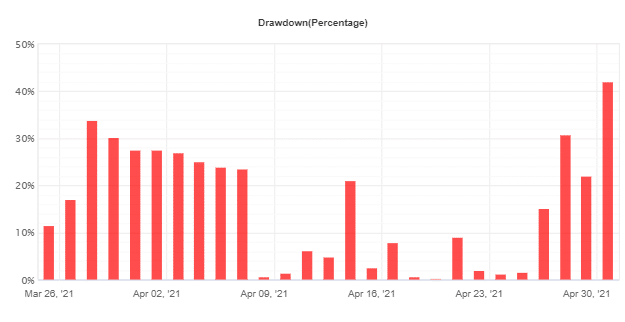 After a period without drawdowns, the robot is experiencing them again.

Green Graph EA has closed 473 deals with 1647.8 pips. An average win is 17.04 pips when an average loss is -27.49 pips. The win rate varies from 63% for Longs to 72% for Shorts. An average trade length is sixteen hours and 2 minutes. The Profit Factor is 1.68.
EUR/GBP is the most traded and most profitable currency pair – 132 deals with $3774.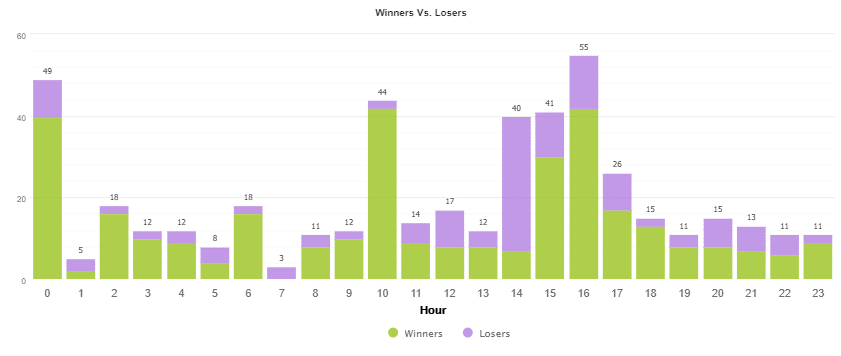 The robot focuses on two periods: past Midnight and the European trading session.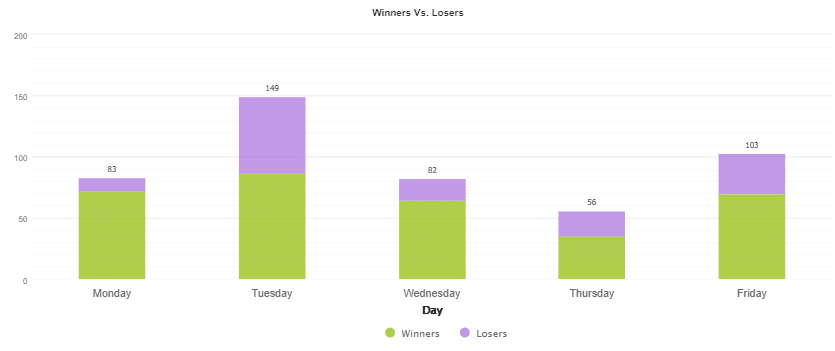 Tuesday (149 deals) is the most traded day.

The robot executes orders with medium risks. There is a 6.38% chance of losing 10% of the account.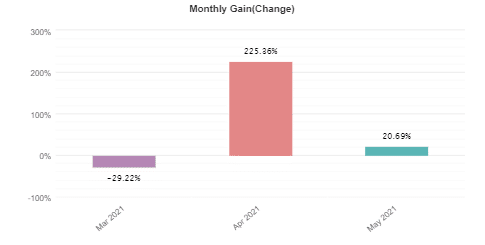 The system shows wild trading results. We're sure that we should keep checking this account for several months more.
Other notes

Several days ago, the developer implemented a 7-day trial for $1. We can check how the system works on the live account.
People feedback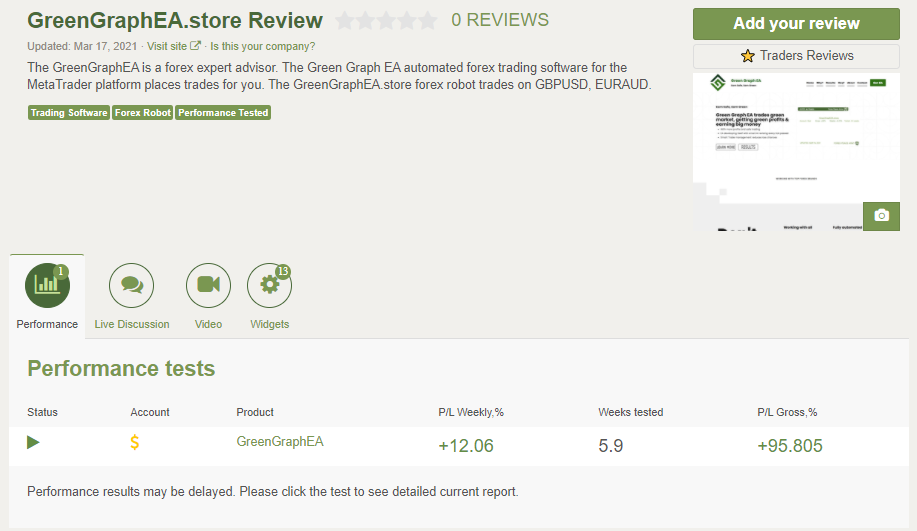 The system is too young, so there are no comments on Forex Peace Army.
Wrapping up
Advantages
Backtest reports provided
Trading results provided
Disadvantages
No strategy details provided
No settings explanations provided
No risk advice given
The robot is a just-released trading solution
No people feedback provided
Summary
Green Graph EA has a common presentation with some features explained. Trading results showed that the system makes profits trading with medium risks to the balance. The robot has been working for two months. This period is too short to say something for sure.