Volatility is an offering from the FX Automater team. It claims to be the most powerful Forex EAs on the market right now. Apart from this, it also claims to have a six-year unbroken winning streak. This version of the EA features an efficient and dynamic trading logic that promises to take your winning to a whole new level.
Is This a Reliable Trend System Robot?
Currently, there is a special limited-time offer for Volatility Factor 2.0 where you get 30% off on your purchase. On the official website, we have a list of all the main features, along with some advanced functionalities that are built into the system. The vendor has provided us with several live trading accounts and has explained the trading strategy used by the robot. Some backtesting results have also been shared and finally, the pricing details of the EA have been presented.
Volatility Factor 2.0 is a product from the FX Automater company that is based in Seychelles. This team has been building Forex EAs since 2009 and their developers have a combined experience of more than 15 years. Their other robots include Omega Trend EA, Smart Scalper Pro, Grid Master Pro, BF Grid Master EA, News Scope EA Pro, etc.
This robot trades in pairs like USD/JPY, EUR/USD, and GBP/USD. The strategy used by the system is aimed at exploiting market trends and volatility. Trades are usually placed in the direction of the market. The system performs some complicated calculations to make sure the volatility level is correctly identified.
When there is a trend breakout in the market, the EA closes its trading positions to safeguard your account. Its advanced money management features closely monitor each trade and closes the positions while keeping the drawdown to a bare minimum.
This robot also capitalizes on pricing oscillations to ensure a steady stream of profit. We think the information provided on the strategy is quite vague, and that the vendor should have considered sharing the technical aspects of the trading scheme.
How to Start Trading With Volatility Factor 2.0
Currently, the Forex robot can be bought at a price of $237. This gives you access to 1 real account and an unlimited number of demo accounts. The vendor provides a 60-day money-back guarantee for this product.
Volatility Factor 2.0 has a broker spy module that protects your funds from unscrupulous brokers who wish to cheat you with order execution delay, high spreads, and negative slippage. It has a high trading frequency and a news filter that takes into account all the latest developments in the Forex market. Most of the trades signaled by this robot are in the direction of the market sentiment for the medium-term.
Normally, 3-4 trades are delivered per session and a profit of 10-15 pips are delivered for each trade.
Volatility Factor 2.0 Backtests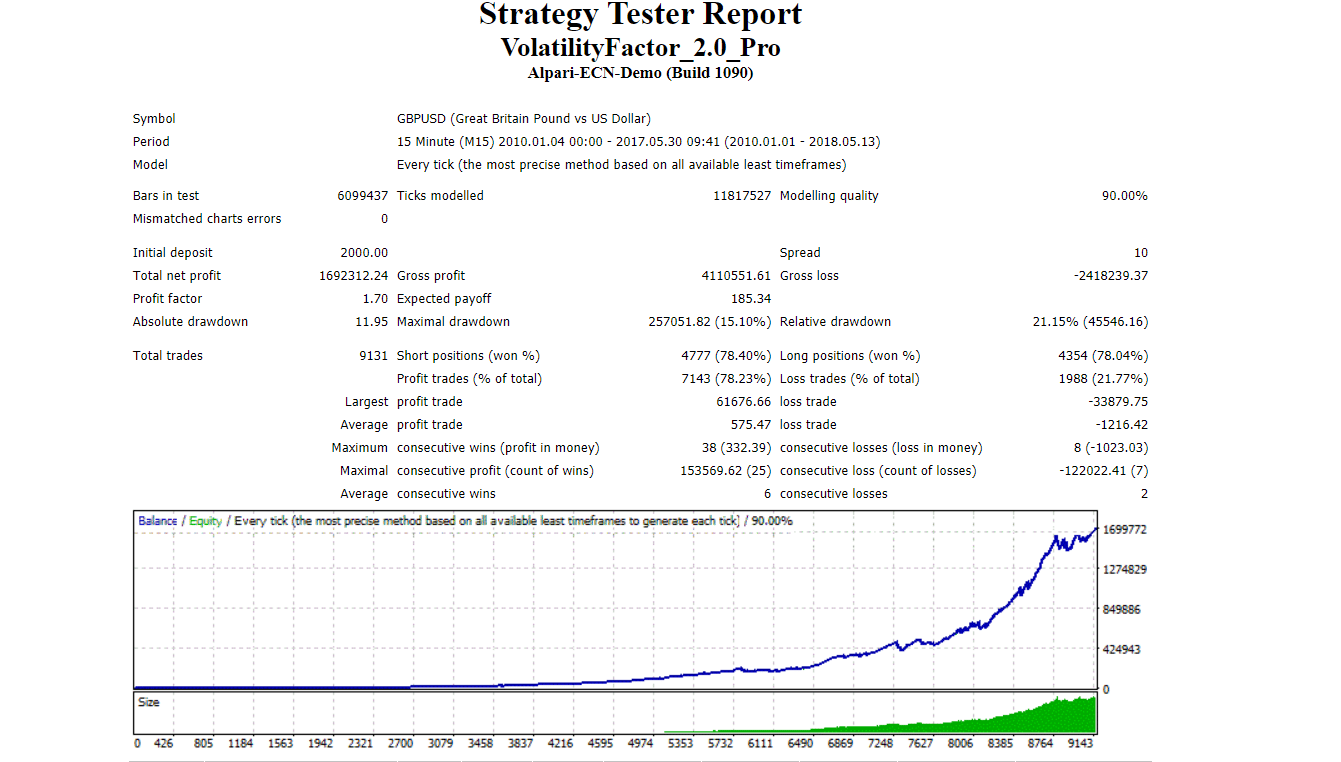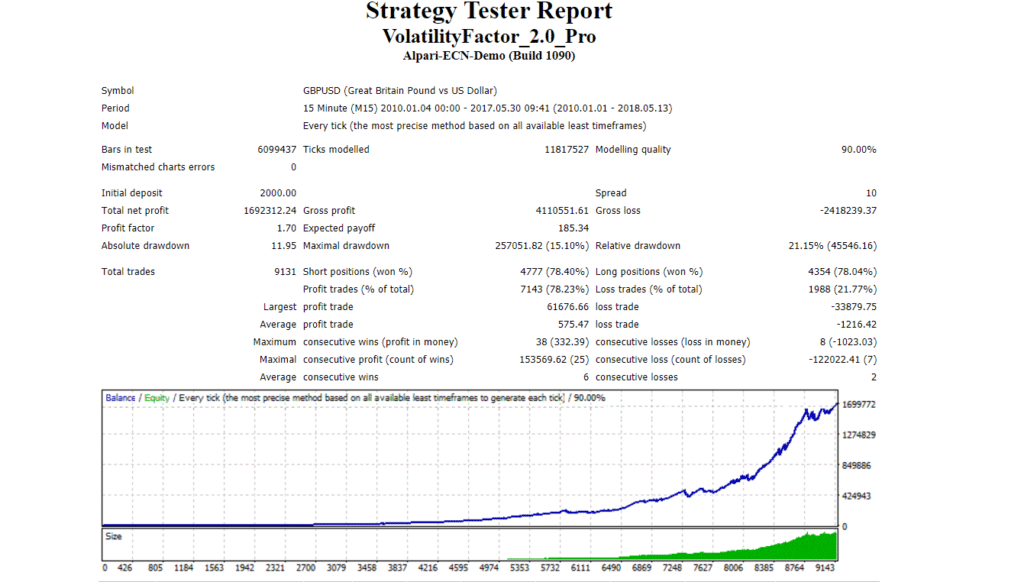 Here we have the backtesting data conducted on the GBP/USD pair starting from January 2010 to May 2017. A total of 9131 trades were made during these 7 years, 78.23% of which were won by the robot. This resulted in a total net profit of $1692312.24.
For this backtest, the EA had a profit factor of 1.70, while the relative drawdown was 21.15%. There were 38 maximum consecutive wins and 8 maximum consecutive losses.
Trading Results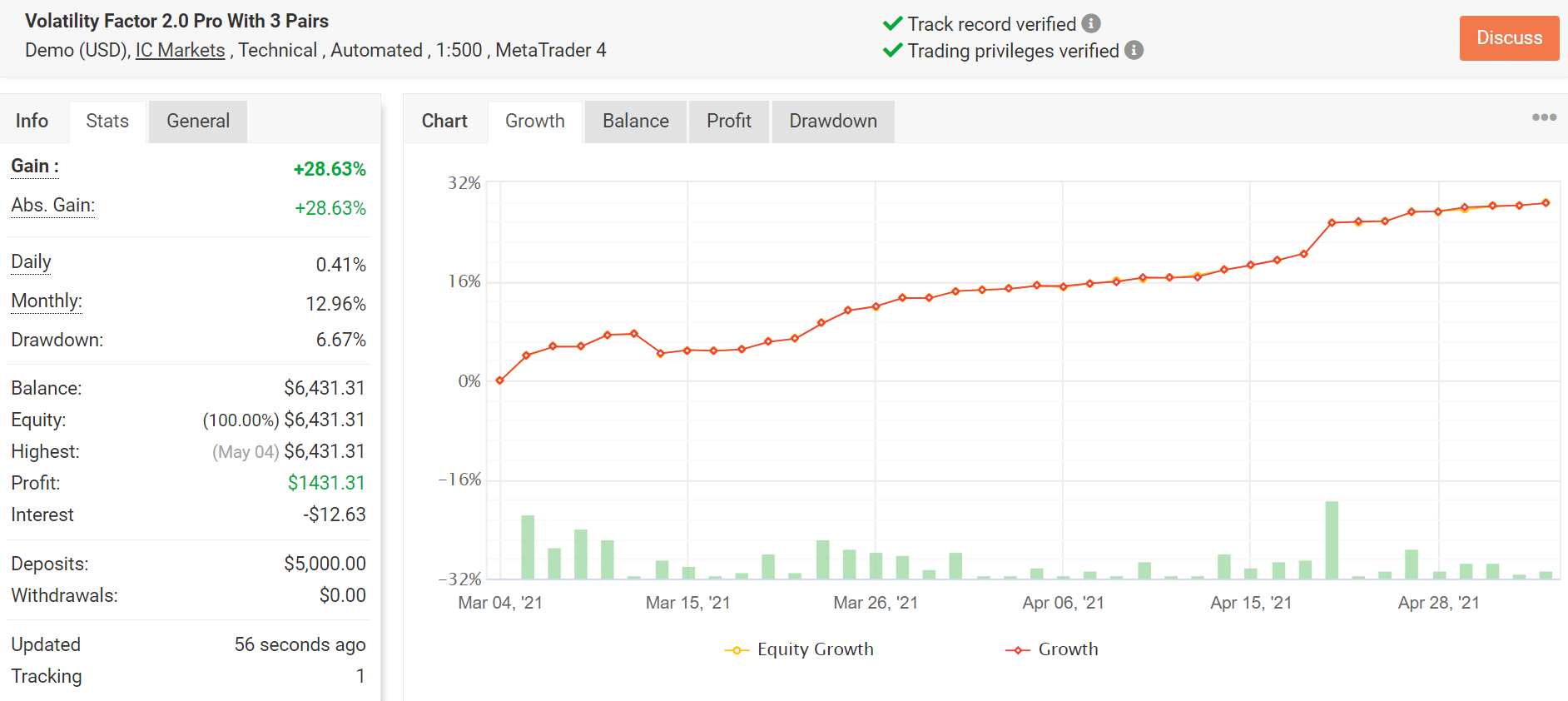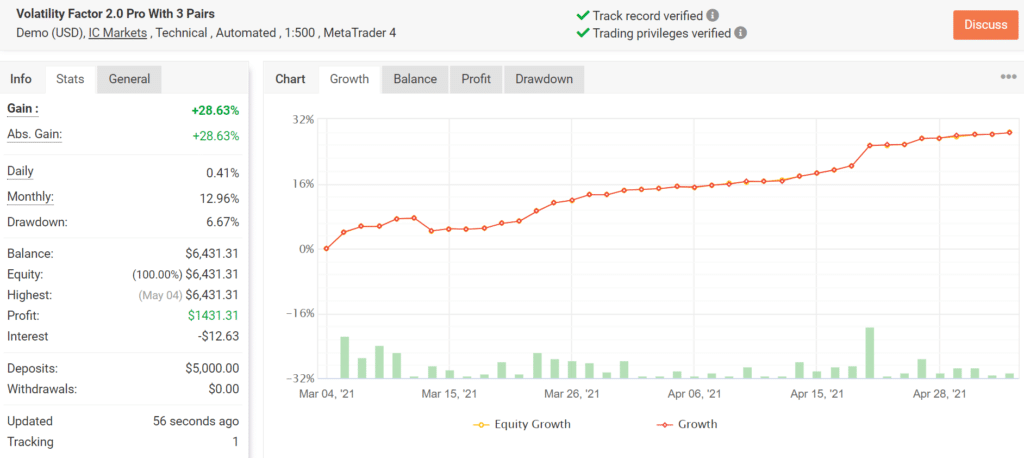 This Demo trading account has been active since 4th March 2021. During its short trading history, it completed 211 trades. Currently, the net profit generated through this account stands at $1431.31, while the time-weighted return is 28.63%.
While the daily and monthly gains for this account are 0.41% and 12.96% respectively, the drawdown is 6.67%. The average win and loss are 7.51 pips/$11.36 and -7.56 pips/-$13.40 respectively. Although the Shape Ratio is a bit low at 0.48, the profit factor of 3.74 is quite satisfactory.
Other Notes
When you purchase Volatility Factor 2.0, you get access to an installation wizard that makes setting up the software easy and hassle-free. From the website's exclusive member's area, you access files, get in touch with the support team, and consult the tutorials. A comprehensive guide is provided for all users, and here you can check the best techniques for using the robot.
People Feedback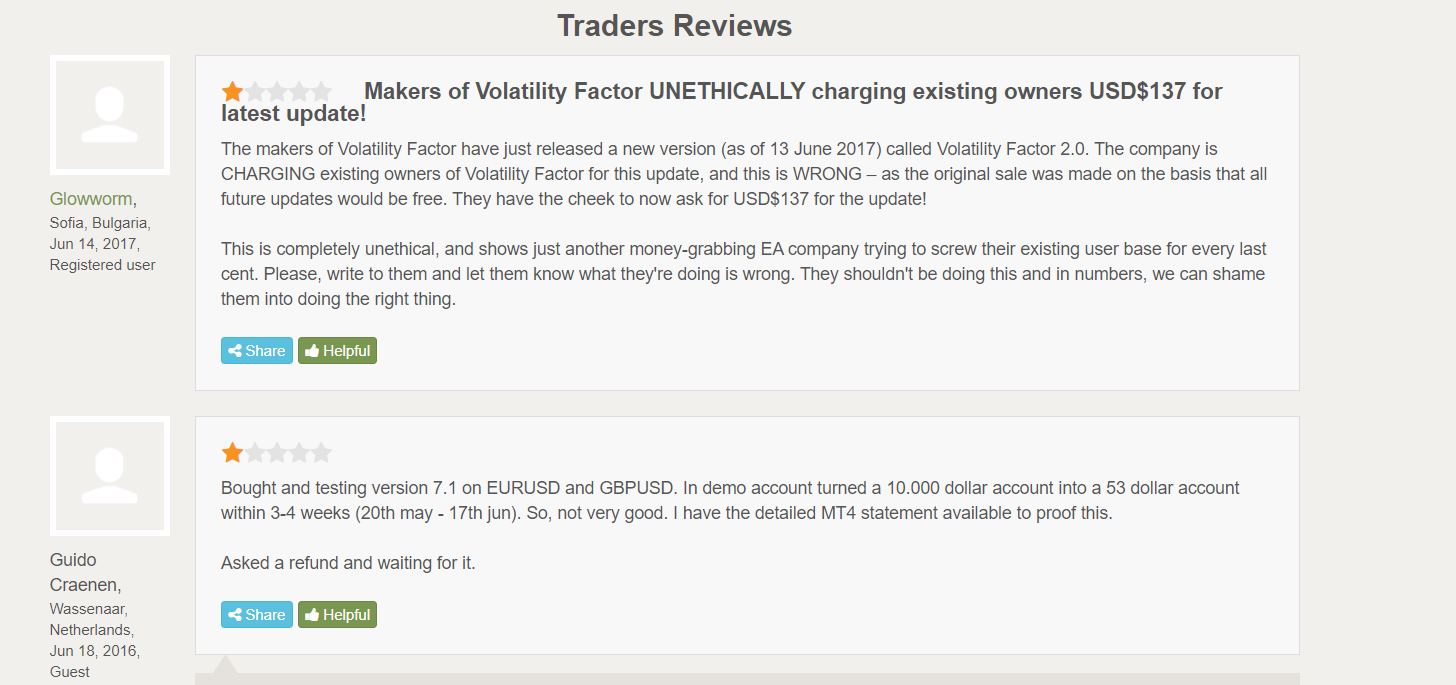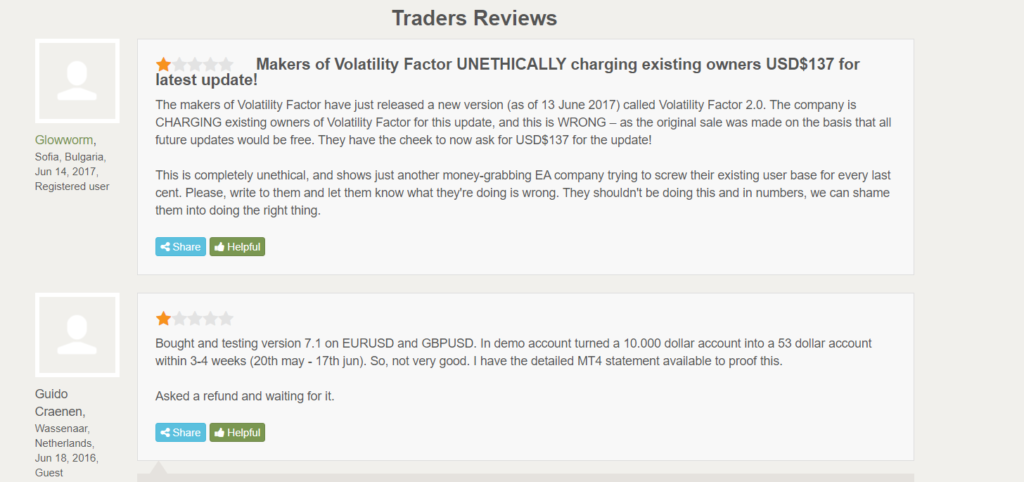 We came across several user reviews for this Forex EA. One user has claimed that the company charged its customers extra for updating to the new software version, in spite of promising free updates at the time of the original sale. Another user has expressed their dissatisfaction with the small profits generated by the robot.
Conclusion
Advantages
Verified live trading results
Quality backtesting data
Disadvantages
Inadequate strategy insight
Short trading history
Negative user reviews
Summary
Although Volatility Factor 2.0 is not a scam service, it is a risky investment prospect, mainly because it has not been trading live for too long. Besides, the trading strategy used by the robot is a grey area, and the customer reviews are not too flattering.