Today's review will be about the Gold VIP Signal service. Its developers claim that they provide 'the best signals and services you have ever had'. They analyze the market and make their daily strategy according to this to provide us with the best and the 'best signals' to generate maximum income. They believe that every trader, no matter how experienced he or she is, can succeed in the Forex market. They say that to achieve success we have to follow their rules and make the proper money management.
Is It a Good Choice for You?
To start with, we'd like to analyze their website presentation. This is a scam-like presentation that doesn't provide us with any information about the signals. Their website looks odd and is difficult to navigate. It is hard to find something there. The dev mentions that the signals they offer are delivered via Whatsapp. It's a specific way of signal delivering as most developers use Telegram for these purposes.
It is very little to no information about the developer or a team that stands behind Gold VIP Signal provided. We know that Gold VIP Signal belongs to the De-GreatForexSignal group, which includes 15 expert technicians with several years of experience in the financial market. They are based in Singapore, South Korea, Nigeria, Bangladesh, India, and Switzerland. The dev makes us sure, we will get profits with every signal we get.

Let's talk about the strategy, trading requirements, and the other details:
The trading strategy is Trend trading. It works on the H4 timeframe
The expertise team behind Gold VIP Signal analyses the market 24/7and assures the best result for traders
The dev claim that our funds are managed by professional traders
Only we have access to our accounts and our funds
There is no prior trading experience needed
We can withdraw our funds any time we want
Our funds are held at reputable and regulated banks and brokerages
The minimum deposit should be $1000
All trades giving are instant or pending execution
Signals with Entry point, TP, and SL does not include swap or spread
They provide only Long positions signals
The TP can be from 100 to 300 pips
The dev recommends never open positions with all our free funds
We need to use 15-20% of all our free funds for all our open positions 'and no more than 5% for each deal'
How to start trading with Gold VIP Signal
The dev recommends following their risk management strategy: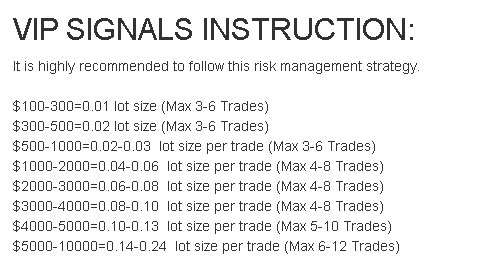 There are basic recommendations on how to manage our trades:

The dev says that with the $1000 we can earn $300 monthly
There is a high withdrawal commission. We have to pay 40% of the funds we withdraw
The dev points out that the signals winning percentage is 90%. It's lie, the system brings significant losses and trades with high drawdowns

We could not find info on the pricing of the Gold VIP Signal. The offer is weird. Why should we pay 40% of the amount we withdraw? It looks suspicious. There is no guarantee the signals will make a profit for us but we still have to pay. How can they force us to pay? It is ridiculous. Other PAMM services ask for a weekly commission from won trades. The offer we have is a total scam.

Gold VIP Signal Backtests
The vendor does not provide backtesting reports. However, we have verified trading results to analyze the performance of the Gold VIP signal.
Trading Results
The account was created on March 02, 2021, and was deposited at over $3K. Its total gain was -95,23% with daily and monthly gains of -4, 51%, and -75, 04%. The absolute gain was 204, 78%. For 2 months of trading activity, the robot generated $6745.45 of profit. Over 10K of dollars were withdrawn from the trading account. There were no funds on the balance left. The trading account experienced a high drawdown of 99, 38%.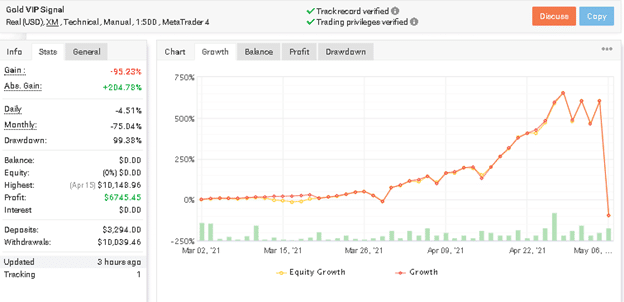 The system traded unpredictably with significant vicissitudes in terms of drawdown performance, jumping from 10% to 40%.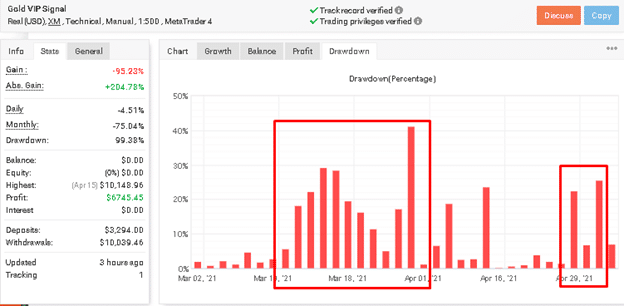 The system has closed 437 deals with 27388.8 pips. The average win was 244.81 pips/$62.51 when the average loss was significantly higher -629.83 pips/-$163.54. The win rate for Short trading positions was 72% when for Long trading positions it was 83%. The average trade duration was 20 hours and 24 minutes. The profit factor was medium – 1, 45.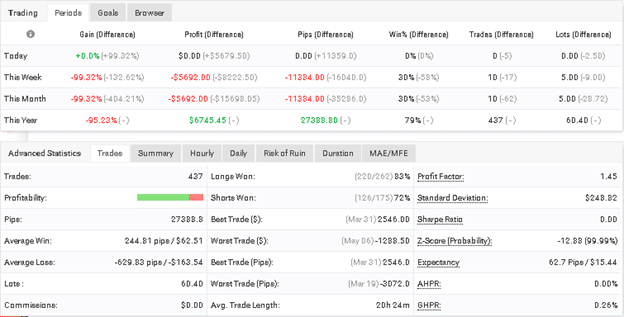 Multiple currency pairs were traded on this trading account. The most profitable one was GOLD – $6742 of profit.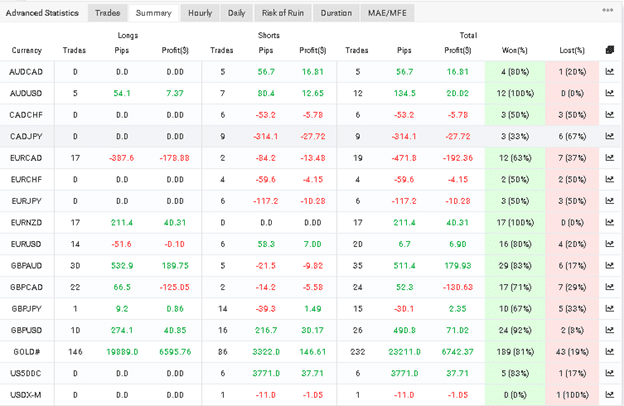 After two losses on May 3 of $580 and $574, the developer decided to withdraw his funds and stop trading. If the dev does not trust the system, then why do we have to trust it?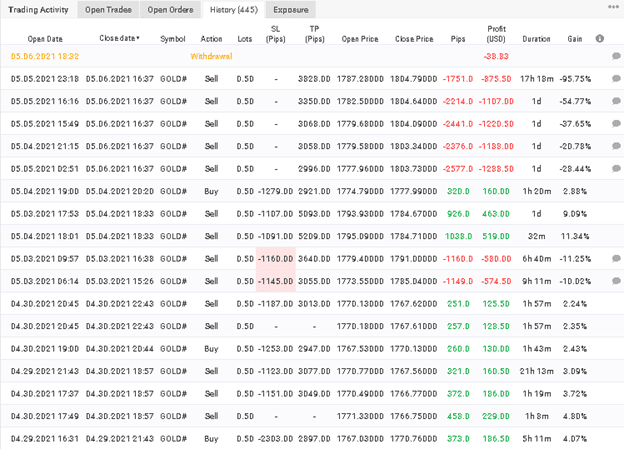 People Feedback
The company has a page with a real account connected to their profile on the FPA website. Until now, there are no comments published.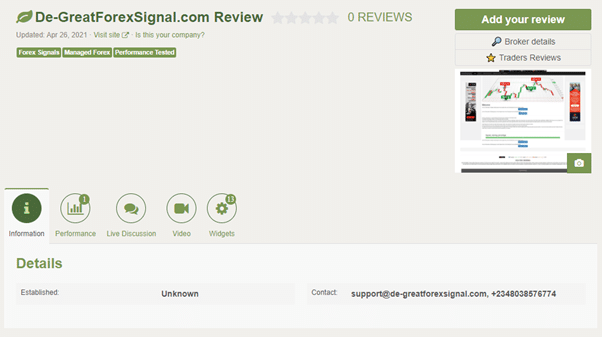 Summary
Advantages
Strategy explanations provided
Verified trading results
Disadvantages
Weird pricing
No backtest results provided
High drawdowns
The system trades with high risks to the account balance
High commission for funds withdrawal
No customer reviews
We do not recommend this trading system. It is a dangerous trading solution with an odd offer and high commission for funds withdrawal. The dev decided to withdraw his funds from the trading account and stopped trading. He does not trust Gold VIP Signals. So, what is the reason to invest in this FX system? None.