WeTalkTrade is a signal providing and EA developing company. That company has discusseable reputation among the Forex related community. The key reason is because they have never provided accounts with verified trading results. The main claim is "Free Live Forex Signals App." We don't know why the devs spent so much time developing an application, but skipped writing a good presentation. A good site is a face of the service so they should provide all required information to convince us that we are safe and they can help us to be profitable.
Can the service be good to go?
It's hard to tell this for sure but we'd like to note that the system doesn't have any backtest or verified trading results. It's a significant con when we think about using it.
How to start trading with WeTalkTrade
The presentation includes some details about how the system provides signals for us and what format they support.
The signals are provided for all assets. There are no limitations.
We can work with currencies, metals, cryptos and indices.
We receive signals with TP and SL levels placed.
It allows us to work on MT4 and MT5 platforms.
The signals will be executed automatically.
The win rate can be up to 80%.
It's an easy to use trading solution.
"The UI is very elegant and simple that can be easily understood and used by any Trader."
It helps us to learn Forex trading.
They delivered with intel about why they were generated.
"We can easily check between the currently active and the most recently closed signals."
We can turn notifications on so we don't skip trading signals.
There's an economic calendar provided.
The system provides us with an opportunity to trade some free signals.
We have access to copy-trading software.
The system will be under full control from our side.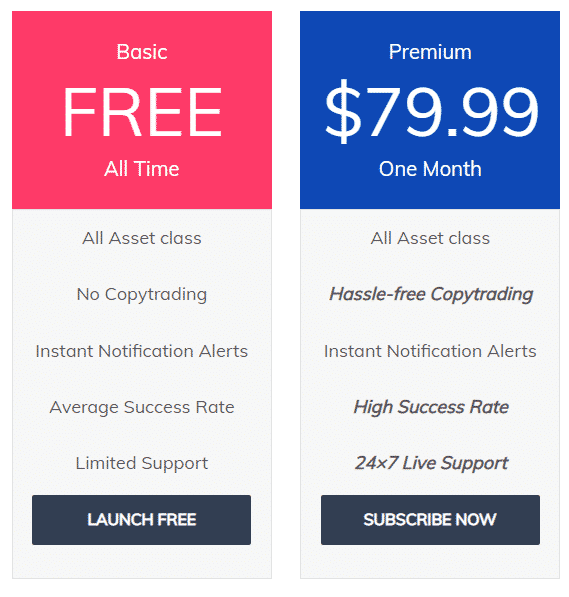 We can get a Basic pack for free. There's no copy-trading, instant alerts, average success rate, and limited support. For $79.99 monthly, we will get: copy trading, high success rate, and 24/7 live support. It looks like there are no refunds. It's a huge con because we have no free signals to check the service and if something goes wrong we won't be able to get our money back. It doesn't increase a level of trust.
WeTalkTrade backtests
The system is delivered without backtest reports. It's a huge con because we have no idea if the robot was tested properly before being set on the market to trade and generate signals for us.
Trading results
The same picture we have with live trading results. The system doesn't have a verified account to prove that it's profitability. That's weird because we should check at least something about the robot's trading activities. It's important to understand if the system has a claimed 80% win rate.
Other notes
The site without trading results looks suspicious. How can we trust this service if the developers don't want to show trading results to us?
People feedback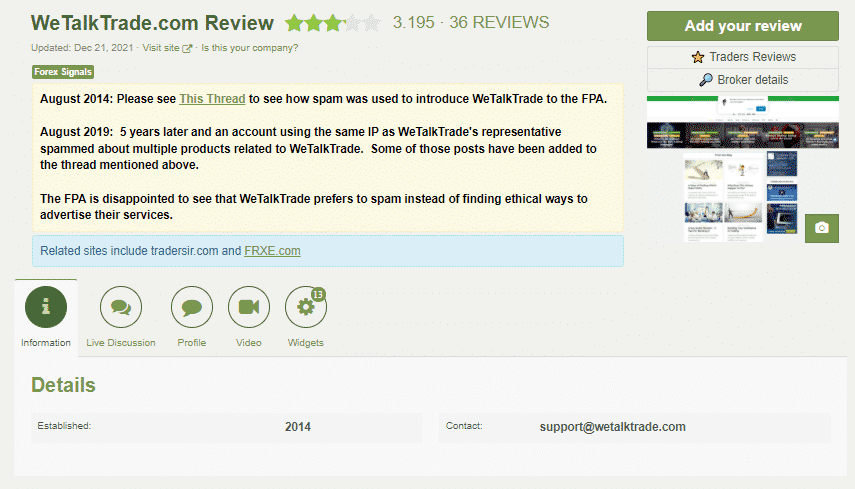 The developers have a page on Forex Peace Army. There are 36 reviews with a 3.195 rating.
People are dissatisfied because the system doesn't fit them properly.
Wrapping up
Advantages
Disadvantages
No team revealed 
No risk advice given 
No money management advice provided 
No backtest reports provided 
No trading results shown 
Lack of positive testimonials 
High pricing
WeTalkTrade provides signals for trading on Forex, crypto markets, and commodities. The presentation lacks everything that could help us to identify the system's profitability properly. The testimonials mentioned negative experience of using this advisor.