Zero to Hero FX Signals promises to help you succeed in Forex trading. The company says it aims to offer accurate and reliable signals that could revolutionize the way you view Forex. So, you can have a bright future by subscribing to their services. We will review the service to see if these promises are achievable or far-fetched.
Is Zero to Hero a reliable signal service provider?
We have compiled the features of this service below:
The vendor sends 4-10 signals daily.
It aims at making about 300 pips on a monthly basis.
Each signal comes with an entry price, stop loss, and take profit.
Signals are sent through the Telegram app, email, and SMS.
The person behind this company is called Bert. He claims to have been trading in Forex for more than 10 years. Unfortunately, we can neither confirm nor deny this assertion since there is no supporting evidence.
When it comes to the strategy used, the company explains that they usually assess and reassess technical and fundamental pressures on the major currency pairs. The information obtained is then used to try and choose the best trade for the trading fund. By joining the service, the team asserts you will instantly receive info on every trade it takes on its fund. This strategy explanation is too general. The vendor needs to get down to the nitty-gritty of the approach. This will erase any doubt regarding the reliability of the service.
How to start trading with Zero to Hero FX Signals
Zero to Hero has 4 subscription plans. We have the 1 month, 3 months, 6 months, and annual plans that cost $95, $195, $295, and $395, respectively. Sadly, the vendor doesn't reveal the features included in these packages. A money-back guarantee is also missing.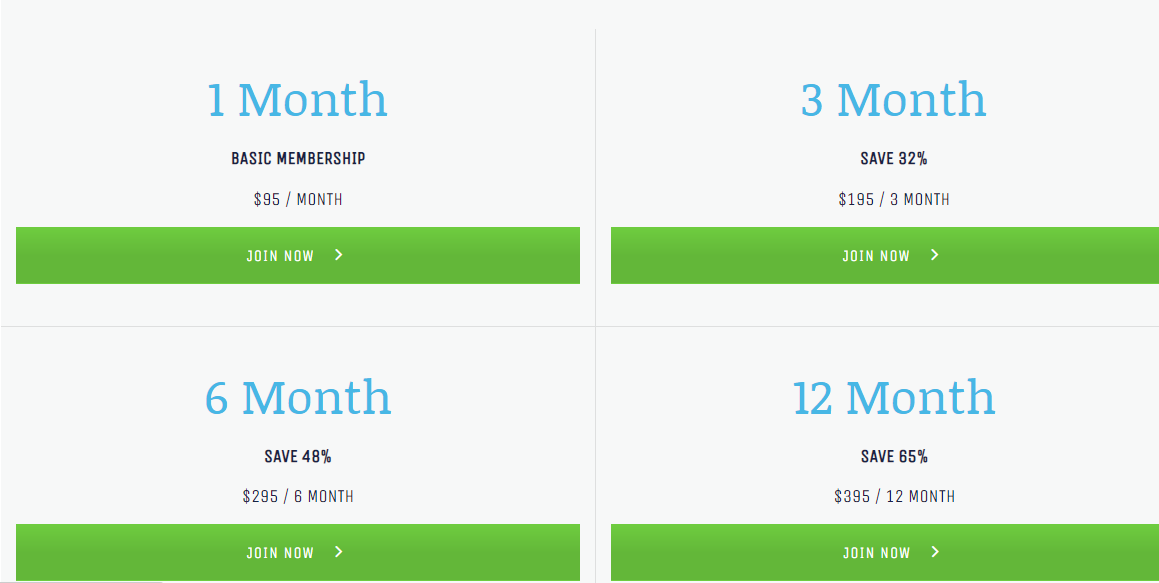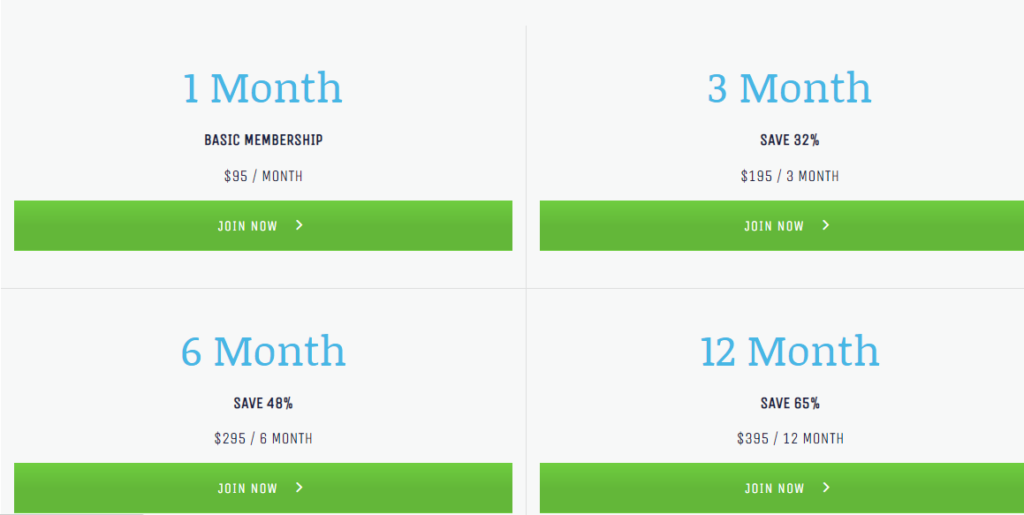 Zero to Hero FX Signals backtests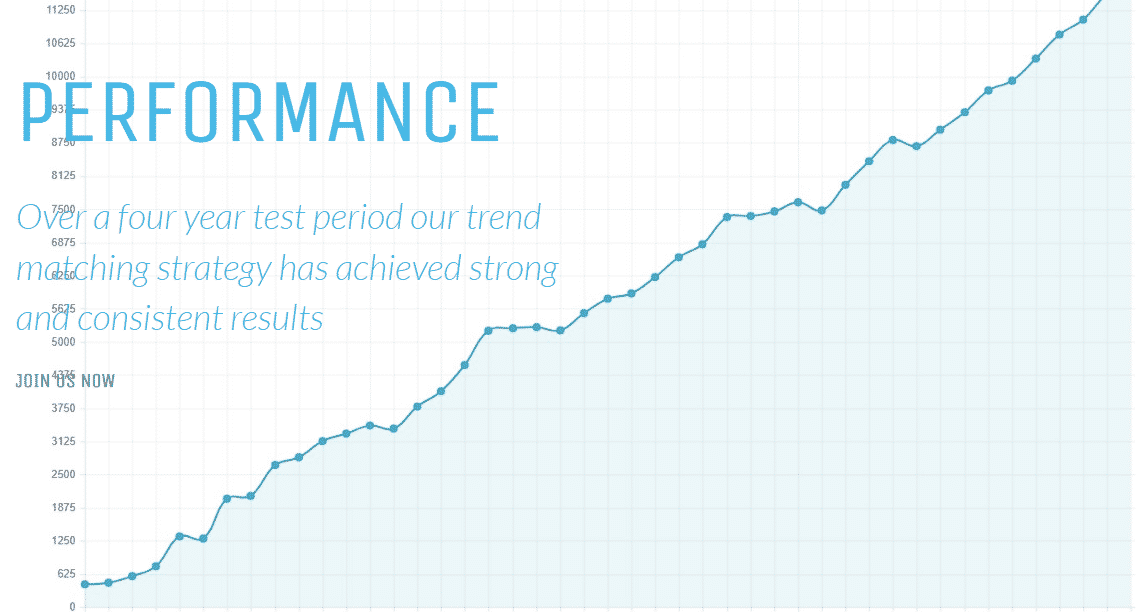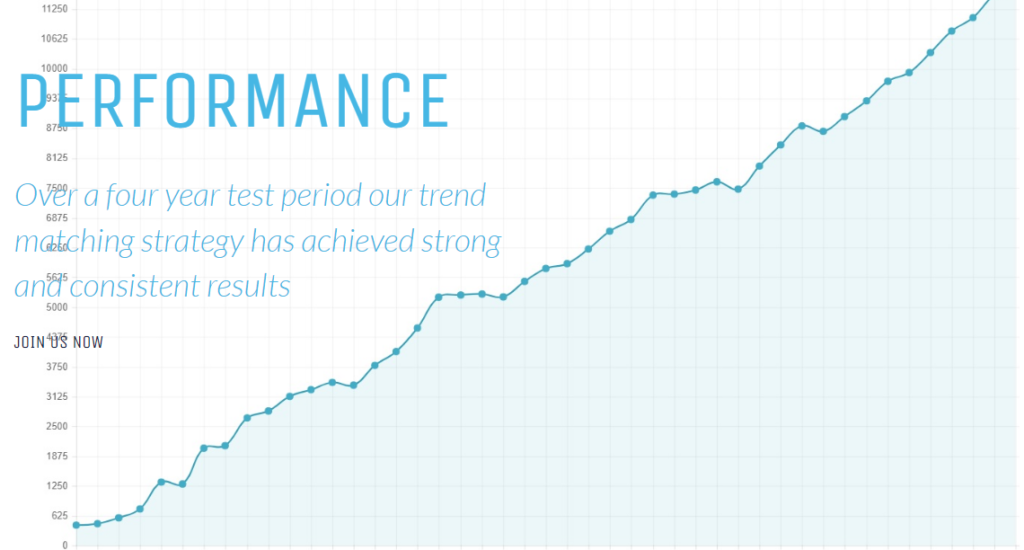 The devs don't share a detailed backtest report. We only have the chart posted above. The claim is that a 4-year test was carried out using a trend matching strategy, and as a result, strong and consistent results were attained. Nonetheless, we need more information about the outcomes for us to be convinced they were indeed impressive.
Trading results

The vendor used the signals to conduct trades on a demo account from June 2019 to July 2020. This account was initially deposited at $3000, and afterwards, a profit of $2790.92 was generated. Consequently, the balance increased to $5790.92.

The signals produced a return rate of 93% after 209 trading days. A profit factor of 1.24 proves that the service doesn't generate substantial revenues. Furthermore, the account could not have grown much with an average trade win of 56.3%. The monthly return rate was 9.7% when the peak drawdown was -29.3%.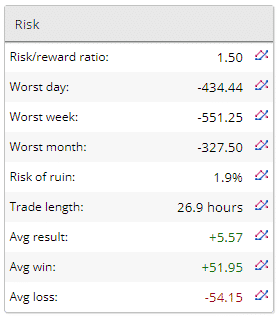 A favorable risk/reward ratio (1.5) was produced. The probability of losing the account was small, given that the risk of ruin was 1.9%. The value of the average loss (-$54.15) was slightly above the average win figure ($51.95)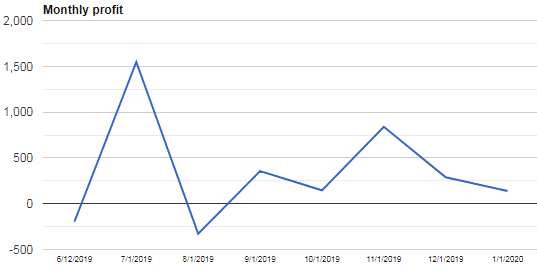 The monthly profits were irregular and unpredictable.
Other notes
You can only contact the support team via email. There is no live chat or other means of getting in touch with the vendor.
People feedback
Most traders using the service have expressed their satisfaction with it on Trustpilot. One of the traders commends the company for providing effective signals that have grown his account. A dissatisfied customer is, however, unimpressed with this provider. According to him, Zero to Hero hardly uses a specific strategy to select signals. This does not sit well with him as he prefers to work with a service that offers a technical analysis behind their entry action.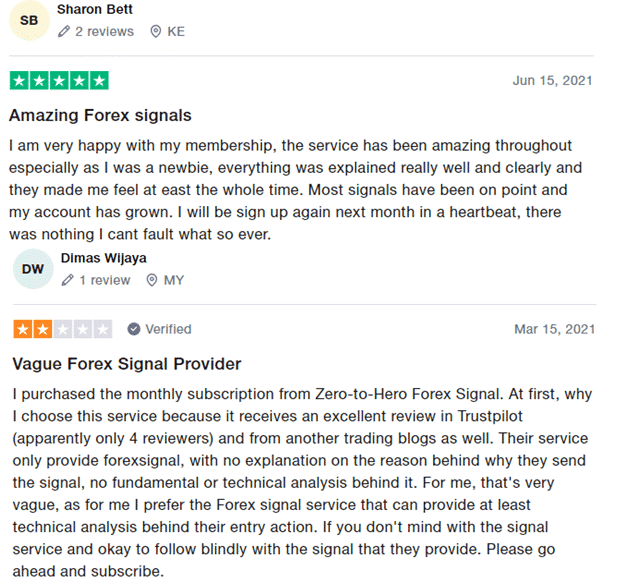 Summary
Advantages
Positive feedback from clients
Low risk of ruin
Disadvantages
Vague strategy explanation
Expensive pricing
Lack of a detailed backtest report
Several traders are satisfied with the service and have confirmed that it can earn you good money. Live trading results have also shown us that the signals are associated with low risks and can keep your account safe. Notwithstanding, you have to consider if you are comfortable not knowing how these signals are generated. In addition, give thought to the pricey plans and decide if the signals are worth the cost.