Santa Claus rally is a common scenario that happens almost every year. It refers to a situation where stocks and other assets tend to rally a few days before Christmas. In this article, we will look at the concept of seasonality and then take a deep dive into whether a similar pattern happens in the forex market.
Seasonality in the market
The concept of seasonality refers to how the financial market reacts in different periods of the year. For example, it is widely known that stocks tend to decline in September and then rebound in October. There are other types of seasonality that happen in the market.
Historically, stocks and assets like cryptocurrencies tend to underperform and experience low volatility during the summer months. This performance happens because most money managers are usually away on holiday during this period.
Another seasonal thing that happens in the market is that stocks tend to do well in the first few days of the year. The S&P 500 index has risen in the first five days of the year in most of the past few years. The performance is attributed to the fact that many people are coming back to the market as they plan for the year ahead.
There is also another seasonality situation that happens in May. A look at financial data shows that stocks do better in the first half of the year than in the final one. A common phrase is known as "sell in May and go away."
Santa Claus rally
Santa Claus is a figure well-known in the United States and other countries. He is based on St. Nicholas Sinterklaas and is well-known for bringing gifts to children. The Santa Claus rally is a seasonality situation that implies that stocks rise in the five days to Christmas. A closer look at the S&P 500 shows that the index has risen in this period for many years.
It is not clear why the Santa rally happens. Many analysts believe that it happens because of the psychology of investors since they expect stocks to rise during the period.
Another possible reason why the Santa rally happens is because of the so-called tax-loss harvesting. In most cases, stocks usually decline a few weeks before Christmas as investors exit their loss-making assets for tax purposes. This process is known as tax-loss harvesting. Therefore, stocks rally after investors come back to the market after selling their losing stocks.
In addition, some analysts believe that the Santa rally happens as investors anticipate the so-called January effect. As mentioned above, stocks rally in January as investors allocate their funds for the new year. Therefore, a week before Christmas is usually ideal to buy stocks since most institutional investors are not active between Christmas day and January 1st,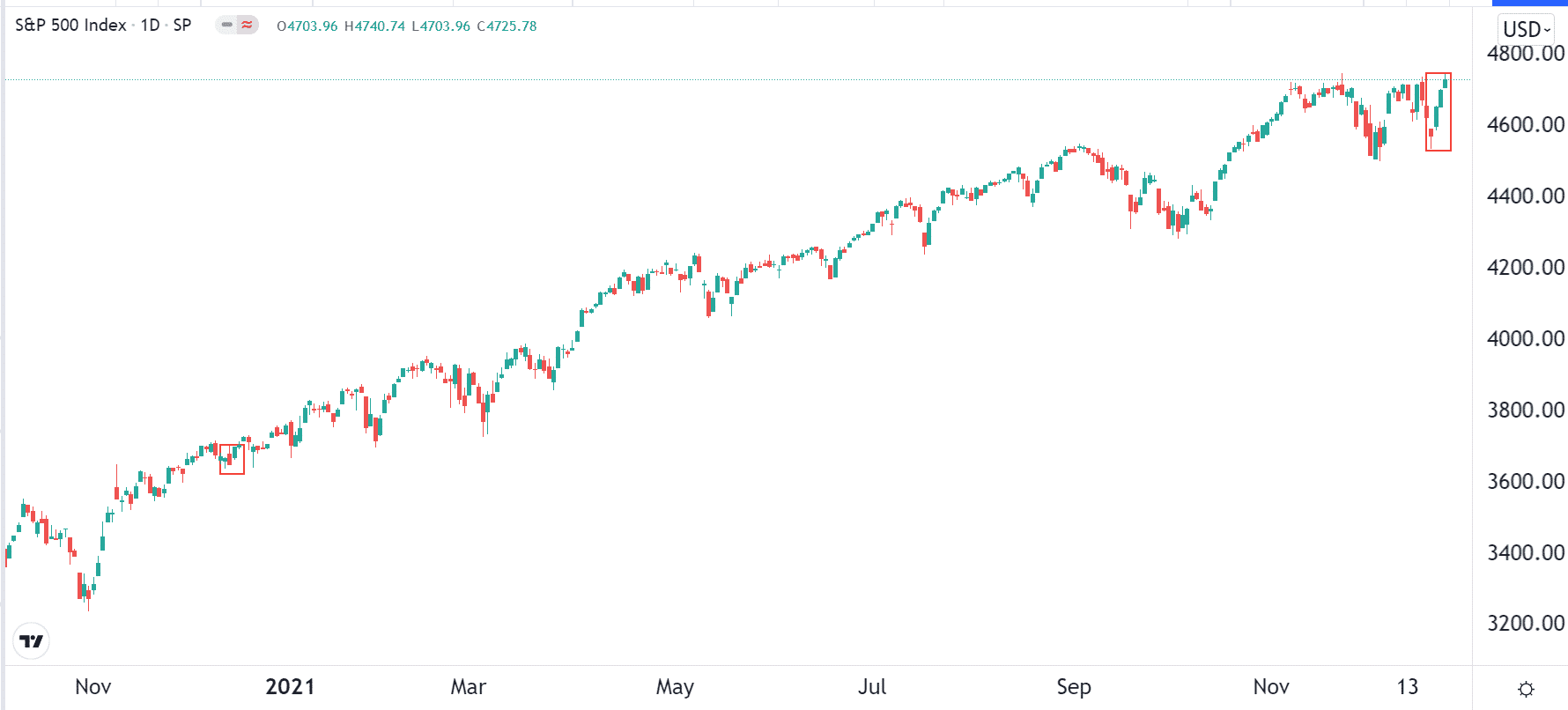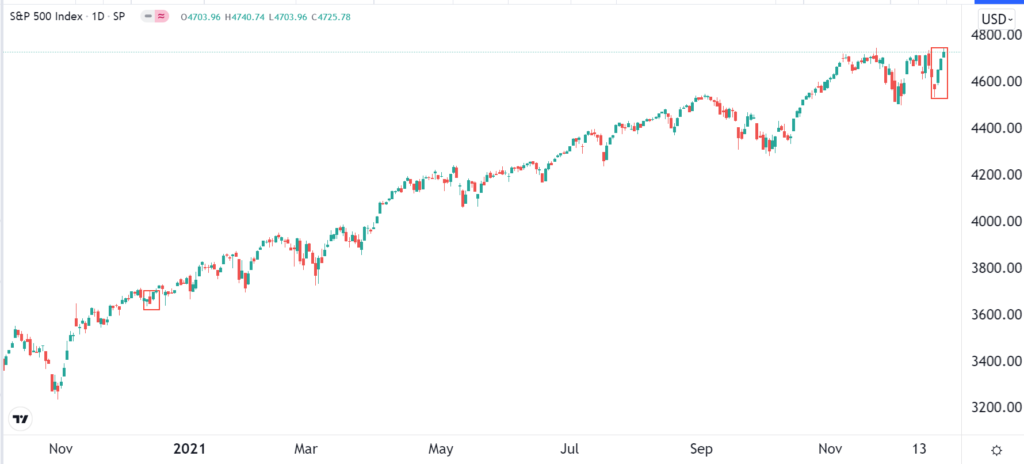 The chart above shows that the S&P 500 index rose in the few days to Christmas in 2020 and 2021.
Santa Claus rally and forex
A closer look at key markets shows that the Santa Claus rally usually happens in key assets like stocks, cryptocurrencies, and commodities.
However, a look at the Forex market shows that this pattern is not clear. For example, the US dollar index declined in the five days to Christmas in 2021 and rose in the same period in 2020. A look at a ten-year period shows no unique pattern that is visible in other assets like stocks and commodities.
It is unclear why currencies don't go through a Santa Claus rally. Still, I attribute this situation to a number of reasons.
First, the Santa Claus rally period happens a week after key central banks have published their decisions. Every December, most central banks like the Federal Reserve, European Central Bank (ECB), and Bank of Japan (BOJ) publish their decisions. While these decisions have a bearing on all assets, currencies tend to be more exposed.
Therefore, these decisions play a role in the market. For example, in 2021, central banks like the Fed and the BOE delivered hawkish interest rate decisions.
Second, some currencies have an inverted relationship with the stock market. For example, there tends to be an inverse relationship between the US dollar and the S&P 500.
This relationship happens because most companies in the index do business outside the US. As such, a stronger US dollar could impact their overall returns. For example, when the US dollar strengthens against the euro, companies will report weak earnings when the euro is converted to the greenback.
Third, currencies are moved by other factors that stock investors could blush off. For example, a currency could react to an internal political situation in a country while stock investors will ignore the information.
Forex trading during the Santa Claus rally
There are a number of ways in which you can trade during the Santa Claus rally. First, you should be aware of all fundamental factors that will move the currency pair. Some of the fundamental factors that could move currency pairs are economic data like employment, inflation, and durable goods orders.
Second, focus on technical analysis. This is a type of analysis that involves using technical indicators like Moving Averages, Relative Strength Index (RSI), and the Moving Average Convergence and Divergence (MACD). These indicators will help you predict the direction that a currency pair will move to.
Finally, focus on technical setups. These involve looking at candlestick and chart patterns when trading. Some of the popular candlestick patterns to look at are Doji, bullish and bearish engulfing, and harami. Chart patterns to look at in price action are triangle, head and shoulders, and wedges.
Final thoughts
The concept of seasonality is an important one to grasp. It will help you have a good understanding of the price action of key assets in different periods. For example, it will help you know why stocks and cryptocurrencies are experiencing low volatility during winter. In this article, we have looked at the concept of the Santa rally and how it affects the forex market.