Grid King is a Forex expert advisor for Metatrader 5 that was launched on 31st January 2019. As per vendor claims, this robot generates higher gains compared to other grid systems. This is quite a bold claim, and we need to analyze the performance aspects of the EA in detail in order to verify this.
Is this a good robot you can depend on?
On the MQL5 website, the vendor has provided us with a short introduction to the EA and explained in brief how it works. They have also shared some vendor recommendations and mentioned the trading strategies employed by the EA.
Wim Schrynemakers, a Maltese trader, is the developer of Grid King. This person claims that they have been developing EAs since 2005. According to their MQL5 profile, they have 8 years' experience. We don't have any background information on this person, but we can see that they have developed EAs like The Reaper, Advanced Scalper, Gecko, Red Hawk EA, Swing Trade, Night Owl, and Momentum EA.
This EA is compatible with 29 distinct currency pairs. The vendor also mentions that Grid King has a Spread Equalizer Algorithm that they claim reduces the influence of slippage and spread on the stability. However, they have not explained this algorithm in detail, so we can't really tell how it works.
For making entries, it relies on 2 distinct strategies, namely Volatility breakout and return to mean. For the 1st one, the EA follows the direction of strong price shifts, while the second one relies on the price returning to the mean value after a sharp rise or fall. This is a grid bot that opens a set of orders within a fixed price range. If the price does not continue to run in the same direction for a long time, this strategy can lead to large losses, which is why many traders tend to avoid it.
How to start trading with Grid King
Grid King is available at the price of $390. This is not a small price to pay for a Grid bot, and if you don't wish to pay the full price, you can try out one of the three available rental options. For 3 months, you need to pay $199, while the 6-month and 1-year rentals cost $249 and $299, respectively. The vendor does not offer a refund for this EA, and we think this is a sign of unreliability.
Grid King requires a VPS service to function properly. The vendor recommends using it with brokers like Alpari and ICMarkets. In the beginning, you need to invest a minimum of $1000 and run the EA on EUR/CHF and XAU/USD pairs. Although the vendor claims that the robot is not broker-sensitive, they have also mentioned that a low-spread ECN broker is more suitable.
Grid King backtests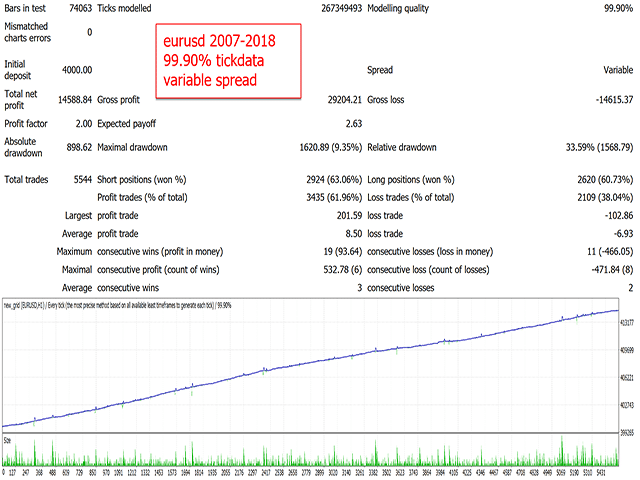 The vendor has shared several screenshots of backtesting data, but here we shall look into the one conducted on the EUR/USD pair from 2007 to 2018. In this backtest, the EA generated a total profit of $14588.84 and maintained a win rate of 61.96%, which is not that high. We can also see a high relative drawdown of 33.59%, which indicates a high risk of ruin.
Trading results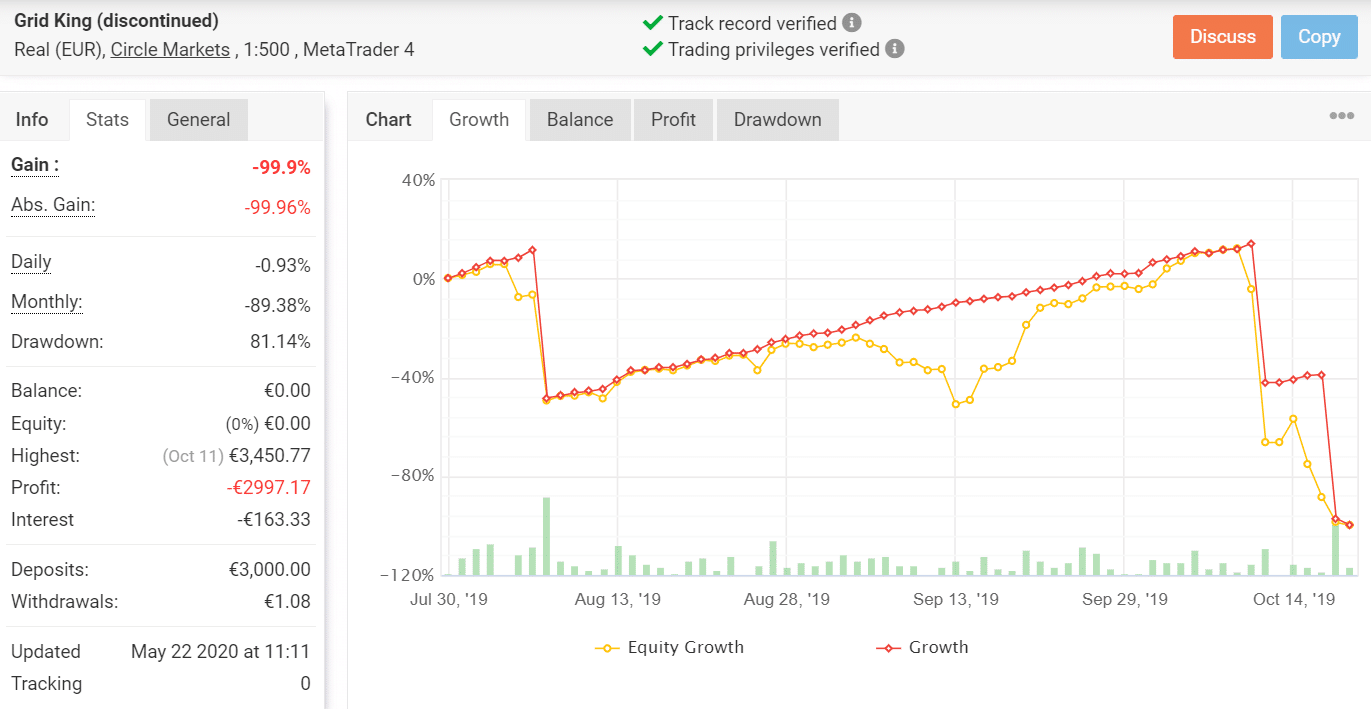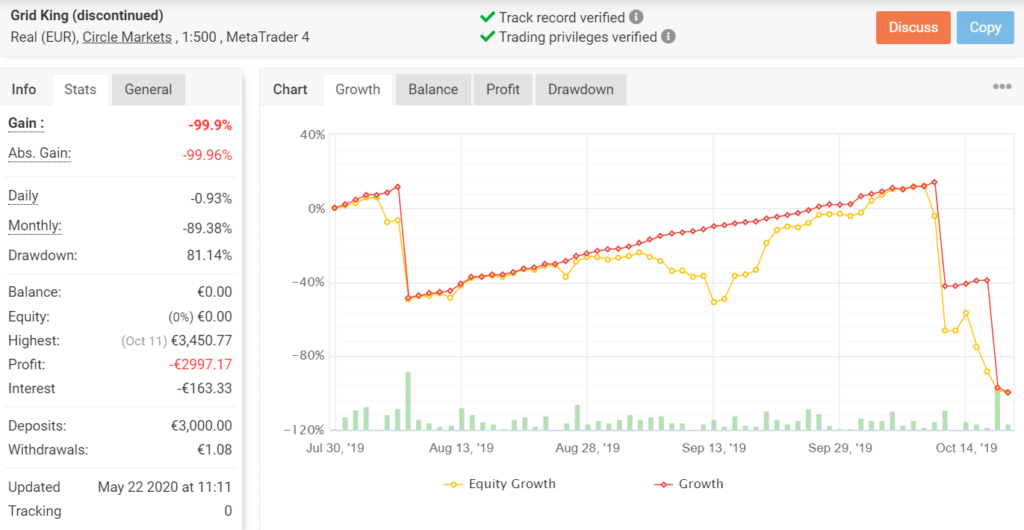 We found this live trading account on Myfxbook, although it is not clear whether it belongs to Grid King or not since the vendor has not linked this account to the MQL5 page. As you can see, it was discontinued on May 22, 2020, and it is probably because of the high losses suffered. The account has an extremely high drawdown of 81.14%, and a time-weighted return of -99.9%.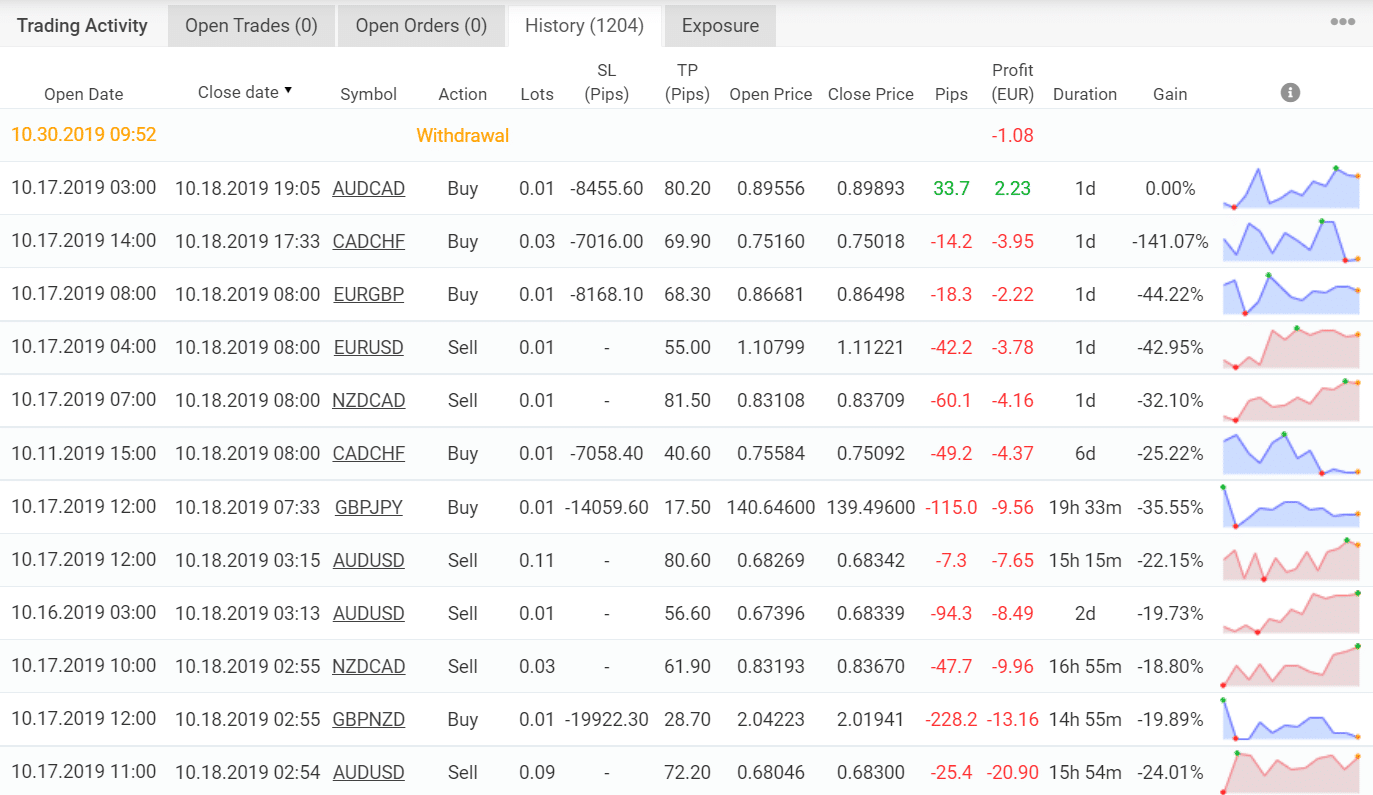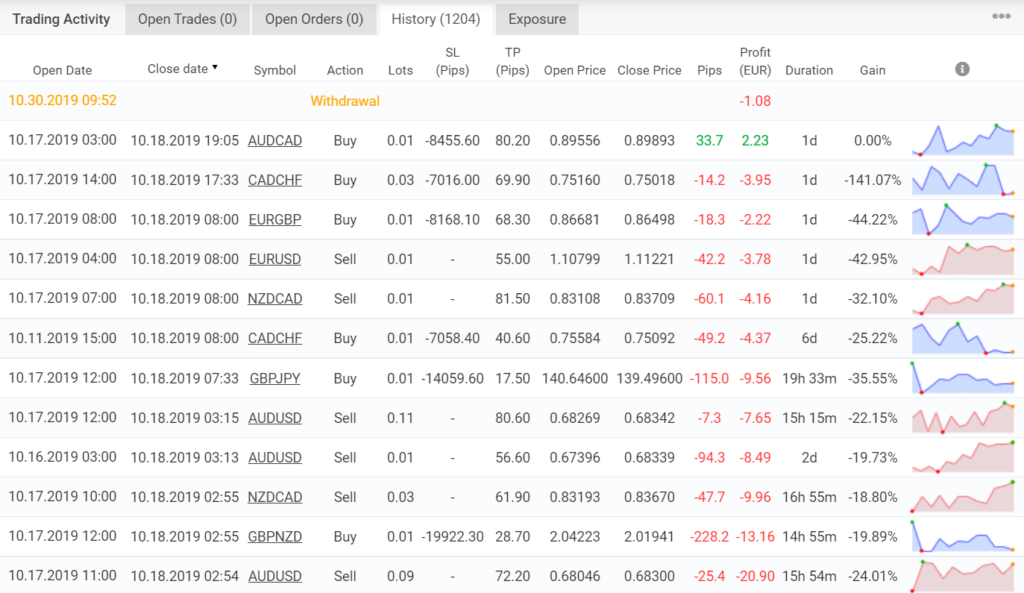 Despite losing only 37% of all trades, the EA has also made some large losses, as seen in the trading history. It is clearly a high-risk trading system that can drain your account.
Other notes
According to the vendor, there is only 1 copy of this EA left at $390, and after this, the price will be increased to $790. To us, this looks like a cheap tactic to lure in buyers and it's not something an honest vendor would do.
People feedback


There are no reviews for this robot on third-party websites, which tells us that it lacks reputation. The user reviews on MQL5 cannot be trusted, since the vendor could have paid for them.
Conclusion
Advantages
11-year backtesting data
Optimized for 29 pairs
Disadvantages
Discontinued trading results
No money-back guarantee
High-risk grid strategy
Summary
Grid King is an overpriced grid robot that suffers large losses. It has discontinued live trading results and is sold by a vendor we don't know much about. Also, there is no refund policy for this EA, so it's certainly not a system you can rely on.