Happy Gold trades on XAUUSD and does not employ grid, martingale, and hedging strategies. It works on both MT4 and MT5 platforms and has support for ECN brokers. Our articles will cover all the important features of the trading system and decide if it is profitable or not.
Is Happy Gold still profitable?
Multiple live trading records show that the robot can be profitable but only in a few instances. In certain months it can expose your account to significant risks by causing high drawdowns.
Vendor transparency
Happy Forex is the company behind the development of the algorithm. Unfortunately, they do not provide any information on the people who are behind the development of the program. This type of approach is not good as it raises many concerns over the authenticity of the system.
Strategy
The developer states that Happy Gold uses scalp, swing, and grid strategies with a certain zigzag indicator that works on the M15, M30, H1, and H4 charts. The indicator uses the extreme points in the price action charts. The robot has been optimized with the help of 99% quality historical data. The expert advisor detects 4 or 5 digits brokers automatically and is fully automated. Depending on the input settings, it may or may not place a stop loss on the trade.
Looking at the trading history on Myfxbook for v 2.0 and 30 minutes chart, we can see that it uses a scalping approach with an average trade holding duration of 4 minutes. It does not use martingale or hedging for losing trades.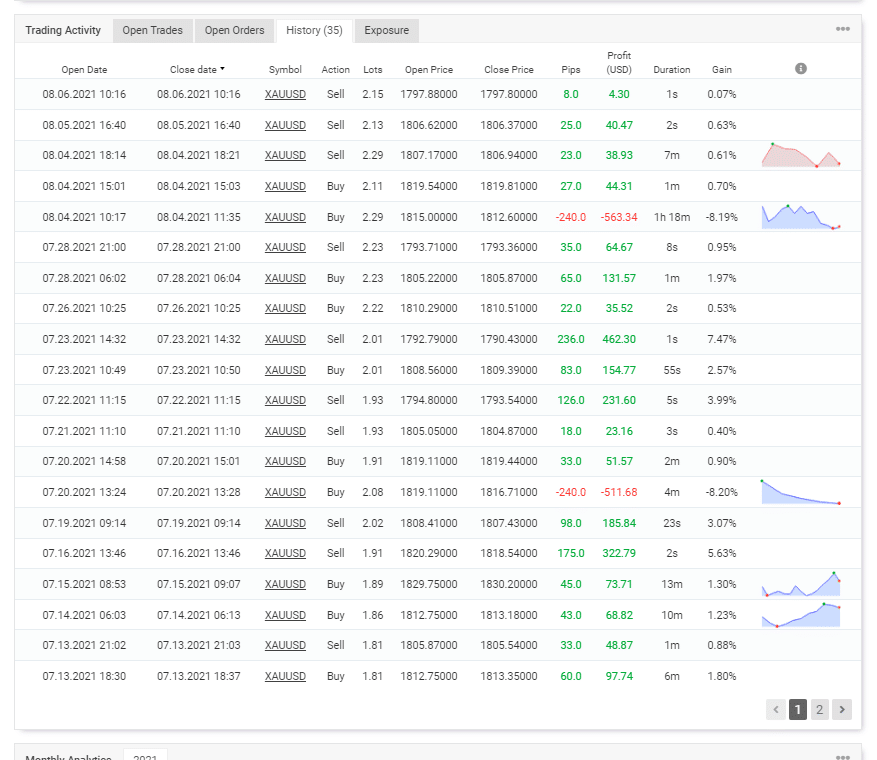 How to start trading with Happy Gold?
The developer will send over the ex 4 or 5 files, which traders will have to place in the experts' directory of the MetaTrader platform. After that, enable auto-trading and place the robot on respective charts to begin trading.
There is no recommendation on leverage. The developer uses 1:500 for his trading account on Myfxbook.
Price
The robot is available for a one-time price of 299 or 399 Euros that come with 2 and 5 licenses, respectively. It will also include nine other robots from the developer. There is a 30-day money-back guarantee.
Happy Gold backtests
Backtesting results are available for multiple strategies from 2003.05.01 till 2021.04.15. For a scalp setting with 1% risk, the robot starts trading with a $1000 deposit and turns it into $18428.53. It placed a total of 1155 trades with a maximum drawdown of 8.39%. It had a winning rate of 81.21% with a profit factor of 25.45. The average profitable trade was $20.45, while the loss was -$3.47.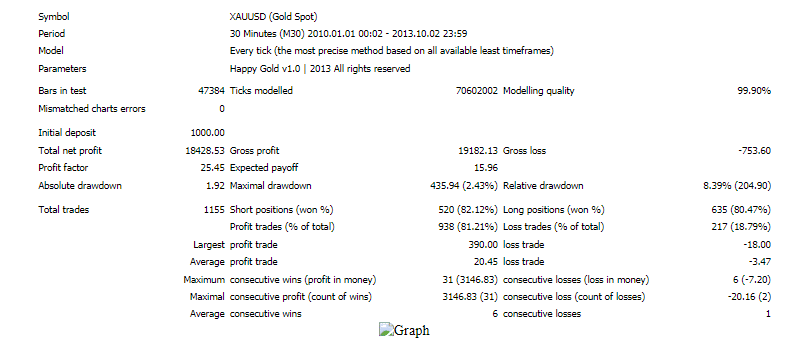 Trading results
Verified trading records on Myfxbook show performance from June 09, 2021, till the current date for the Happy Gold V2.0 at VT market M30. The system made an average monthly gain of 13.88% during the period, with a drawdown of 8.24%. The winning rate stood at 85%, with a profit factor of 1.96. The best trade was $462.30, while the worst was -$563.34. There were a total of 34 trades with 63.94 lots traded. There were $1000 in deposits and $0 in withdrawals.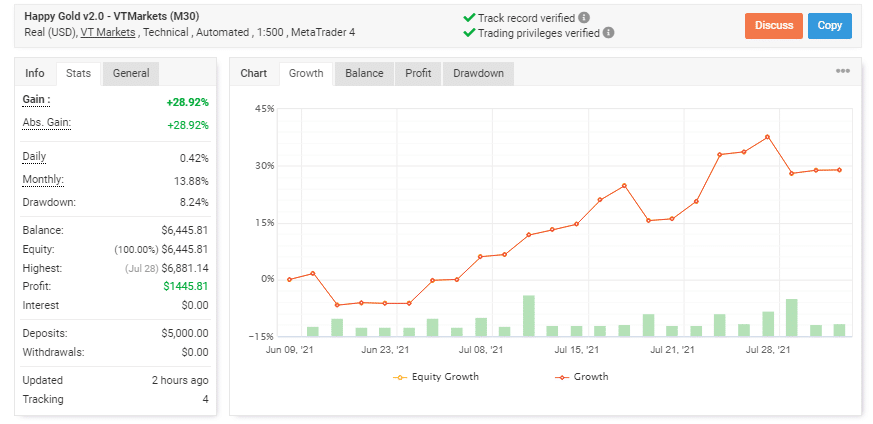 People feedback
Customer reviews are available for Happy Forex at Forex Peace Army, which gives them a rating of 3.542 for five feedbacks. A customer complains that he blew his account while trading with one of the products from the company.

Summary
Advantages
The system has the following benefits:
It comes with 9 free robots
Disadvantages
We have the following cons for the system:
Many strategies can confuse beginners
It works only on XAUUSD
There is no transparency from the developers
Happy Gold is not sufficient for traders that are just starting their forex journey. The robot can cause margin calls if not used correctly. Traders must place a stop loss to protect themselves from significant losses.