Happy MartiGrid is a Forex robot developed by the Happy Forex team. It is a one-currency expert advisor that is backed by verified trading results and backtests conducted over four years. Looking at the results, we can see that the robot has a high win rate.
Is this the perfect Forex trading system?
On the official website, the vendor has first shared the details of the pricing plans and the special offer. Next, we have a short description of how the system functions, along with the details of the latest updates. The vendor has shared the minimum requirements and the list of features. Finally, there are several links to live trading accounts on Myfxbook, as well as backtesting results.
Happy Forex, the developer company, is based in Germany. This team has been building Forex automated trading systems for more than five years. It is well-known for building systems like Happy Galaxy, Happy Power, Happy Neuron, Happy Breakout, Happy Trend, Happy Way, etc.
This is an EA that only trades in the AUD/USD currency pairs on the Metatrader 4 trading platform. It is easy to set up and you can run it on ECN brokers. Happy MartiGrid can perform automatic detection of 4 or 5 digits quotes. Since it is 100% automated, you don't need to manually intervene in the trading operations.
This robot follows the martingale-grid strategy. It uses a news filter and multiple technical indicators for its decision-making process. According to the developer, it requires the utmost attention to use this strategy.
How to start trading with Happy MartiGrid
There are two options when it comes to purchasing the EA. You can get two real licenses for 299 Euros, or five licenses for 499 Euros. Both plans come with an unlimited number of demo accounts. The prices are pretty close to the market average price.
There is a 30% discount on the final price. Also included in the bundle is the Happy Forex Full Pack containing 10 EAs. The vendor offers a 30-day money-back guarantee. Each user is eligible to receive free updates and upgrades.
You can install the expert advisor on different operating systems like Linux, Mac OS, and Windows. It supports different types of accounts like standard, mini, and micro. To get started with this EA, you need a minimum balance of $3000 or 3000 cents, depending on the type of account you are using.
Happy MartiGrid backtests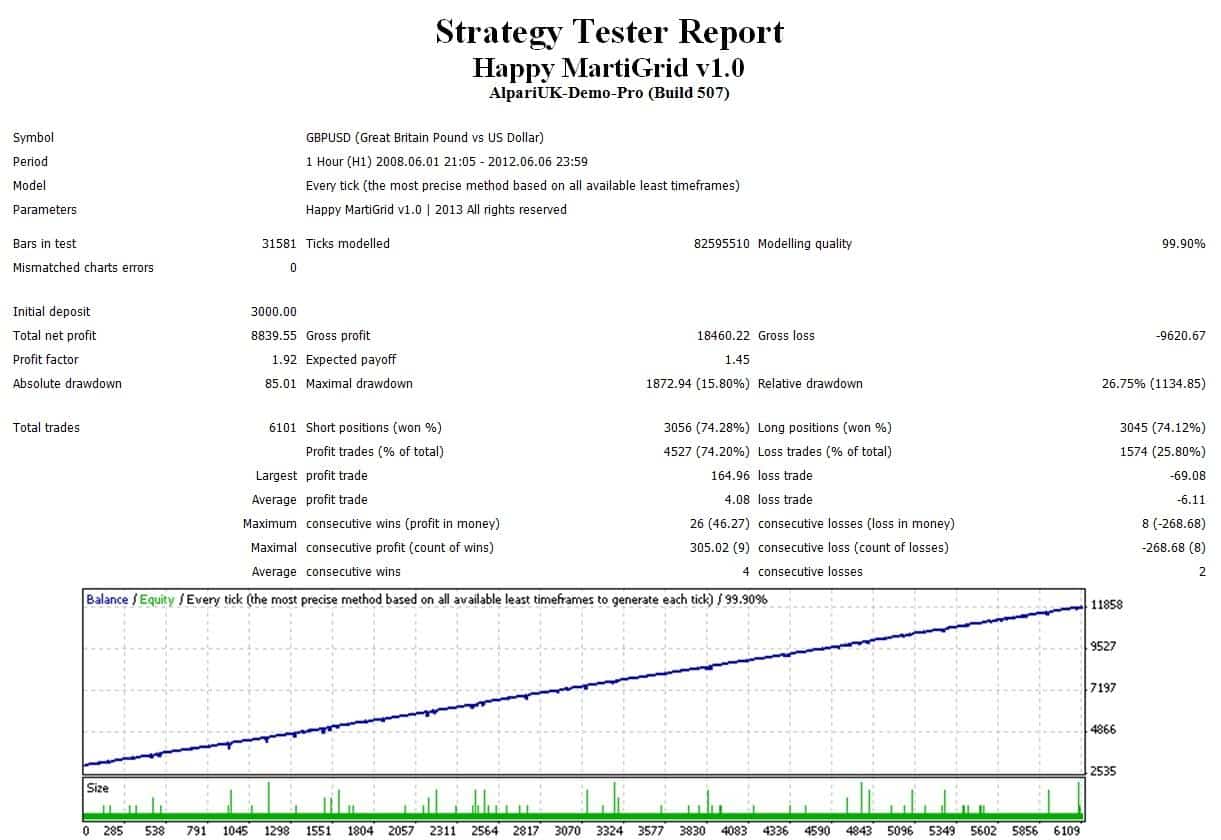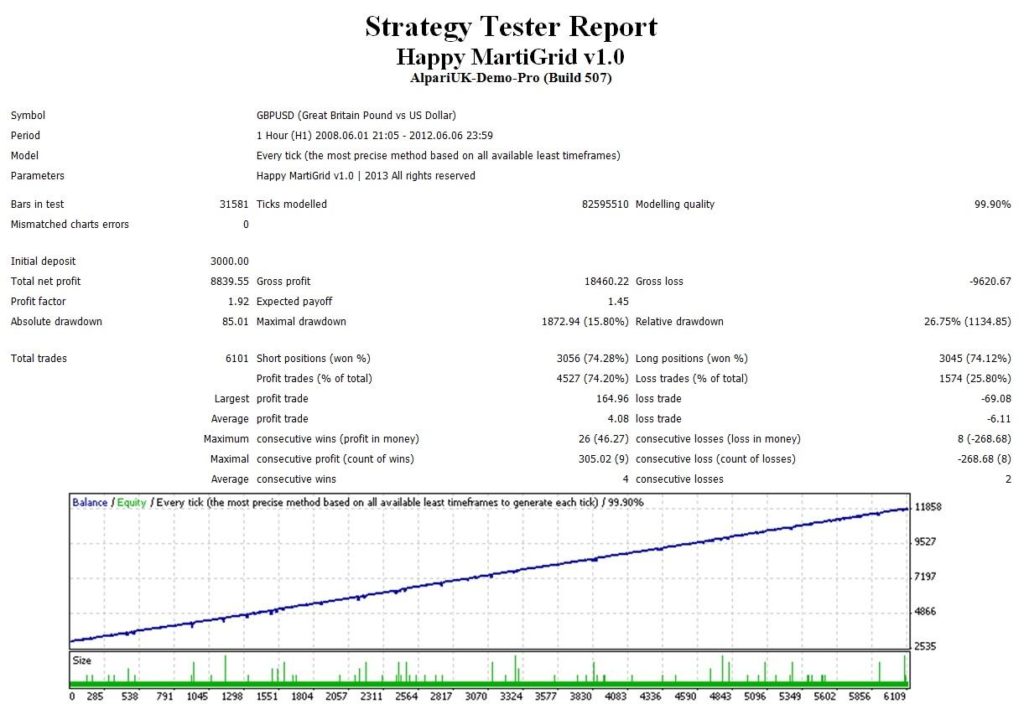 For this backtest, the EA conducted 6101 trades from 2008 to 2012 on the H1 timeframe. The test was conducted using an every tick model and modeling quality of 99.90%. Out of 6101 trades, it won 4527, which means it had an impressive win rate of 74.20%. The profit factor was also quite high at 1.92. There were 26 maximum consecutive wins and 8 maximum consecutive losses.
Trading results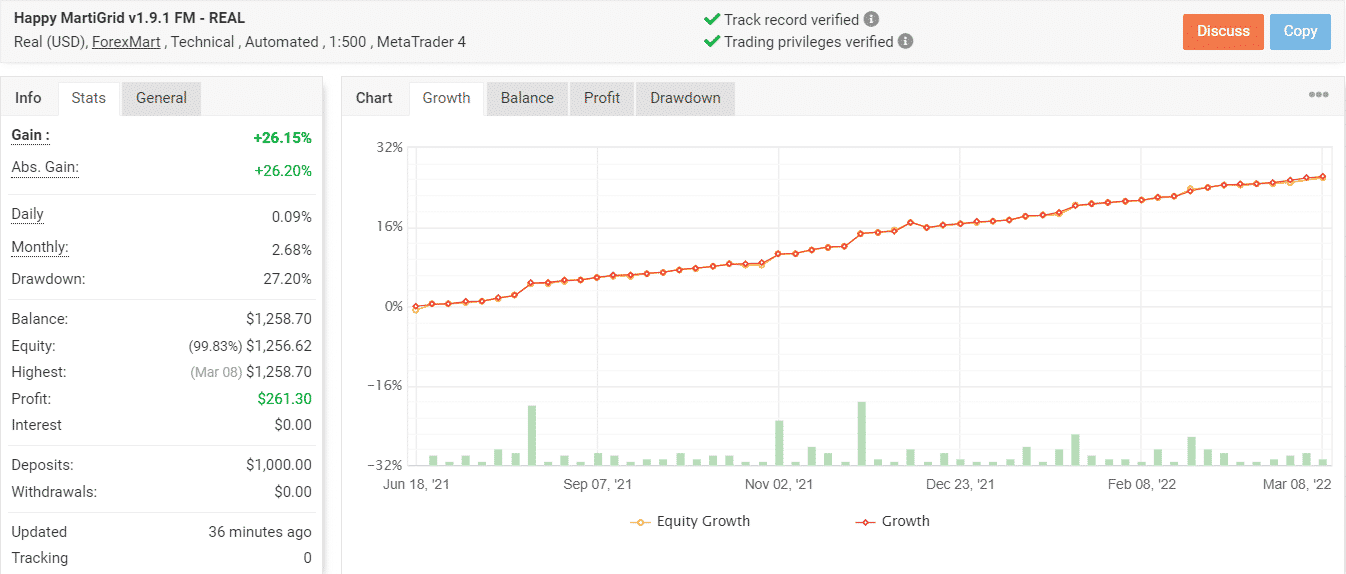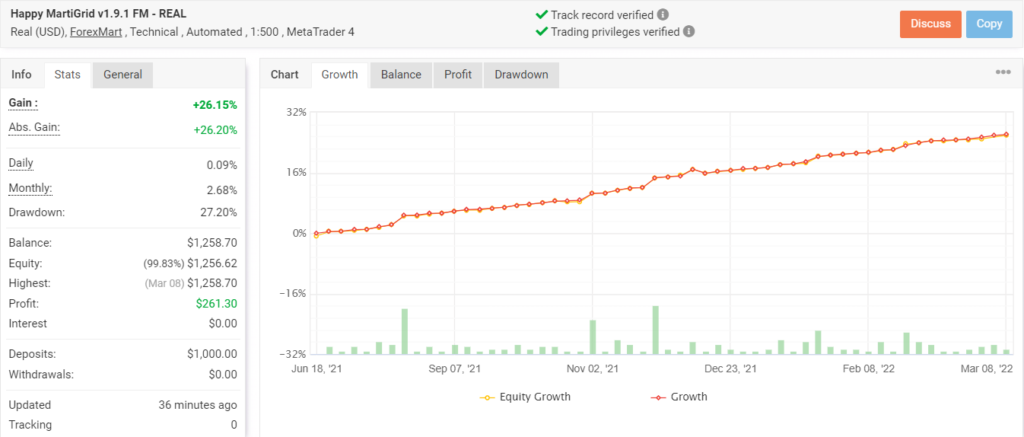 This trading account on Myfxbook has been active since June 18, 2021. Since then, the EA has conducted 161 trades through this account, maintaining a win rate of 77%. This is even higher compared to the backtest. The profit factor is 1.82. The total profit generated through this account currently stands at 27.20%, with daily and monthly gains of 0, 09% and 2,68% respectively.


Here you can see that the EA using the martingale strategy in November 2021 increased the lot size of subsequent trades.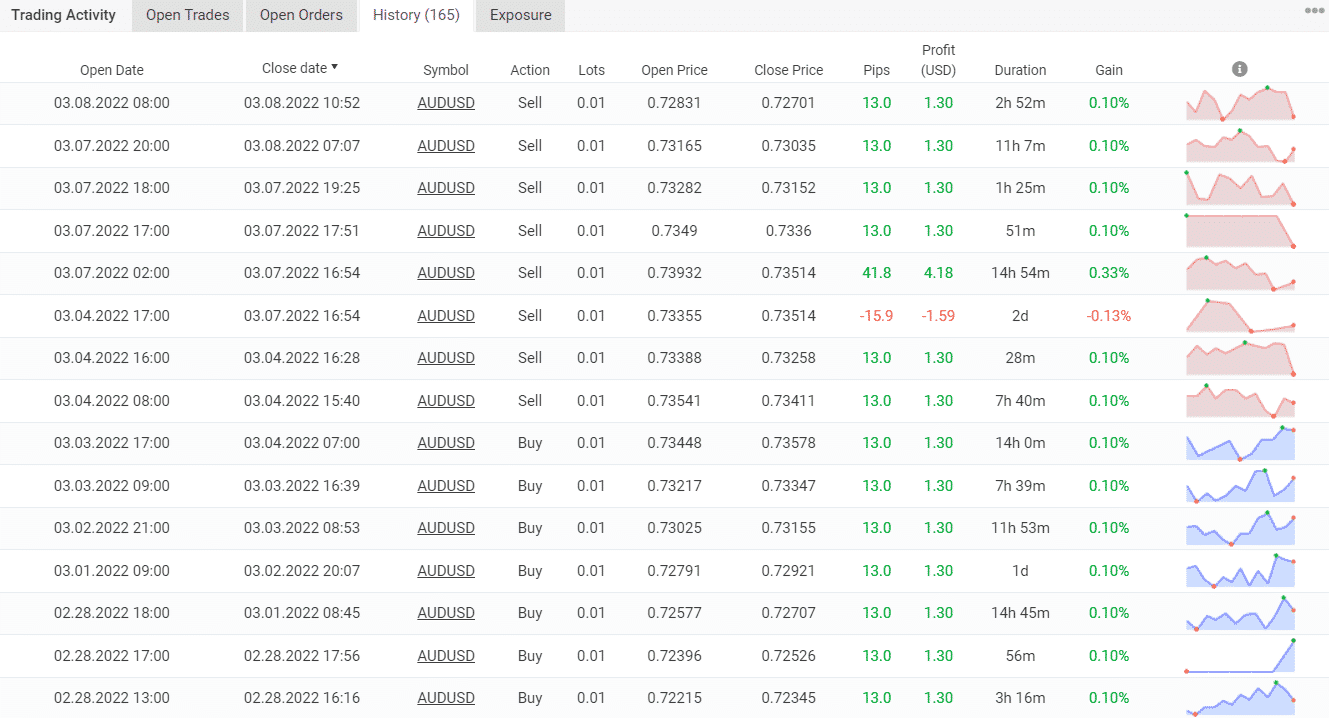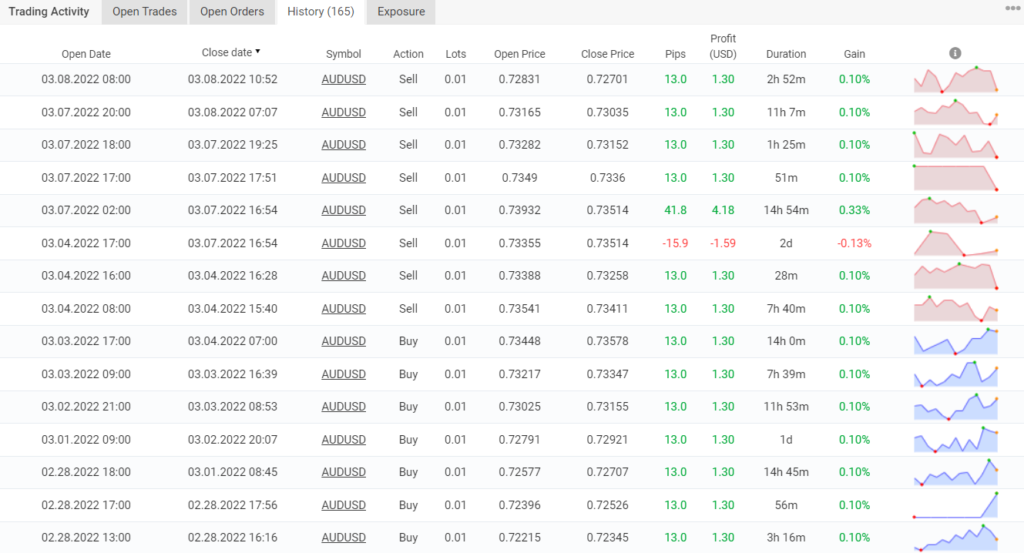 For the last 20 trades, the EA has been trading with a fixed lot size of 0.01. It has been generating profits at a steady rate while holding each trade for an average of four days.
Customer support
There is a contact form on the official website that you can use to get in touch with the support team. Alternatively, you can visit the official Facebook page to find the email address.
People feedback
Here we have a live account for the EA on Forex Peace Army. The test started in 2013 and ended in 2021. Happy MartiGrid had an impressive gross profit/loss of 342.39%. This tells us that it won most of its trades.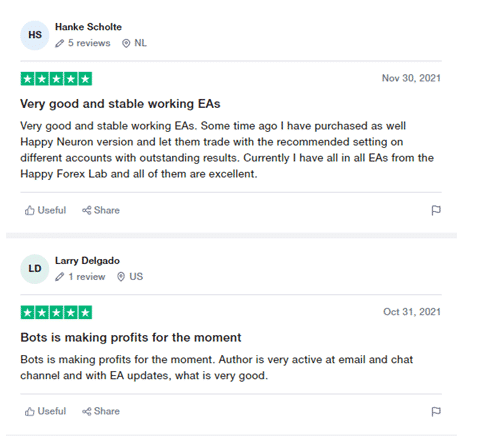 Although there are no user reviews for this EA, customers on Trustpilot are quite satisfied with the EAs offered by the company. Happy Forex has a rating of 4.5 out of 5 based on 13 reviews.
Wrapping up
Advantages
High win rate
Compatible with multiple operating systems
Money-back guarantee offer
Disadvantages
Happy MartiGrid has been able to maintain high profitability in both historical testing and live trading. It comes at a cheap price and by buying the EA, you also get to experience 10 other robots, free of charge. The developer offers users the protection of a money-back guarantee as well as a generous discount.