iProfit EA is a Forex robot that claims to possess the most efficient neural network strategy in the world. It is based on 12 years of backtesting data and promises a monthly equity gain of 5% while trading with medium risk. As per vendor claims, this is a fully automated system that does not depend on broker feed and that can be used to trade in any currency pair.
Is this the Perfect Trend System Robot?
On the official website, the vendor has highlighted the principal features and provided some trading figures related to the system. We also have the link to a live trading account on Myfxbook, along with strategy explanation and backtesting data. Finally, we have the details of the pricing plans and a contact form using which you can seek assistance from the support team.
The company behind iProfit EA is known as Phibase Technologies and it is one of the most reputable creators of Forex robots. It strives to create efficient automated systems for its members, thus improving their trading experience. It is mentioned that the support team responds to emails within 6 hours and that the company follows a customer-centric business model.
We don't have any further information on the vendor and no physical address is provided for the company headquarters. The identities of the developers and traders are also not revealed. Since we don't have any way of verifying the company's history or background, we can't say that vendor transparency is maintained for this Forex EA.
Although the robot can be used for multiple pairs, the vendor recommends using it for the AUD/USD, GBP/USD, XAU/USD, EUR/JPY, and EUR/USD pairs. It does not use hedging, grid, or martingale strategies and fully automates the money management and trade entry/exit processes.
The trading strategy involves dynamically adapting to the majority price shifts in the preceding 4-52 hours. Rather than using formulas and indicators, the robot tries to trade the price shits in the H1 bar, predicting the peaks and troughs for the next bars. This prediction is carried out based on an efficient algorithm that is said to be 70% accurate. The market situation is assessed with the help of stochastics, support, and resistance, as well as moving average crossover.
How to Start Trading With iProfit EA
If you wish to purchase this Forex robot, there are two options available for you. You can either choose the annual subscription for $470/year or go for the lifetime license that costs $899. Both of these plans give you access to 2 real and demo accounts.
The system trades in the H1 timeframe and can trade efficiently during adverse market conditions. It is not programmed to run according to fixed rules. Instead, it trains itself to the changing market conditions and recognizes the correlations between data points. This allows it to deliver better results.
iProfit EA Backtests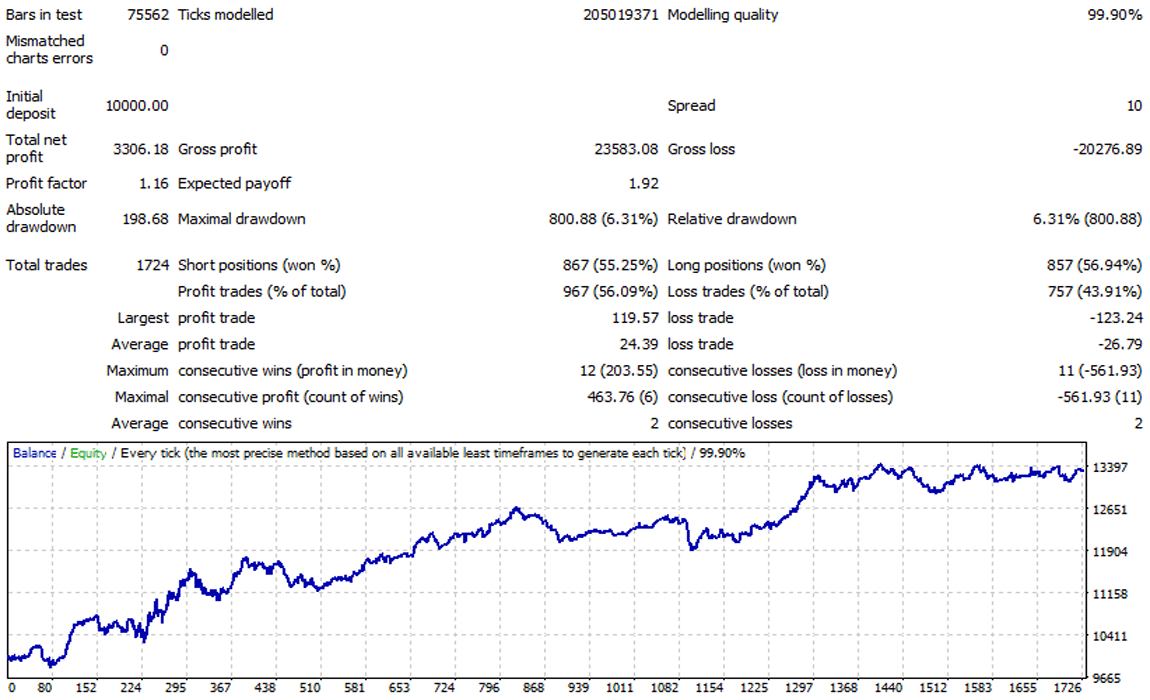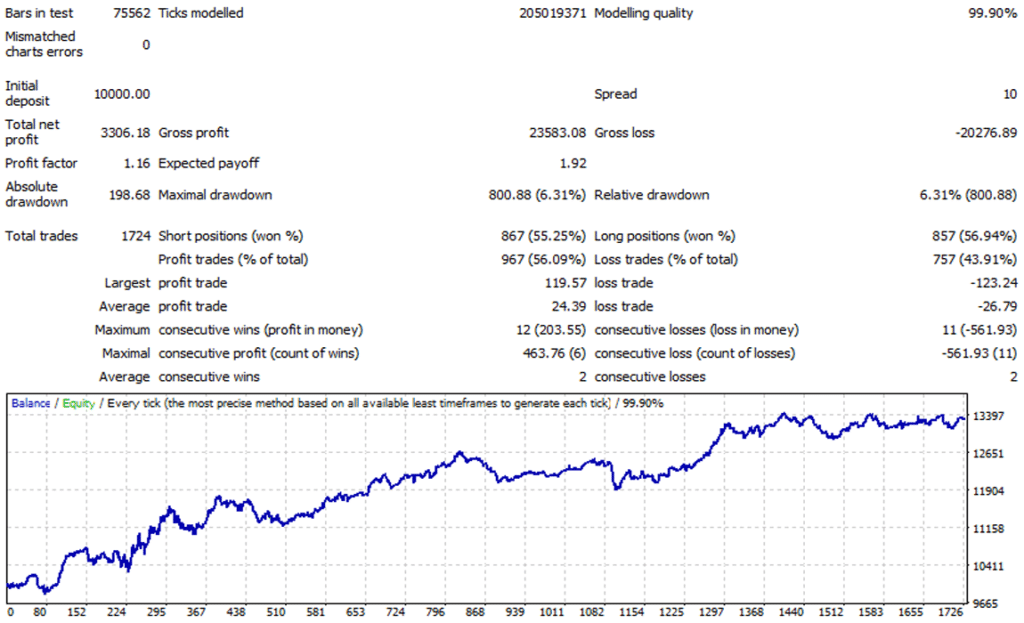 This backtest was conducted with 99.90% modeling quality and an initial deposit of $10,000. Here, the Forex EA managed to generate a total net profit of $3306.18 while winning 56.09% of all trades. A total of 1724 trades were placed during this backtest and the system won 55.25% of short positions and 56.94% of long positions.
Also worth mentioning is the extremely low relative drawdown of 6.31% and the profit factor of 1.16. While the latter is not exactly spectacular, it is still enough to satisfy most traders.
Trading Results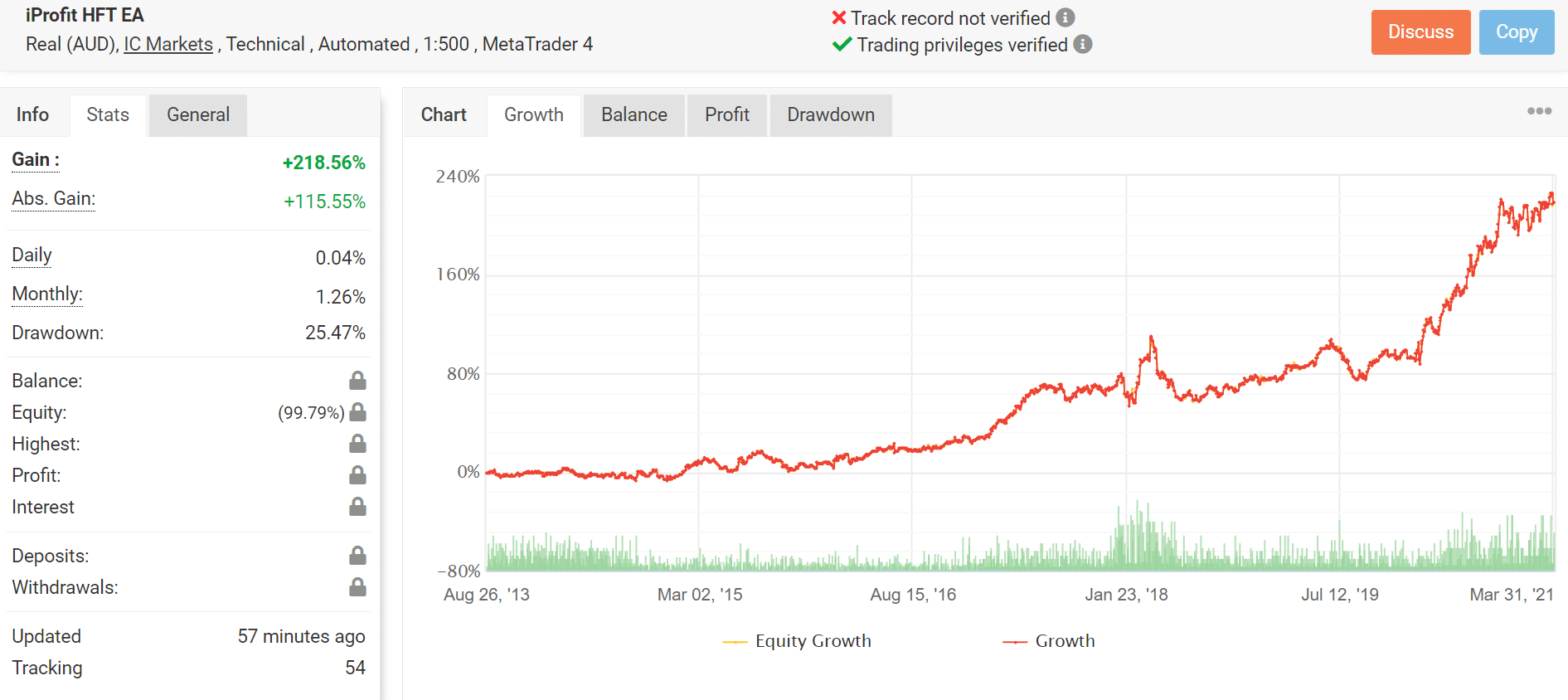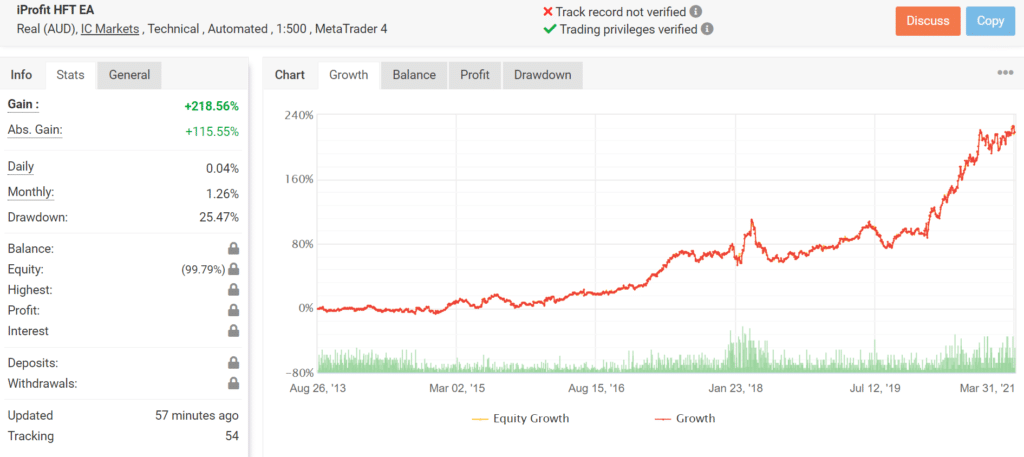 This live trading account for iProfit EA was launched on 26th August 2013, and to date, a total of 5055 trades have been placed through it. Its win rate is 58% as 2945 out of 5055 trades were won. While the daily and monthly gains for this account are 0.04% and 1.26% respectively, the drawdown of 25.47% is much higher compared to the backtesting data.
For this account, the robot has a profit factor of 1.15, which is almost the same as the backtest. Currently, it has a time-weighted return of 218.56% and an absolute gain of 115.55%.
Other Notes
For many years, the company behind this Forex EA has been carrying out extensive research on machine learning. The system started trading live in 2013 and later developed into a fully functional Forex automated trading system.
People Feedback
We were unable to find any user reviews for iProfit EA on third-party websites. Although there are some customer testimonials on the official website, these cannot be considered genuine or impartial.
Wrapping Up
Advantages
Live trading results verified by Myfxbook
Quality backtesting data
Trading strategy explained
Disadvantages
Expensive pricing plans
Lack of vendor transparency
No customer reviews
Summary
iProfit EA is not a scam service that is only in the business for your money, and this is quite evident in the trading results and backtesting data. However, in order to gain a reputation for itself, it must share some information about the vendor and consider adjusting the pricing plans.