Jet Trader Pro is a robot that's hosted on LeapFX. As usual, there's a wordy presentation with some screenshots from a myfxbook-verified account. The main claims tell us about: 14 profitable months in a row, 2334 pips gained, an average monthly gain is up to 20%, low drawdowns, and so on. Let's dig down in its features and settings in our Jet Trader Pro review.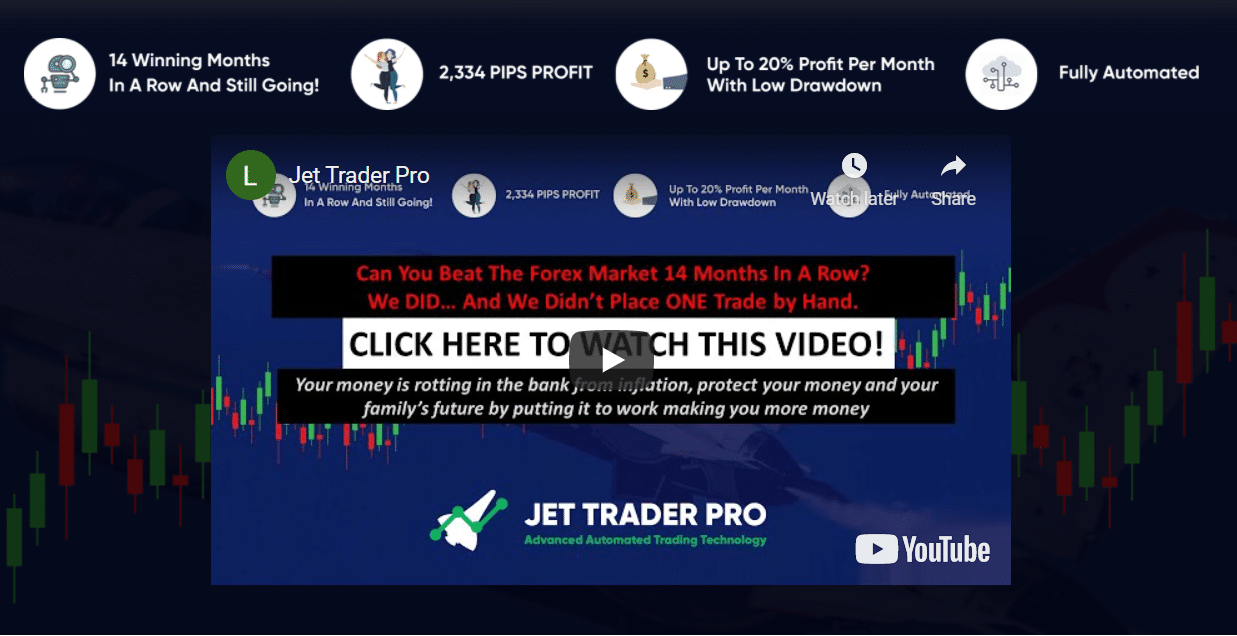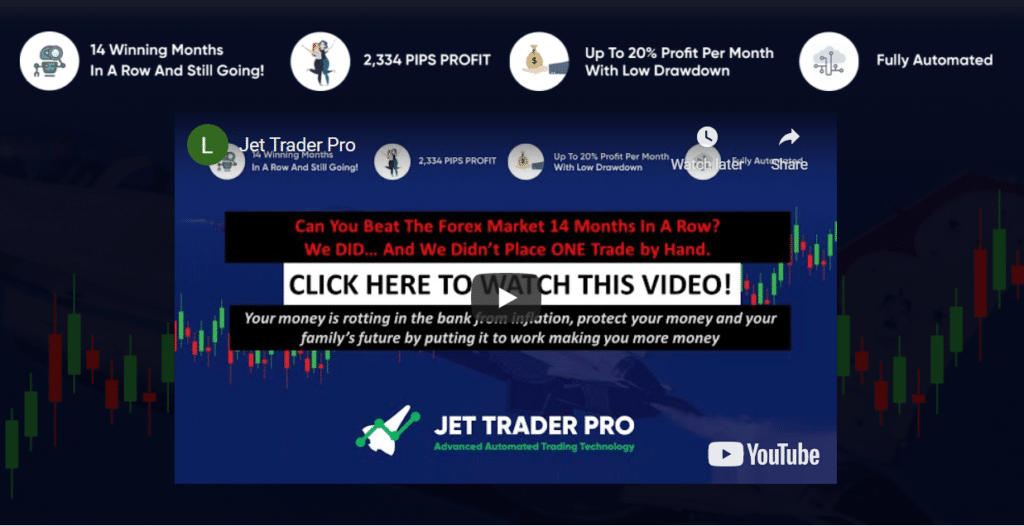 Is this service a viable option?
LeapFX is a well-known company among the Forex-related community. From their Jet Trader Pro presentation we know that:
The system works fully automatically.
The presentation is wordy as usual.
The vendor has a medium level of transparency.
It runs Grid, Martingale, and Price Action strategies.
We can trade only EUR/USD.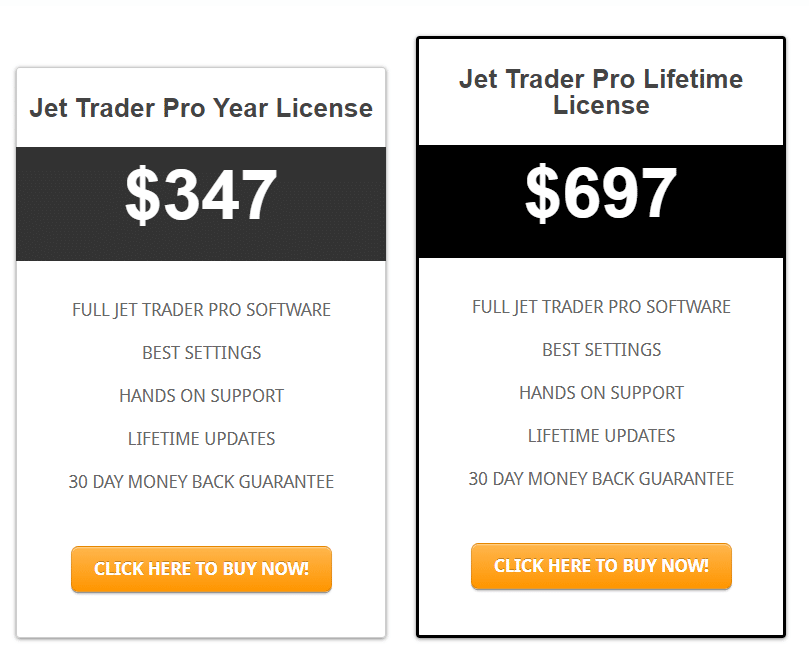 The robot was introduced in two packages: annual subscription and lifetime membership as usual. The annual pack costs $347 and includes the software, setting files, support, updates, and a 30-day money-back guarantee. The lifetime pack costs $697 and has the same features. The offer is overpriced because there's only one symbol to trade.
How to start trading with Jet Trader Pro
Let's talk about its settings, details, strategy, and other features;
It runs without significant drawdowns.
The expert advisor has closed fourteen months with profits.
There's no need for human interaction.
We may not have previous trading experience.
It looks like this robot performs a Price Action trading strategy.
It doesn't take unnecessary risk.
There's welcome and knowledgeable support.
Free updates and upgrades.
Jet Trader Pro backtests
As usual, there are no backtests. It's LeapFX's policy. It's bad because we can't check how the robot worked in the past data.
Trading results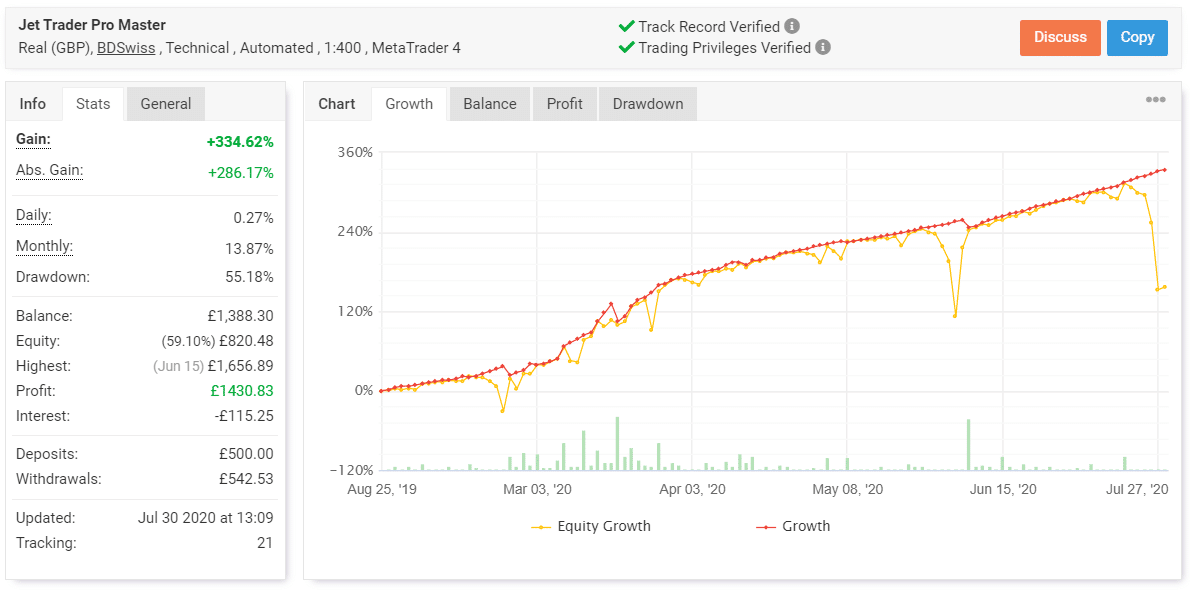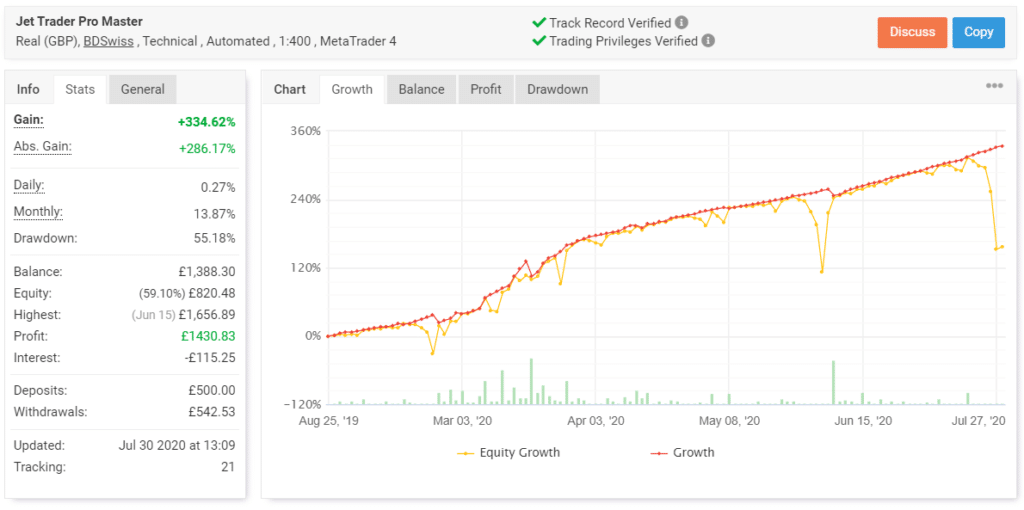 We have a stopped real GBP account on BDSwiss. The robot traded automatically using technical indicators on the MetaTrader 4 platform. The leverage was 1:400. The account had a verified track record. It was created on August 25, 2019, deposited at 500GBP, withdrawn at 542 GBP, and stopped on July 27, 2020. The absolute gain was +334,62%. An average monthly gain was 13.87%. The maximum drawdown was insane – 55.18%. The account is still tracked by twenty-one users.


The EA has closed 471 deals with 589 pips. An average win was 57.79 pips when an average loss was -100.73 pips. There were 16.59 lots traded. The win-rate is 58% for Longs and 70% for Shorts. The average trade length was over two days. The Profit Factor was okay – 1.56.


As we can see, there were not only EUR/USD deals traded but also GBP/USD and Gold. The most profits and trades were obtained on the EUR/USD – 441 deals and 1425 GBP.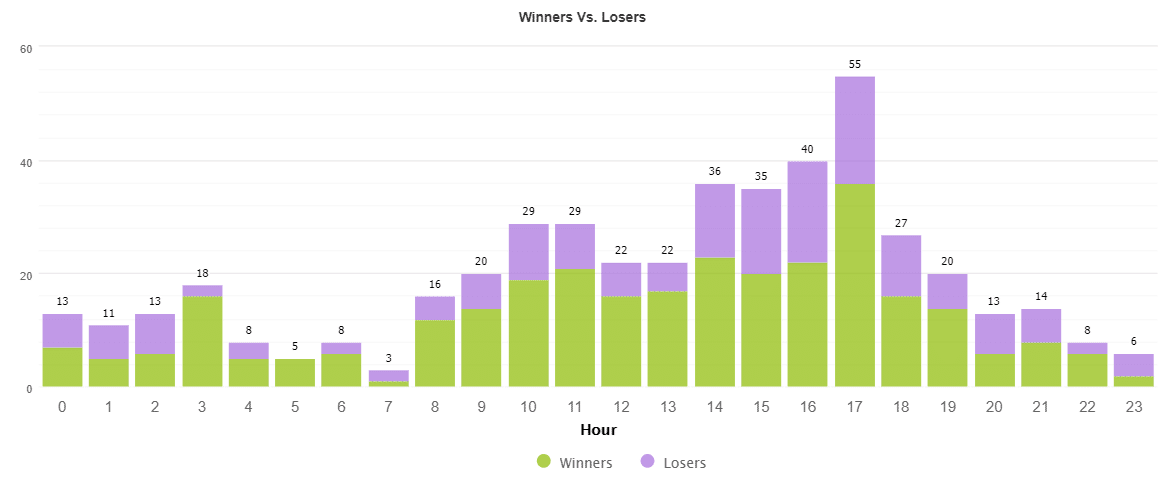 Jet Trader Pro focused on trading during the European trading hours.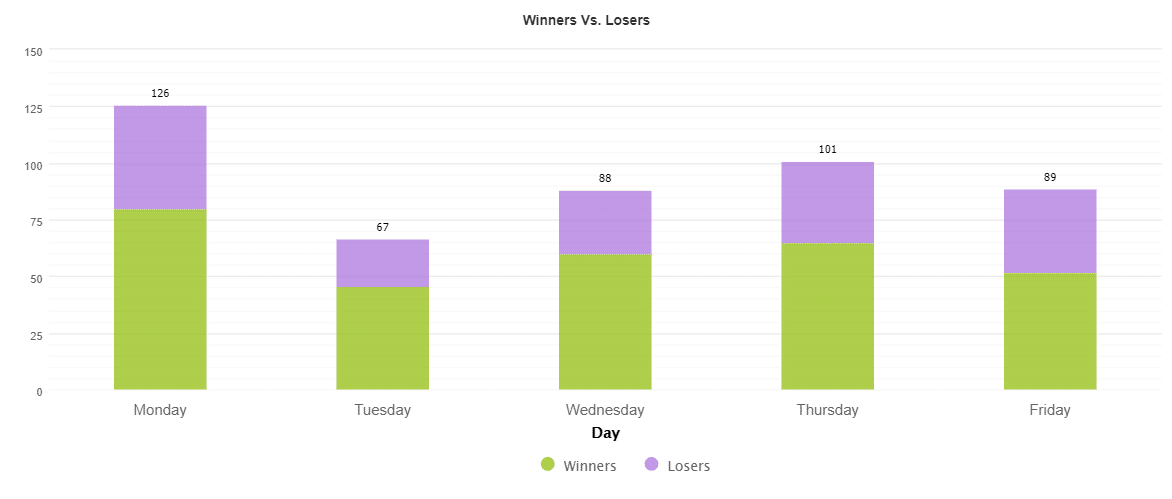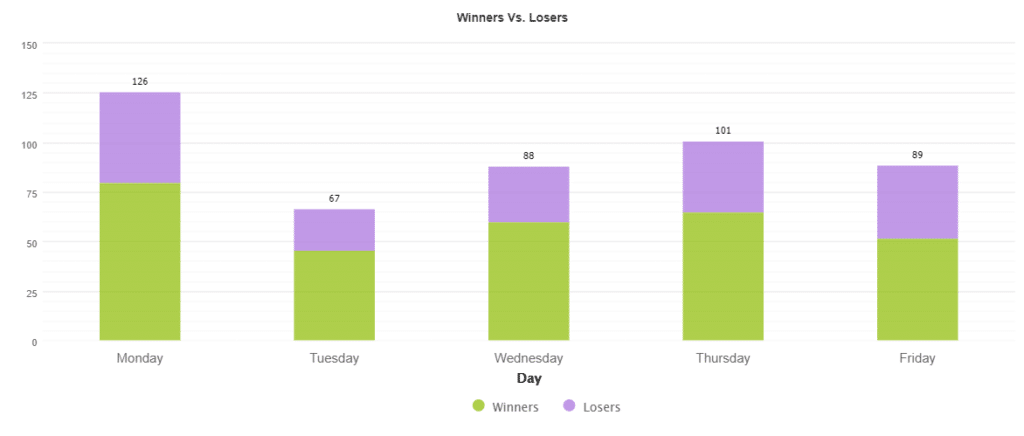 Monday was the most traded day – 126, while the less traded was Tuesday – 67 deals.


The robot worked with insane risks to the account balance. To lose 10% of it, the system has to lose only five deals in a row.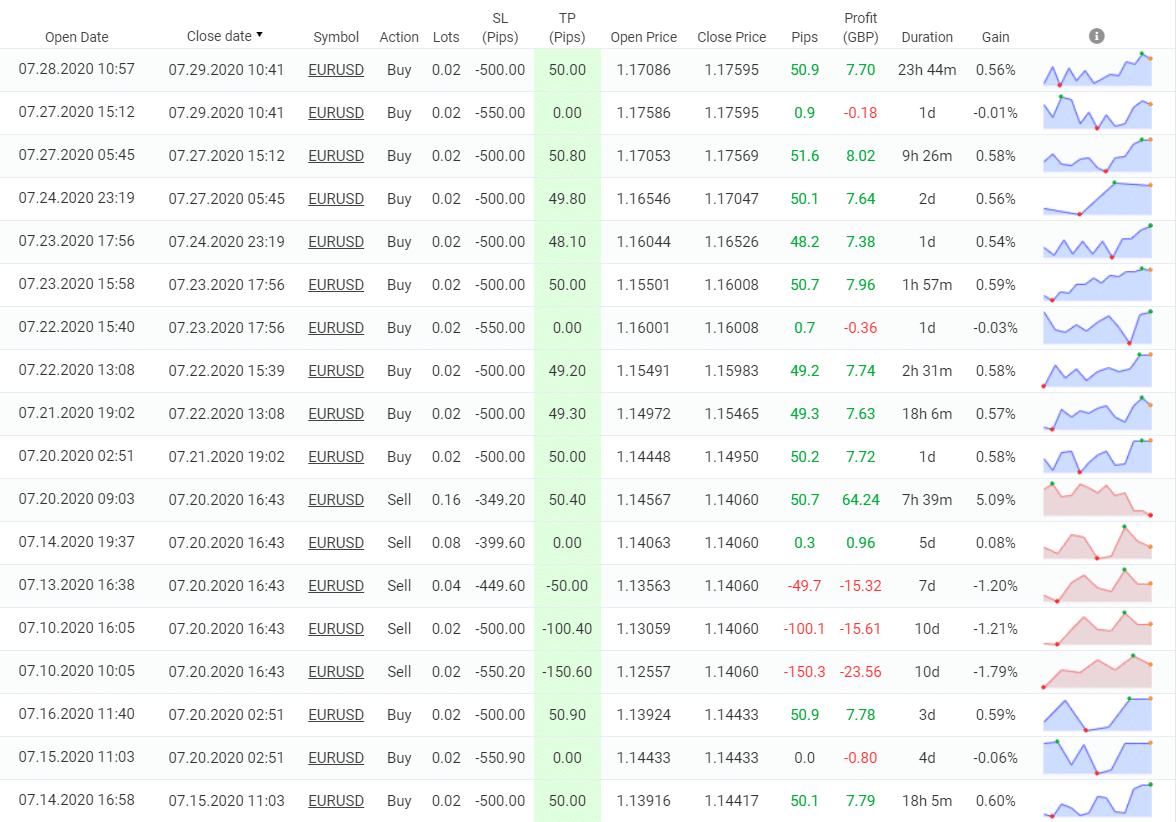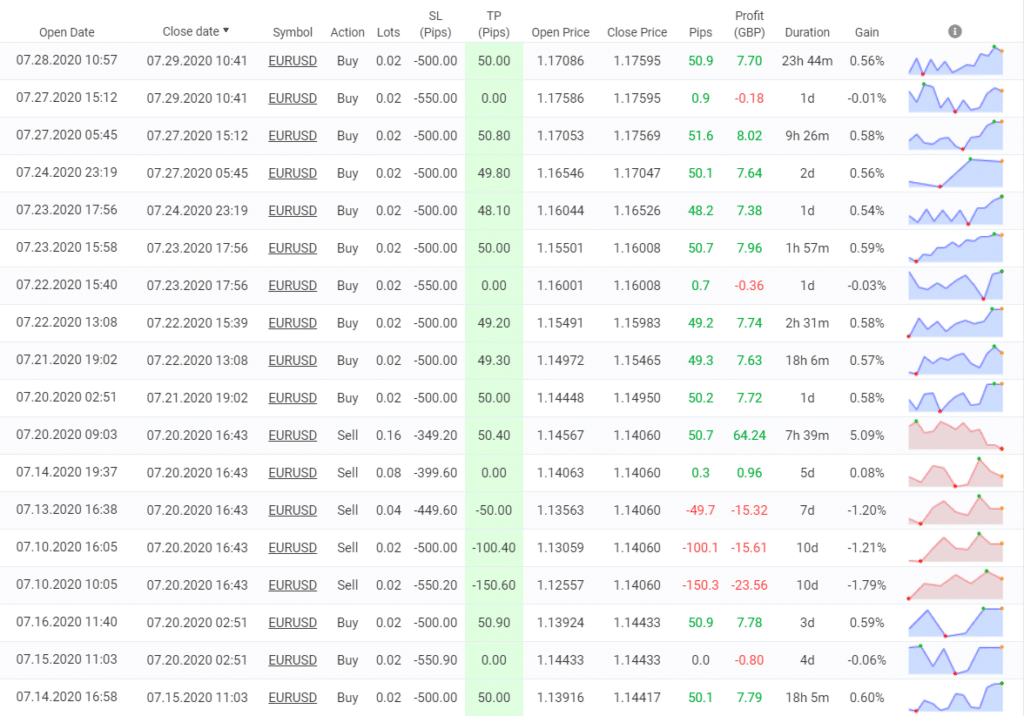 This system uses aggressive Grid and aggressive Martingale to make profits.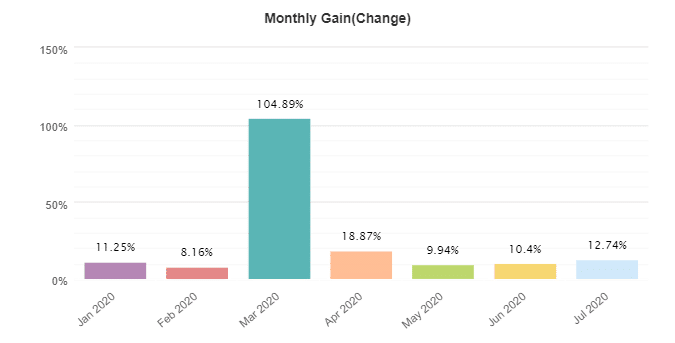 All months were profitable, but it's not relevant for us now.
Other notes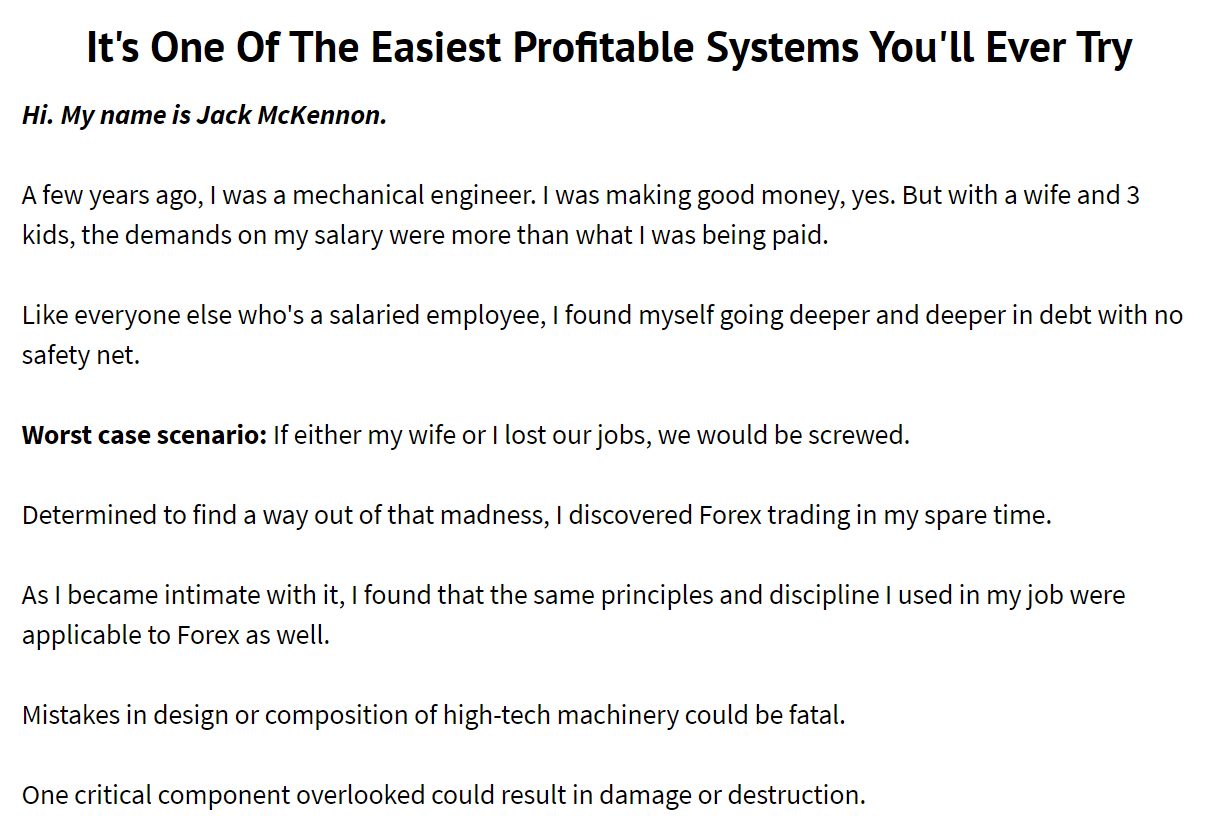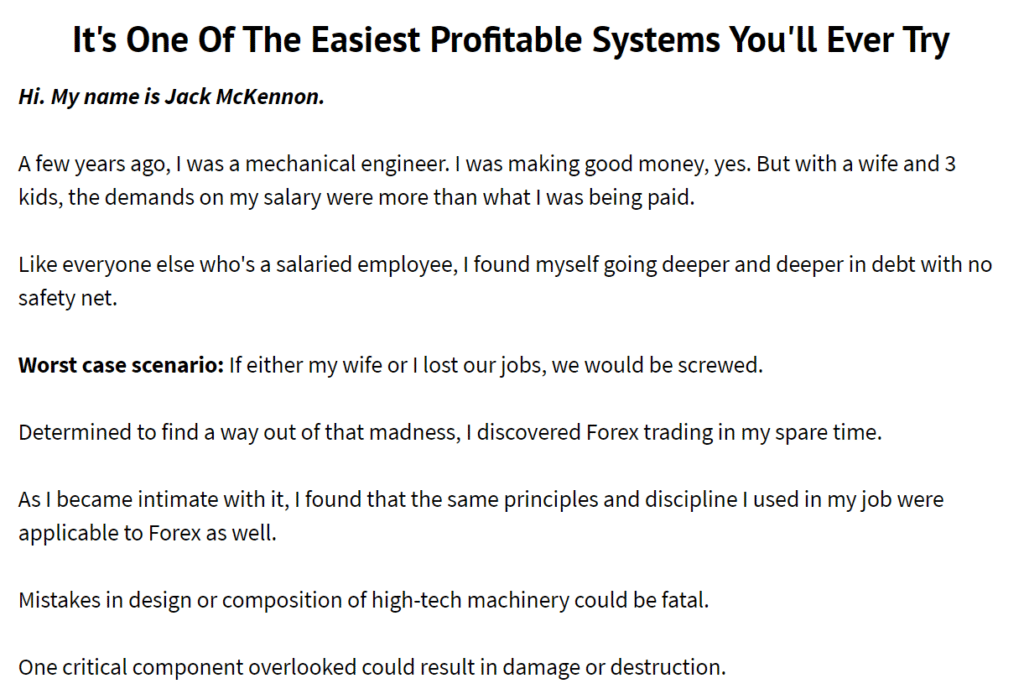 There's a developer – Jack McKennon that tells a typical fake story. We haven't seen proof this person is real. There were no social network or MQL5 profile links.
People feedback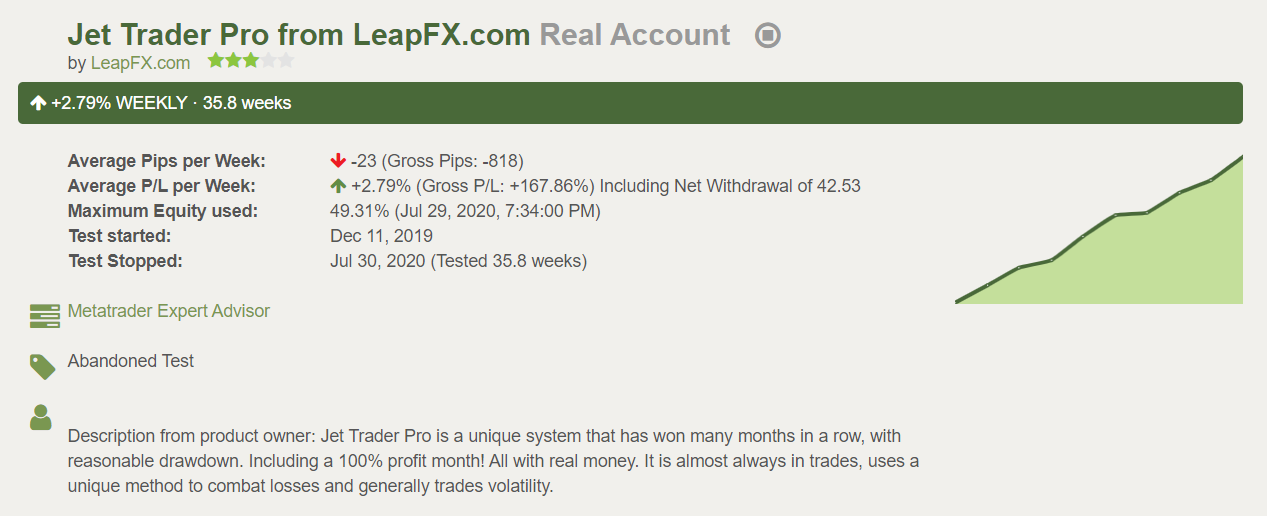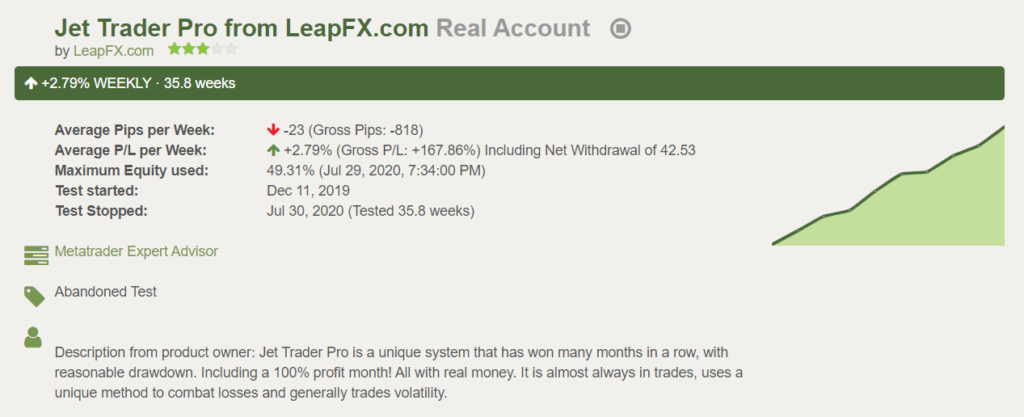 LeapFX has connected this account to Forex Peace Army.


The company has a 3.4 rate based on twelve reviews. Any of them was about Jet Trader Pro.
Wrapping up
Advantages
The LeapFX hosted robot
3rd-party verified trading results provided
There's a 30-day money-back guarantee
Disadvantages
No strategy explanations provided
No settings explanations provided
No backtest reports revealed
Horrible drawdowns
The account was stopped over half a year ago
No people feedback provided
Summary
Jet Trader Pro looks like a scam for now. The developer not only has stopped the trading on the account but also withdrawn the balance. It means he knew something about the EA's future performance. Alas, in February 2021, we know absolutely nothing about how viable this robot is. As for EA without current trading results, the offer is sky-high.