Killa Gorilla FX Master is an advisor that can be downloaded without money. So, the presentation is simple and not quite informative. It's common for free advisors.
Is this robot a viable option?
We don't know because the developers didn't provide us with backtests reports or trading results either. So, we can't suggest you use this system.
How to start trading with Killa Gorilla FX Master
There's a little intel provided about how the system functions and what we should expect.
The system works on the MT4 terminal automatically for us.
The advisor opens trades frequently.
It can provide us with "$50 to $20,000 daily."
It's nonsense because it doesn't include data about the deposit amount.
The profit target can be set hourly, daily, etc.
We haven't seen how this works with this system.
We can use Equity Stops that are based on a percentage of account balance or in USD.
We can choose what hours the robot is allowed to trade.
The system sets SL and TP levels.
The advisor can trade using a news filter.
There's a "Built-in Info Panel – displays key performance live data as the robot trades."
There is protection from trend and spike moves.
It works with all charts and time frames.
Friday trading can be skipped.
We can work with any broker house we want.
The settings were customized for EURUSD.
We may start working without proper trading experience.
The main strategy is price action.
The advisor uses a Grid with Martingale.
The minimum deposit should be $1000.
The optimal deposit should be $5,000-$10,000.
We have to use it on an ECN account.
The recommended broker is IC Markets.
A VPS service is a good option to start trading.
The operating system is Windows 7 or higher.
We have to check how the system works on a demo account.
We have to avoid trading during high-impact news.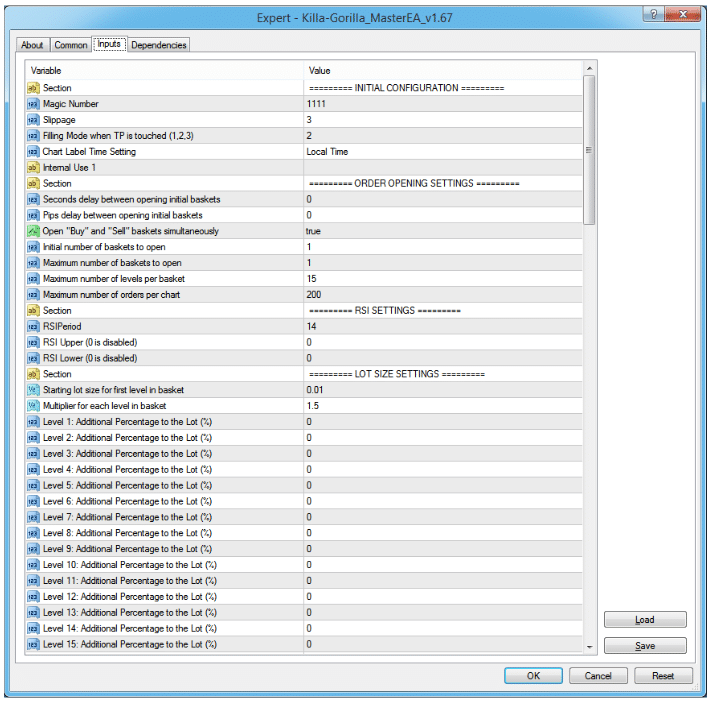 We may check the first page of the settings.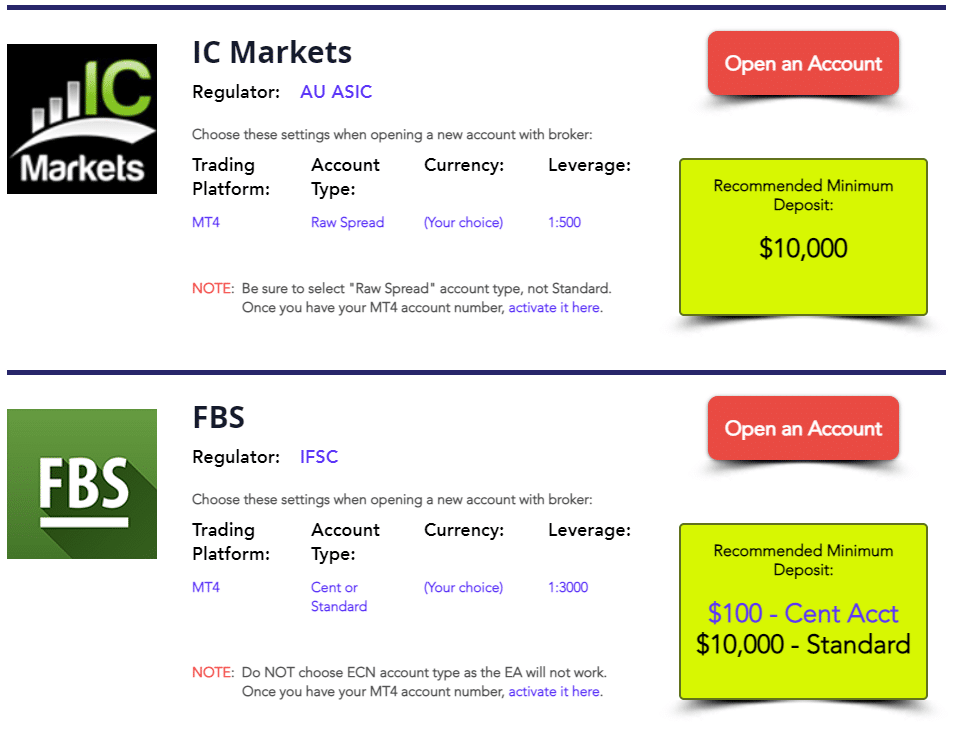 We can decide what broker we want to work with.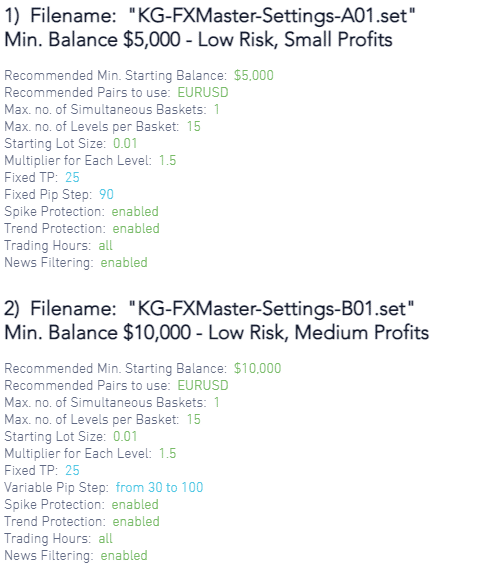 We have several lists of settings provided.
We have no price at all. The system is shared for free with everyone. The one requirement to run the EA for free is to trade with the brokers the devs of the robot promote.
Killa Gorilla FX Master backtests
The presentation doesn't include backtest reports. It's a con because the system must be tested quite well before release.
Trading results
The system doesn't include trading results. It's another disadvantage because we should be sure that the system is profitable on the real market to start spending time on it to test on a demo account. We don't know what results the system can achieve, what win rate, monthly gain and other parameters we should expect.
Other notes
We know nothing about the developers. Usually, a free system is available on MQL5 where there are many of them and when we can check who's a real developer.
People feedback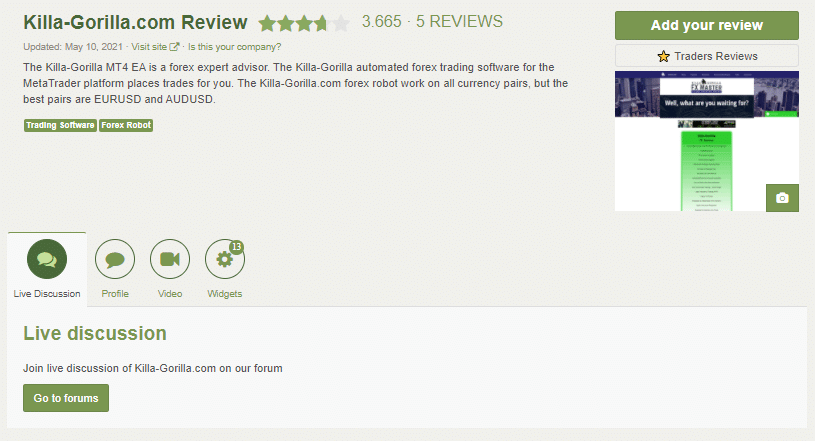 We have some testimonials published on Forex Peace Army. The final rate is 3.66 based on five feedback.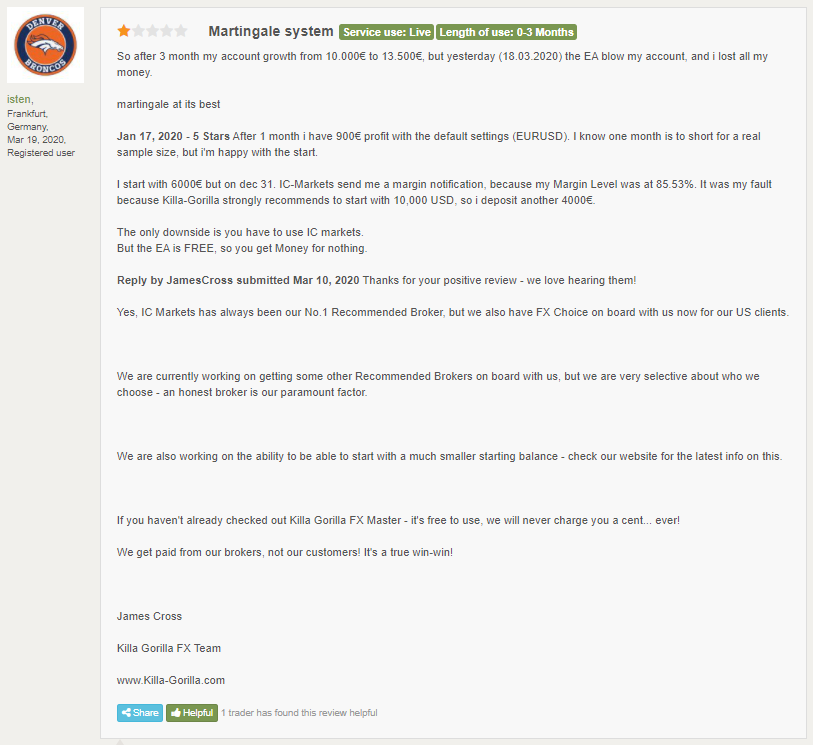 Traders who downloaded it weren't satisfied with the results.
Wrapping up
Advantages
Download-free trading solution
Disadvantages
No team revealed
No settings explanations provided
No backtest reports shared
No trading results shown
No support or updates provided
Many negative testimonials written
Killa Gorilla FX Master is a solution that works with a price action strategy that is enhanced with a Grid of orders and Martingale. It's so risky to use this dangerous combo on a free advisor because the system won't be updated to be in touch with current market conditions. We'd like you to avoid it.