As the name implies, Monsta Gold is designed to trade Gold. The vendor does not include any promises in her presentation. She does not tell us what to expect while trading with the EA. We will have to figure it out for ourselves then. Join us as we assess the different characteristics of the robot to determine if this is the trading solution for you or not.
Is Monsta Gold a good trading tool for 2021?
Thi Tra Mi Duong is the developer of this robot. According to her profile, she is based in Vietnam and has developed a total of 7 products. In addition to Monsta Gold, we have Gold Flower, Small Flower, Predator GBPUSD, Master EURUSD, Cyber Mind, and Intelligence Mac. Unfortunately, Thi has no experience. The effectiveness of her products may hence be questionable.

Monsta Gold has several features:
Is fully automated and trades 24/5 with time filters.
Does not require a large initial deposit.
Runs on the MT4 terminal.
Always applies Stop Loss to safeguard capital.
Applies position trailing stop.
According to the developer, Monsta Gold uses several strategies, including price action, instantaneous price momentum, multi-timeframe analysis, and high frequency trading. This simply means that the EA makes trading decisions based on the current and past price movements and places orders when the prices go up and sells them when their prices go down. In addition, it views the XAUUSD pair under large and short time frames to identify ideal entries into the market and transacts a large number of trades within seconds.
How to start trading with Monsta Gold
The system is being sold at $199 on the mql5 website. It can also be rented at $169 for a year. There is a free demo option as well. This gives you the chance to test the EA first before buying it. Like many other products presented on this site, a refund policy is not part of Monsta Gold's offer.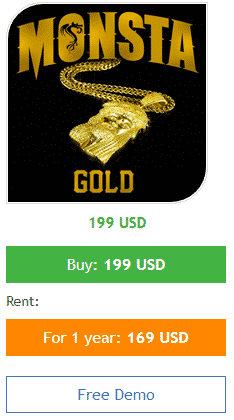 The EA has several recommendations. As the vendor puts it:
Only utilize the EA with the XAUUSD currency pair.
Use a minimum balance of $200.
Use ECN account types with low spreads.
Monsta Gold backtests
The presentation features a backtest report that shows us how the robot performed during its testing period.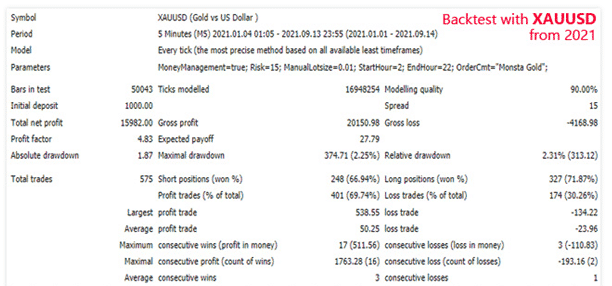 According to this report, the EA worked between January 2021 and September 2021 on the M5 time frame. With a deposit of $1000, the system conducted 575 trades, generating a profit of $15982. The short positions— 66.94% and long positions —71.87% performed poorly. We had a maximum drawdown of 2.25%, an indication that the strategy used was not risky. An average profit trade of $50.25 and an average loss trade of -$23.96 was recorded.
Trading results
The developer has not supplied any live trading stats in her sales pitch. She has also not opened an account with any of the popular sites like FXStat, FXBlue, or Myfxbook.com. The backtest data has given us a clue on how the robot works. Its profit potential is good, but the same cannot be said about the performance of the trades. So, a live account can help us know if the same results can be replicated in real market conditions or if the EA is capable of performing better.
Other notes
Monsta Gold is a very new product. It was launched to the market less than a month ago, September 21, 2021. It was updated to its current version (3.1) on October 5, 2021.
People feedback
As aforementioned, Monsta Gold is still young in the market, and therefore, it has only received 2 testimonials on mql5. The customers are saying the system is working for them. With no live trading results, we cannot verify if these claims are true or not. Furthermore, there are no reviews of this EA on FPA or Trustpilot yet. So, as time goes by, we will see if we will get credible, honest, and unbiased feedback.
Summary
Monsta Gold is a product of an inexperienced developer. Although the backtest data indicate that it can make good profits and maintain a low drawdown level, we are not sure if it can produce the same results in the real trading world. The reluctance of the vendor to open a live account is a demonstration of her lack of confidence in the EA's abilities. So, we advise you not to invest in the robot for now.